Ahhh, welcome to Lecce, Italy; a historically preserved, walled city situated in the heel of Italy's boot in the Puglia region. Within the old city center are numerous Baroque-style churches, half-buried Roman ruins, locally-run restaurants, a plethora of shops and artist studios. The city, rich in tradition, still abides by local customs of mid-afternoon closures and evening strolls through the streets. During our month-long stay, we navigated the maze of cobblestone lanes and discovered the 10 best things to do in Lecce, Italy.
10 Things to Do in Lecce, Italy
Stand in Piazza del Duomo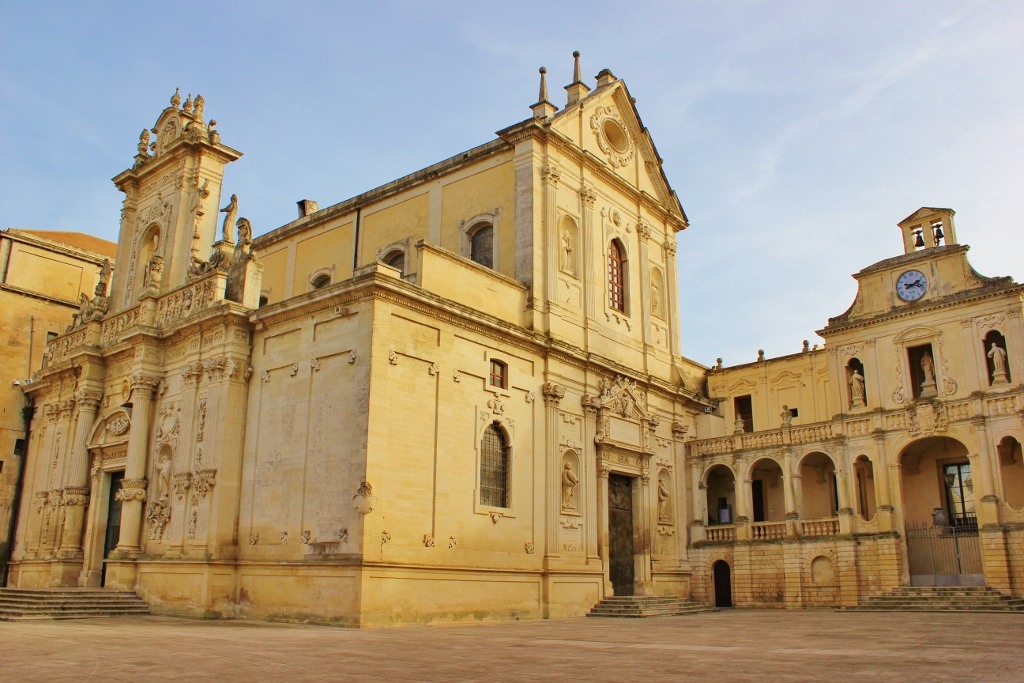 From the main street, Via G. Libertini, visitors could almost pass by Lecce's most impressive piazza without even realizing it. The atypical, narrow entrance leads into the Piazza del Duomo, a massive square and the religious center of town. The buildings – the Cathedral, Bishop's Palace, Seminary and soaring bell tower – dazzle with their ornate Baroque décor, both inside and out.
Read about Piazza del Duomo in Lecce, Italy.
Admire the many churches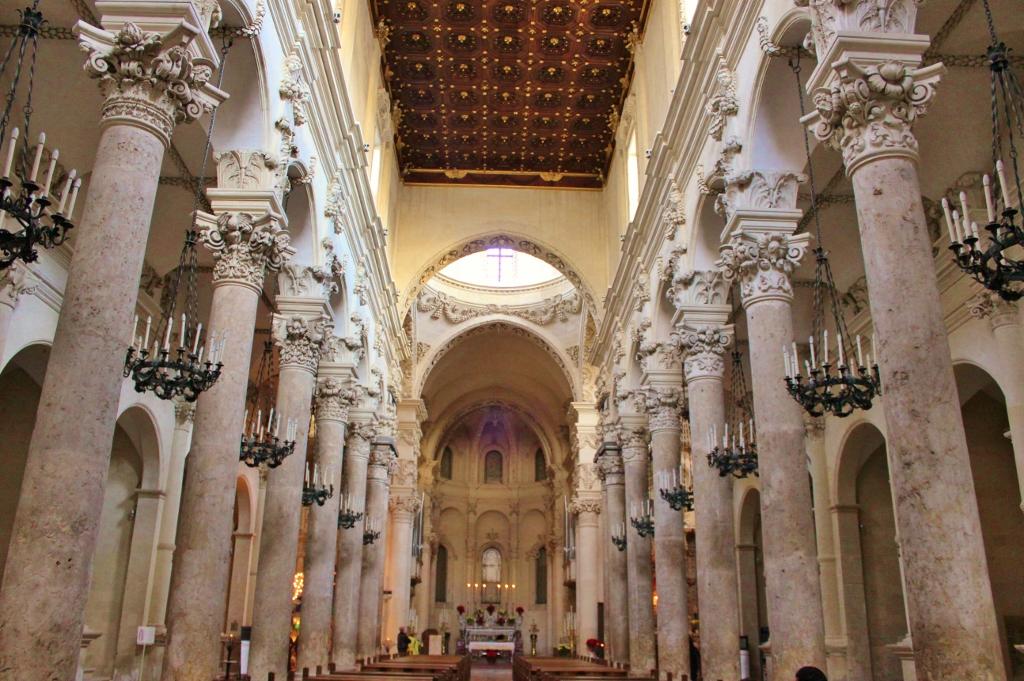 Lecce is chockablock full of churches. From ornate Baroque designs to simple structures, there are 22 churches within the old town vicinity. It would be nearly impossible to walk the streets of Lecce and NOT see a church. Most are open to the public and are well-worth a look around inside for the impeccable detail and centuries-old art.
Read about our 14 favorite churches in Lecce, Italy.
Discover Roman ruins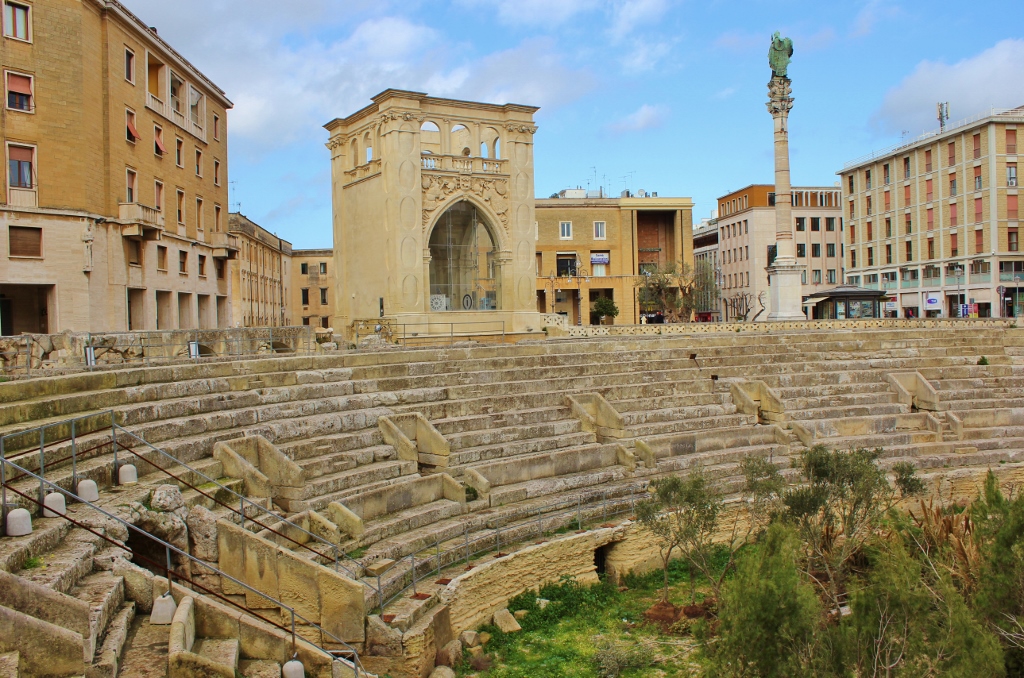 Beneath the surface lies Lecce's ancient past. The 2nd century AD Roman Amphitheater in Lecce's main square, Sant'Oronzo Square, and the Roman Theater located nearby were both uncovered in the 1930s. Peer through the glass cases on Piazza Castromediano Sigismondo to view other archeological discoveries.
Read about the Amphitheater in Sant'Oronzo Square.
Learn Lecce's past by visiting museums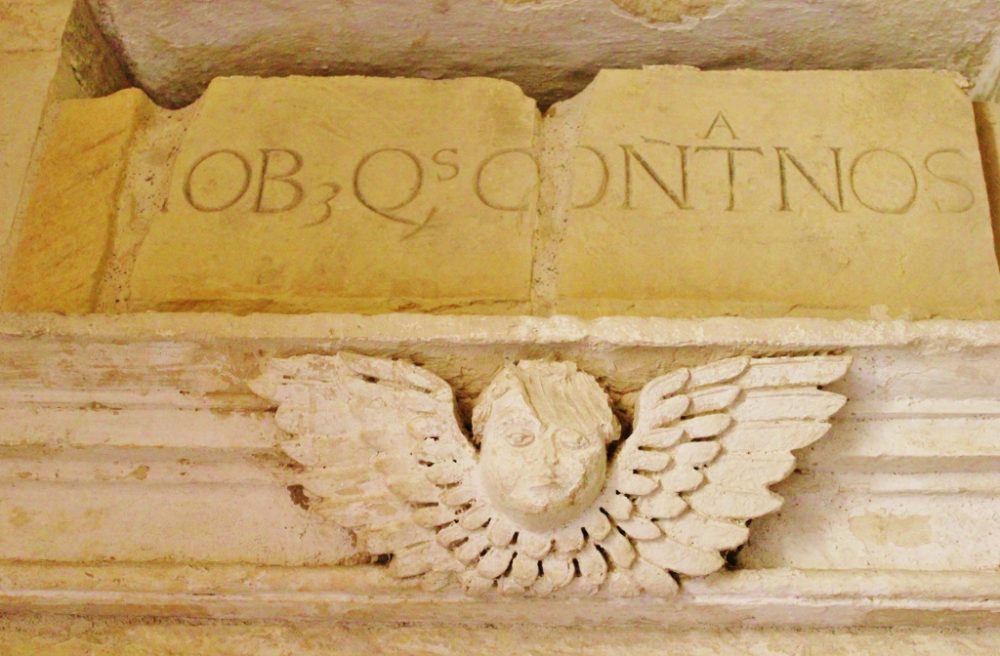 Lecce has a number of museums that offer a glimpse into the city's past. The most enthralling is the Faggiano Museum. Previously a residence, the owner has preserved relics, which were discovered beneath the floorboards. Also interesting are the Roman Theater Museum, Carlo V Castle, (which includes the Paper Mache Museum), Provincial Museum and MUST.
Read about visiting the Faggiano Museum, the Roman Theater Museum, the Carlo V Castle, the Paper Mache Museum, the Provincial and MUST.

Walk through the city gates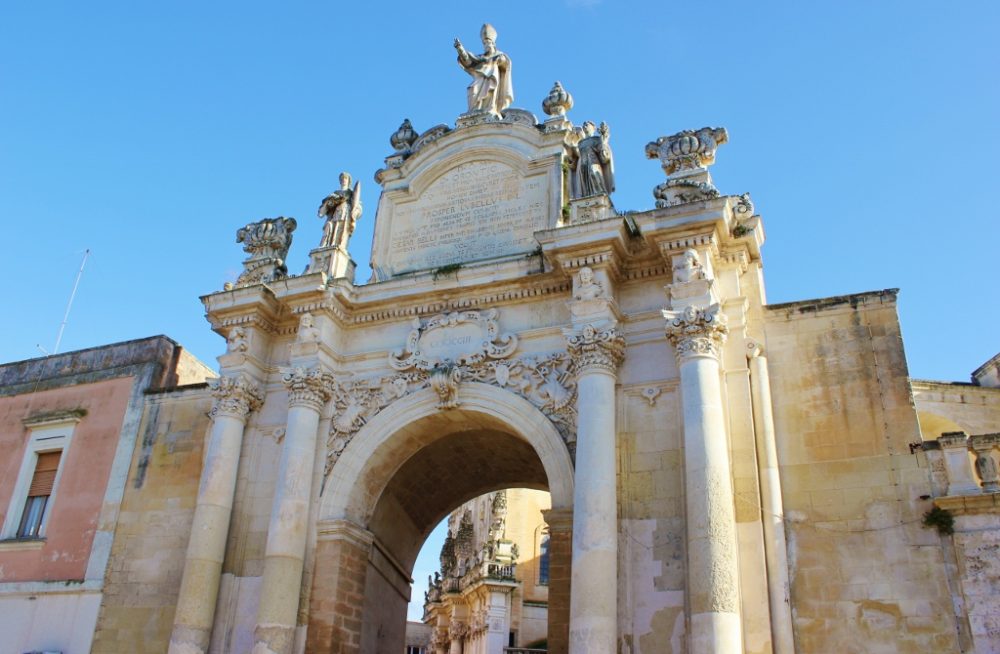 Three city gates remain standing as entry points to Lecce's old town. The doorways into the city serve as a reminder of the one-time necessary fortifications. Walk through them and imagine the millions of footsteps that have passed beneath the same arches over the centuries.
Read about the Lecce City Gates.
Wander through the cemetery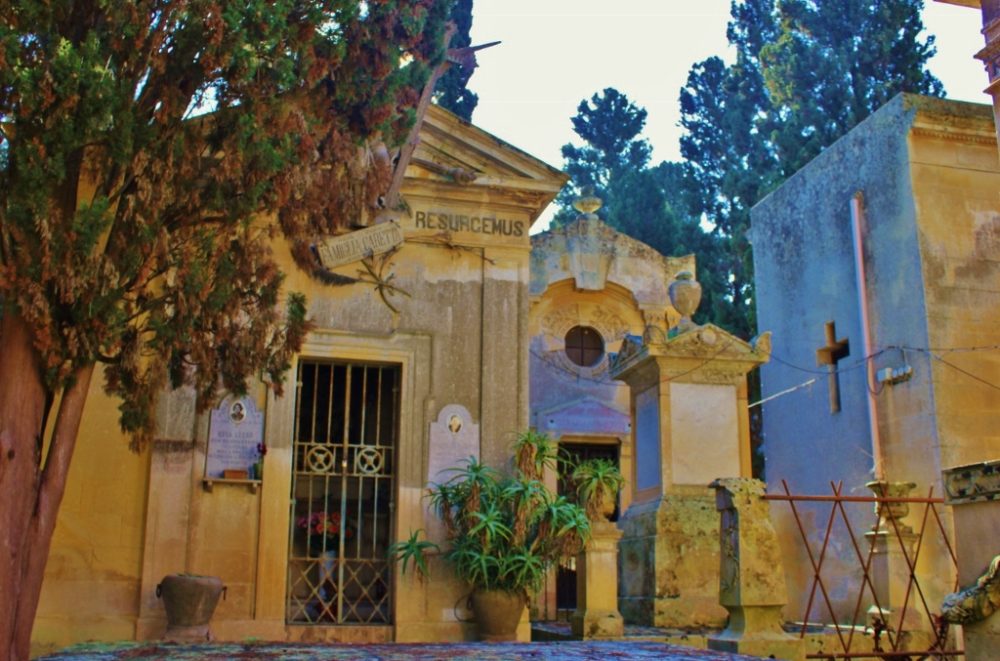 Not far from Lecce's old walled center is Chiesa dei Santi Niccolo e Cataldo, a medieval church founded in 1180. Next to the church is a beautiful cemetery that resembles a park as much as a burial ground.
Browse through a bookstore
Book lovers beware: Lecce, Italy has an astounding number of bookstores! From modern and bright with cafes to cozy and comfortable with records playing, there is a bookstore in Lecce for any mood.
Join the evening stroll through town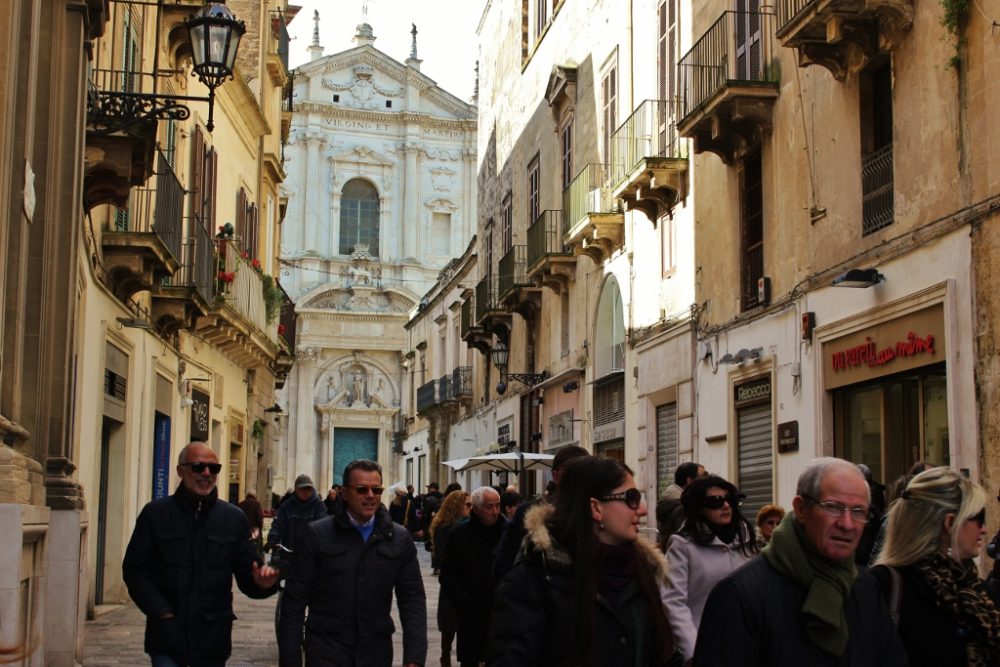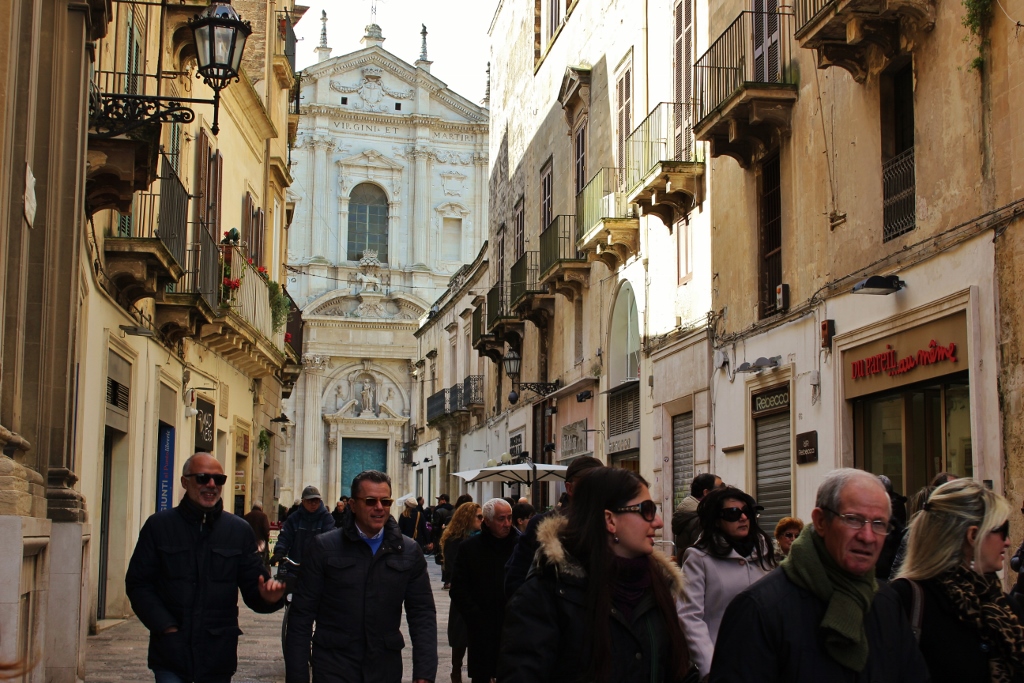 Lecce still abides by the time old tradition of the afternoon siesta. Shops and restaurants close between the hours of 2pm and 5pm, leaving the city center eerily quiet. But, by 6pm the streets are full again. Families, couples and shoppers slowly stroll through the lanes as businesses re-open their doors for evening crowds.
Eat the local cuisine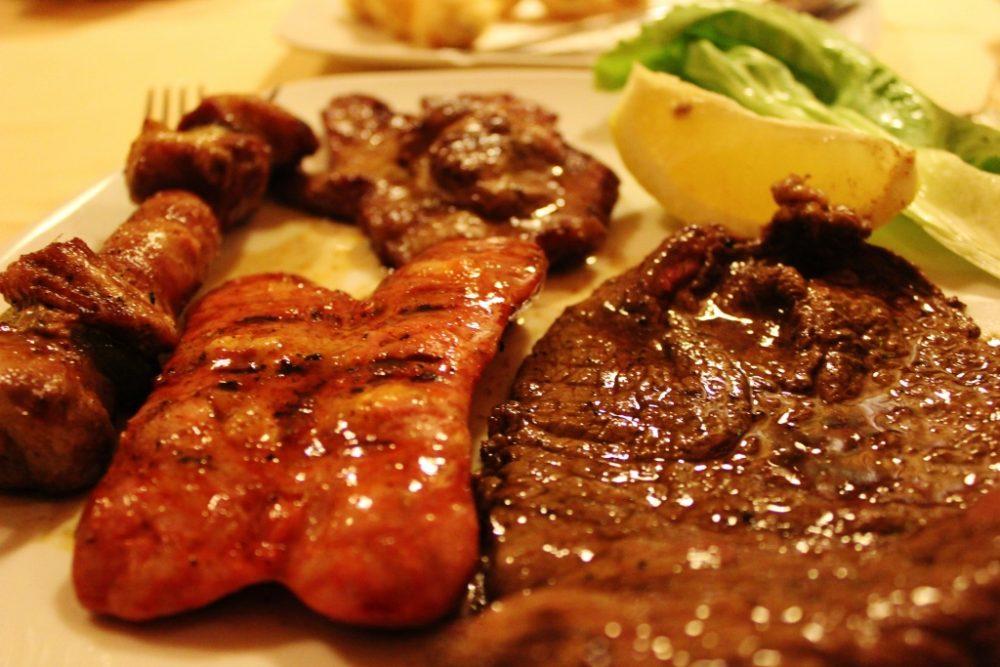 There is so much more to the food in Lecce than the iconic Italian fare! Sure, they have pizza and pasta (which we highly recommend), but they excel in the traditional cuisine, La Cucina Povera. The original farm-to-table concept (out of necessity, not trendiness) means simple, high-quality ingredients are combined to create mouthwatering, savory dishes, often served in numerous courses. Not in the mood for a four-course meal? Order the aperitivi – small plates for sharing – and sample the wide array of food that flows like a stream to the table.
Read about our first taste of Lecce and our favorite places to eat in Lecce.
Drink wine, beer or craft cocktails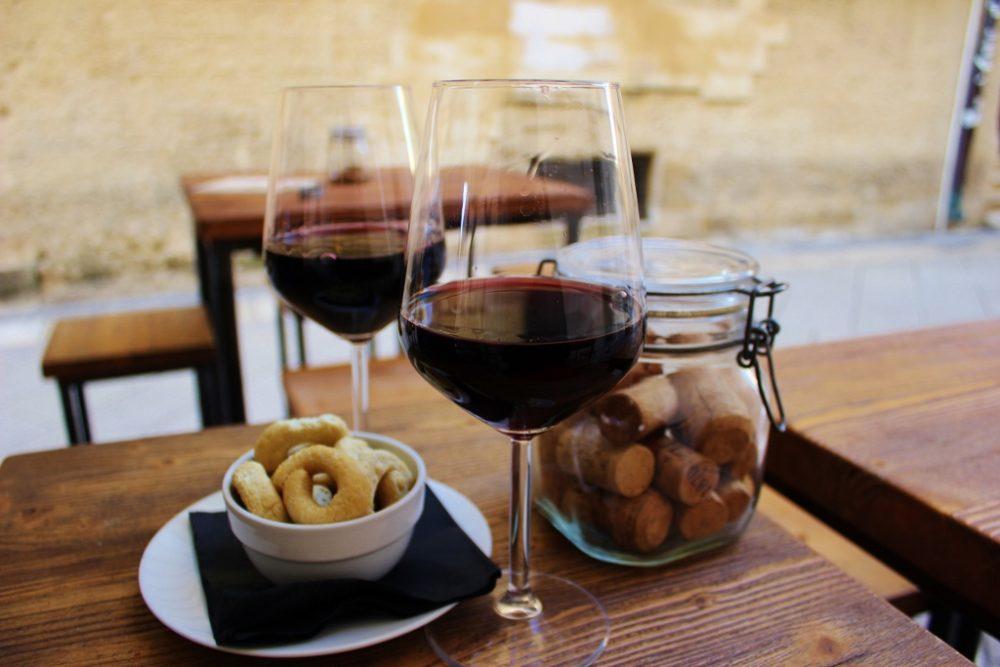 There's no shortage of places to imbibe in Lecce, Italy. Being in the middle of a wine-growing region, local wine is available just about everywhere. For a more informative wine experience, try the wine bars near Santa Croce Basilica that boast lengthy lists from regional wineries. But, it isn't just about wine in Lecce; microbrews and craft cocktails have worked their way into the bar scene with dedicated and trendy bars for both.
Read about 9 bars to visit in Lecce, Italy.
Our top tips for your trip to Lecce, Italy
Where To Stay
During our visit to Lecce, we stayed in an Airbnb Apartment. Not already a member of Airbnb? Use this link to create an account and save money on your first stay!) However, for those who prefer staying in traditional accommodations, there are many hotels to choose from in – or close to – the city center. Check out these top-rated hotels (based on guest reviews!) for your upcoming trip:
Before You Go
Don't forget to pack a pair of lightweight and comfortable walking shoes. I (Sarah) have traveled with these shoes by Columbia, Skechers and Reef. Kris prefers wearing these shoes by Merrell and Sanuk.
We're certain you'll be snapping tons of photos during your trip. Rather than relying on your mobile phone to capture the sights, upgrade to an actual camera for higher quality photos. We travel with a Canon Rebel (which takes amazing photos, but can be a bit clunky) and a Canon PowerShot ELPH (which takes beautiful pictures, is slim and lightweight – and the new models are wifi enabled so you can share your trip pics to social media in real time!).
We think travel insurance is essential! If you haven't already obtained travel insurance for your trip, travel protected with World Nomads.
Want more travel planning tips? Head over to our Travel Planning page for our complete packing list and other travel resources!
Like what you're reading? Join the journey!
Subscribe to JetSetting Fools and get new blog posts and our quarterly newsletter direct to your inbox:

We want to know: What are your favorite things to do in Lecce, Italy? What would you add to our list of 10 Things to Do in Lecce, Italy? Tell us in the comments!
Pin it! See all of our travel pins on our JetSetting Fools Pinterest Board.