Some of the links on this site are Affiliate Links and if you use them to make a purchase, we may earn a small commission. For more information, read our Disclosure Policy.
---
Croatia's calling. Croatia keeps calling. In nearly three years of full-time travel, we've followed a path that has led us back to Croatia five times. We've swam in the sea along the Dalmatian Coast, sampled culinary treasures in Istria, gazed at the waterfalls of Plitvice Lakes, felt the buzz of urban city life in Zagreb and ventured into the less-visited terrain of Osijek-Baranja in the Slavonia region.
We've seen more of Croatia than most tourists, yet we continue to be lured back to the country by the diverse and picturesque landscapes we have yet to discover and the warm and welcoming people we know we'll meet there. In 2017, we've zeroed in on three cities in Croatia to visit: Stari Grad, Makarska and Ston.
3 Cities in Croatia to Visit
#1 Stari Grad on Hvar Island
Photo Credit: Left – Rafael Janic | Right – Andrija Carli
We've been to Hvar, twice. But, both times we docked in Hvar Town on the southwest end of the island…and never left the immediate area. However, Stari Grad on Hvar Island has recently made it onto our radar. In 2016, Stari Grad celebrated 2,400 years since the city was founded, making it the oldest city in Croatia. And, in 2017, Stari Grad has been nominated as best European destination by European Best Destinations (an honor bestowed on Croatian city, Zadar, in 2016). The city is tucked into a bay on the north side of the island; the strategic location, fertile soil and fresh water sources make it an ideal territory to settle.
Photo Credit: Andrija Carli
The city boasts narrow lanes, stone houses, historic churches and a massive fortress. The nearby Stari Grad Plain, a UNESCO Heritage Site for its Outstanding Universal Value, is a preserved agricultural system that dates to the 4th century B.C. The land is still used today to produce olives and grapes – as it always has been.
For more information, visit the Stari Grad Tourist Board site.
#2 Makarska
Makarska is located on the Dalmatian coast between Split and Dubrovnik at the foothills of the Biokovo Mountain. We've traversed between the two cities on several occasions, but have traveled via boat or have detoured into Bosnia and Herzegovina rather than following the coastline, thus completely missing Makarska.
Makarska isn't only known for its long, sandy beaches and walkways lined with towering evergreen trees, but also for its historical sights, nature reserves and traditional gastronomy. Some of the highlights include a 500-year-old monastery, hiking trails that lead up the mountain and a variety of cuisine – from seafood to sweets – that can be sampled at cafes and restaurants that ring the main square.
**UPDATE: We have now visited Makarska! Read about our impressions of the city and favorite things to do in Makarska**
For more information, visit the Makarska Tourist Board site.
#3 Ston
Ston is positioned on the base of the Peljesac Peninsula where the landmass meets the mainland. Back in 2011, we breezed through the village on our way to Dubrovnik, but we didn't make a stop for a proper look at Ston.
Rushing to get to Dubrovnik, we missed two impressive features of Ston: defensive walls and saltpans. The 14th century city walls are the second largest in the world after the Great Wall of China. The walls were constructed to protect the town's salt industry, which still operates today using traditional methods. The Peljesac Peninsula is one of Croatia's well-known wine regions with several small-production and family-owned wineries accessible via the one main road on the peninsula…making Ston a fantastic starting point for wine exploration.
For more information, visit the Ston Tourist Board site.
Map of Croatia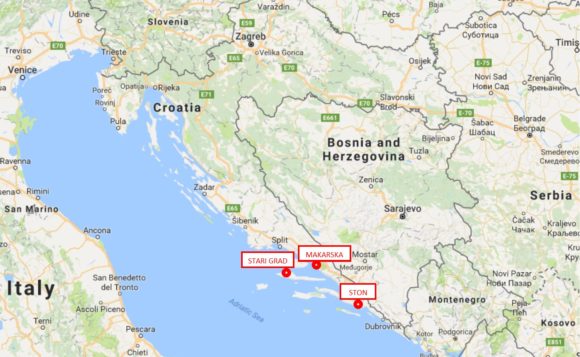 We can practically feel the sunshine on our skin and the sea breeze in our hair. We're dreaming of the tantilizing taste of fresh seafood and local wine. These three cities in Croatia to visit – Stari Grad, Makarska and Ston – are located on a stretch of the Dalmatian Coast that has eluded us as we have explored other parts of Croatia. We have yet to see it all; on each trip to the country, our list of cities in Croatia to visit grows…and we wonder, after this trip, where Croatia will be calling us next.
For more information about Croatia, visit the Croatia Tourist Board site.
Looking for more information for your trip to Croatia? Check out our 2-Week Croatia Itinerary!
We want to know: Where are your travels taking you in 2017? Do your plans include cities in Croatia to visit? Are Stari Grad, Makarska or Ston on your list, too? Tell us in the comments!
Like what you're reading? Join the journey!
Subscribe to JetSetting Fools and get new blog posts and our quarterly newsletter direct to your inbox:

Pin it! See all of our travel pins on our JetSetting Fools Pinterest Board.