We could have easily spent our three days in Dublin seeing nothing more than the inside of pubs, but there's a lot more to the city than just downing pints of Guinness goodness. Many of the historic sights are condensed within the city center, which makes for an easy Dublin, Ireland self-guided walking tour – and helped keep us out of the bars, if only for a few hours. (Map below.)
Dublin, Ireland Self-Guided Walking Tour to 11 Sights
A: St. Patrick's Cathedral
It was on this site that in 450 AD St. Patrick baptized the first Irish converts. St. Patrick's Cathedral was completed in 1191 and is the largest church in Ireland. The spire reaches 140 feet.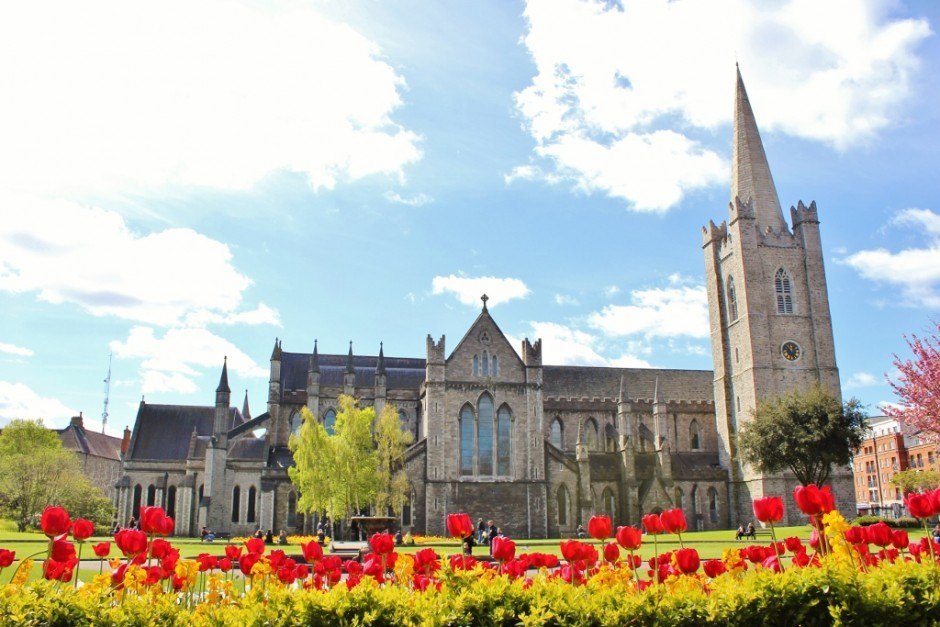 B: St. Stephen's Green
The 22-acre park in the center of the Dublin was created in 1664 and has been open to the public since 1880. St. Stephen's Green features a pond, a bandstand, memorials, statues, several paths and green lawns.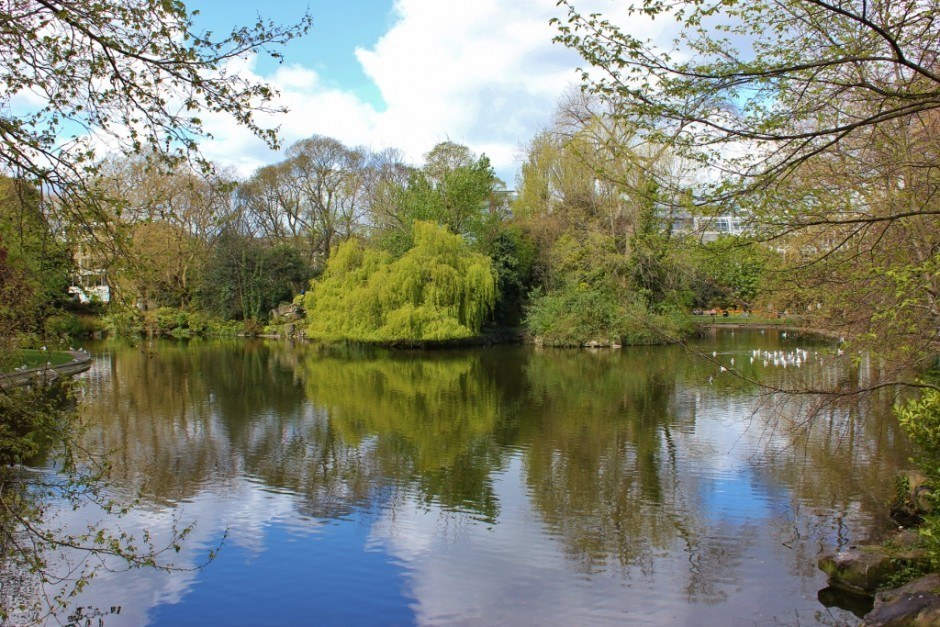 C: Grafton Street
The pedestrian-only, high-end shopping street, Grafton Street, leads from St. Stephen's Green to Trinity College. Street musicians entertain the passers-by.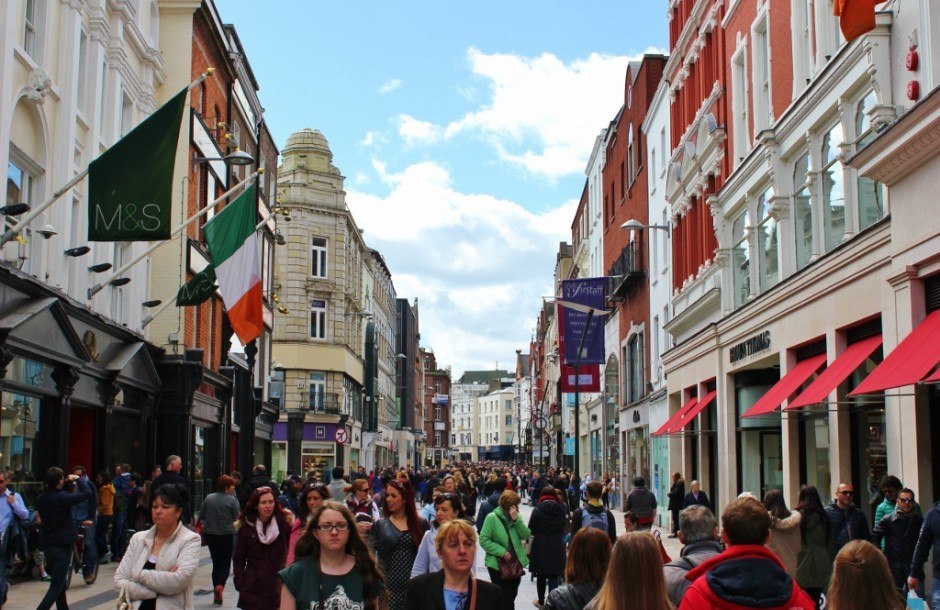 D: Trinity College
Established in 1592, it's Ireland's oldest university. The official name is College of the Holy and Undivided Trinity of Queen Elizabeth near Dublin, but is just called Trinity College for short. The 47 acre campus has buildings arranged in squares around a bell tower. The library houses the Book of Kells.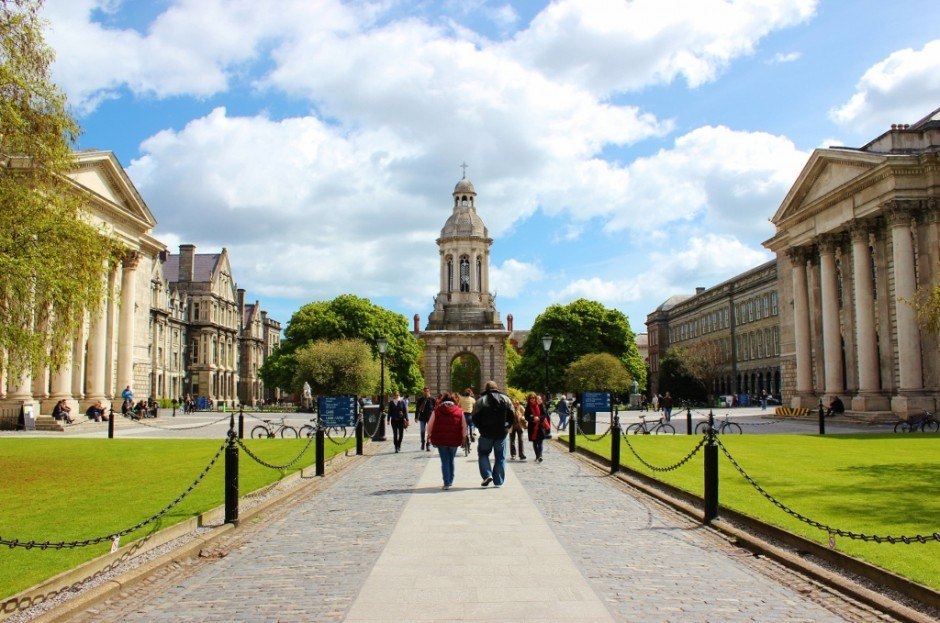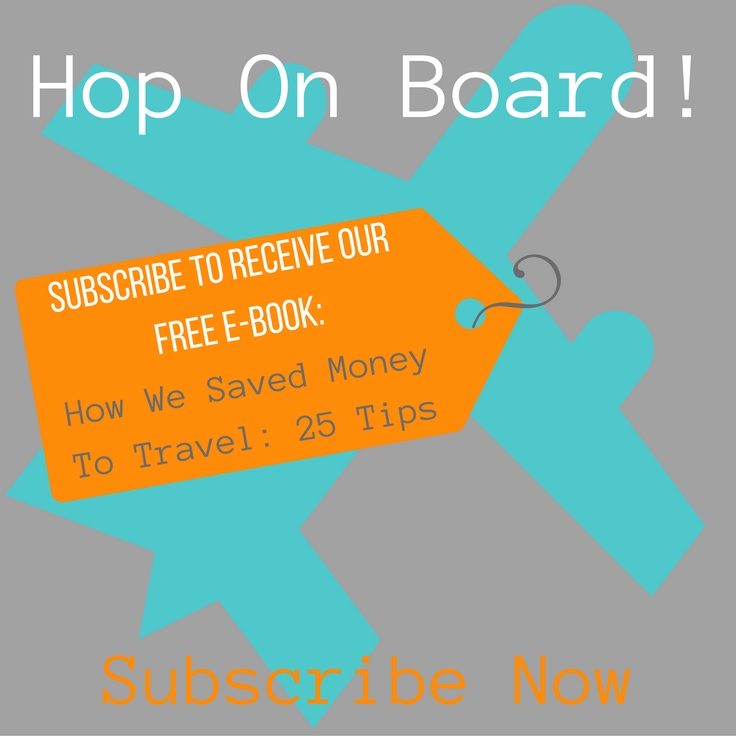 E: River Liffey
The River Liffey runs through the center of Dublin, dividing the city into north and south. Several bridges span the river, including three for pedestrians only.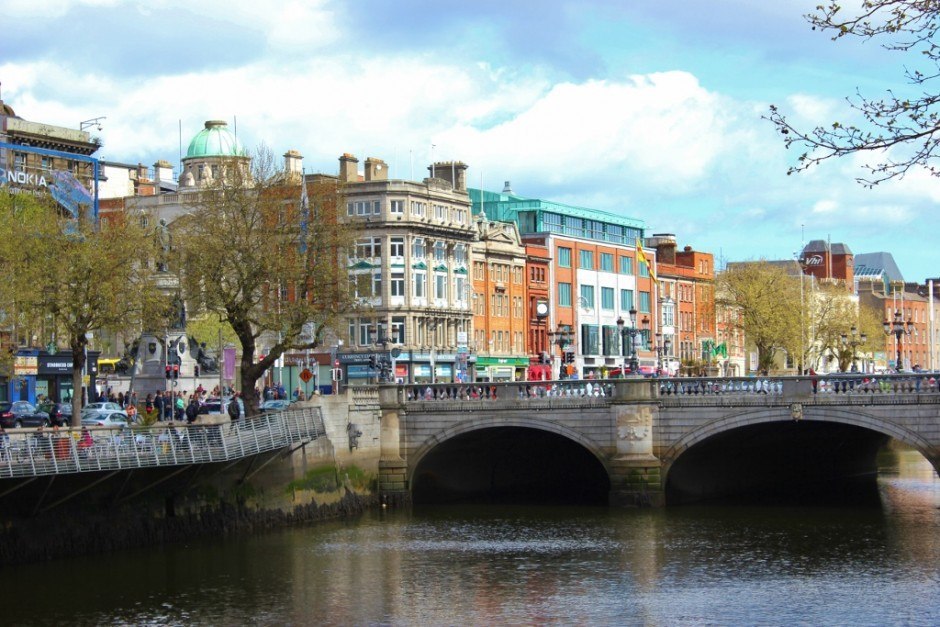 F: Temple Bar
The energetic Temple Bar district on the south side of the river is chockfull of Irish pubs, restaurants and tourist shops. Several of the bars have a line-up of live music starting mid-day and going late into the night. Our favorite spots were The Temple Bar and The Quays. Tip: Join the Dublin Traditional Music Pub Crawl in the evening!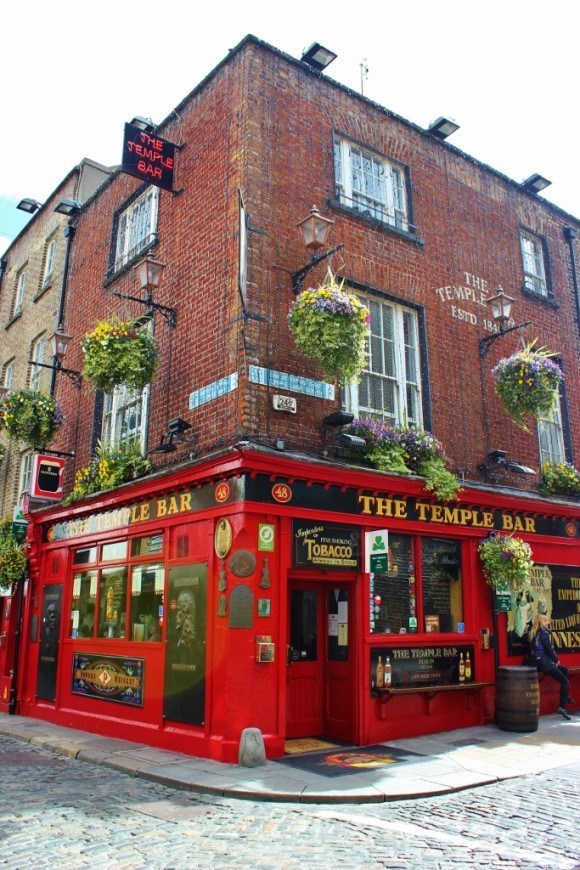 G: The Olympia Theater
Opened in 1879, The Olympia Theater still is an operating theater. It underwent a major overhaul in the 1970s and the original iron and glass awning had to be completely restored after a truck crashed into it in 2004.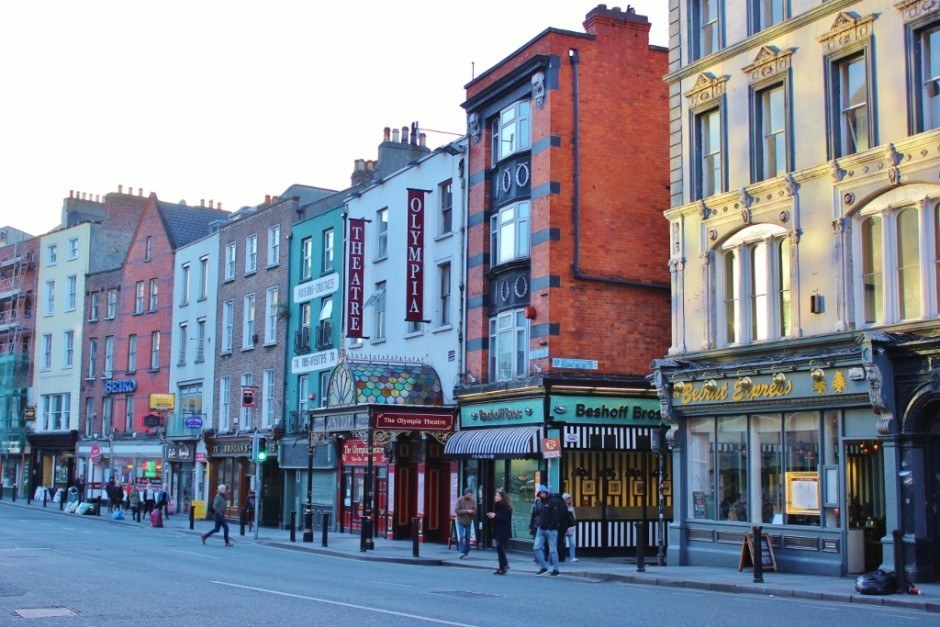 H: Dublin Castle
Now a conference and event complex, the buildings of Dublin Castle represent some of the oldest architecture in the ity. It was built between 1208 and 1220 as the residence of viceroys.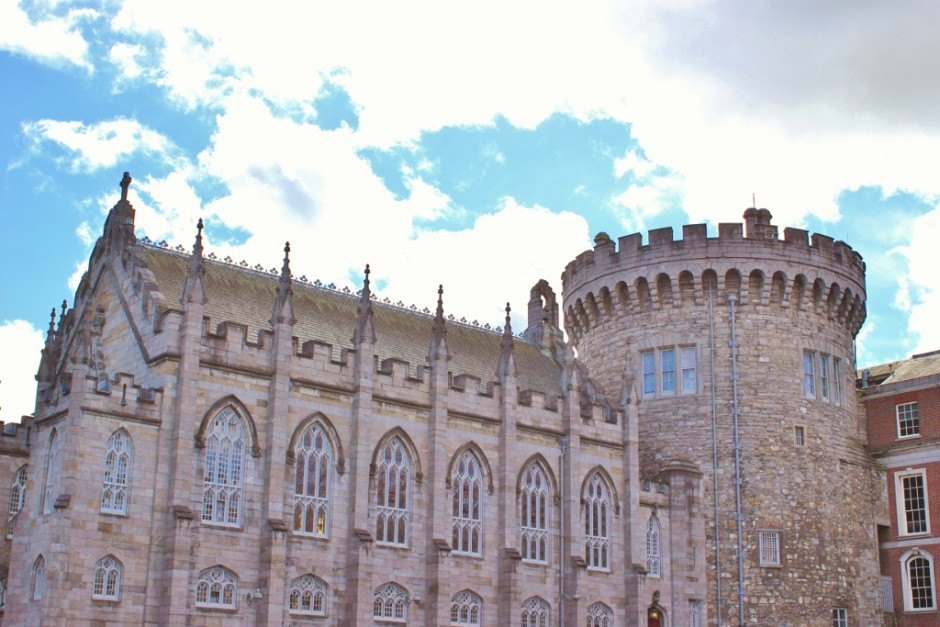 I. Christ Church Cathedral
Christ Church Cathedral dates back to medieval times, around the year 1030. It was expanded in 1171, but most of the current structure was built between 1871 and 1878. The only original remaining sections of the church are the transepts and crypt.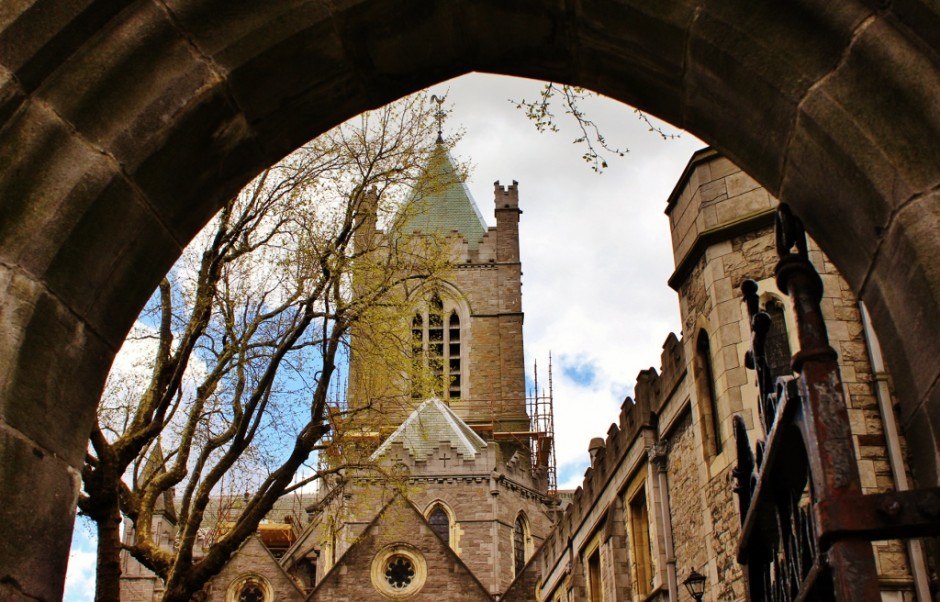 J: John's Lane Church
The John's Lane Church was built on the previous site of St. John's Hospital between 1862 and 1895. The French Gothic steeple reaches over 200 feet and is the tallest in Dublin.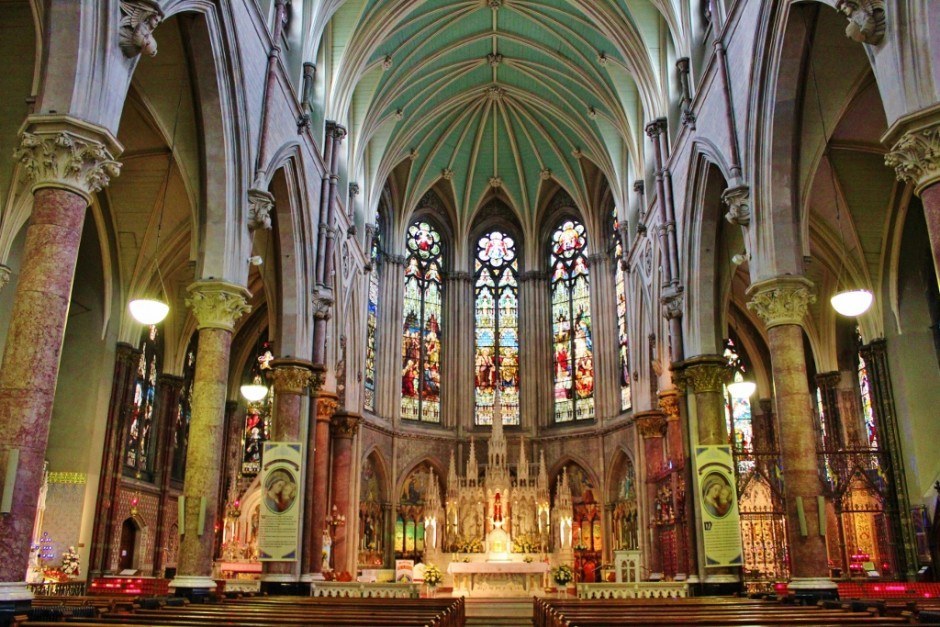 K: The Brazen Head
Dating back to 1198, The Brazen Head is Ireland's oldest pub. The five room (plus upstairs and courtyard) pub has three classic bars and live music. (And with all the walking we just did, it's a good place to stop for a pint!)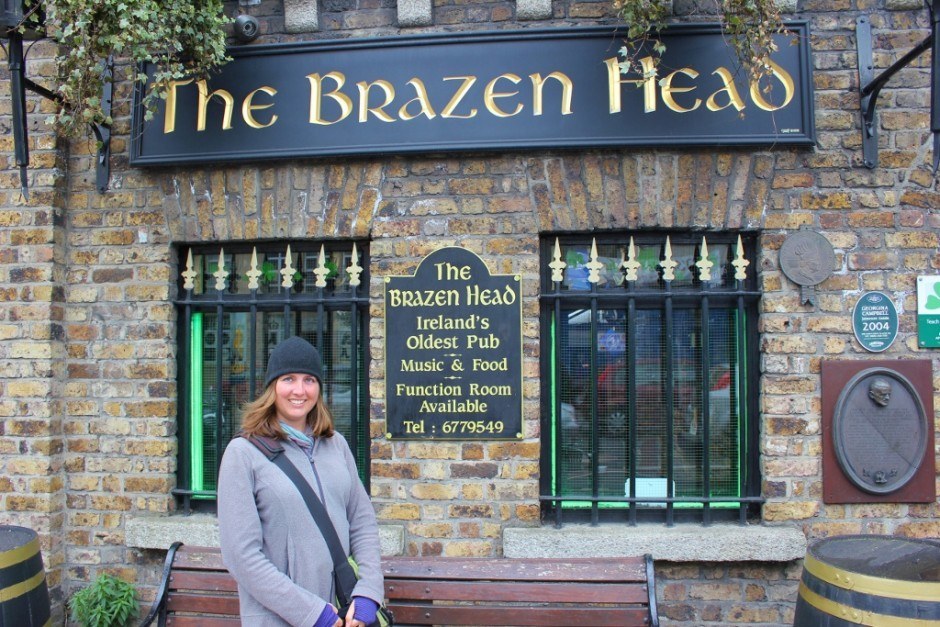 Want to learn more of Dublin's history and meet fellow travelers? Join the Dublin Historical Walking Tour for an easy 2-hour stroll through the city filled with interesting facts and information.
Rather than walking, consider buying a tourist pass and catch a ride with a 1- or 2-Day pass on the Sightseeing Hop-On Hop-Off Bus or 3-Day Dublin Freedom Pass on the Green Hop-On Hop-Off Bus.
Dublin, Ireland Self-Guided Walking Tour Map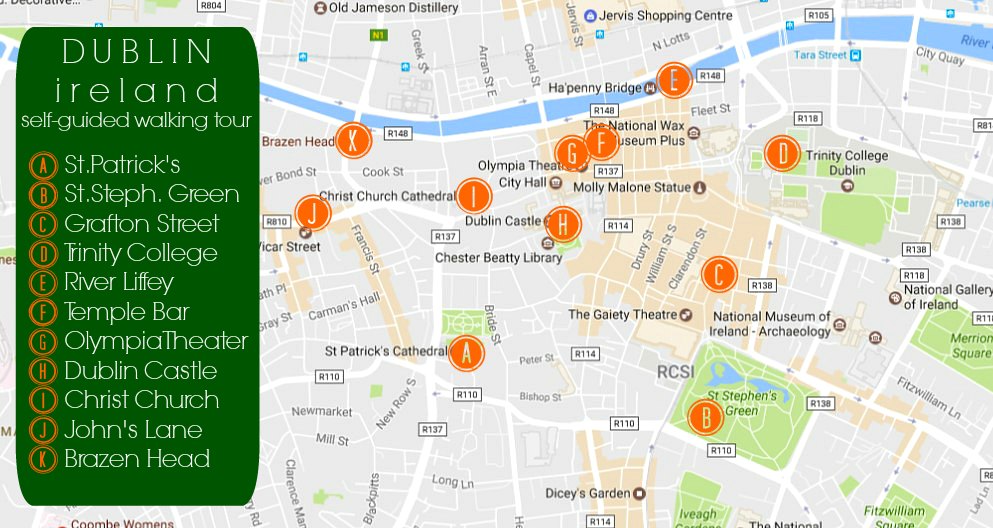 Click here for a link to Google Maps that has turn-by-turn directions for our Dublin, Ireland Self-Guided Walking Tour.
Our top tips for your trip to Dublin
Essential Dublin Experiences
Once you have the lay of the land, indulge in a few essential Dublin experiences. Visit Dublin's Guinness Storehouse for a connoisseur tasting and then head to the Jameson Distillery for a lesson on Irish whiskey. Take a River Liffey cruise or get a taste of Dublin on an Irish Food Walking Tour. At night, bounce around the pubs in Temple Bar or join one of the entertaining Dublin pub crawls – and end the night on a Dublin Ghost Tour.
Day Trips from Dublin
There are endless options to explore Ireland, using Dublin as a base. Popular day trips from Dublin include visiting the coastal village of Howth, heading to Northern Ireland and Giant's Causeway, seeing the stunning Cliffs of Moher and making a trip to the Blarney Castle (and kissing the Blarney Stone!).
Looking for multi-day Ireland trips? Set out from Dublin to see the highlights of Ireland on a five-day tour or enjoy the sights of Ireland on a six-day trip. For a longer trip that includes Dublin, the Intrepid Travel Northern & Southern Ireland Tour includes nine days of exploration.
Where To Stay
During our visit to Dublin, we stayed in this awesome Airbnb Apartment. (Not already a member of Airbnb? Use this link to create an account and save money on your first stay!) However, for those who prefer staying in traditional accommodations, there are many Dublin hotels to choose from in – or close to – the city center. Check out these top-rated hotels (based on guest reviews!) for your upcoming trip:
Or These Hostels:
Budget travelers – or those looking for truly local experiences – should consider Couchsurfing, where visitors stay with locals for free.

Before You Go
Don't forget to pack a pair of lightweight and comfortable walking shoes. I (Sarah) have traveled with these shoes by Columbia, Skechers and Reef. Kris prefers wearing these shoes by Merrell and Sanuk.
We're certain you'll be snapping tons of photos during your trip. Rather than relying on your mobile phone to capture the sights, upgrade to an actual camera for higher quality photos. We travel with a Canon Rebel (which takes amazing photos, but can be a bit clunky) and a Canon PowerShot ELPH (which takes beautiful pictures, is slim and lightweight – and the new models are wifi enabled so you can share your trip pics to social media in real time!).
It's easy to get turned around or lost in any new city! Be sure to have a good city map and/or guidebook prior to arriving.
We think travel insurance is essential! If you haven't already obtained travel insurance for your trip, travel protected with World Nomads.
Want more travel planning tips? Head over to our Travel Planning page for our complete packing list and other travel resources!
Like what you're reading? Join the journey!
Subscribe to JetSetting Fools and get new blog posts and our quarterly newsletter direct to your inbox:

We want to know: What sights would you add to our Dublin, Ireland Self-Guided Walking Tour? What is your #1 must-see sight in Dublin? Tell us in the comments!
Share our video of the 11 Sights to See in Dublin, Ireland
Pin it! See all of our travel pins on our JetSetting Fools Pinterest Board.