Hey there! Welcome to JetSetting Fools! You will find our best travel tips for destinations worldwide. Some of the links on this site are Affiliate Links and if you use them to make a purchase, we may earn a small commission. For more information, read our Disclosure Policy.
---
After landing in Uruguay (and spending 11 hours sleeping off jet lag), we were looking forward to seeing the Montevideo sights. We set out on foot to explore the Centro and found seven sights.
Montevideo sights
Love Locks Fountain
Heading west on Avenue 18 de Julio, we immediately stumbled onto the Montevideo Love Locks Fountain – Lovers write their initials on a padlock and lock it to the fountain and, it is said, their love will be "forever locked."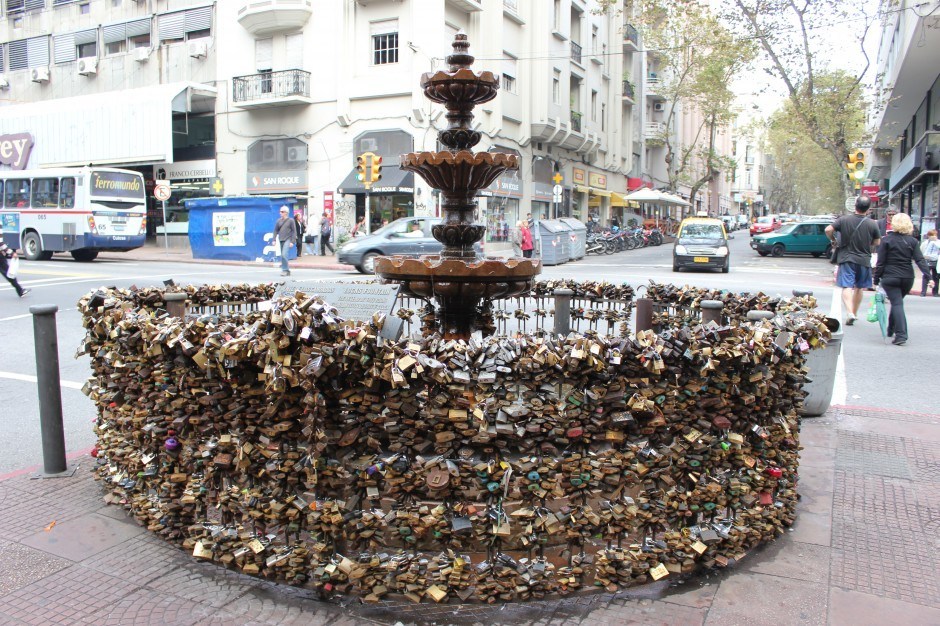 Plaza Independencia
The buzzing Avenue 18 de Julio is full of people, buses, stores and numerous plazas where locals were lounging on benches reading books and sipping the favorite, local drink, Mate. The broad Plaza Independencia was rather stark, except for the enormous statue of Jose Artigas, who is credited with liberating Uruguay in the early 1800s.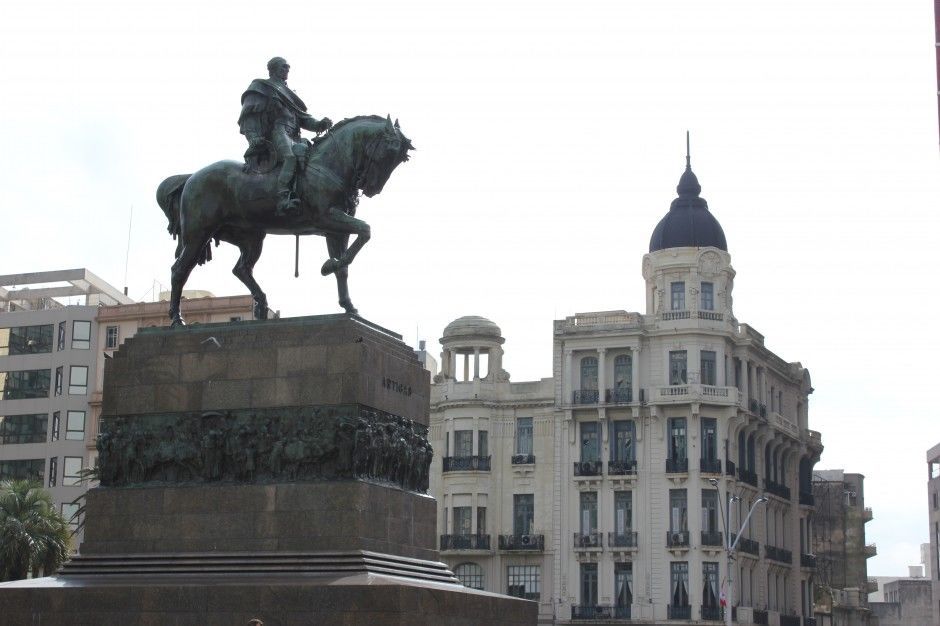 Artigas mausoleum
More than just a statue, below is a mausoleum containing the remains of Artigas, which are guarded by soldiers.

Palacio Salvo
One building on the square that caught our eye was the 26-story Palacio Salvo, which – as hard as it is to believe – was at one time the tallest building in South America.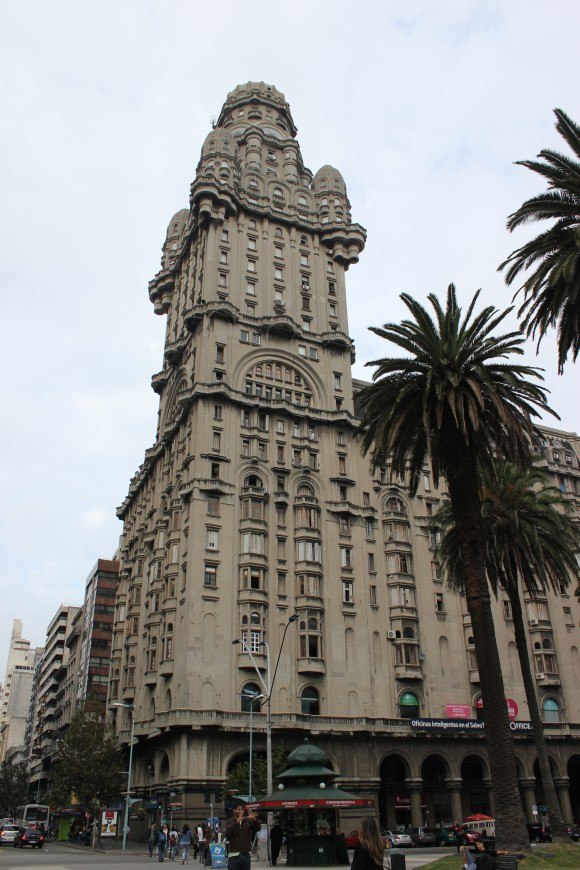 Plaza Constitucion
As soon as I saw Plaza Constitucion, I fell in love. Full of charm, families and outdoor cafes, it practically invited us to sit down for an afternoon beer.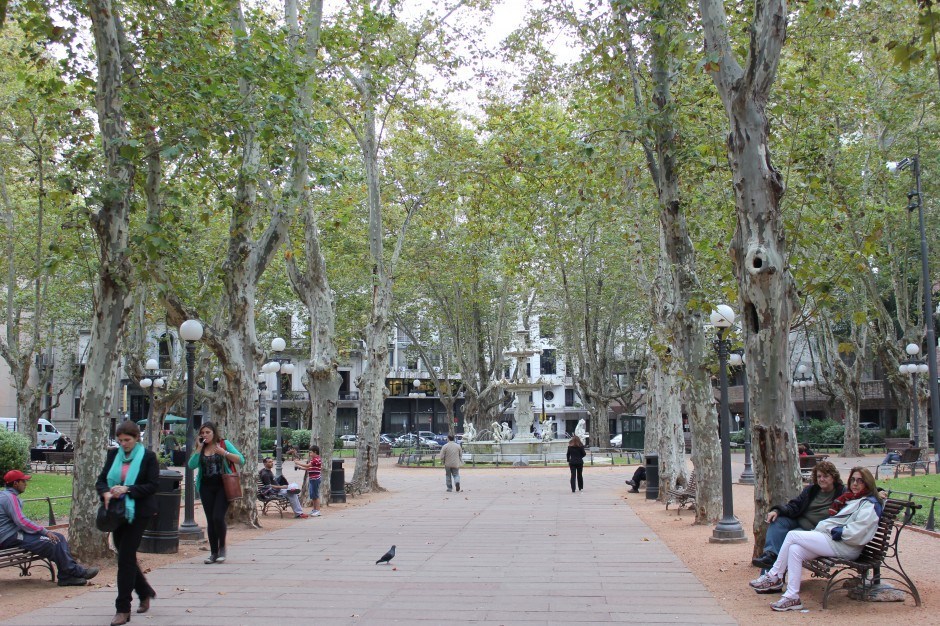 Montevideo Metropolitan Cathedral
But, instead, we continued on to the Montevideo Metropolitan Cathedral at the west end of the Plaza Constitucion to light a candle for grandma.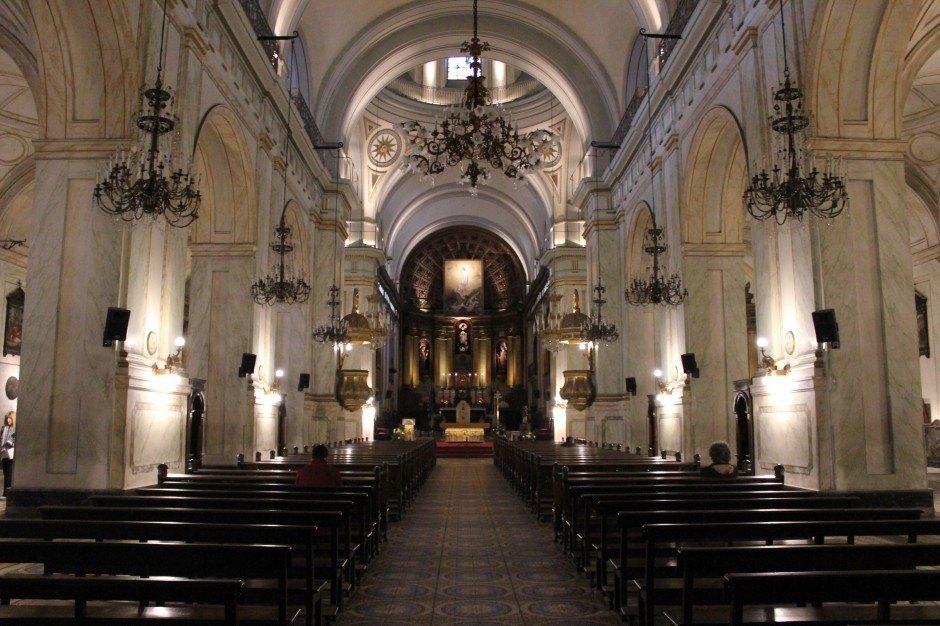 Rio de la Plata and Rambla
We caught a glimpse of the Rio De La Plata to the south and headed that way for a stroll along the Rambla. Now it was time for that cervesa.
Our top tips for your trip to Montevideo:
Where To Stay
During our visit to Montevideo, we stayed at the Hotel Iberia, which was clean, convenient and affordable. However, there are many hotels to choose from in – or close to – the city center.

Before You Go
Want more travel planning tips? Head over to our Travel Planning page for our complete packing list and other travel resources!
Like what you're reading? Join the journey!
Subscribe to JetSetting Fools and get new blog posts and our quarterly newsletter direct to your inbox:

We want to know: Have you been to Montevideo? What are your favorite Montevideo sights?
Pin it! See all of our travel pins on our JetSetting Fools Pinterest Board.