Hey there! Welcome to JetSetting Fools! You will find our best travel tips for destinations worldwide. Some of the links on this site are Affiliate Links and if you use them to make a purchase, we may earn a small commission. For more information, read our Disclosure Policy.
---
Racing out the door to catch the 8:45 a.m. bus from Rovinj to Zadar – our next destination – Kris quickly rattled off a checklist before we left. We got everything from the bathroom? Check. Cables and cords? Check. Bus tickets? Check. Passports? Shit. Where was my passport? I scrambled my mind and remembered that I had slipped it into the bottom of my backpack. Since I would have to part with my bag and stow it in the luggage compartment below the bus, there was no way I was leaving my passport where it was.
This was how my day was starting.
After unpacking and repacking my bag (Grrrrr. Why do I still travel with my old-school top-loading backpack!?!), I did another tour of the apartment to make sure we hadn't left anything behind; we hadn't. Maybe I was subconsciously dragging my feet. Our impending eight hour bus ride – including a short stop in Rijeka – was eliciting little enthusiasm from me. Yet, it was explained to us thoroughly that it was our best option for a bus from Rovinj to Zadar: three hours from Rovinj to Rijeka and five hours from Rijeka to Zadar. Regardless of my logical thoughts on the matter ("It just isn't that far," I kept saying), at this point, we were going to have to double-time it to the station in order to not miss the bus.
Bus from Rovinj to Zadar: Leg One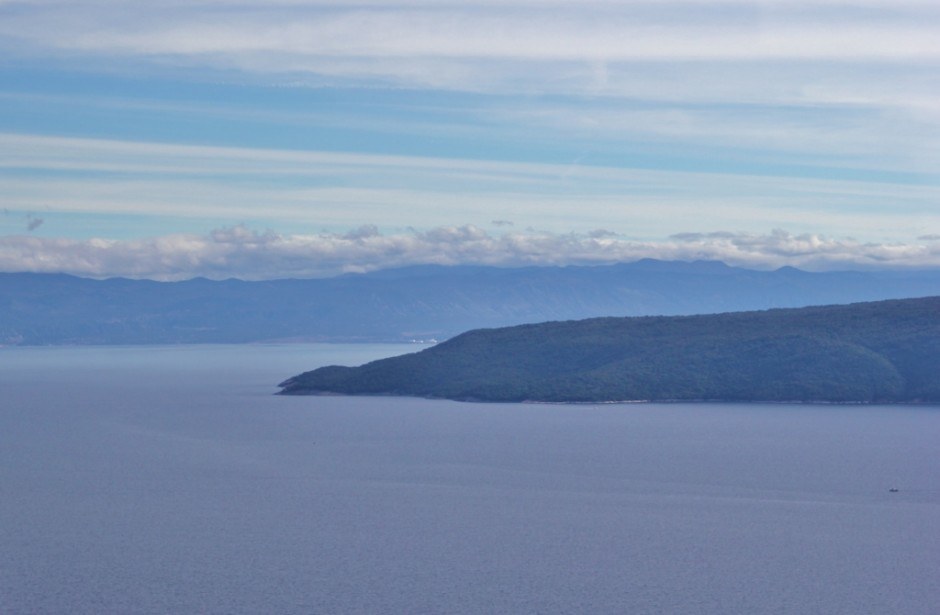 We were the last passengers on and the bus was leaving the curb before we were even settled in our seats. We left Rovinj behind, straining our necks for a last glimpse of the old town. We followed the same route along the coastline that we had taken when we traveled to Pula. After Pula, we turned inland and uphill, working our way through forests and valleys. A steep descent led us away from the natural setting and around a massive power plant before heading back to the coastline. As we passed by quaint fishing villages, I was thankful we had taken seats on the right side of the bus. We rolled through Opatija, a big, classy resort town. I started to feel like we were on an organized coastline tour, minus the commentary.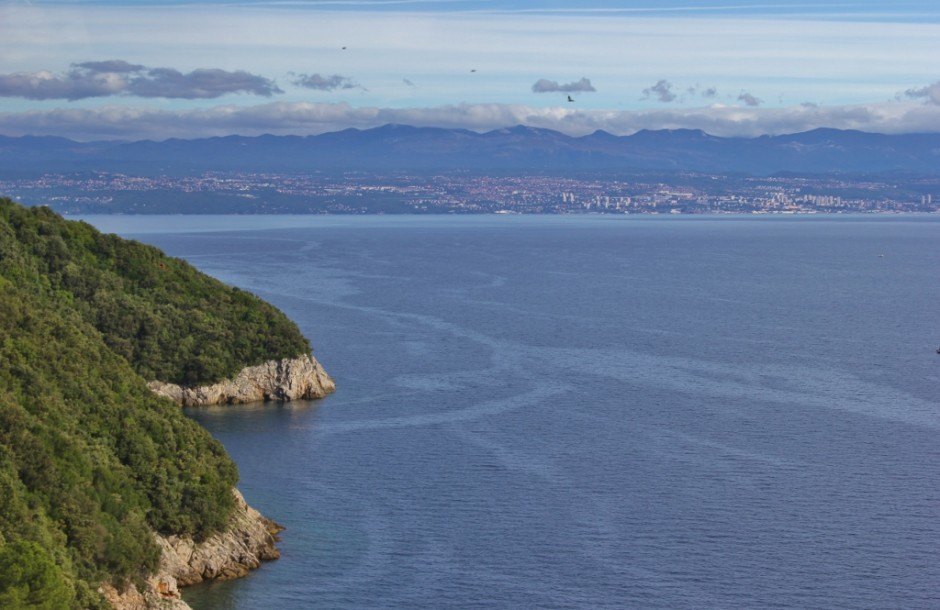 Bus from Rovinj to Zadar: Leg Two
In Rijeka, we changed buses. With a full passenger load and broken machines for baggage check, it was slightly chaotic, but we were soon on our way. I thought we would surely be heading toward the highway for the second leg of our trip, but I was wrong. We stayed on the road that hugged the coastline. Making the hairpin turns on the narrow roads that traced the coves was keeping our speed to a minimum – and proving to me why five hours are needed to travel the short distance. At times, looking through my window, I could see straight down into the water, which was so clear I could see to the bottom. Off shore were the barren islands of northern Dalmatia and, even from our vantage point, it was impossible to count how many there were.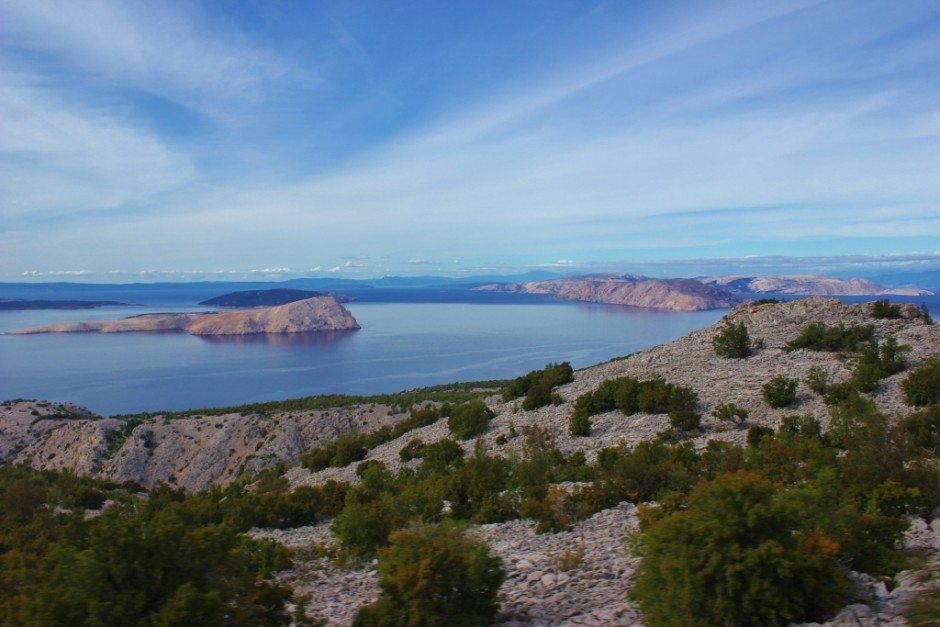 We made a stop in the seaside town of Karlobag and were given 20 minutes to stretch our legs. As we strolled along the shore, I thought more about our route. We were using public transportation (and paying public transportation prices) to get from Point A to Point B, but the scenery was tossed in as a bonus. The dramatic panoramic views were far more impressive than I had anticipated – and definitely worth the extra couple of hours on the road.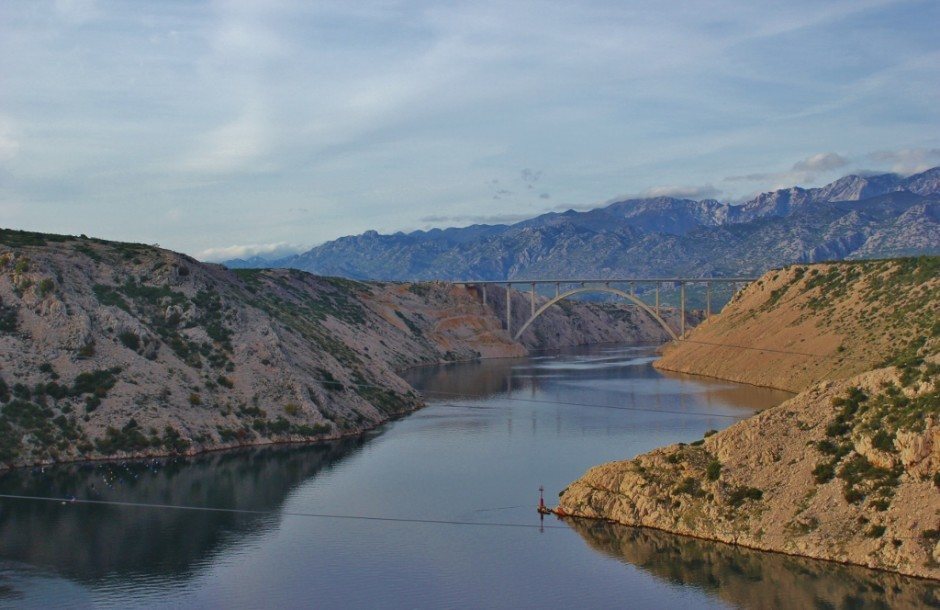 During the remainder of the trip to Zadar, we briefly turned inland and our focus fell on the cloud draped mountain range in the distance and small, family-run farms. By the time we arrived in Zadar, I was restless and ready to have my feet back on the ground. The ride on the bus from Rovinj to Zadar was long, but also turned out to be surprisingly scenic.
Click here for a Zadar Self-Guided Walking Tour
We want to know: Have you ever traveled by bus from Rovinj to Zadar? What route did you take – and how long was the ride? What other bus trips have you made in Croatia? Tell us about your experience in the comments!
Pin it!