Hey there! Welcome to JetSetting Fools! You will find our best travel tips for destinations worldwide. Some of the links on this site are Affiliate Links and if you use them to make a purchase, we may earn a small commission. For more information, read our Disclosure Policy.
---
Continued from Exploring Halong Bay (Day 2)
Cruising Halong Bay, Vietnam: Tai Chi
On our second morning of cruising Halong Bay, Vietnam, we woke up slightly bleary-eyed and with unsettled stomachs (aka hangovers), but refused to succumb to the self-inflicted pain. Instead, I joined a small group on the rooftop deck at 6:30am for a lesson in Tai Chi. Thankful for the clouds hiding the sun and the cool, morning breeze, I followed the moves of the instructor and stretched my way out of my haziness.
Cruising Halong Bay, Vietnam: Amazing Cave
After a quick breakfast of Pho (they eat it for every meal here in Vietnam!) we tendered to Amazing Cave, which was, in fact, amazing. The limestone karsts often contain caves as rain and sea water have left their mark over the past couple million years, but this is one of the largest. Stairs and paths led us through three connected caves, each one bigger than the previous.
Enormous stalactites dripped from the ceiling onto their counterpart stalagmites below. Colored lights illuminated the stones, which somewhat disturbed the natural setting, even though it was pretty. Getting a glimpse of the rocks both inside and out made us wonder just how much more there was to discover in the bay.
Cruising Halong Bay, Vietnam: Cooking Demonstration
Alas, one activity remained when we returned to the boat: a cooking demonstration. The chef was teaching us how to make the popular Vietnamese spring roll. Pork, sprouts, two kinds of mushrooms, carrots, potato (at least that is what he said it was – some starchy vegetable in any case), spices and herbs were all finely chopped then mixed by hand.
We were given thin sheets of rice paper and a scoop of the mixture to make into spring rolls. I have a sneaking suspicion this just may have been a ploy to put us to work after loafing on the boat for three days. All the same, I, with my love of cooking, thoroughly enjoyed it.
Cruising Halong Bay, Vietnam: Taking the wheel
While the staff was frying up our spring rolls and the rest of lunch we had free time. We were already cruising back to port. Despite the heat, I headed out of the air conditioned cabin (where the staff had decided to put on a DVD of the 2012 movie, 21 Jump Street) to get my last look at the karsts while cruising Halong Bay, Vietnam.
As I passed the wheelhouse I asked the captain if I could take a picture inside. He surprised me by saying I could also take the wheel. This was not at all the lazy, barely-move-the-wheel steering. I had to spin the wheel, making up to 12 rotations, just to slightly alter our direction. With all the junk boats heading back to port and the many fishing boats in the water, it was quite the task.
Cruising Halong Bay, Vietnam: Final meal before docking
Our final meal was as fabulous as all the others (the spring rolls were the best yet!) and we continued to wonder how they were able to turn out so much food so quickly that was so good. Soon we were back on land and our three days of cruising Halong Bay, Vietnam had come to a close. Back in a van, we started the long four-hour trip to Hanoi with all the people, chaos and honking.
Cruising Halong Bay, Vietnam: Final thoughts
There are so many factors that combine to make one experience outshine the many others. For us, many factors were all gelling together making our experience of cruising Halong Bay, Vietnam one of our best yet in our journey around the world.
It started with the unexpected upgrade and the phenomenal food, but in reality, it was the smiling staff, the fellow passengers (some of whom we now call friends) and the up-close, personal and locally guided tour the second day that really made our experience such a magical one.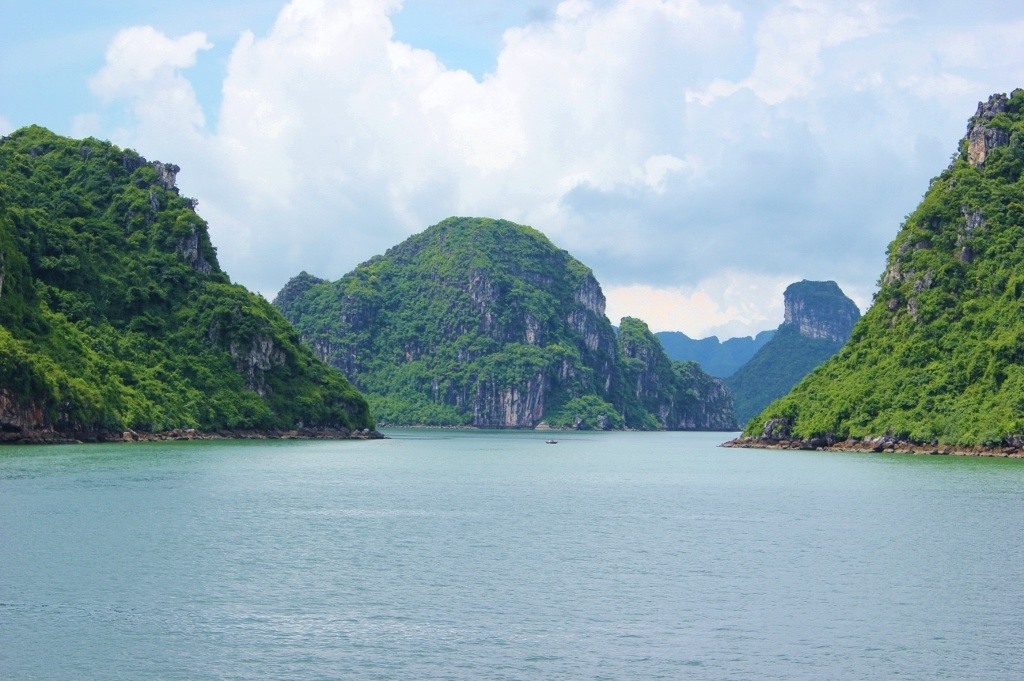 We want to know: If you have had the experience of cruising Halong Bay, Vietnam, how would you rate it against other travel experiences? If you haven't seen Halong Bay, is it something you want to experience?
Pin it!