Hey there! Welcome to JetSetting Fools! You will find our best travel tips for destinations worldwide. Some of the links on this site are Affiliate Links and if you use them to make a purchase, we may earn a small commission. For more information, read our Disclosure Policy.
---
Hoi An sits pretty on a lazy river full of fishing boats; historic, fading yellow houses with red-tiled rooftops line the streets of the UNESCO World Heritage city, which is quite the contrast from buzzing Hanoi. Motorbikes still zip through the lanes, but not nearly as many and the vibe is much calmer, overall. These are our first impressions of Hoi An, Vietnam.
First impressions of Hoi An, Vietnam: Shopping
Unlike Hanoi, where we were mostly ignored by locals who were busy doing business, in Hoi An, tourists are the business. "Madam, buy from me;" "Lady, look in my shop. I have all colors, all sizes;" "What you looking for, Miss? I have everything, I show you."
These are the common phrases that follow us down the shop lined lanes. Clothes (from t-shirts to hand stitched tailoring), Art galleries, and Vietnamese souvenirs (like placemats, chopsticks, and lanterns) occupy almost every storefront in the town center.
First impressions of Hoi An, Vietnam: Food and Drink
Filtered in are restaurants, more high-end than what we found in Hanoi, but still incredibly affordable. The most budget-friendly item on the menu is the Fresh Beer, available at most spots for just 5,000 dong (that's equal to a US quarter) and weary travelers start filing in mid to late day for a mug (or two).
The market is the thriving center of town, where locals and chefs really do buy fresh produce and meat, stopping their scooters in front of a stall and pointing at what they want. Pungent odors mix together as we wander by the heaps of fresh peeled grapefruit, fly-covered whole fish, live chickens in a bird cages and sugary, warm donuts.
Away from the market, women offer fruits and vegetables from their baskets to passersby. Many ask if we want to take their picture. If we do, they will then show us their fruit, peel a piece and offer it to us. If we take it, a bundle will be bagged and offered for a high price (usually around $2).
Regardless of how many times we've already said no, we usually end up negotiating and agree to pay just $1, more for the excellent salesmanship than for the fruit itself (although, the fruit is spectacular!).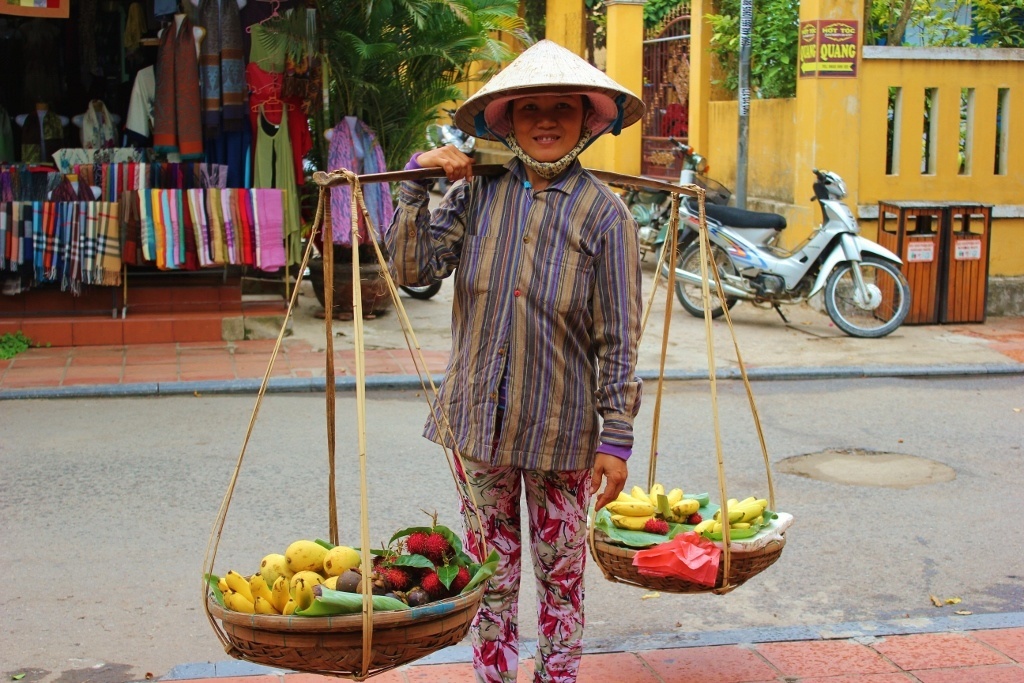 First impressions of Hoi An, Vietnam: Historic sights
In the midst of everything that is for sale remains the historic element of town – temples, assembly halls, communal houses, museums and living houses. A ticket for $6 (which goes to preservation) is good for admission into six of the 20 or so sites.
There is no formal tour and only sparse information is provided, but we made our donation and just stopped into the sites that we passed along the way, not really intent on seeing any one in particular. The intricately detailed carvings on the temples, assembly halls and covered bridge were incredible.
One house we visited has been owned by the same family for eight generations, with some family members still living in it now, featuring original furniture, creaking wooden floors and an airy upstairs balcony.
The history and resiliency of the places are amazing and I wished that I did have more information as I felt the sights were a bit cheated by not learning more about their background. All the same, while none were in pristine condition, most are still in use by locals as they were originally intended, which is amazing in and of itself, and what makes Hoi An a wonderful place to visit, regardless of the touristy factor.
We want to know: Have you been to the ancient city? What were your first impressions of Hoi An, Vietnam?
Pin it!