Hey there! Welcome to JetSetting Fools! You will find our best travel tips for destinations worldwide. Some of the links on this site are Affiliate Links and if you use them to make a purchase, we may earn a small commission. For more information, read our Disclosure Policy.
---
Exactly three months ago we began our year-long journey around the world. We had mapped out our destinations, packed up our backpacks and set a strict budget of $100 per day, on average. We knew we could get by on less while in South America, but also knew that Easter Island, French Polynesia, New Zealand and Australia, where we've been for the last six weeks, would push us to our limits. In order to keep a close eye on our spending habits, we keep a spreadsheet of every dime we spend. Our travel budget for three months on the road, breaks down like this: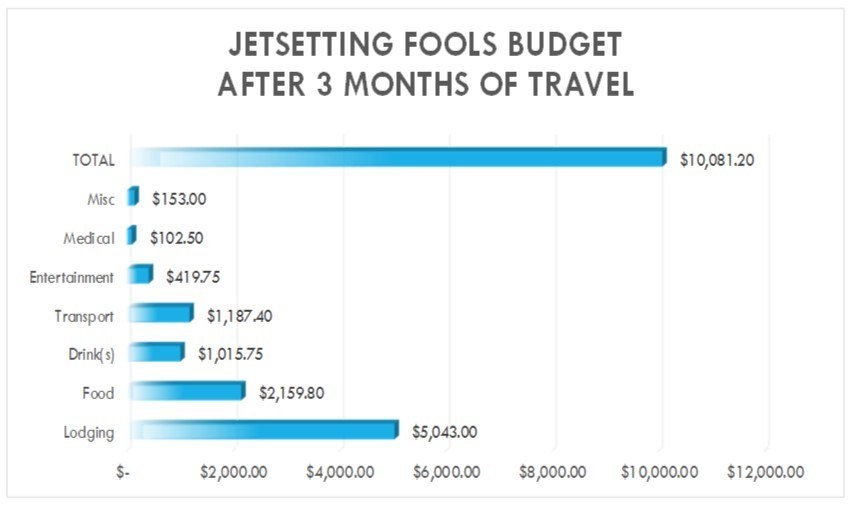 Travel budget for three months: Lodging
LODGING – Total Spent: $5,043.00 USD / Average Daily Spent: $54.81 USD
In South America we were able to find quality accommodations at inexpensive prices, our studio in the trendy Recoleta district in Buenos Aires was a steal at only $38 a night. However, finding budget stays in tropical paradise proved to be a bit more difficult, pushing our budget to the limits with our most expensive stay yet: our cabana at Mark's Place Moorea was $94 a night. Although just a studio, the kitchen was sufficient and was located just across the street from the ocean.
By pure luck we found excellent and affordable Easter Island accommodations at Keu Henua for $72 a night with a shared kitchen, provided breakfast and ideal location. In New Zealand and Australia we've been able to score quite a few bargains on Airbnb.com, making use of kitchens, getting cozy in studios and staying on the outskirts of town rather than in the city center, but we are still spending more than half our daily budget on accommodations.
Travel budget for three months: Food
FOOD – Total Spent: $2,159.80 UDS / Average Daily Spent: $23.47 USD
I continue to be shocked by the price of eating out around the world – and New Zealand took it to a whole new level where $20 burgers were the norm and in Australia where soup-for-lunch deals come in for the bargain price of $15 (for soup!). In Easter Island, we indulged in a dinner out where I enjoyed the most delicious, fresh caught, perfectly cooked tuna I've ever had in my life – and, while not exactly budget, it wasn't over the top at $13 (worth every penny!).
On Moorea, even our grocery options were limited with fresh produce options being practically non-existent and we hit our culinary low by making a meal out of rice and a can of Beans and Weenies. While groceries are clearly more expensive in New Zealand and Australia, my comfort zone has been restored as I'm finding ingredients that I'm familiar with and making some phenomenal dishes at home. With our average daily food expenditures, including the few times we've gone out, we are still averaging less than $4 per meal each.
Travel budget for three months: Drinks
DRINKS – Total Spent: $1,015.75 USD / Average Daily Spent: $11.04 USD
As we've rolled into the more expensive destination on our itinerary, our average daily spending on drinks has more than doubled. Yet, the reality is that we are probably drinking less. It's been a major adjustment to our lifestyle to limit how often we go out and since we've arrived in New Zealand and Australia, it's been even more difficult.
Breweries, historic pubs and bars with ocean views are reeling us in, regardless of the fact that the prices are astronomical for our small budget. Our high priced Belgium beers in Santiago were just a warm up for the sticker shock we endured when we hit the craft beer scene in Wellington with hardly a happy hour in sight. We found a similar scene on Bondi Beach, where small beers with an ocean view cost nearly $10. On Moorea, the high price of a can of the local Hinano – a whopping $4 per can and no discount for buying in bulk – had us caving in and buying the cheap, box carton of wine, which was also insanely expensive at $10. At least we had a hammock and lush surroundings to enjoy it in.
Travel budget for three months: Transportation
TRANSPORTATION – Total Spent: $1,187.40 USD / Average Daily Spent: $12.90 USD
Local public transportation costs were quite reasonable in South America, but the cost of taxis were similar to prices we would see in America. We didn't need to spend a dime on public transport in Easter Island, as everything was within walking distance and our host gave us a lift to and from the airport. Moorea is lacking a real bus system, so we relied mostly on our own two feet. The few times we did catch a bus, it was an affordable $3 a trip.
In New Zealand and Australia, the public transportation is clean and efficient…and costly. To get into Wellington from our nearby suburb was $5 one way; making round trip for two people $20, which is 20% of our daily budget (hardly leaving any room for those tasty craft beers after we factor in accommodations and food). In Sydney, again staying on the outskirts of the city, we were lucky to be right on the light rail line (weekly passes $23 each) that whisked us into the center of the very walkable city.
Travel budget for three months: Entertainment
Entertainment – Total Spent: $419.75 USD / Average Daily Spent: $4.56 USD
Easter Island put the biggest dent in our Entertainment category. However, we weren't about to go to one of the most remote and fascinatingly historic places on the planet and then not see it. There are plenty of moai sights that are free, actually, most of them are. But the two must-see moai sights require a park pass, which was a hefty $60 each. We also opted for an all-day tour to take in the history lesson from a local and get to some of the sights that were out of walking distance, which set us back a total of $90.
On Moorea, we were fortunate to have very affordable kayaks and snorkeling gear available to us through our accommodations, only costing a total of $36 for an entire day, dawn 'til dusk. In New Zealand, we created our own walking tours at zero expense and while the beers in Australia may be pricy, walking on the beach is still free.
Travel budget for three months: Overall
OVERALL: Total Spent: $10,081.20 USD / Average Daily Spent: $109.58 USD
As was much anticipated, our costs have greatly increased since our time in South America, which itself wasn't as inexpensive as we had thought it would be. Our overall average spending for our travel budget for three months averages to just less than $110 per day, which is a bit higher than we would like it to be.
While Easter Island accommodations and food were much more affordable than we thought they would be, we definitely made up for it with our sightseeing expenses. Moorea was almost the exact opposite: the accommodations and adult beverage prices were huge, but we hardly spent any money outside of those categories. New Zealand and Australia have stretched our budget in all categories except Entertainment, consistently pushing us above our $100 daily limit.
We have four more weeks in Australia, but our secured upcoming accommodations are more in line with our budget. As we head north to Cairns, we do foresee an Entertainment expenditure for Great Barrier Reef activities, but, then we'll be heading to Southeast Asia, where our budget will most likely get a bit of a break!
We want to know: How do you budget for long-term travel? What do you spend the most money on while traveling?
Pin it!