I've never met anyone who loves packing. In fact, I think packing is the most daunting, upcoming-trip-buzz-killer there is. Incorporating necessities, comfort and style – and resisting the urge to pack everything you own – can be a real struggle. I used to be an over-packer; the traveler who checked two large suitcases for a one-week vacation…and only wore about a fifth of what was packed. However, those days are long behind me.
The more I traveled, the savvier I became. Coordinated outfits, essential toiletries and sensible shoes were the items I packed. I had a streamlined formula that destroyed my packing dilemma. I could pack for a week-long, overseas trip in about an hour; for weekend jaunts, I could pack and be out the door in 20 minutes' time.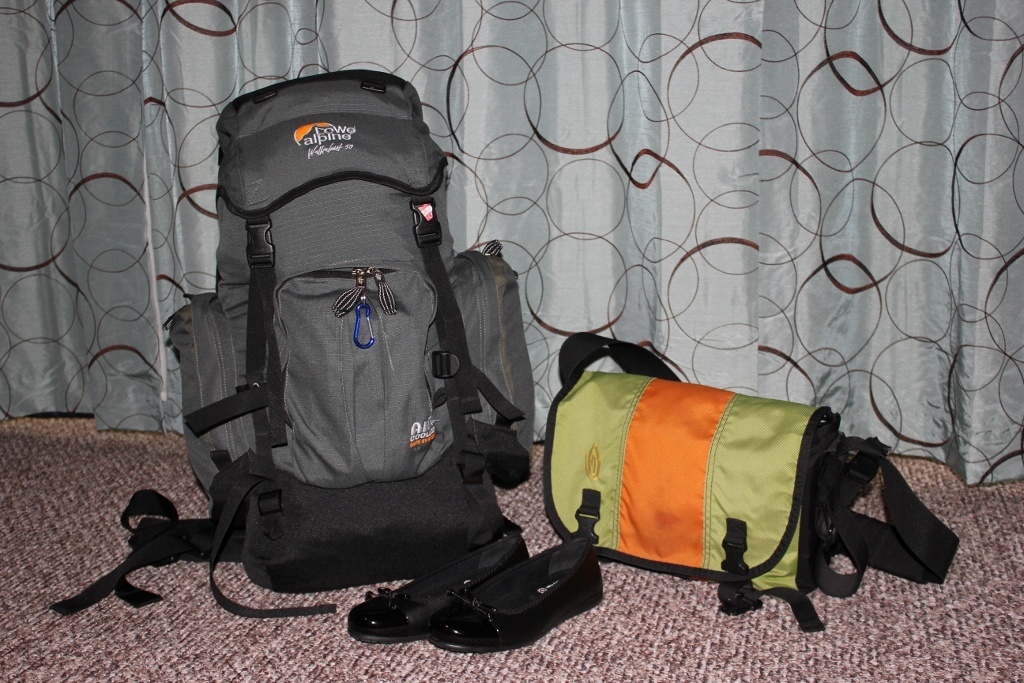 That is, until we decided to spend a year traveling the world. As I contemplated what I would carry, all of my packing angst returned. I spent weeks poring over packing lists; agonizing over what would make the cut and fretting what would be left behind. I read travel blogs that insisted I needed over-priced travel products; a farce I regrettably fell for regarding some items and good advice I carelessly dismissed regarding others. Yet, I retained enough self-awareness to know some travel items (I'm looking at you, khaki zip-off pants; sorry, you're just not my style) would never make my list. On the day we left for our 'round the world journey, my biggest source of stress was worrying over what I had packed.
Our one year of full-time travel turned into two…and two years turned into three. Packing is no longer a source of anguish; I'm content with my packing choices; at least content enough. Since we left to travel the world in April 2014, what I carry in my backpack has barely changed – only requiring a few small adjustments and tweaks.
My detailed packing list includes every item I carry – including the bags I carry it all in. It is, perhaps, important to note that while we are full-time travelers, what I pack does not differ greatly from what I used to pack for week-long vacations. I divulge this information in an effort to help other travelers create their packing lists, but packing is extremely personal. My best packing advice: pack what's comfortable!
Complete Packing List
Clothes
Pants, Shirts and Under Garments
1 pair jeans
1 pair yoga pants
1 pair leggings
1 pair cargo capris (similar to these capris)
1 thin, cotton skirt
3 casual dresses (similar to these dresses)
1 casual skort
1 long sleeve microfiber shirt
4 long sleeve cotton shirts
3 tank tops
1 thin tank top (for bottom layer or beachwear)
3 loose fitting baby tees
1 thin, zip up hoodie
1 set of pajamas
2 bikini swimwsuits
2 bras
1 razor back bra
Notes:
When we first left to travel the world, I didn't pack enough shirts – I only had 1 tank top and 3 long sleeve shirts in my bag. I was constantly doing laundry in both warm and cold weather climates. I have since added additional shirts without adding too much weight to my bag, which has resulted in seriously cutting down on the time I spend sink washing my shirts!
ExOfficio underwear are all the rage for travelers – but, personally, they haven't lived up to expectations due to an awkward fit, color breakdown and ripped elastic. I still travel with them (mostly because of the money I shelled out to buy them), but I much more prefer wearing the breathable Fruit of the Loom bikini underwear – which cost a mere fraction of the price of ExOfficio.
Coats, Gloves and Hats
1 lightweight zip up hooded fleece (REI brand)
1 water resistant jacket (which fits over fleece)
2 fashion scarves (like these scarves)
1 wrap (similar to this wrap)
1 baseball cap
1 thin winter cap
1 wool winter cap
1 pair of thin winter gloves
1 pair of wool mittens
Notes:
My wrap is multi-functional – and, in my opinion, an essential item for travelers. In addition to its obvious purpose, I have used mine as a beach towel, bath towel, picnic blanket, airport blanket and bus pillow. The one I carry is black, thin and cost less than $10.
We travel in all seasons, so the additional caps and gloves are necessary (and have been added since we first started traveling). However, for a shorter, destination-specific trip, I would choose between thin and wool, rather than packing both.
Shoes
Notes:
I have also traveled with slip-on Skechers. I loved my Skechers, which could be worn for city walking, trail hiking and in inclement weather, but the new versions have a plastic-like sole, rather than rubber. I was slipping on concrete. So, I switched to Columbia, which are also good for cities and on trails, but not so great in rain and snow. I'm still in search of the perfect, versatile, everyday travel shoe.
A pair of flats can help dress up any outfit – and mine weigh practically nothing. When I'm ready for a new pair, I'm set on buying foldable flats.
Toiletries
Bathroom Essentials
Bar Soap (travel size)
Shampoo Conditioner 2-in-1 (in 3-ounce, refillable bottle)
3 Razors
Shaving cream (travel size)
Hair brush (travel size)
Toothpaste (travel size)
Retainers (with case and special brush)
Floss
Lotion (in 3-ounce, refillable bottle)
Face cleanser (travel size)
Face Lotion (with sunscreen)
Deodorant
Kleenex travel pack
Toilet paper (folded)
Shower cap
Washcloth
Notes:
I used to travel with disposable facial cloths (cut into halves or quarters to make the box last longer), but now just use regular soap to wash my face.
Bathroom essentials are available all around the world, so replacing these items while traveling is never an issue. However, in some places, the price of sunscreen is ridiculously inflated, so it's best to bring your own.
Re-fillable, travel bottles are the way to go for bathroom essentials like lotions and shampoo. Many travelers swear by the GoToob brand.
Make up bag
Face powder and 2 brushes
Eyelash curler (travel size)
Mascara
Eyebrow brush
Tweezers
Nail clippers
Nail File
Hair ties
Silver necklace
First Aid Bag
Band Aids
Antiseptic cream
Advil
Tums
Anti-diarrhea
Dayquil
Anti-histamine
Efferdent (for retainers)
Safety pins
Eye drops
Sea bands (for motion sickness)
Feminine products
Notes:
Medicine bottles can take up a lot of space and it can be tempting to just mix all the medications together, which isn't ideal. I use small, individual jars (similar to these jars) with screw caps to store medications – and use a marker to label each bottle. A weekly pill box could also work.
Ladies: In some countries – like many in South America and in the Balkans – choice of feminine products isn't as liberal as in other parts of the world. If you have a preference for tampons, you should pack them, as they may not be available where you are traveling.
Odds and Ends
Sunglasses
Sleeping Mask
Ear plugs
Whistle
Bottle opener
Binder clips, carabiner clips and rubber bands
Re-sealable plastic bags
Anti-bacterial hand wipes and gel
Handkerchief
Small scissors
Sewing kit
Travel size laundry detergent
Playing cards
Business cards
Journal (similar to these journals)
2 pens and 1 marker
Copies of passports, travel docs
Notes:
I have gone through several pairs of sunglasses since we started traveling. I started with my favorite – and expensive – pair of Maui Jim sunglasses, but lost them while in Ireland. After that, I went ultra-cheap…and wasn't surprised when three consecutive pairs broke just after a few weeks of use. I currently travel with a moderately-priced pair of polarized sunglasses, but I'm looking forward to the day I upgrade to Maui Jim's again.
Travel corkscrews are great – but, if you are flying, only pack them if you intend on checking luggage.
Electronics
Bags and carriers
Notes:
We splurged on packing cubes and compression bags before we started traveling full-time – and it was, without a doubt, one of the very best pre-travel purchases we made. We cannot imagine traveling without them!