Hey there! Welcome to JetSetting Fools! You will find our best travel tips for destinations worldwide. Some of the links on this site are Affiliate Links and if you use them to make a purchase, we may earn a small commission. For more information, read our Disclosure Policy.
---
As much as we plan for our travel days, we never seem quite prepared for the level of concentration it requires (read: we're completely checked out). Our newfound rhythm is disrupted. Everything we've unpacked has to be squeezed back into our packs. We need to be on a timetable and actually know what time it is. Then we have to strap on our bags and head out into the heat or wind or rain and get to the airport on time. As non-revenue passengers flying on Kris's flight benefits, we are usually prepared for surprises at the airport. We are seldom, however, prepared to show proof of onward travel.
Our travel day from Moorea to Auckland was even more hectic than most travel days. In addition to the normal stress, we were desperately trying to make one specific flight – a non-rev no-no. If we didn't make it, we would be spending another night sleeping on the Tahiti airport floor, which was less appealing on our way out of the country than it was on arrival.
It was a hot and humid morning; we had clothes that hadn't completely dried and needed to be packed. We had to catch a ride from our host to the ferry terminal, then the ferry to Tahiti, then a taxi to the airport. To top it all off, the cut on my foot I got while snorkeling was a bit infected, causing me to limp along on every agonizing step.
By some miracle we got our act together and we were at the Tahiti Airport checking in two and a half hours prior to departure. That's when we were delivered a surprising blow: "I need to see your proof of onward travel out of New Zealand in order to check you in for this flight," she said sweetly.
WHAT?! Up to this point, we hadn't been questioned about our proof of onward travel. We didn't have tickets leaving New Zealand. We didn't even know when we wanted to leave New Zealand. Kris tried airline-employee-speak. It didn't work. She said, a bit more firmly, in order to get on the plane we would need to buy tickets leaving New Zealand and show her the confirmation. Furthermore, we had to get it done in 25 minutes in order to meet the requirement of being checked-in two hours prior to departure.
The solution: Buy a standby ticket online.
We raced to the opposite end of the airport, bought an internet access card from the café. (Of course there was a line with the person at the front battling some serious decisions: "Hmmmm, do I want a Coke? No, maybe a Diet Coke. No, go ahead and give me a Coke." SERIOUSLY?!) Once we finally got the wifi code we raced back to toward the check-in counter and tried to log on with the computer. No. Such. Luck. Kris grabbed the laptop and ran back toward the café hoping for a better signal, leaving me standing at the counter with all of our bags. The minutes were ticking down. Tick tock. Tick tock.
Already a sweaty, limping mess, I couldn't stand the suspense another minute, so I hauled all our bags through the airport to find Kris and get an update. He was able to connect (on his phone, the computer never connected) and was logging on to buy standby tickets when I found him. We did a quick calendar check of already booked lodging details and then blindly picked a flight and clicked "Purchase."
I'm still not exactly sure what happened, how much the tickets were, or what day we are scheduled to leave New Zealand. The thing is, it doesn't matter. Standby – or non-revenue – tickets are completely refundable. The entire process was an exercise in futility.
Nevertheless, it got us checked in (with seat assignments, yea!) with just four minutes to spare. Once we got through security, we got a very expensive, but much needed, Hinano before boarding the flight to Auckland. Such is the life of a Jetsetting Fool.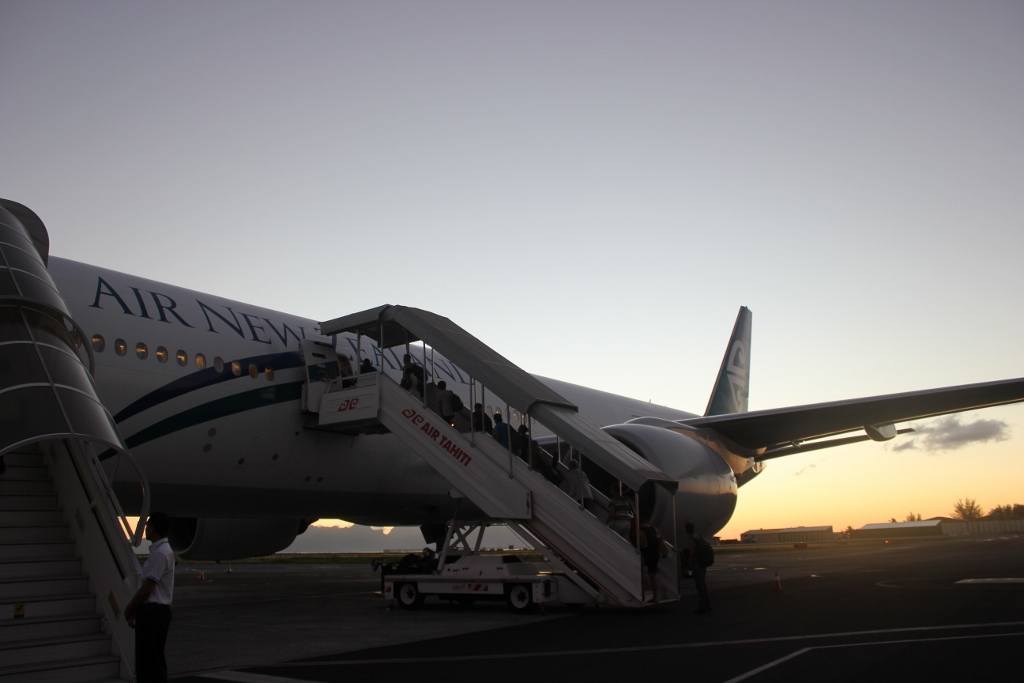 We want to know: Have you ever been asked to present proof of onward travel when you didn't have it? What did you do?
Pin it!