Hey there! Welcome to JetSetting Fools! You will find our best travel tips for destinations worldwide. Some of the links on this site are Affiliate Links and if you use them to make a purchase, we may earn a small commission. For more information, read our Disclosure Policy.
---
With limited flights to Easter Island and on to Tahiti – always a risk for standby passengers – we were quite unsure if we would make it to either destination. Not wanting to be on the hook for accommodations we couldn't use, we waited until we arrived to book our accommodations. We had a few places in mind, but options – budget options – were limited. As it turned out, we found budget island accommodations on both Easter Island and Moorea.
Budget Island Accommodations: Easter Island
On the recommendation of several previous budget travelers, we had picked Tojika Hostal as our desired choice for budget island accommodations on Easter Island. Upon arrival at the airport, we were pleasantly surprised to see they had a booth at baggage claim and we made a beeline for it. Unfortunately, their 'Matrimonial Room' was booked, as was the rest of the hostel.
As luck would have it, the woman standing in the next booth had a cabana available at her place, Keu Henua Cabanas, for $72/night, which was just slightly higher than the rooms at Toika. Our stay at Keu Henua included breakfast, a communal kitchen, a ride to and from the airport. The price also included the highly desired wifi. The woman didn't speak English (and even after six weeks in South America, we were stuck at Spanish 101), but we followed her to her car, got in, did a little praying, and hoped for the best.
And that is exactly what we got. For us, it was truly the best place we could have stayed. Located on the north side of town on a residential street the individual cabanas are set between the owner's house, a greenhouse and the ocean. The room was basic, but had high ceilings and plenty of space, including a queen bed as well as a single bed that we used as a couch/luggage storage.
The kitchen was just two cabanas away. The served breakfast was unique each morning, but always included fresh bread, meat, cheese, jam and fruit. We had views from the kitchen windows that reached the ocean with a peek of the moai at Tahai. At night, we would cook, sometimes with other guests, and either eat in the kitchen or take it back to our patio table. Despite the language barrier, the host family's kindness made us feel at home.
Budget Island Accommodations: Moorea
Finding budget island accommodations on Moorea proved to be a bit more difficult (go figure?!) and we were glad to have done our homework ahead of time. Budget is a funny word in French Polynesia. But, we learned, there is a fine balance between camping in a tent on the beach for $40/night and the overwater bungalows at the Hilton at nearly $1000/night – and we found that balance at Mark's Place Moorea in an open-air bungalow for $94/night.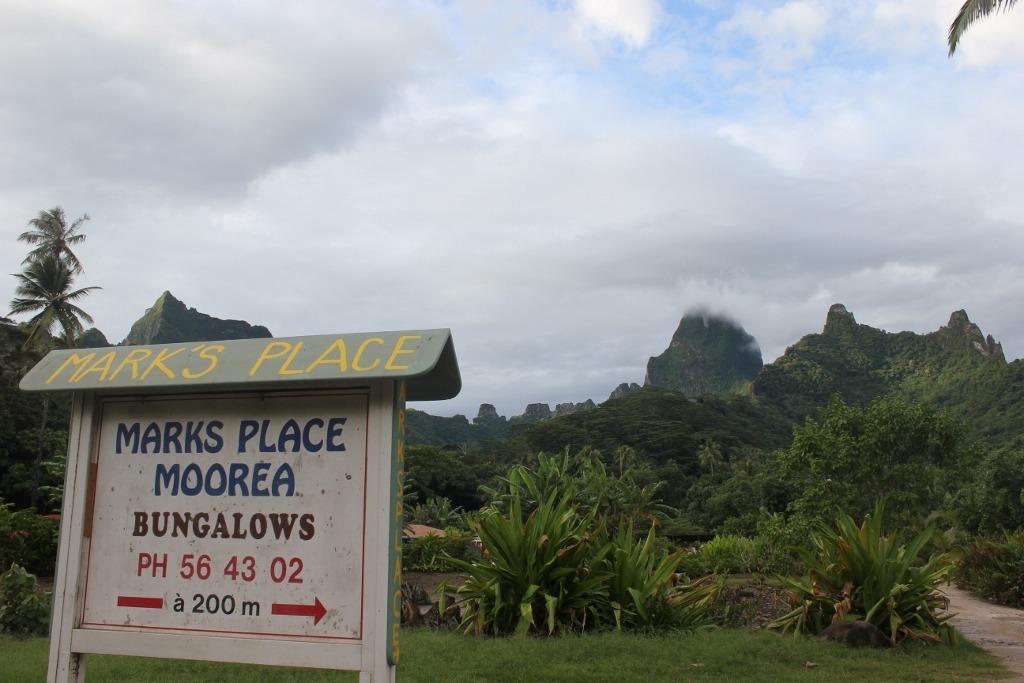 The quaint spot with seven cabins strategically placed for privacy on tropical gardened grounds is just a short walk from the water on the southwest side of Moorea. Mark designed and built each cabin, incorporating the natural, tropical habitat, as well as including modern necessities (like numerous outlets for devices). Close attention was paid to details, like the perfect soft lighting so as not to disrupt the natural atmosphere.
Our cabana, Fare Miti, had stone floors, a high, wood ceiling and screened windows on all four walls to let the island breeze flow through as if were outside rather than in (minus the bugs). We had indoor/outdoor access to the bathroom (for when you get back from the beach) with a rainfall shower, a coconut shell for a soap holder and palm leaves making their way through the gap from wall to ceiling: a completely modern design practically outside.
The bed is tucked in a glass-less bay window, letting us star-gaze through the screen as we fell asleep to the song of crickets and roar of the surf. Each morning we would wake with the island birds and roosters at dawn and afternoons were spent in the shaded porch hammock, Hinano in hand. The kitchenette had everything we needed to prepare our budget-saving dinners at home.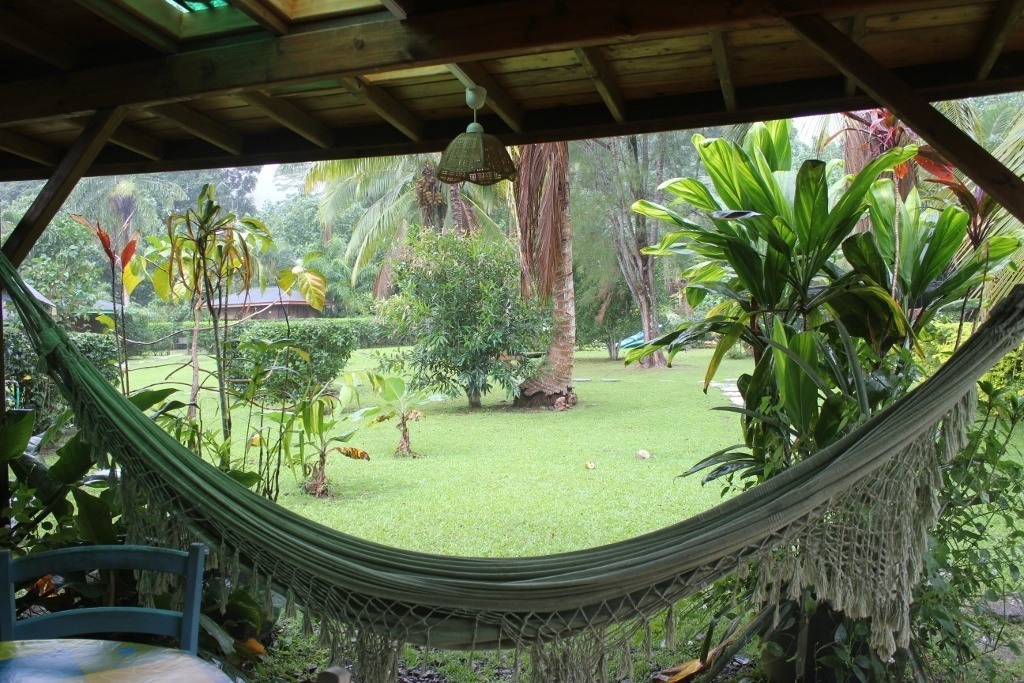 The property had additional perks of inexpensive kayak and snorkel gear rentals, friendly conversation and local tips from Mark (who is almost always onsite to help). We could also use the aloe plants from his garden for the inevitable sunburn. But, it was the tropical mountain views that make it difficult to want to leave the property.
Paradise on a budget? It can be done.
We want to know: Have you ever traveled to an island on a budget? What budget island accommodations were you able to find?
Pin it!