Hey there! Welcome to JetSetting Fools! You will find our best travel tips for destinations worldwide. Some of the links on this site are Affiliate Links and if you use them to make a purchase, we may earn a small commission. For more information, read our Disclosure Policy.
---
Housesitting for the holidays is a new concept for us. From the moment we agreed to housesit near Nijmegen, Netherlands from mid-November to the end of January, we began pondering how we would celebrate (American) Thanksgiving, Christmas and New Year's. What are the local traditions? Will we get a tree and decorations? Will there be Christmas markets? Do the Dutch celebrate with a feast? What is on the menu?
These questions prompted us to reach out to fellow travelers who will also be housesitting for the holidays. We wanted to know how they are celebrating (or have celebrated) while pet and housesitting for the holidays.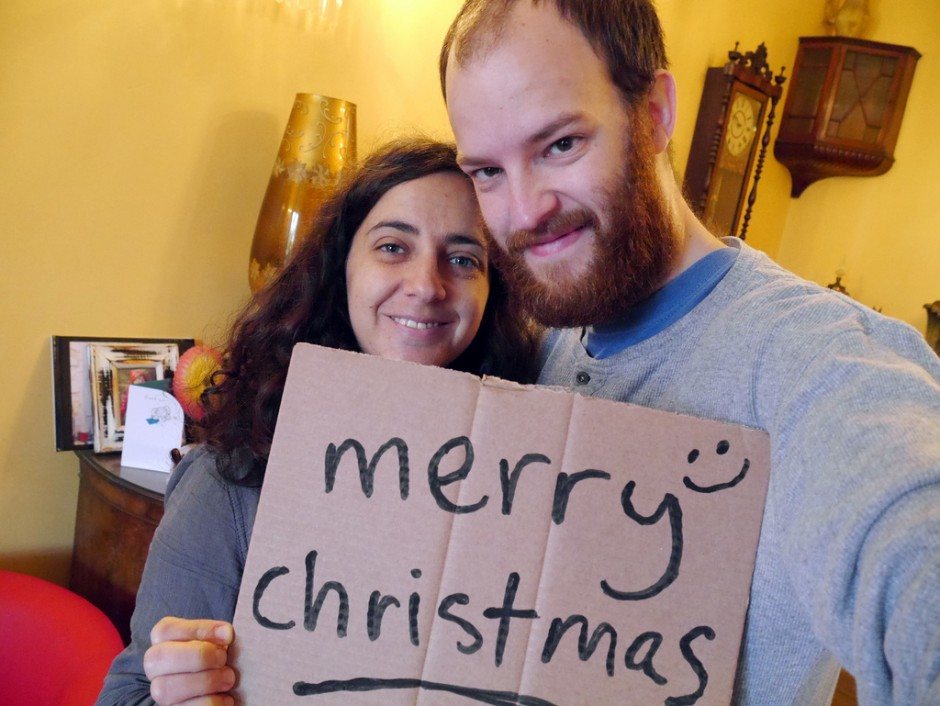 This December we'll be spending our second Christmas in someone else's home as house sitters, and we're super excited.
On Christmas Day we'll wake up in the heart of London with two beautiful cats to keep us company as we celebrate the day together in a way that only housesitting allows us.
As travelers we don't often have the comforts of home, so being able to wake up in a private home – instead of a noisy hostel or hotel – and be able to make ourselves a delicious and over-the-top vegan Christmas dinner is momentously joyous; and being able to enjoy the holidays where the chance of snow is high, what more could we ask for?
Find Angloitalian, Follow Us on their blog and on Twitter at ai_followus
I spent last Christmas and New Year's in Konstanz, Germany with my fella looking after an empty home in a beautiful location while the owners went away for the holidays.
Over the fortnight we experienced festive Konstanz in glorious winter sunshine. Lake Constance glittered with its spectacular backdrop of the Austrian Alps. On Christmas Day we took an afternoon walk into Switzerland, which was just a couple of hundred meters along the road from the apartment!
Just after Christmas the snow fell, transforming Konstanz to a winter wonderland. It was still piled up by New Year and the locals used it to prop their fireworks.
At midnight the starry night sky was obliterated by bright explosions. It was chaotic, wild and colorful: all along the river and over the bridges fireworks were let off by the merry revelers.
Find Vagabond Baker on her blog and on Facebook at Vagabondbaking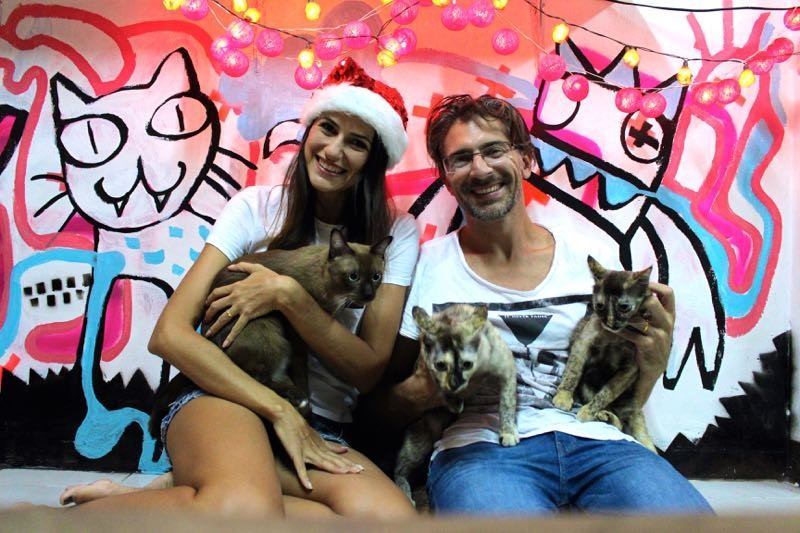 Last year we spent our first Christmas & New Year's Eve far from our family and home. Actually, we spent the holidays with a new family in Bangkok, Thailand: Chomsky, Freya and Oshima, the three lovely cats that we looked after during the holiday season. We are cat lovers and those three rascals helped a lot to smooth the "homesickness." They were with us all the time, following us all around the house.
Since it was our first time in Bangkok and we have no clue on how they celebrate holidays we decided to go out for a vegetarian dinner and later hit the infamous Khao San Road for some buckets (of booze). It was quite different from our celebration in Brazil where we would eat a lot of meat and drink a lot of booze. Well… the booze we had!
Find Love and Road on their blog and on Facebook at LoveandRoad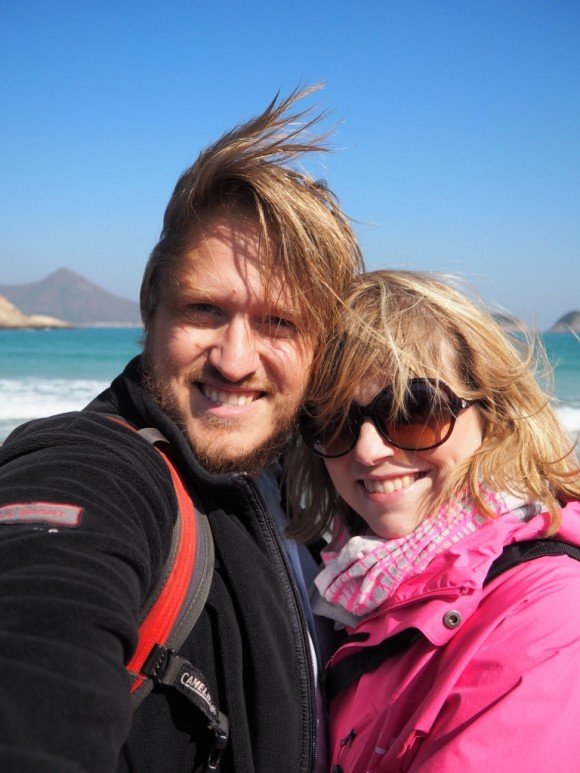 Last year we did a housesit in Hong Kong for the lovely sausage dog, Poppy. We were travelling in Asia at the time, where Christmas is not really celebrated. However, Hong Kong does have some Christmas spirit and it is a city where we feel at home, which was just what we needed during the holidays. At Christmas we cooked Belgian recipes with Chinese ingredients and for New Year's Eve we were invited to a local wine shop.
This year we were traveling in South America and decided to fly to New York for a Christmas housesit with a cute little dog. New York has a famous Christmas spirit, and we are excited to be part of that. On Christmas day we will first call our families and then cook some Belgian dishes, because in Belgium we normally celebrate with our family and friends with lots of food! What will we do for New Year's Eve? We have no clue yet, but we are pretty sure New York will come up with a few ideas!
We very much enjoy holiday housesits, since we can relax from traveling long term and can feel a bit 'at home' during these festive days, even while away from our families.
Find Chopsticks and Trains on their blog and on Twitter at ChopsticksTrain
Jetsetting Fools are Housesitting for the Holidays

We are in our second year of traveling full time, which means that this year we'll – again – be spending the holidays far away from our home country. As a person who has a fondness for traditional celebrations, it can be a challenge to find balance while traveling during the holidays. On one hand, I feel the need to honor my own traditions, while on the other hand, I eagerly participate in the local holiday traditions of wherever we happen to be.
Last year, we spent Christmas and New Year's traveling eating and drinking our way through Barcelona, Sevilla and Madrid with our friend, Lowercase. Between the jamon y queso, Christmas markets, magnificent churches and learning about Caga Tio and El Caganer, the holidays flew by. Knowing another year of such shenanigans would be hard to top, this year we added a plot twist to our travels: Housesitting for the holidays.
It was during our housesit in Melbourne, Australia that we agreed to a 10-week housesit in the village of Beek outside of Nijmegen, Netherlands. The housesit, in a lovely and comfortable family home, also included caring for one pet, Berus, a 90 pound, playful (and protective) hovawart. This year while housesitting for the holidays, Berus will be replacing of our friend, Lowercase, and the three of us will celebrate Christmas and New Year's together in Beek.
In the Netherlands, we have witnessed the local holiday preparations firsthand. Sinterklaas and his Zwarte Piet helpers arrived in the Netherlands in November and delivered presents on the night of December 5th. Since then, Christmas markets, lights and trees have ushered in a festive atmosphere. To enhance our Christmas spirit at the house, we bought a small, living Christmas tree and turned it into a merry decoration by adding a strand of white lights, an assortment of red jingle bell ornaments and a glittery gold star.
With Christmas just a week away, we are still unsure exactly how we will celebrate the day. For Thanksgiving, I prepared a large, traditional American feast. For Christmas, I'm considering preparing a traditional Dutch Christmas meal – or simply setting out a spread of local fare (Hello, cheese!) to graze on all day. Regardless of what we decide to eat, we know one thing for sure: we'll be brewing bisschopswijn, the Dutch version of mulled wine.
We anticipate a day filled with comforts of 'home.' With Berus by our side, we'll have a fire in the wood-burning stove, stream classic Christmas songs from iTunes radio and pop Love Actually (yes, our homeowners have a copy in English!) in the DVD player. Afterwards, we'll Skype with family and friends in America, closing the gap of thousands of miles with the invention of video technology. Sounds like a merry Christmas to us!
We want to know: What do you think about housesitting for the holidays? Would you want to? Tell us why or why not in the comments!
Pin it!