Hey there! Welcome to JetSetting Fools! You will find our best travel tips for destinations worldwide. Some of the links on this site are Affiliate Links and if you use them to make a purchase, we may earn a small commission. For more information, read our Disclosure Policy.
---
Northeast from Budapest's city center is a 302 acre enclave of green space, simply named City Park. The origins of the park date back to the 13th century, however, it wasn't until the early 19th century that it became a public park. It is often cited as the first public park in the world. Much of the grounds were gussied up for Hungary's millennium celebration in 1896. Besides the many paths that weave through Budapest's City Park, there are also museums, a castle, thermal baths, ponds and many, many monuments.
Budapest's City Park Sights:
The castle was originally constructed of wood and cardboard for the 1896 celebrations, with the clear intent to tear it down once the party was over, but it gained such popularity that it was reconstructed using stone. Four distinct architectural styles (Romanesque, Gothic, Renaissance and Baroque) are incorporated to replicate some of Hungary's finest architecture. The main castle, built in the Renaissance style, is patterned after the Transylvania Castle (which is in Romania, but was part of Hungary at the time). The Romanesque Benedictine chapel is modeled after those of the 13th century. The mansion decorated in the Baroque style houses the Museum of Hungarian Agriculture.
Budapest has more than 120 natural springs – and about 25 thermal baths that feed the naturally occurring hot water into elaborate, fancy and playful pools lined with jets. We haven't yet ventured in, but the grandiose Szechenyi Bath complex is impressive from the outside.
Fourteen of Hungary's most legendary leaders are featured in the grand, pillared Millennium Monument, which wasn't actually completed until 1929. The center column acknowledges the seven Magyar tribes that settled the area in the year 896, with the archangel Gabriel topping it at about 120 feet.
The vast square also includes the Hungarian War Memorial and two museums, Museum of Fine Arts and Hall of Art, flank each side of the square. In addition to the tourists posing with the modern art sculpture, skateboarders breezed through the square and a small rally or peaceful protest was taking place off to one side.
We want to know: Have you been to Budapest's City Park? What did you enjoy most about it? What other parks do you like in Budapest? Tell us in the comments!
Our Top Tips for Your Trip to Budapest
Sightseeing (and money-saving!) Tips
A trip to a spa is an essential Budapest activity! There are many Budapest spa packages available, which range from basic to luxury. Szechenyi and Gellert are the two most popular tourist spas, both of which also offer massages.
A cruise on the Danube River is a popular way to see the city – which include everything from public passenger ferries to dinner cruises. Find a Budapest River Cruise that fits your style and budget!
Guides lead visitors through the city on a variety of walking tours – everything from neighborhood specific to food tours to Ruin Bars (which can also be seen on a Pub Crawl!).
Our Budapest 3-Day Itinerary covers some ground, most of which is on foot. The public transportation keeps the city well-connected. Click here for information on methods of transport and cost or catch a ride on the Big Bus Budapest, which makes stops at all the top tourist sights!
If you are planning on visiting the top Budapest sights and using public transportation, a Budapest Card can save you money.
Budapest is an affordable city, but many of the sights charge exorbitant entry fees. Click here for our recommendations for Budapest on a Budget.
Accommodations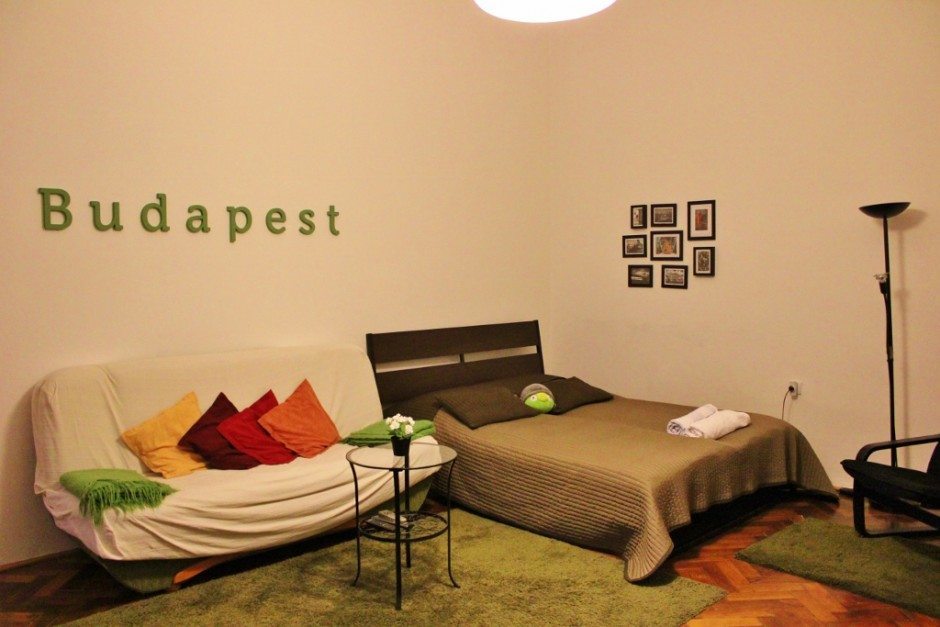 We, once again, relied on our go-to option of Airbnb.com to secure accommodations – and we weren't disappointed. Located in District Six, we were well within walking distance to the sights. Our high-ceilinged, bright apartment had one large room with a separate kitchen and bath – and only cost $34 a night. (Use this link to join Airbnb and save money on your first stay!) We have found that staying in apartments is often less expensive than hotel rooms – with the added benefit of a kitchen and, usually, more space. Budapest holiday apartments can also be searched on FlipKey (which is part of TripAdvisor) or on VRBO – Vacation Rentals By Owner.

However, for those who prefer staying in traditional accommodations, there are many Budapest hotels to choose from in – or close to – the city center. Check out these top-rated hotels (based on guest reviews!) for your upcoming trip: Hotel Moments Budapest, Callas House and Aria Hotel Budapest. Or, find a deal on a hotel room by bidding on Priceline.
Budget travelers can search for Budapest Hostels – like Georges, Metropolis Hostel and Flow Hostel. For a true bargain – and a unique experience – search for hosts on Couchsurfing, where travelers stay with locals for free.
Getting There
Budapest can be reached by plane, train, bus or car. We arrived by train (Ljubljana to Budapest) and departed via plane.
Our preferred method of getting anywhere is by flying (we are JetSetting Fools, after all!) and when we do need to purchase plane tickets, we start our search for the best deals on airline tickets on Skyscanner or Flight Hub.
To get from city to city when flights are not possible, we usually rely on public transportation and take trains or buses. In Europe, we use Rail Europe to find train tickets and our preferred bus company is FlixBus – as it is economical, clean and comfortable with on-board wifi, seat-back entertainment, refreshments and a toilet. We aren't keen on driving abroad, but renting a car can often save time and money (especially when traveling with more than two people) – and it allows for greater discovery.
Before You Go
Want more travel planning tips? Head over to our Travel Planning page for our complete packing list and other travel resources!
Like what you're reading? Join the journey!
Subscribe to JetSetting Fools and get new blog posts and our quarterly newsletter direct to your inbox:

Pin it! See all of our travel pins on our JetSetting Fools Pinterest Board.