Hey there! Welcome to JetSetting Fools! You will find our best travel tips for destinations worldwide. Some of the links on this site are Affiliate Links and if you use them to make a purchase, we may earn a small commission. For more information, read our Disclosure Policy.
---
When we made plans to go to Rome, the purpose wasn't to take in the sights or to immerse ourselves into the culture. We were going for one reason: to meet my mom and sister. It wasn't our first time city sightseeing Rome, but it was for them. Their trip was a two week introduction to the Big Three: London, Paris and Rome; we were joining them for the last leg. Like most first-timers to a city, they wanted to see the best Rome sights and packed their Rome itinerary with the top places to visit in Rome in 3 days – and we joined in on the fun. With a Rome tourist map in one hand, a camera in the other and good shoes on our feet, we squeezed as much sightseeing as possible into our 3-Day Rome Itinerary.
Note: My mom and sister had 5 days in Rome, which you can read more about in their 15-Day London, Paris, Rome Itinerary.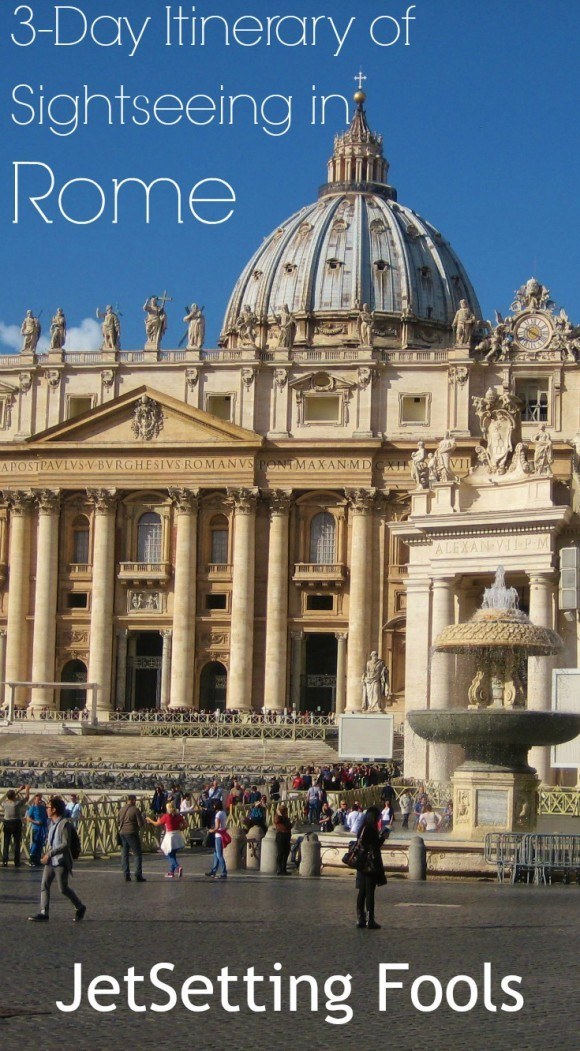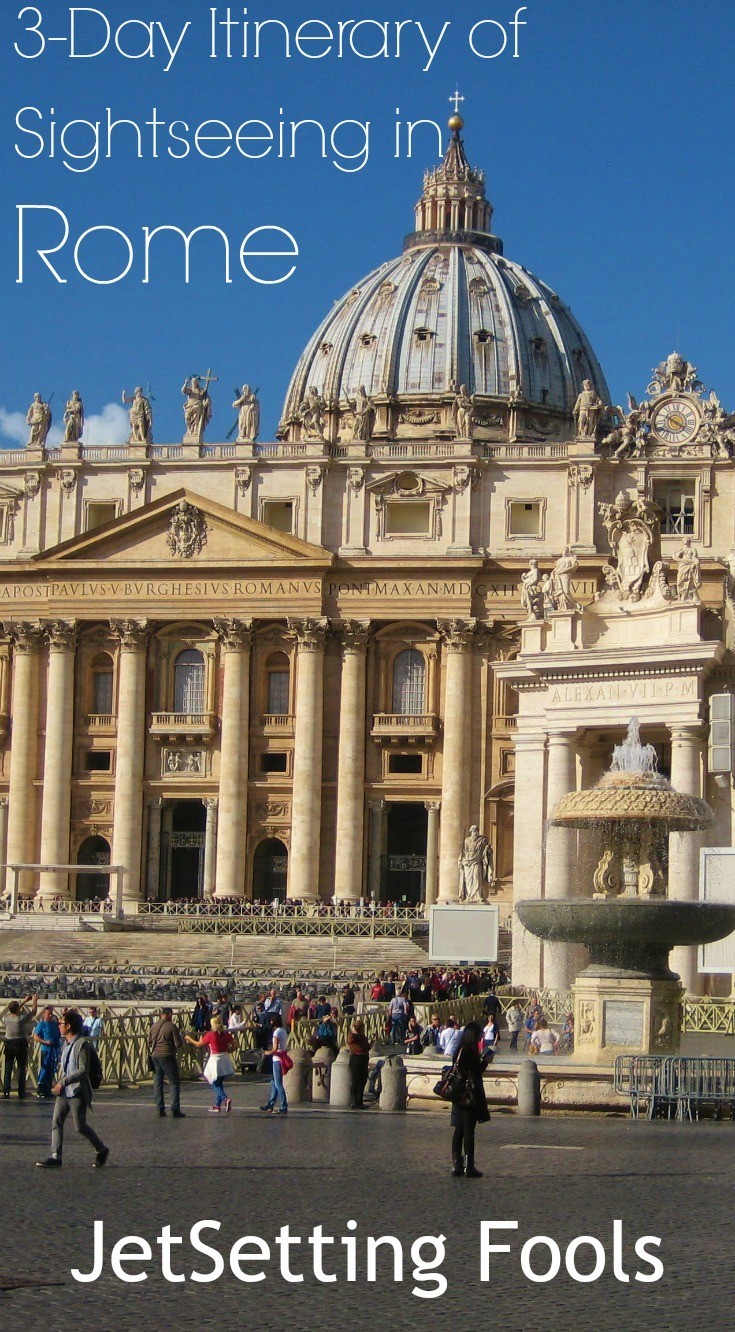 3-Day Rome Itinerary
Rome highlights in 3 days: Roman Ruins, Vatican City, Rome neighborhoods
We think The Eternal City should be on every Italy itinerary; even if you can only manage one day in Rome, it's worth it! Along with our list of things to see in Rome in 3 days, we have included a link to a map for each day's sightseeing, as well as links to the individual sights for more information. The sights are listed in order to create a 3-day tour of Rome. We have outlined the best things to do in Rome in 3 days – but if you are planning a trip to Rome for shorter or longer stays, we have included alternate Rome itineraries below.
Day One: Roman Ruins and Iconic Rome Sights
A Rome travel itinerary wouldn't be complete without touring the 2,000-year-old Roman ruins and iconic Rome sights.
Click here for a Rome attractions map of the sights on Day One of our three days in Rome
Roman Forum
Pieces of columns, temples and buildings remain in the 2,000-year-old Forum. Roman Forum information and TripAdvisor Reviews
Palatine Hill
Palatine Hill is mostly rubble, with the outline of the grand palaces that once stood there. Palatine Hill information and TripAdvisor Reviews
Colosseum
The 2,000-year-old Colosseum was used for Gladiator fights, entertaining crowds of 50,000 people. Colosseum information and TripAdvisor Reviews
TIP: Book your Colosseum Tour in advance on Viator!

Victor Emmanuel Monument
The Victor Emmanuel Monument celebrates Italy's first king with a 43-foot-tall statue and, at the base, Italy's Tomb of the Unknown Soldier. Victor Emmanuel Monument information and TripAdvisor Reviews
Piazza Venezia
The historic Piazza Venezia is the busy center point of Rome. Piazza Venezia information and TripAdvisor Reviews
Largo di Torre Argentina
The remains of four Roman temples and a theater are found on Largo Argentina. Largo di Torre Argentina information and TripAdvisor Reviews
Pantheon
Built as a temple, but now a church, the 2,000-year-old Pantheon dome is the largest unenforced concrete dome in the world. Pantheon information and TripAdvisor Reviews
Trevi Fountain
One of the world's most famous fountains, it is believed that tossing a coin into the fountain (with your right hand over your left shoulder) will guarantee a return visit to Rome. Trevi Fountain information and TripAdvisor Reviews
Spanish Steps
Built in the 1700s, the 135 steps connect the Spanish Embassy to the Trinita dei Monti Church at the top. At the base of the stairs, in Piazza di Spagna, is the Fontana della Barcaccia (Fountain of the Ugly Boat). Spanish Steps information and TripAdvisor Reviews
Day Two: Vatican and Churches
Vatican City sightseeing and visiting Rome's churches is a must while in Rome!
Click here for a Rome sightseeing map for Day Two of our Rome three-day itinerary
St. Peter's Square
St. Peter's Square is the massive plaza fronting St. Peter's Basilica in the Vatican City. On (most) Sundays, mass is celebrated on the square. St. Peter's Square information and Trip AdvisorReviews
St. Peter's Basilica
Considered the largest church in the world, St. Peter's Basilica in the Vatican City is also home to famous artwork (like The Pieta by Michelangelo) and the burial site of St. Peter, one of Jesus's apostles and the first Pope. St. Peter's Basilica information and TripAdvisor Reviews
Vatican Museums
The Vatican Museums host a massive collection of the world's art masterpieces, including sculptures and paintings. Vatican Museums information and TripAdvisor Reviews
Sistine Chapel
The Sistine Chapel (Cappella Magna) is best known for its painted ceiling; the work of art, painted by Michelangelo is titled, "The Last Judgement." Sistine Chapel information and TripAdvisor Reviews
TIP: Book your Vatican City Tours in advance on Viator!

Church of San Giovanni in Laterano
San Giovanni in Laterano is the Cathedral Church of Rome and the official seat of the Pope. Church of San Giovanni in Laterano information and TripAdvisor Reviews
Holy Stairs
The Holy Stairs (Scala Sancta), white marble covered in wood, are believed to have been walked on by Jesus. Pilgrims can climb the steps, but only on their knees. Holy Stairs information and TripAdvisor Reviews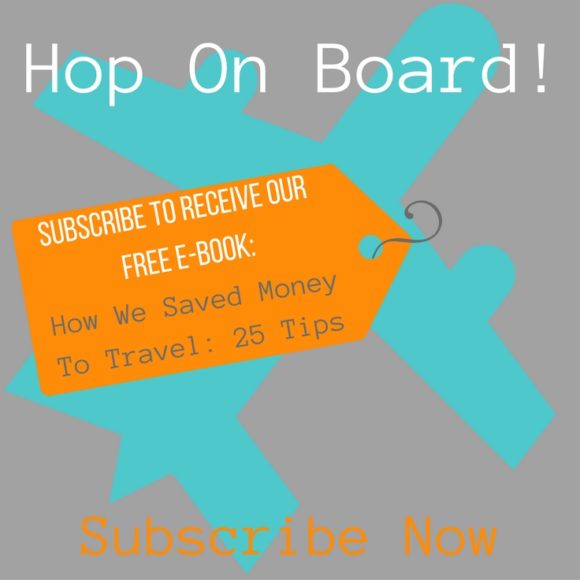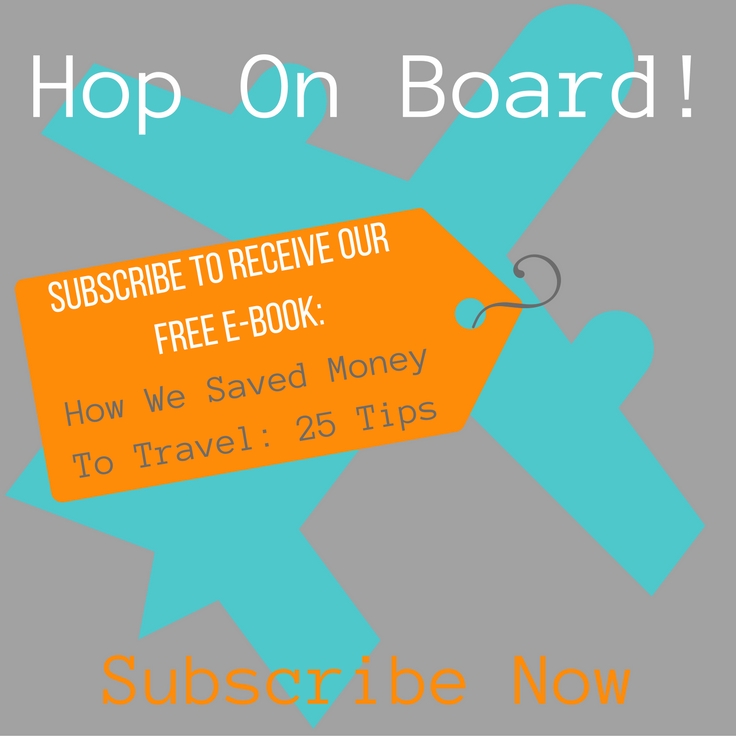 Day Three: Rome Neighborhood Walks
Day Three of our Rome tour itinerary explores some of the best neighborhoods in the city!
Click here for a city sightseeing Rome route map to the sights on Day Three of our 3-day trip to Rome
Piazza del Campidoglio on Capitoline Hill
Capitoline Hill is one of the Seven Hills of Rome and the center of Rome's government. Piazza del Campidoglio is the square atop the hill. Capitoline Hill information and TripAdvisor Reviews
Santa Maria in Aracoeli Church
The over-the-top interior of Santa maria in Aracoeli Church on Capitoline Hill shouldn't be missed! Santa Marie in Aracoeli Church information and TripAdvisor Reviews
Bocca della Verita
Legend says the Bocca della Verita (Mouth of Truth) will bite off your hand if you are a liar. Bocca della Verita information and TripAdvisor Reviews
Trastevere
The quaint Trastevere neighborhood lies on the west bank of the Tiber River and has an abundance of restaurants and bars. Trastevere information and TripAdvisor Reviews
Gianicolo Hill
Providing sweeping views over Rome, Gianicolo Hill (Janiculum) is also home to churches, univeristies and the Baroque Fontana dell'Acqua Paola. Gianicolo HIll information and TripAdvisor Reviews
Church of Santa Maria
One of Rome's oldest church sites, Santa Maria in Trastevere was built in the 12th century and features intricate mosaics. Church of Santa Maria information and TripAdvisor Reviews
Tiber Island
The small Tiber Island (890 feet long and 220 feet wide) lies in the middle of the Tiber River. The island is connected to both banks of the Tiber River via bridges. Tiber Island information and TripAdvisor Reviews
Jewish Quarter
Known as the Jewish (or Roman) Ghetto, today the Jewish Quarter is home to the Great Synagogue of Rome, the Jewish Museum and incredible restaurants. Jewish Quarter information and TripAdvisor Reviews
Campo de Fiori
Once a meadow, then a site for executions, Campo de Fiori (which translates to Field of Flowers) was transformed into a marketplace (which it still is) in 1869. The statue of philosopher Giordano Bruno, who was burned alive, stands in the center of the square. Campo de Fiori information and TripAdvisor Reviews
Piazza Navona
The grand Piazza Navona is laden with outdoor cafes and features three ornate fountains: Fontana dei Quattro Fiumi (Fountain of the Four Rivers), which stands in the center, Fontana del Moro (Four Tritons) on the southern end of the square and Fountain of Neptune on the northern end. Piazza Navona information and TripAdvisor Reviews
Tips for City Sightseeing Rome
Trying to plan what to visit in Rome in 3 days is a big task! Hopefully, our Rome trip planner has helped, but we have a few more tips that will assist in your planning your Rome sightseeing itinerary.
Rome Tours
There are hundreds of Rome tours you can book for your trip. Our best advice is to research ahead of time (and book in advance if you want!). Viator is a great resource for information and tours (highlighted by reviews!). These are the two most-reviewed, top-rated tours on Viator:
Hop On Hop Off Bus Rome
While we think it is quite easy to get around Rome on foot, not everyone agrees with us! If pounding the pavement to the sights isn't appealing to you, consider hopping aboard a Big Bus Tour. Offering multiple sightseeing routes, joining a Rome bus tour can save time! (You can view the Big Bus Tour Rome hop on hop off bus route map here.)
Rome Itinerary Suggestions
Rome One-Day Itinerary
If you are planning to see Rome in a day, we suggest creating a Rome one-day tour from Day 1 of our 3-Day Rome Itinerary. Sorry – there just isn't much more time for sightseeing than that!
Rome Two-Day Itinerary
Create your own Rome In A Weekend Itinerary by following the first two days of our 3-Day Rome Itinerary. If you have time, add an evening in the Trastevere neighborhood to your sightseeing. Even though it's a short trip, you can see a lot of Rome in two days!
Rome Four-Day Itinerary
On your first 3 days in Rome, follow our above Rome itinerary. On Day 4, explore Villa Borghese Gardens and possibly add a trip to Ostia.
Rome Five-Day Itinerary
With five days in Rome, follow the above Rome 4-Day Itinerary and on Day 5, leave the city on a Rome day trip. (See recommended day trips from Rome below.)
Our top tips for your trip
Day Trips from Rome
There are plenty of places to visit in Rome, Italy in 3 days without leaving the city center! However, if you are inclined to see beyond the borders of the city, we recommend these Rome day trips:
Find more day trips from Rome on Viator.
Where To Stay in Rome
If you are going to visit Rome in 3 days, you need a place to stay! We spent our 3 nights in Rome in a B&B that I do not recommend. We usually stay in apartments, as we have found it is often less expensive than hotel rooms – with the added benefit of a kitchen and, usually, more space. Rome holiday apartments can be found on our go-to site, Airbnb (Not already a member of Airbnb? Use this link to create an account and save money on your first stay!), on FlipKey (which is part of TripAdvisor) or on VRBO – Vacation Rentals By Owner.
However, for those who prefer staying in traditional accommodations, there are many Rome hotels to choose from in – or close to – the city center. Check out these top-rated hotels on Booking.com. Or, find a deal on a hotel room by bidding on Priceline.
Budget travelers can search for Rome Hostels – like For a true bargain – and a unique experience – search for hosts on Couchsurfing, where travelers stay with locals for free.
Before You Go
Not everyone in Rome speaks English! Take interactive language learning courses with Babbel to learn Italian prior to your trip!
Don't forget to pack a pair of lightweight and comfortable walking shoes. I (Sarah) have traveled with these shoes by Columbia, Skechers and Reef. Kris prefers wearing these shoes by Merrell and Sanuk.
We're certain you'll be snapping tons of photos during your trip. Rather than relying on your mobile phone to capture the sights, upgrade to an actual camera for higher quality photos. We travel with a Canon Rebel (which takes amazing photos, but can be a bit clunky) and a Canon PowerShot ELPH (which takes beautiful pictures, is slim and lightweight – and the new models are wifi enabled so you can share your trip pics to social media in real time!).
It's easy to get turned around or lost in any new city! Be sure to have a good city map and/or guidebook prior to arriving.
We think travel insurance is essential! If you haven't already obtained travel insurance for your trip, travel protected with World Nomads.
Start planning your trip to Rome! Search for the lowest airfares, the best accommodations and fun things to do…then start packing! Want more travel planning tips? Head over to our Travel Planning page for more information and tips on traveling – and for country-specific information, take a look at our Travel Guides page!
Like what you're reading? Join the journey!
Subscribe to JetSetting Fools and get new blog posts and our quarterly newsletter direct to your inbox:

We want to know: What are your favorite things to see while sightseeing in Rome? What would you add to our 3-Day Rome Itinerary? Tell us in the comments!
Pin it! See all of our travel pins on our JetSetting Fools Pinterest Board.