Hey there! Welcome to JetSetting Fools! You will find our best travel tips for destinations worldwide. Some of the links on this site are Affiliate Links and if you use them to make a purchase, we may earn a small commission. For more information, read our Disclosure Policy.
---
Our second day of discovering Budapest, we headed to the west side of the river (the Buda side) to explore the palace, church and other Castle Hill sights. Once we were across Chain Bridge, we immediately ascended a set of shaded stairs to Parade Square, which sits between the Royal Palace and Matthias Church.
Castle Hill Sights:
Holy Trinity Square & Matthias Church
We worked our way north past a local market and down the open and colorful street to Holy Trinity Square. In the center is a column dating from 1713 and, to our right, the Matthias Church. Not the original church that stood here 800 years ago (as it has been rebuilt, updated and changed several times over the centuries), it is a fantastic display of typical Hungarian style. The rooftop garners all the attention with designed tiles and several Gothic spires.
Fisherman's Bastion & St. Istvan statue
East of the church, at the edge of the hill overlooking the river, is Fisherman's Bastion. In a completely different style from the church, the arches along the columned arcade offer fantastic views of the Danube River and the Pest side of Budapest. The seven pointed towers represent the original Magyar tribes that founded Hungary. In the center sits a statue of St. Istvan, the king responsible for bringing Christianity to Hungary.
Budapest's Oldest Cafe, Ruszwurm
From here, we walked away from the river down Szentharomsag Utca, passing Budapest's oldest café, Ruszwurm, on the way. The street ends at a lookout point over the neighborhoods of The Buda Hills.
St. Mary Magdalene Church at the North End
We followed the less crowded promenade north to St. Mary Magdalene Church, which was first built in the mid-13th century. Since then, it has been expanded, used as a mosque and destroyed in war. Only the bell tower remains and both the inside and outside are currently undergoing renovation. We took in a few other sights, like an old Turkish grave, the archive building and Vienna Gate, at the north end of the hill before looping around and heading south toward the palace.
Sandor Palace, the president's office
Along the way, we passed through ruins, a flag-lined street and Sandor Palace, which serves as the president's office and has serious looking guards standing at the front doors.
Royal Palace
The Royal Palace is essentially a replica (of a replica of a replica) with barely any of the original features still standing. Its main use now is to house museums. Still, it is part of the Budapest landscape – and has some of the best views looking east over the city. We entered the palace grounds toward the back and the first sight we came to was the King Matthias Fountain, honoring the last Hungarian-blooded king of Hungary. Moving into the rather plain palace courtyard, its expansive size is impressive.
Statues Eugene of Savoy and Turul Bird
In front of the palace, under the large green dome is a statue of Eugene of Savoy, a French general who fought against the Ottomans. To the right of the palace is another statue, this one of the Turul Bird, a creature of Magyar legend.
Scenic Viewpoints
Turning our backs on the palace, we took in the sweeping views of Budapest. From the north end of Castle Hill to Gellert Hill in the south and everything in between. The grand buildings in the east, the Parliament and Basilica (which are two of Budapest's most iconic sights), rise prominently above the rest of the city. The many bridges that cross the Danube can be seen, with Chain Bridge seemingly outshining the rest. From here, it is obvious that we have so much more of the city to see!
We want to know: Have you visited the Castle Hill sights in Budapest? Which is your favorite? Tell us in the comments!
Our Top Tips for Your Trip to Budapest
Read out 3-Day Budapest Itinerary for more things to do in the city!
Sightseeing (and money-saving!) Tips
Accommodations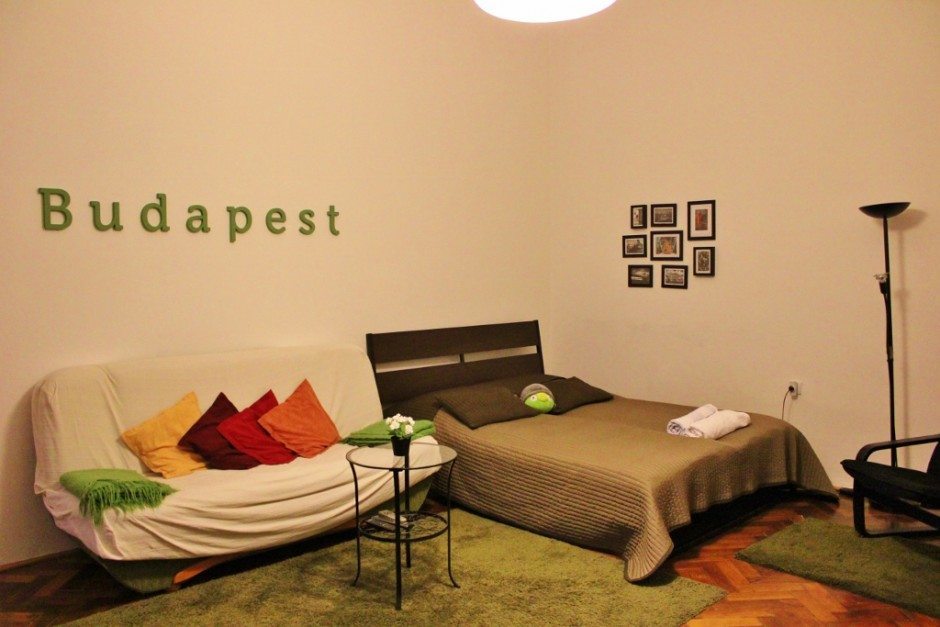 We, once again, relied on our go-to option of Airbnb.com to secure accommodations – and we weren't disappointed. Located in District Six, we were well within walking distance to the sights. Our high-ceilinged, bright apartment had one large room with a separate kitchen and bath – and only cost $34 a night. (Use this link to join Airbnb and save money on your first stay!) We have found that staying in apartments is often less expensive than hotel rooms – with the added benefit of a kitchen and, usually, more space. Budapest holiday apartments can also be searched on FlipKey (which is part of TripAdvisor) or on VRBO – Vacation Rentals By Owner.

However, for those who prefer staying in traditional accommodations, there are many Budapest hotels to choose from in – or close to – the city center. Check out these top-rated hotels (based on guest reviews!) for your upcoming trip: Hotel Moments Budapest, Callas House and Aria Hotel Budapest. Or, find a deal on a hotel room by bidding on Priceline.
Budget travelers can search for Budapest Hostels – like Georges, Metropolis Hostel and Flow Hostel. For a true bargain – and a unique experience – search for hosts on Couchsurfing, where travelers stay with locals for free.
Getting There
Budapest can be reached by plane, train, bus or car. We arrived by train (Ljubljana to Budapest) and departed via plane.
Our preferred method of getting anywhere is by flying (we are JetSetting Fools, after all!) and when we do need to purchase plane tickets, we start our search for the best deals on airline tickets on Skyscanner or Flight Hub.
To get from city to city when flights are not possible, we usually rely on public transportation and take trains or buses. In Europe, we use Rail Europe to find train tickets and our preferred bus company is FlixBus – as it is economical, clean and comfortable with on-board wifi, seat-back entertainment, refreshments and a toilet. We aren't keen on driving abroad, but renting a car can often save time and money (especially when traveling with more than two people) – and it allows for greater discovery.
Before You Go
Want more travel planning tips? Head over to our Travel Planning page for our complete packing list and other travel resources!
Like what you're reading? Join the journey!
Subscribe to JetSetting Fools and get new blog posts and our quarterly newsletter direct to your inbox:

Pin it! See all of our travel pins on our JetSetting Fools Pinterest Board.