Hey there! Welcome to JetSetting Fools! You will find our best travel tips for destinations worldwide. Some of the links on this site are Affiliate Links and if you use them to make a purchase, we may earn a small commission. For more information, read our Disclosure Policy.
---
When we think of Budapest, what comes to mind are images of the massive parliament building, the towering cathedral, and Chain Bridge that spans the Danube River and connects Buda to Pest. Even though we have 11 days to discover the city, our first mission was to see these four iconic Budapest sights.
Iconic Budapest Sights:
Parliament
As we rounded the corner into Kossuth Square and got our first glimpse of Parliament, I literally stopped in my tracks. The colossal building was much larger than I anticipated it being. It stretches 879 feet along the bank of the Danube River. Built from 1885 to 1904, it was inaugurated in 1896 for the country's 1000th year celebration. The Gothic design features spires, statues, arches and a dome that soars 96 meters, in honor of the country's birth date, 896. Tip: Take a tour of Parliament, which includes viewing the Coronation Jewels.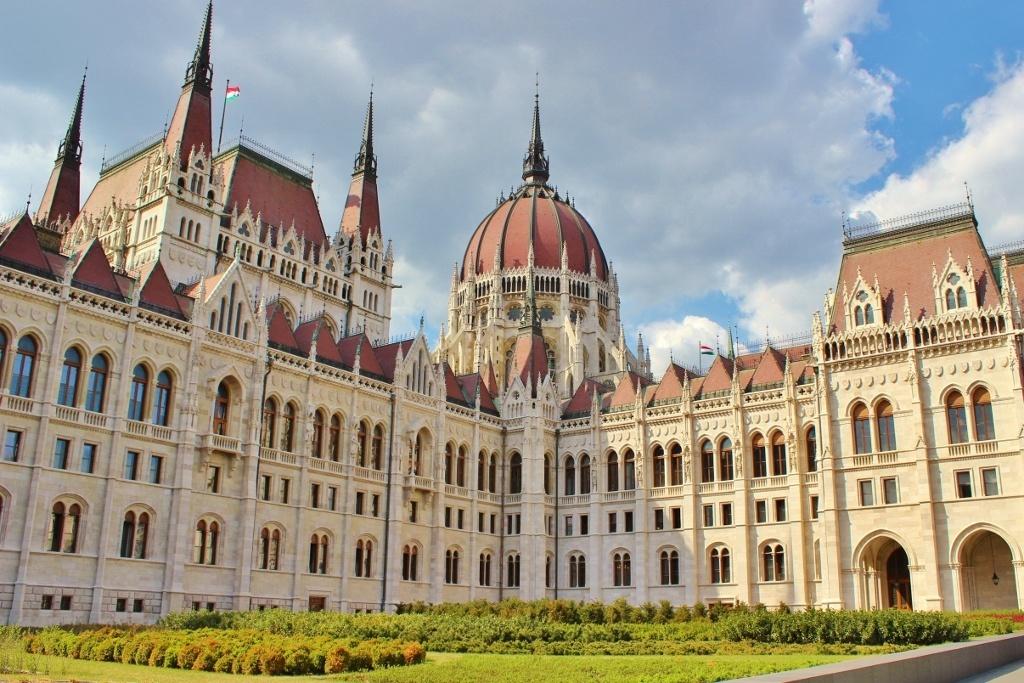 The entire square feels grand with perfectly manicured green lawns, a smattering of statues and the majestic buildings surrounding it. Relaxed guards are stationed at the entrances, but more rigid guards stood at the base of the flag in the center of the square. We walked the complete perimeter of Parliament, struggling to find an angle that could capture it all.
Liberty Square
A short walk to the southeast brought us to Liberty Square. More playful than Kossuth, people lounged at the center café and played catch with their canines in the dog park. It's ringed by historic buildings, such as the Hungarian National Bank, the old stock exchange and fashionable apartment buildings from the late 1800s. The US Embassy is on the northeast side of the square, which is guarded by a high fence, blockades and strict No Photo signs.
We were a little surprised to find two statues honoring Americans in the square: one of Harry Hill Bandholtz, an officer from World War I, and another of a smiling Ronald Reagan walking along the path. Since it's not everyday I get the chance to walk alongside an American president, I grabbed his hand and we had a little chat. He's much taller than I expected.
Two memorials stand at each end of the square, the Soviet War Memorial to the north and, to the south, a brand new sculpture commemorating Hungary's German Occupation on March 19, 1944 – both of which are controversial. A counter exhibit of personal mementos has been set up in response to the newest memorial.
St. Istvan's Basilica
Continuing southeast we walked a couple blocks to St. Istvan's Basilica. Also built for Hungary's 1000th birthday, the enormous church has two bell towers and a dome that reaches the height of 96 meters. The height, celebrating the year in which Hungary became a nation (896) matches that of Parliament's dome to signify the balance between church and state. No other building in Budapest can exceed that height.
We entered the church via the wide staircase into the glittering interior. A special mass that had every pew filled kept us from touring the church. However, we were able to enter the small chapel that houses the decaying right hand of St. Istvan, Hungary's first Christian king. Slightly gruesome, we passed on ponying up the 75 cents to light up the box.
Chain Bridge
From here, we walked directly west along the pedestrian-only promenade, Zrinyi Utca, to the Danube River and Chain Bridge. We passed many typical Hungarian eateries along the way, most of which offered goulash and meat dishes, as well as a statue of an old-time, typical Hungarian police officer.
Once we made it to the river bank, we got an up close look at Chain Bridge, the first to span the river and connect the two separate towns of Buda and Pest. The bridge was commissioned by Count Istvan Szechenyi and built by Adam Clark between 1842 and 1849. The original bridge was destroyed in World War II, but rebuilt. Lions mark both ends and walking paths on the outside edge provide spectacular views to all of Budapest.
We want to know: What would you add to our list of iconic Budapest sights? Which is your favorite? If you haven't been to Budapest, which do you want to see most? Tell us in the comments!
Our Top Tips for Your Trip to Budapest
Read out 3-Day Budapest Itinerary for more things to do in the city!
Sightseeing (and money-saving!) Tips
Accommodations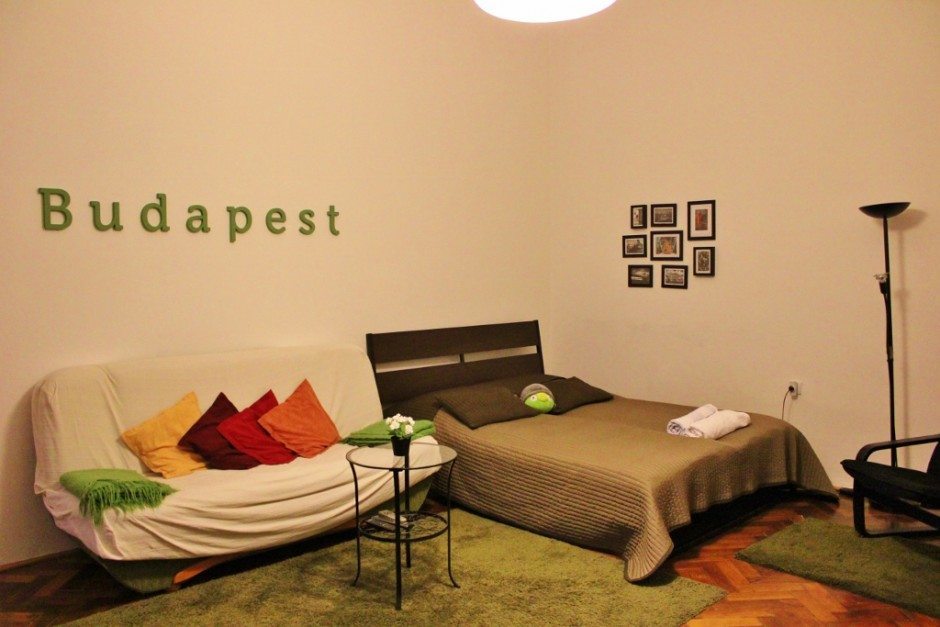 We, once again, relied on our go-to option of Airbnb.com to secure accommodations – and we weren't disappointed. Located in District Six, we were well within walking distance to the sights. Our high-ceilinged, bright apartment had one large room with a separate kitchen and bath – and only cost $34 a night. (Use this link to join Airbnb and save money on your first stay!) We have found that staying in apartments is often less expensive than hotel rooms – with the added benefit of a kitchen and, usually, more space. Budapest holiday apartments can also be searched on FlipKey (which is part of TripAdvisor) or on VRBO – Vacation Rentals By Owner.

However, for those who prefer staying in traditional accommodations, there are many Budapest hotels to choose from in – or close to – the city center. Check out these top-rated hotels (based on guest reviews!) for your upcoming trip: Hotel Moments Budapest, Callas House and Aria Hotel Budapest. Or, find a deal on a hotel room by bidding on Priceline.
Budget travelers can search for Budapest Hostels – like Georges, Metropolis Hostel and Flow Hostel. For a true bargain – and a unique experience – search for hosts on Couchsurfing, where travelers stay with locals for free.
Getting There
Budapest can be reached by plane, train, bus or car. We arrived by train (Ljubljana to Budapest) and departed via plane.
Our preferred method of getting anywhere is by flying (we are JetSetting Fools, after all!) and when we do need to purchase plane tickets, we start our search for the best deals on airline tickets on Skyscanner or Flight Hub.
To get from city to city when flights are not possible, we usually rely on public transportation and take trains or buses. In Europe, we use Rail Europe to find train tickets and our preferred bus company is FlixBus – as it is economical, clean and comfortable with on-board wifi, seat-back entertainment, refreshments and a toilet. We aren't keen on driving abroad, but renting a car can often save time and money (especially when traveling with more than two people) – and it allows for greater discovery.
Before You Go
Want more travel planning tips? Head over to our Travel Planning page for our complete packing list and other travel resources!
Like what you're reading? Join the journey!
Subscribe to JetSetting Fools and get new blog posts and our quarterly newsletter direct to your inbox:

Pin it! See all of our travel pins on our JetSetting Fools Pinterest Board.