Hey there! Welcome to JetSetting Fools! You will find our best travel tips for destinations worldwide. Some of the links on this site are Affiliate Links and if you use them to make a purchase, we may earn a small commission. For more information, read our Disclosure Policy.
---
Long before our 'Round the World plan was ever realized we had our sights set on Moorea and an overwater bungalow at the Hilton Resort. I spent years racking up Hilton Honors points that we would cash in for our luxurious stay. Perhaps for our 5th wedding anniversary, we thought. That was long before we decided to visit Moorea, French Polynesia on a Budget. 
We arrived on Moorea with more than 300,000 Hilton Honors points and closing in on 5 years of marriage, yet we had no intention of blowing them all on an overwater bungalow. Our perspective has changed. We have changed. Big, fancy resorts are an escape and, right now, we aren't trying to escape anything. We want to see life from a more local perspective, not from an ivory tower…or an overwater cabana. And, besides, all of my points were barely for one night.
On to Plan B…as in, Plan Budget. Figure out how to stay on Moorea, French Polynesia on a budget.
Just to be clear, French Polynesia is not a budget destination. Accommodations are not cheap, grocery stores are overpriced and have limited options, public transportation is practically non-existent, activities are costly and, worst of all, the price of beer is outrageous. Out.Rageous. We would, not be able to stay on Moorea for our budgeted $100 – but we were able to stay for five days for less than $150 per day.
Moorea, French Polynesia on a Budget: Accommodations
Our first night proved to be as budget as you can get: Free. But only because we slept at the airport, which at the Tahiti Airport is a bit like camping since it is open-air.
Our flight landed at 1:00am and we wanted to be on the 6:00am ferry to Moorea. Paying for an overpriced hotel for a few hours of sleep seemed pointless (although the Tahiti Airport Motel practically had a welcome mat rolled out across the parking lot for us – and I must admit, it was quite tempting). We took our stolen borrowed airplane blanket to the opposite end of the airport from the all-night café, I hooked my arms around and through my possessions, made a pillow from my fleece jacket and conked out for a few hours (luckily I can sleep just about anywhere).
After roughing it the first night, we decided to pass on the least expensive accommodation of a a tent on the beach. Instead, we opted for Mark's Place Moorea. Our island paradise home was pricy by our standards, but not for Moorea – or for what you get – at $94/night.
Moorea, French Polynesia on a Budget: Food
I was so looking forward to fresh, local produce that could only be found on an island…only, there wasn't any at the store. No bananas. No pineapples. I settled for what they had: Rice, pasta, canned veggies and beans. Surprisingly, the staples weren't that expensive. For both of us (3 meals a day / 5 days) we only spent about $50. (Luckily, I found a street-side fruit stand on our second day and picked up some right-off-the-tree bananas for cheap.) We didn't even attempt to eat out on Moorea, one main reason being there weren't any places within walking distance that were open. In any case, eating breakfast and dinner at home and taking sandwich picnics to the beach with us each day was a perfect cost-saving measure…and the views weren't too shabby, either.
Moorea, French Polynesia on a Budget: Drinking
Again, we didn't go out to any bars to drink, but we spent more than enough on what we drank at home. A six-pack of tall can (50cl) Hinano, the local Tahitian beer, cost a whopping $22. A liter of box wine (yes, we finally succumbed) was $12 and tasted exactly as I thought a carton of wine would taste like. Five days of Hinano Hour in the hammock followed by wine with dinner crushed our budget. C'est la vie.
Moorea, French Polynesia on a Budget: Transportation
Our biggest transportation cost was the ferry from Tahiti to Moorea, which still only cost $18 each. The buses on Moorea cost about $3.50 per ride – and we would have spent a lot more on buses if there was an actual bus system here. Renting a car or scooter (which would have put a huge dent in the budget) would have allowed us to navigate about the island a bit more, but we had paradise right out our front door, where else would we want to go?!
Moorea, French Polynesia on a Budget: Entertainment
We didn't have to spend a dime on entertainment. The lagoon was across the street, the beach just a short walk north and hiking trails nearby. But, there was also endless, teal water filled with reefs and exotic fish that begged to be explored and the best way to do it was with a kayak and snorkel gear. Fortunately, our accommodations rented both of these out rather inexpensively – $6 for mask and snorkel and $24 for a kayak for two. Total, we spent $72…Worth. Every. Franc.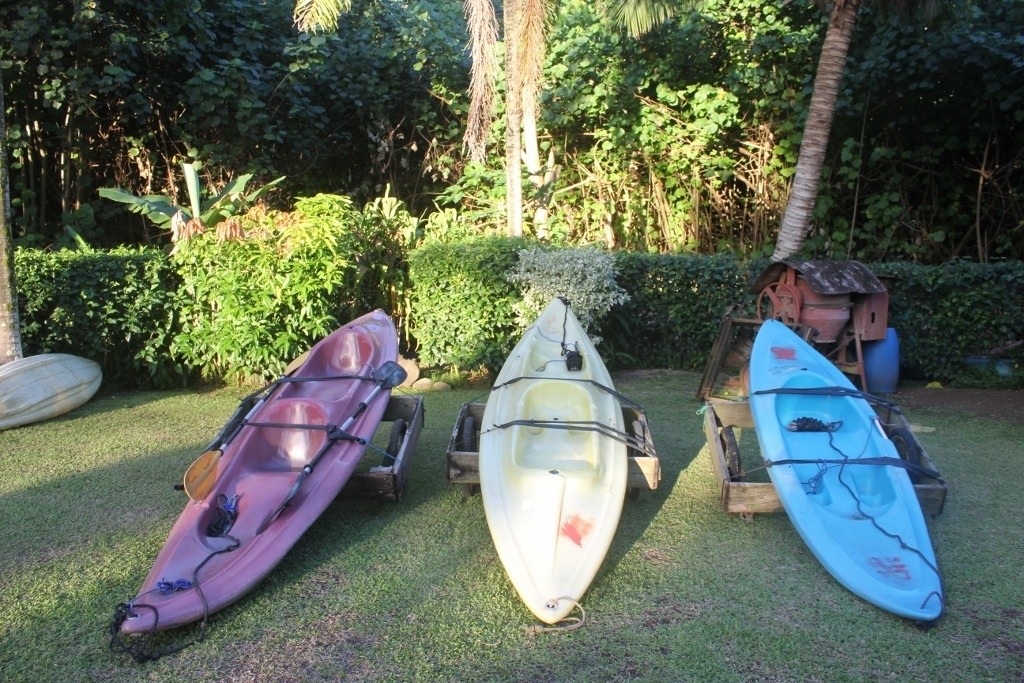 Moorea, French Polynesia on a Budget: Overall
We could have easily splurged and spent a lot more and if we were on vacation, we probably would have – long-term travel is something different entirely. However, I think to spend less, we would have sacrificed the experience – and it's really about the experience.
All-in-all, I'm surprised that we were as thrifty as we were. We stayed in an amazing bungalow, swam alongside sea creatures in crystal clear blue water and met some incredible people: A remarkable island experience all for less than $150 a day.
We want to know: How do you balance your travel budget to your travel experience?
Pin it!