Hey there! Welcome to JetSetting Fools! You will find our best travel tips for destinations worldwide. Some of the links on this site are Affiliate Links and if you use them to make a purchase, we may earn a small commission. For more information, read our Disclosure Policy.
---
Not only is Bariloche, Argentina saturated in exquisite natural beauty, it also boasts a hefty number of local breweries. It's like Bariloche and I were made for each other (and I haven't even mentioned all the chocolate shops!). Most of the Bariloche craft beer, called cerveza artesanal, is produced on a small scale using fresh, natural and local ingredients (most importantly the mountain water). Available in the brewpub from which it's named, we made an "Ale Trail" around town over the course of our stay.
Between it being the off-season with many places closed and our inability to get with the crowd and go out late, we still made it to 5 Barlioche craft beer tasting rooms. Since neither of us have particularly snobby beer palates, there have only been a few that we tried, but didn't like. We mostly stuck to our favorite varieties: Pale Ale, Kolsch and IPAs. As if these tasty craft beers weren't enough for us, most places offer excellent Happy Hours, usually from 6pm-8pm with the special being 2-for-1s or nearly half price brews (this worked magic for our budget and our love for beer!).
Where to drink Bariloche craft beer:
This was the first brewpub we visited and it instantly became one of our favorites for Bariloche craft beer. We sat at the bar, and enjoyed the cozy, smart atmosphere. They have an impressive, upscale food menu that was less pub and more restaurant. The bartenders, a few of which are owners, are friendly and seemed to know most of the patrons. The award winning IPA was my favorite, but I also liked the Pale Ale and Kolsch.
This is a bigger Bariloche craft beer operation, and we learned, not really local to Bariloche specifically, but had a great brewery vibe. The Antares Fries, smothered in cheese sauce, topped with bacon and chives, were sinful and the perfect pairing to any beer. We also had a pizza here – with scrambled egg, bacon and olives. It didn't disappoint. They were out of the IPA and had several darker beers, so I stuck with the Kolsch. Kris tried – and liked – the Honey Beer.
We nearly passed on this brighter corner bar, but we were mostly excited to find it open before 6pp. Although it lacked in curb appeal, it made up for with a tasty Pale Ale, helpful staff, great music AND happy hour.
Named for the owner's dog, Konna is something of a hip local dive bar. It is a bit of a tight fit, but that only encourages talking with those sitting around us. Several fellow patrons were members of the "Amigos de Konna" club, which allows guests to store personal steins on a few shelves near the bar that can be used for refills while they visit. The food looked amazing, like the enormous antipasto platter and the lamb burger that the people next to us were having. Of the three beers to choose from, we sampled the Kolsch and IPA. Both excellent!
Der Tiroler
This beer hall looks like it comes straight from Bavaria, complete with steins, antlers and vintage beer décor galore. They had both Warsteiner and the local Lowther on tap, which was the happy hour option and one we had tried before (however, we couldn't find a cerveceria specifically dedicated to it). We sat in a booth – or 'box' as they call them – where the by far most attentive waiter was quick on the refills and graciously offered tastes of the brown and porter…yet, the Pale Ale won the prize.
Our day in Colonia Suiza was spent at the outdoor market perusing the local crafts, learning about traditional food and, of course, sampling the local beer. The Valais beer stand offered two options: Red or Black. We chose the Red, which tasted a bit like a cider and found that it was perfect for the cool, sunny day.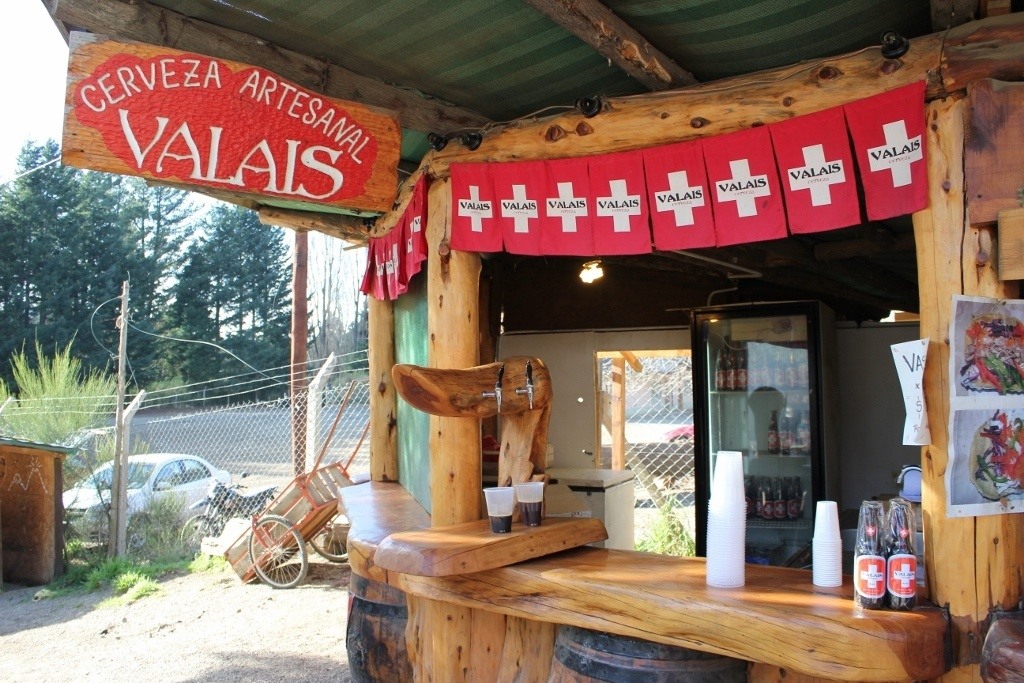 I only mention Blest to be sure that no one thinks we just missed this one. Known as the first microbrew in town, it has grown into the most popular and it is mentioned in all the guidebooks. We were pleased to find on their website that they are actually open daily from 12-8 year-round. We did make an outstanding effort to go, taking the bus to the nearest stop and slopping through the wind, rain and mud puddles only to get there and find a sign on the door that they are closed for the week for maintenance.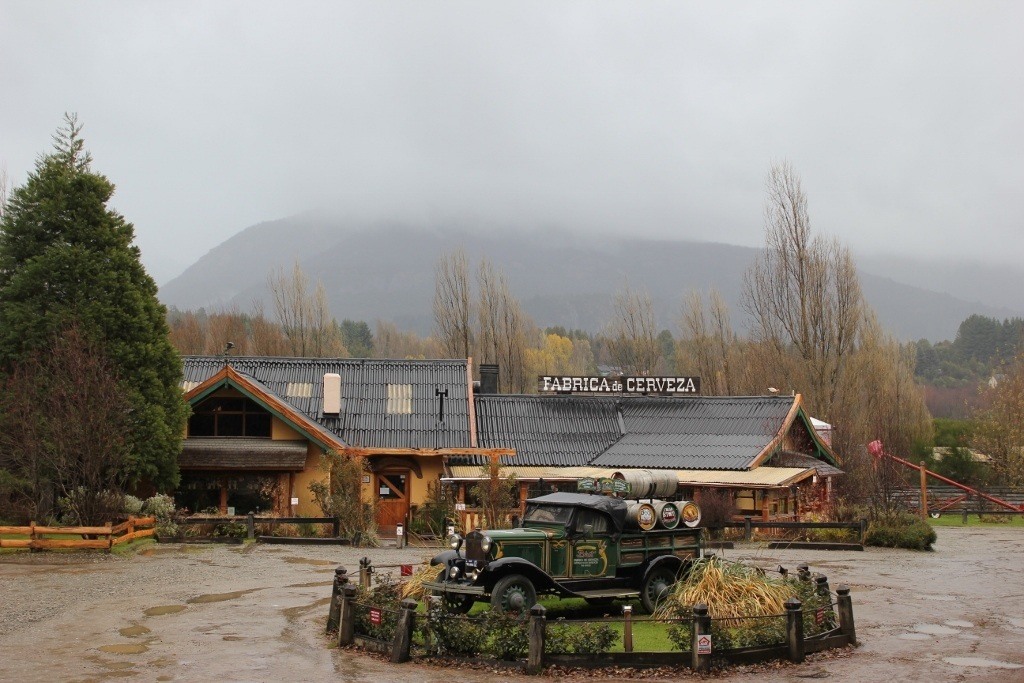 This is probably the second largest producer of Bariloche craft beer – and another one that we didn't actually make it to. Our timing was off as the tap room is apparently only open on weekdays and we stopped by during our visit to Colonia Suiza on a Sunday. We did find their bottled beer at the local grocery store, so we tried the seasonal Colonia Suiza Strong Golden Ale, which neither of us really liked. I think we would have enjoyed their staple Pale Ale on draught!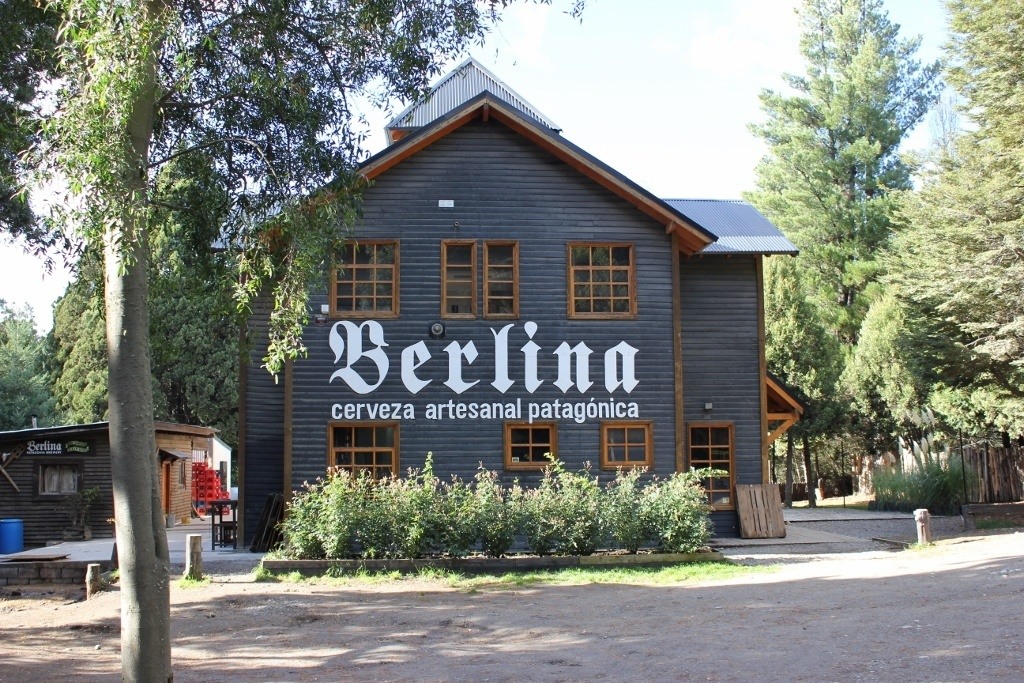 We found this beer bottled at the store and my research yielded little information about where it is actually brewed and if it is available on tap anywhere in Bariloche. In any event, the Amber was the best tasting bottled craft brew that we tried….if all of the brewpubs were closed, this is what we'd be drinking at home!
Just to be fair, not all beer in Bariloche is craft beer. If you just want a mass production beer, Quilmes is a good option, especially if you have a budget to mind. The craft beer is as expensive (about $5 USD per pint, non-happy hour) as it is in the States. Yet, a liter of Quilmes is only about $1.25 in the grocery store and it's decent enough.
As much as we would have liked to, we didn't get to try them all, but, I'd say our Bariloche Ale Trail was a successful one!
We want to know: Have you sampled any Bariloche craft beer? Which one was your favorite? Give you your best tips in the comments below!
Want more travel planning tips? Head over to our Travel Planning page for more information and tips on traveling – and for country-specific information, take a look at our Travel Guides page!
Like what you're reading? Join the journey!
Subscribe to JetSetting Fools and get new blog posts and our quarterly newsletter direct to your inbox:

Pin it! See all of our travel pins on our JetSetting Fools Pinterest Board.