Hey there! Welcome to JetSetting Fools! You will find our best travel tips for destinations worldwide. Some of the links on this site are Affiliate Links and if you use them to make a purchase, we may earn a small commission. For more information, read our Disclosure Policy.
---
Budapest is a big city. It is full of iconic sights, bridges and interesting neighborhoods – and a lot of walking in between. There are a plethora of cafes to get us going in the morning and bars that keep us out late at night. After spending a week in Budapest sightseeing from Castle Hill to Gellert Hill to City Park, we needed a day of relaxation – and, go figure, Budapest has that, too. We planned a day full of affordable experiences in Budapest that included a trip to one of Budapest's thermal baths, a night out at the Opera, an evening stroll along the Danube River, dinner with a view of the shimmering Parliament Building and a night cap with the locals.
Affordable experiences in Budapest
An afternoon at the spa
Thermal baths are abundant in Budapest. The two most popular baths – Szechenyi and Gellert – are housed in beautiful buildings, but we got the feeling they were more like waterparks. We were seeking an authentic, local bath experience (but not so local that it required us to go sans swimsuits) and we found it at Lukacs Thermal Bath. (It is growing in popularity with tourists, as entrance is now included with the Budapest Card.) Known for the healing mineral composition (calcium, magnesium-hydrogen-carbonates, chloride, sulphates, alcalia and fluoride), the history of Lukacs can be traced to the 12th century.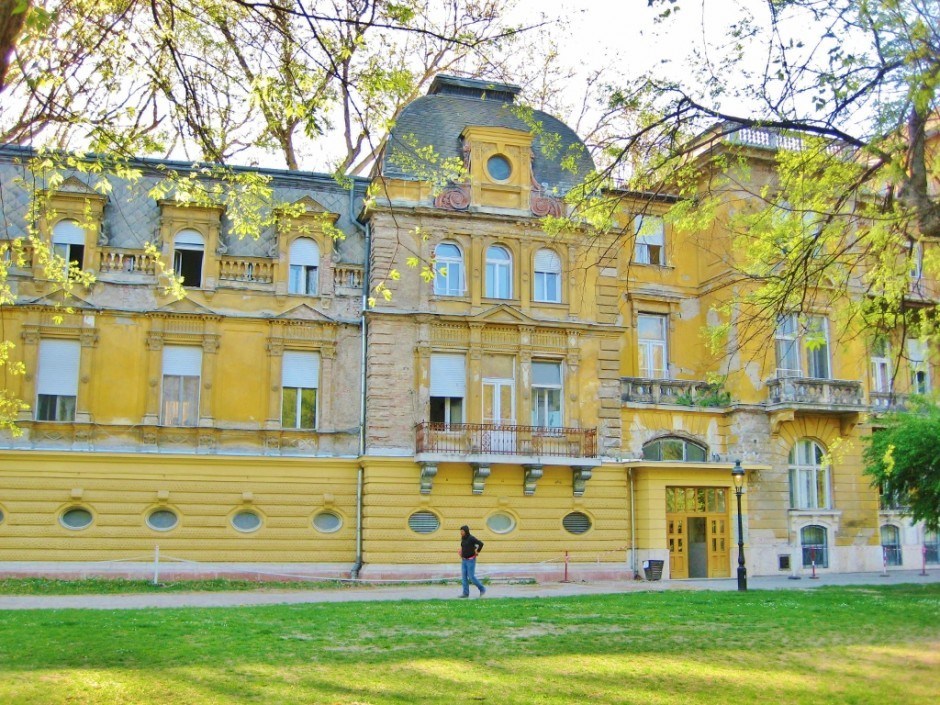 As this was our first thermal bath experience, we felt awkward from the moment we walked into the lobby. The staff was helpful – and most likely humored – by our questions and confusion, but got us to the lockers. Rather than having separate men's and women's locker rooms, it is one big room with small changing stalls. We had to adjust our eyes to old, pot-bellied men parading around in speedos and women older than my grandma donning swimsuits that were skimpier than mine.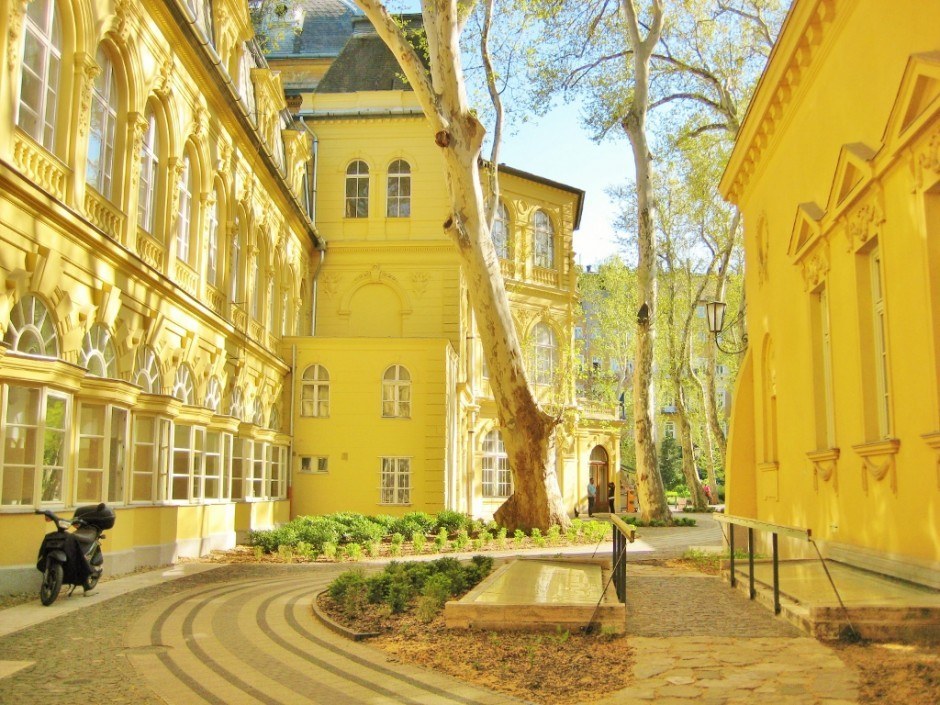 The next step was actually finding our way to the thermal pools. Located inside on the ground floor, there are four pools ranging in temperature from 71 to 104 degrees. The pools are connected by short walkways through arched doorways and feature high ceilings and columns, but that is the extent of the décor. Rather than the chemical scent of chlorine, we were met with the pungent smell of sulphur. We did as the locals did and hung our towels on the hooks in the hallway and kicked off our shoes before easing into the oversized circular tiled tub of steaming water. People came and went without making eye contact or acknowledging anyone else in the pool. It's not a social event.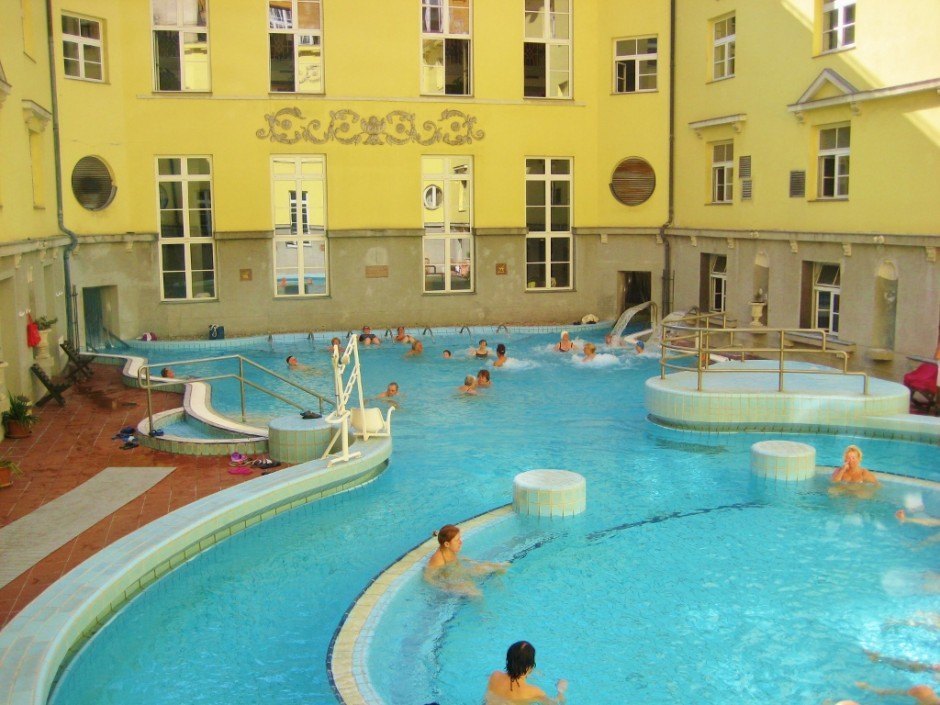 We made our way into the other pools until we found a cycle that we liked best: ten minutes in the steam room, then a plunge in the 71 degree immersion pool, followed by about 10 minutes spent in each pool working our way up in temperature. We tried the outdoor pools, but a lack of the required swim cap got us booted in a hurry.
A night at the Opera
Refreshed and relaxed, it was time to head to the Opera House. Jenufa, in Czech, was the performance we chose to see. With limited appropriate clothing options, we attempted to 'dress up' for the event, making do with what we had in our backpacks. We had purchased our tickets for the cheap seats the day prior and were warned by the ticket seller that we would most likely have to stand to be able to see the full stage. More interested in viewing the inside of the theater than the show, we weren't too fussed.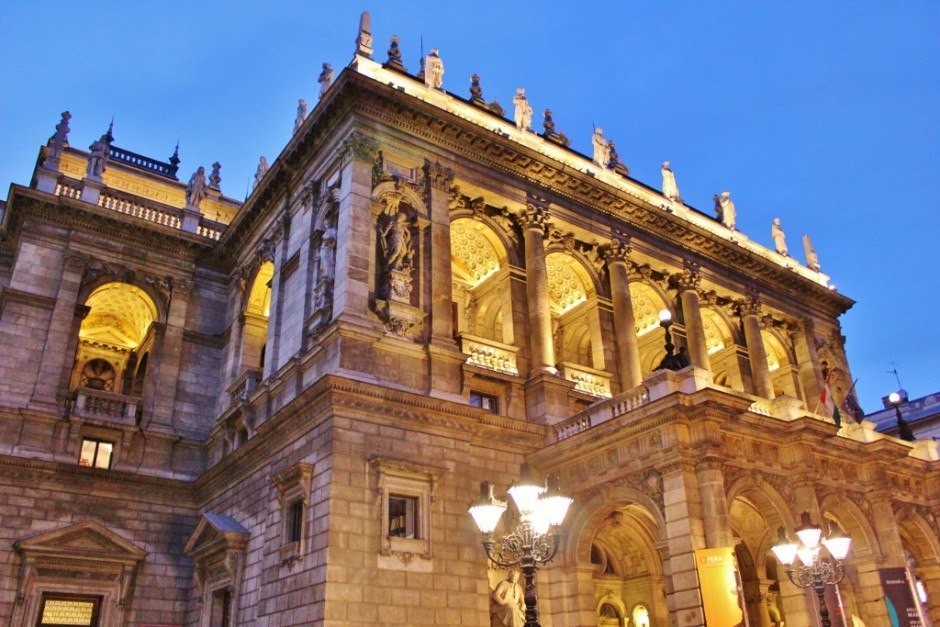 Upon entering the main lobby, we were sent back outside to a side entrance. We felt a bit like second-class citizens, but at least felt more comfortable in our attire. When we handed our tickets to the usher, he reiterated the trouble seeing from the high balcony and suggested we take complimentary tickets to sit on the main floor in the sixth row. Um, OK!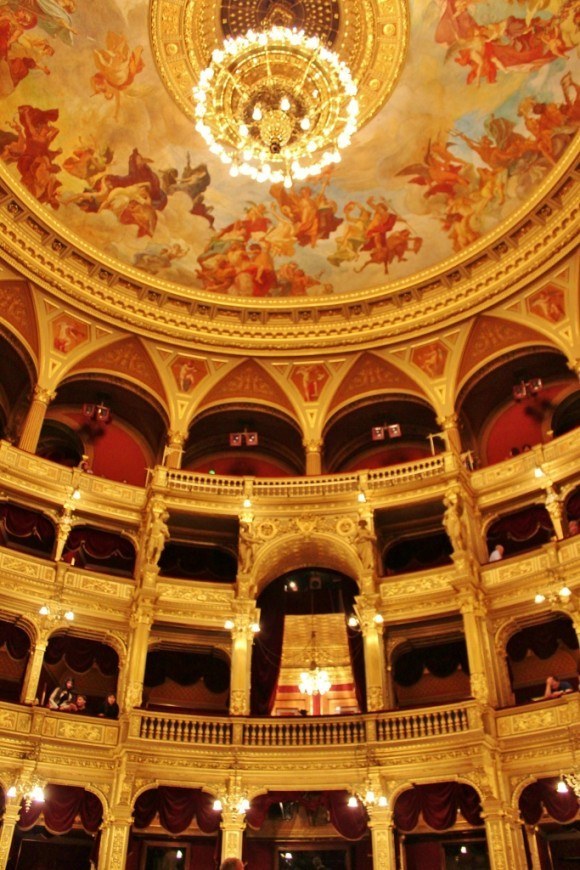 The interior of the theater was glittering. Velvet maroon curtains hung across the stage and it seemed everything else was flecked with gold. Rising balconies around the auditorium made the small space grand. My anticipation was growing as was the rising sounds of musicians warming up in the orchestra pit and the chatter around us.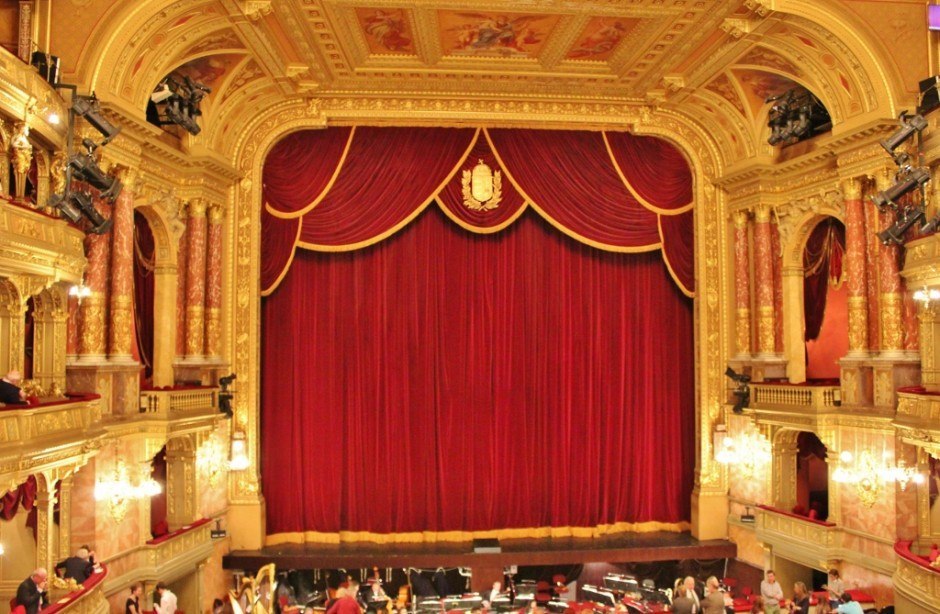 The lights dimmed, the curtains opened and the singing started. An electronic board hovering over the stage came to life, translating the opera into both English and Hungarian. Although it was useful, it was also distracting. We intently watched the singers and followed the plot of the story. Highly entertaining, at one point the stage must have had more than 50 people singing and dancing on it.
After the first act, we took the opportunity to tour the open rooms of the opulent Opera House. We ventured to the outdoor balcony and seeing what an incredibly nice night it was, decided we had a good taste of the opera and were ready to move on.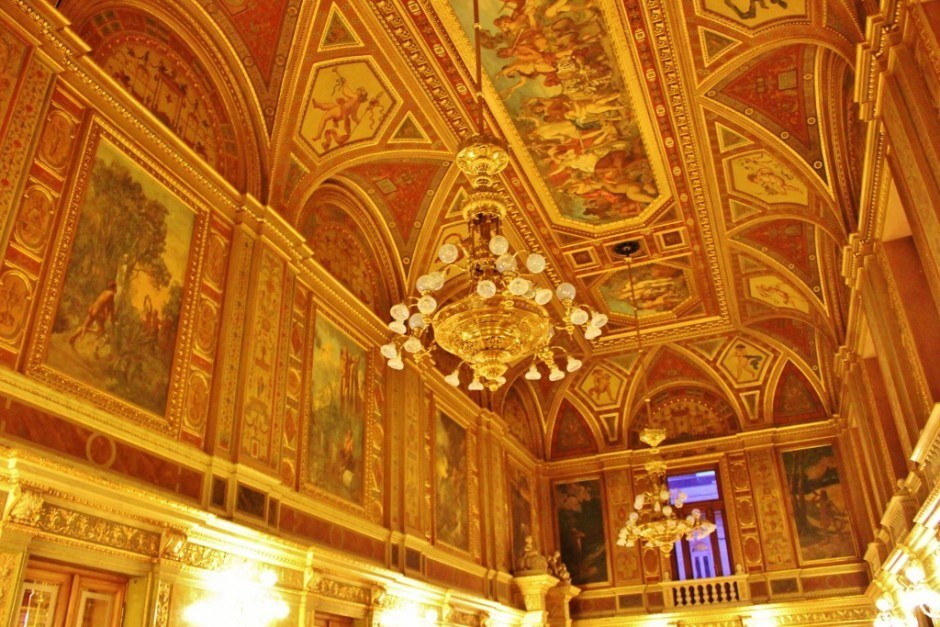 Evening stroll on the Danube
In the week that we had been in Budapest, we hadn't yet walked along the Danube at night. As we made our way to the riverbank, we could see the glowing dome of St. Istvan's Basilica. Chain Bridge was lit by a rope of bulbs and the monuments on Castle Hill – the Royal Palace, Matthias Church and Fisherman's Bastion – were the only buildings highlighted. We made our way across Chain Bridge, which was much less crowded than during the day, for views of the Parliament Building. The building and its reflection lit up the city and the river.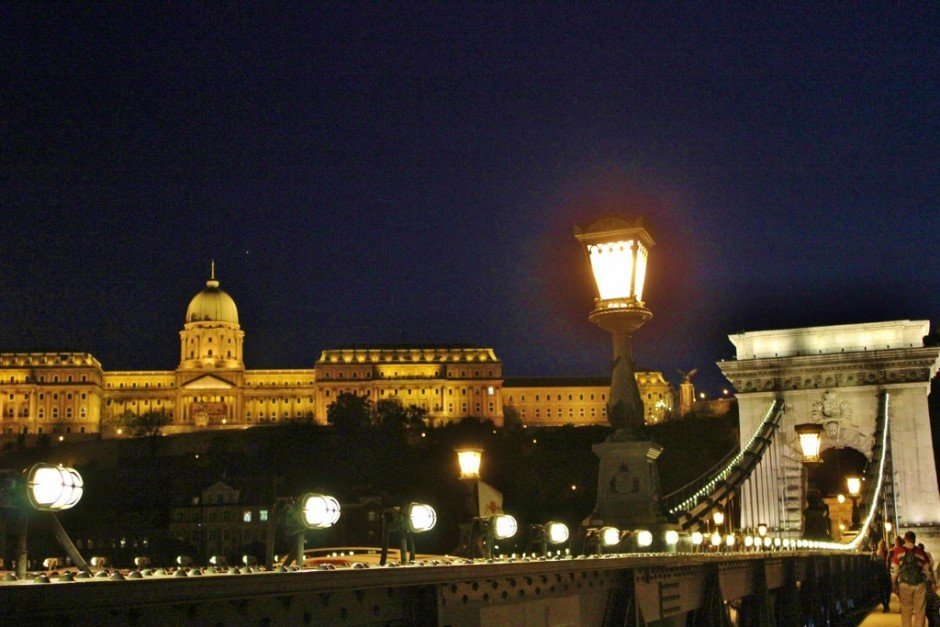 Dinner with a view
To complete what had turned into quite a surreal day, we dined on Hungarian fare al fresco on a quiet side street. Our delicious meal came with an outstanding view across the river of the shimmering Parliament Building. Wanting to extend our epic day, we rode the historic metro back to our neighborhood and found a local hangout for a glass of Hungarian wine.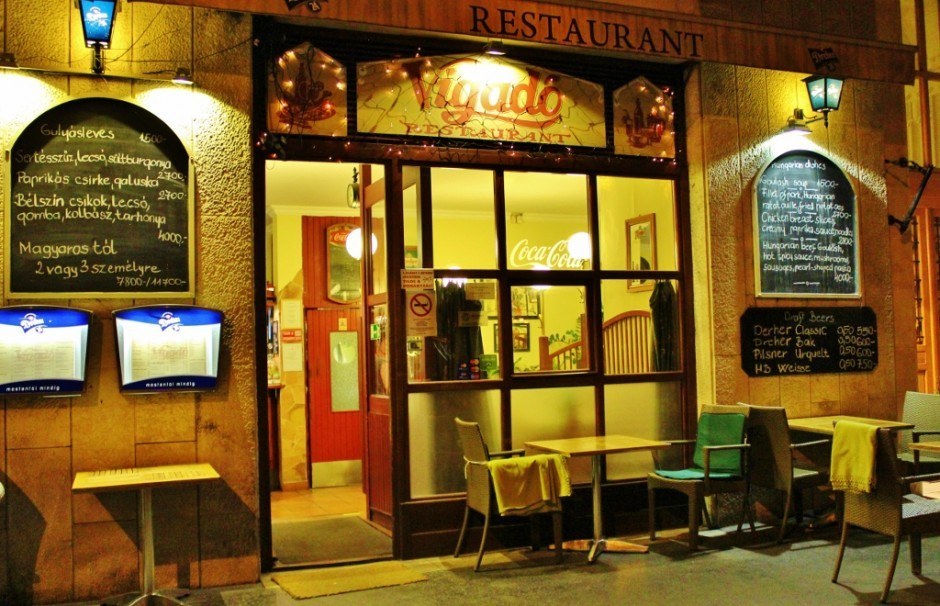 An ambitious day like ours could surely bust our budget, but our day of affordable experiences in Budapest only cost $54.50 for both of us combined. Here is the breakout:
Lukacs Thermal Spa (2 hours): $7.50 each
Opera Tickets: $2.00 each
Walking the Danube River: Free
Dinner of traditional food and wine: $12.50 each
Metro: $1 each
Night cap: $4.25 each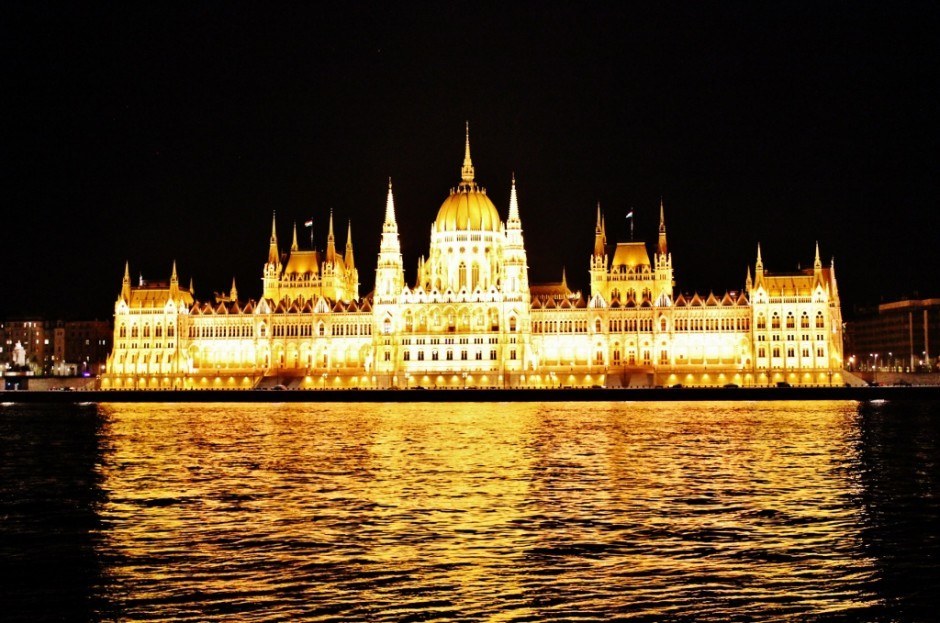 Click here for Budapest on a Budget
We want to know: Do you have tips for other affordable experiences in Budapest? Have you been to any cities that can be fully experienced on a budget? Tell us in the comments!
Our Top Tips for Your Trip to Budapest
Sightseeing (and money-saving!) Tips
Accommodations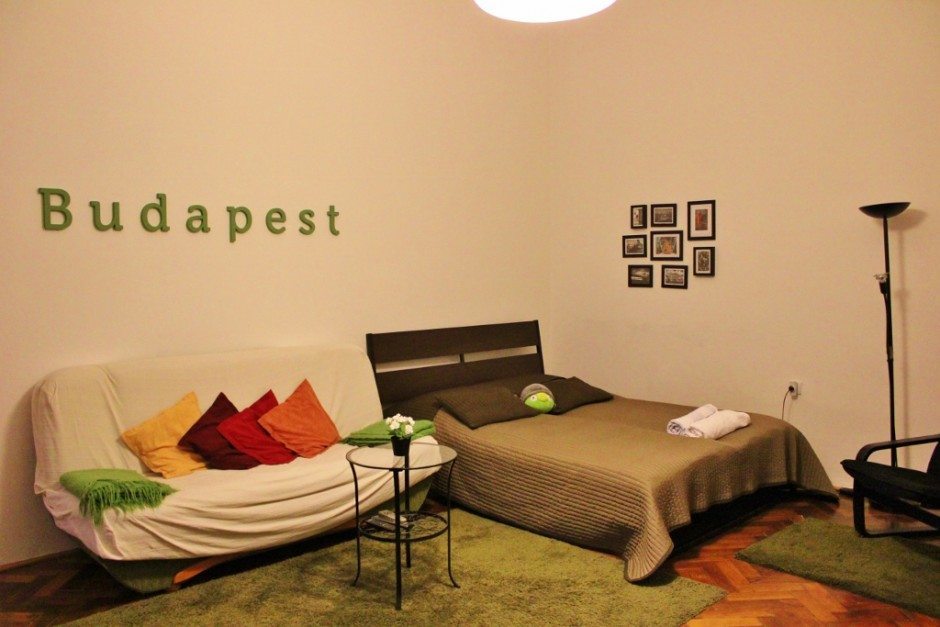 We, once again, relied on our go-to option of Airbnb.com to secure accommodations – and we weren't disappointed. Located in District Six, we were well within walking distance to the sights. Our high-ceilinged, bright apartment had one large room with a separate kitchen and bath – and only cost $34 a night. (Use this link to join Airbnb and save money on your first stay!) We have found that staying in apartments is often less expensive than hotel rooms – with the added benefit of a kitchen and, usually, more space. Budapest holiday apartments can also be searched on FlipKey (which is part of TripAdvisor) or on VRBO – Vacation Rentals By Owner.

However, for those who prefer staying in traditional accommodations, there are many Budapest hotels to choose from in – or close to – the city center. Check out these top-rated hotels (based on guest reviews!) for your upcoming trip: Hotel Moments Budapest, Callas House and Aria Hotel Budapest. Or, find a deal on a hotel room by bidding on Priceline.
Budget travelers can search for Budapest Hostels – like Georges, Metropolis Hostel and Flow Hostel. For a true bargain – and a unique experience – search for hosts on Couchsurfing, where travelers stay with locals for free.
Getting There
Budapest can be reached by plane, train, bus or car. We arrived by train (Ljubljana to Budapest) and departed via plane.
Our preferred method of getting anywhere is by flying (we are JetSetting Fools, after all!) and when we do need to purchase plane tickets, we start our search for the best deals on airline tickets on Skyscanner or Flight Hub.
To get from city to city when flights are not possible, we usually rely on public transportation and take trains or buses. In Europe, we use Rail Europe to find train tickets and our preferred bus company is FlixBus – as it is economical, clean and comfortable with on-board wifi, seat-back entertainment, refreshments and a toilet. We aren't keen on driving abroad, but renting a car can often save time and money (especially when traveling with more than two people) – and it allows for greater discovery.
Before You Go
Want more travel planning tips? Head over to our Travel Planning page for our complete packing list and other travel resources!
Like what you're reading? Join the journey!
Subscribe to JetSetting Fools and get new blog posts and our quarterly newsletter direct to your inbox:

Pin it! See all of our travel pins on our JetSetting Fools Pinterest Board.