Hey there! Welcome to JetSetting Fools! You will find our best travel tips for destinations worldwide. Some of the links on this site are Affiliate Links and if you use them to make a purchase, we may earn a small commission. For more information, read our Disclosure Policy.
---
With all the travel necessities, gadgets and accessories, there is little problem finding gifts for travel lovers. (In fact, look at our list of 30 Useful Travel Gifts if you are looking for practical gifts.) It can be a little more tasking, however, to seek out unique travel gifts – ones that are certain to fuel wanderlust or help preserve travel memories already made.
Unique Travel Gifts
We have rounded up a list of novelty travel gifts sure to inspire love of travel and bring a smile to the adventurer who opens them. If you are searching for unusual gifts for travelers, the perfect present might be on our list!
---
Travel Keepsake Box
A travel keepsake box is a great present for someone going traveling. Designed to store ticket stubs, coins of foreign currency and pamphlets from a trip in one place, the wooden box is personalized with custom text, including names and dates.

---
Pushpin World Map
Travelers love maps and Pushpin World Maps make great gifts for people that love to travel! The map, which can be personalized, comes with pushpins to mark the countries that the traveler has visited (or is dreaming of visiting).

---
Travel-Inspired Pendent
Looking for travel gifts for her? Travel-inspired necklaces are great gift ideas for the traveling woman. Helzberg diamonds sells two lovely and unique travel gifts for women: a gold and diamond compass pendent and an understated paper airplane pendent.
---
Travel Sweatshirt
If you need travel gifts for men, consider the Travel Sweatshirt from Brookstone – a multi-functional hoodie that has 15 enhanced features (like a built-in pillow and perfect-sized passport pocket) that make it ideal to wear when traveling.
---
Globe Ornament
Globe ornaments are the perfect Christmas gifts for travelers! The baubles, which can hang seasonally on a tree or year-round on a stand, can be personalized to commemorate a past trip or to inspire future travels.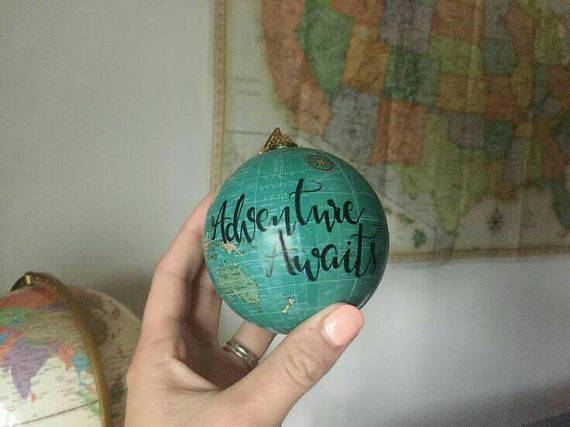 ---
Travel Journal
Travel journals are fantastic travel accessories gift ideas. There are hundreds – thousands – of journals to choose from, but personalized travel journals are unique gifts for travel lovers. You can find a wide selection of beautiful personalized travel journals on Etsy.
---
Canvas Photo
With digital cameras, travelers are taking more pictures than ever; however, most photos don't make it off the computer. Get digital copies of their favorite vacation photos and turn them into canvas wall art! Canvas Discount has other personal picture products, too, like mugs and blankets. These unique travel gift ideas can preserve the memories of a trip for years to come.
---
World Globe
Globes are awesome gifts for travelers. Seriously, travelers (like us!) can look at them forever, dreaming of the next trip. Globes come in a variety of styles – classic, antique and black, to name a few. For a truly unique globe, consider the glass-blown, hand-etched globe at World Market. As the globe is handmade, it ensures each one is exceptional.
---
Ultimate Travel Coloring Book
Lonely Planet has long been publishing fantastic guidebooks – and their line of travel gifts are just as impressive. The Lonely Planet gift line includes fun travel gift ideas, like Round The World Quiz Book and How To Survive Anything – as well as unusual gifts for travelers, like the Ultimate Travel Coloring Book. The adult coloring book features illustrations of the 100 greatest places on earth and includes a description of each location to stoke the wanderlust!


---
My Travels Tree
My Travels Tree is one of the more creative travel gifts on our list. The unique home or office décor, designed as a classic, mini-signpost, can display all the places the traveler has visited.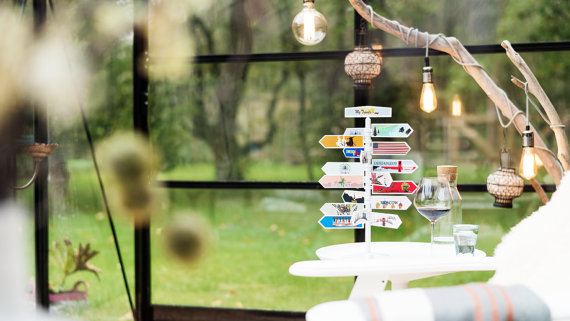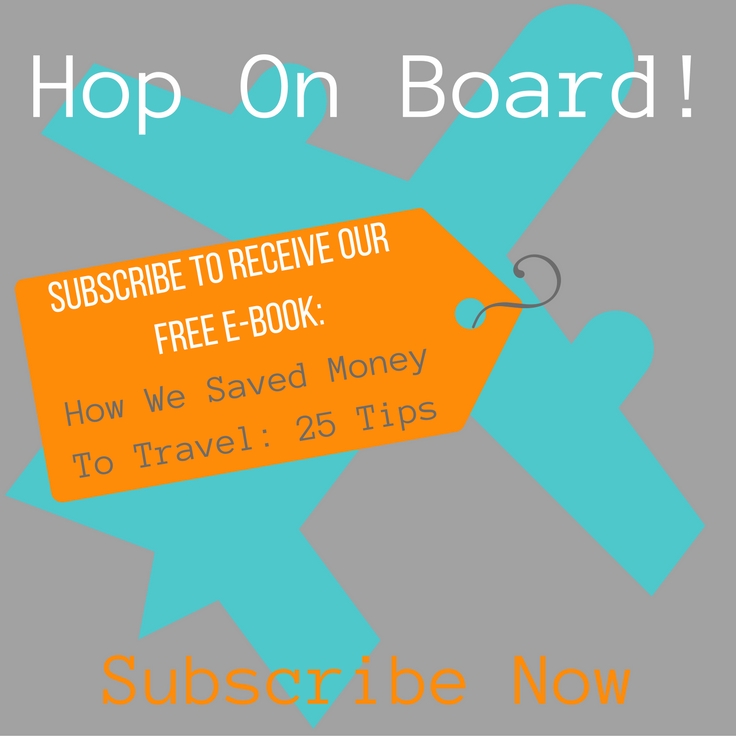 ---
Priority Pass
If you are searching for gifts for someone that travels a lot and often spends time in airports, the Priority Pass might be the perfect present you are looking for! Membership with Priority Pass allows access into more than 1,000 airport lounges around the world – and it doesn't matter which airline the traveler is flying.
---
Blurb Photo Book
What better way to preserve the memories of a trip than to create your own Travel Book? Use your own photos to make a professional-looking photo book with Blurb. If you traveled with family or friends, Blurb photo books are fun travel gift ideas for everyone in the group – you only have to create one and then buy multiple copies.
---
Travel-themed Calendar
Calendars are often-given holiday presents, but selecting a travel-themed calendar can be the perfect gift for travelers – especially if they are counting down the days to an epic vacation. Calendars.com has a Travel shop of destination calendars that are designed specifically to inspire wanderlust. Looking for quirky travel gifts? Check out the Living Language Spanish Daily Phrase and Culture Calendar that will help prepare a traveler heading to a Spanish-speaking country – or The 1,000 Places To See Before You Die desk calendar.
---
Personalized Luggage Tags
Every traveler needs luggage tags, but you can turn the necessary items into unique travel gifts with personalized luggage tags. A travel gift set of three engraved brass luggage tags are ideal gifts for a boss or co-workers.
---
Tinggly
One of the best travel gifts are travel experiences – which you can buy on Tinggly! You choose how much you want to spend and the recipient chooses from hundreds of adventures around theh world. From snorkeling the Great Barrier Reef to winemaking in Paris to tango in Buenos Aires, with Tinggly.com you can give the gift of experiences!
---
Trip of a Lifetime
If you really want to give gifts that travelers love, then give the gift of travel! Plan a trip on your own (start on our Travel Planning page!) or book a trip of a lifetime with a travel company – like an all-inclusive trip to the Caribbean at Sandals Resorts, an adventure in Vietnam with Intrepid Travel or a first trip to Europe with Contiki (exclusively for the 18-35 age group).
---
Final Tip: Give the gift of Foreign Currency
The Travelex Money Card is a pre-paid credit card (MasterCard) that is loaded with foreign currency…it's like a gift card for traveling abroad! Even better, multiple currencies can be loaded onto a single card – and reloaded online – which means the traveler can visit numerous countries and add money to the card along the way without having to worry about converting money at each destination.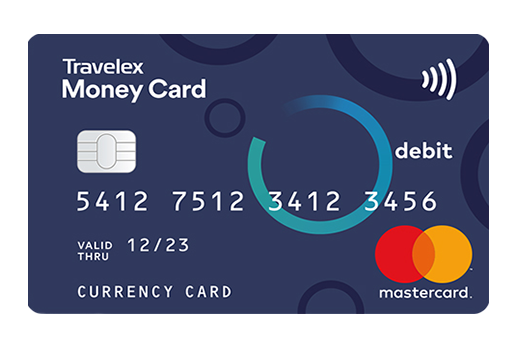 Need more travel gift ideas? Check out our list of 30 Useful Travel Gifts — or get inspired with our complete list of partners for all things travel related! From gear to gifts to tours to trips, we've highlighted the top companies in the industry. Looking for Black Friday and Cyber Monday deals? We've highlighted travel deals just for the weekend! Click here for the list!
---
We want to know: What are the most unique travel gifts you have ever received? Do you have other unique gift ideas for travelers? Tell us in the comments!
Like what you're reading? Join the journey!
Subscribe to JetSetting Fools and get new blog posts and our quarterly newsletter direct to your inbox:

Pin it! See all of our travel pins on our JetSetting Fools Pinterest Board.