Hey there! Welcome to JetSetting Fools! You will find our best travel tips for destinations worldwide. Some of the links on this site are Affiliate Links and if you use them to make a purchase, we may earn a small commission. For more information, read our Disclosure Policy.
---
Before we visited Amsterdam, we had an idea of what the city would be like. The name invoked images of canals, bicycles and two popular beers: Amstel and Heineken. A vague knowledge of the liberal laws regarding pot and prostitution also sifted to the forefront. But, besides the Anne Frank Museum, neither of us were familiar with any of the sights the city had to offer.In a style so uncharacteristic of us, we scheduled only one day in the city, leaving a limited amount of time to find out how our prior perceptions stacked up to the reality of our Amsterdam first impressions.
With minimal pre-planning and the basic, free map provided by the hotel, we pieced together a city walking tour. After strolling through the city, we were able to form our Amsterdam first impressions concerning canals, bicycles, beer, pot, prostitution and sights.
Amsterdam first impressions: Canals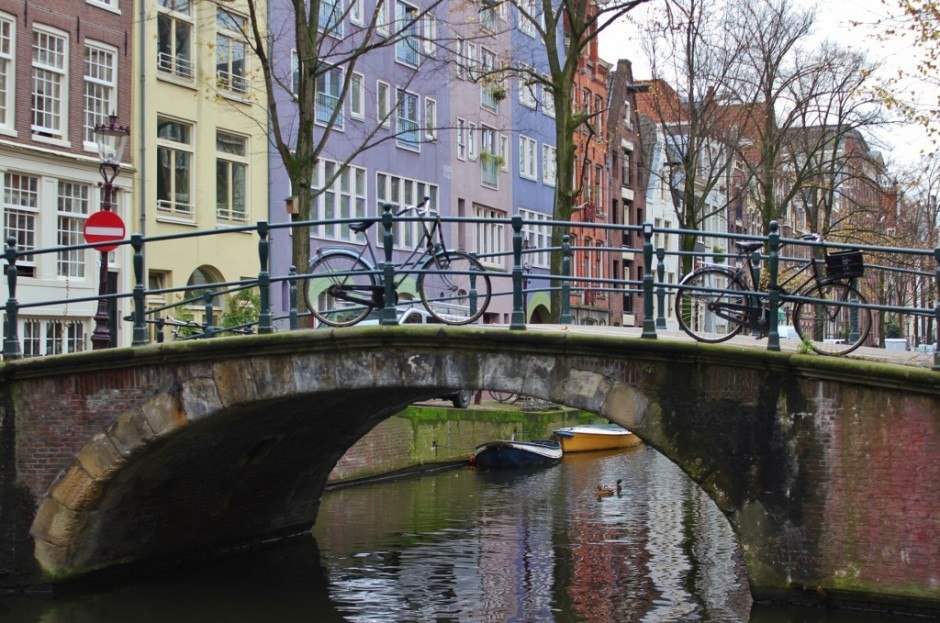 Charming. Quaint. Lovely. Picturesque. Beautiful. The canals in Amsterdam are worthy of these overused adjectives and many more. Honestly, in hindsight, we might have tossed our Amsterdam walking tour and simply wound our way through the city along the canals. It wasn't just the water flowing through the neighborhoods that made it so appealing. It was the allure of the entire scene: the floating houseboats, endless number of bridges and detailed architecture of the gabled houses that stand in the background. We had the pleasure of seeing it all with falling leaves of orange and yellow during our autumn visit.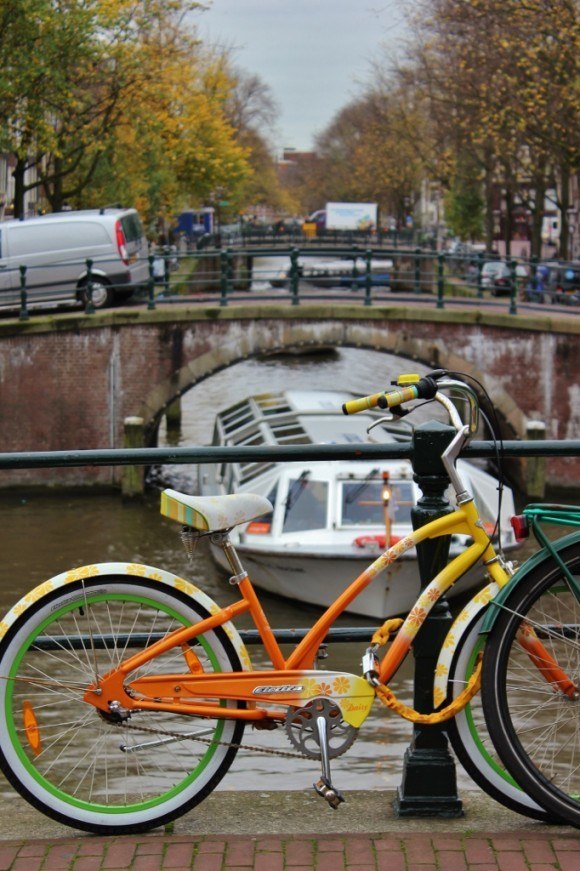 On the downside, the waterways through the city make for more narrow roads. Therefore, the vehicle traffic, which I didn't necessarily see as I was gawking at my surroundings, was glaringly obvious through my camera lens. Unsightly delivery trucks parked on bridges and cars tucked into every inch of space on the sides of many canals make the 'perfect shot' nearly impossible.
Amsterdam first impressions: Bikes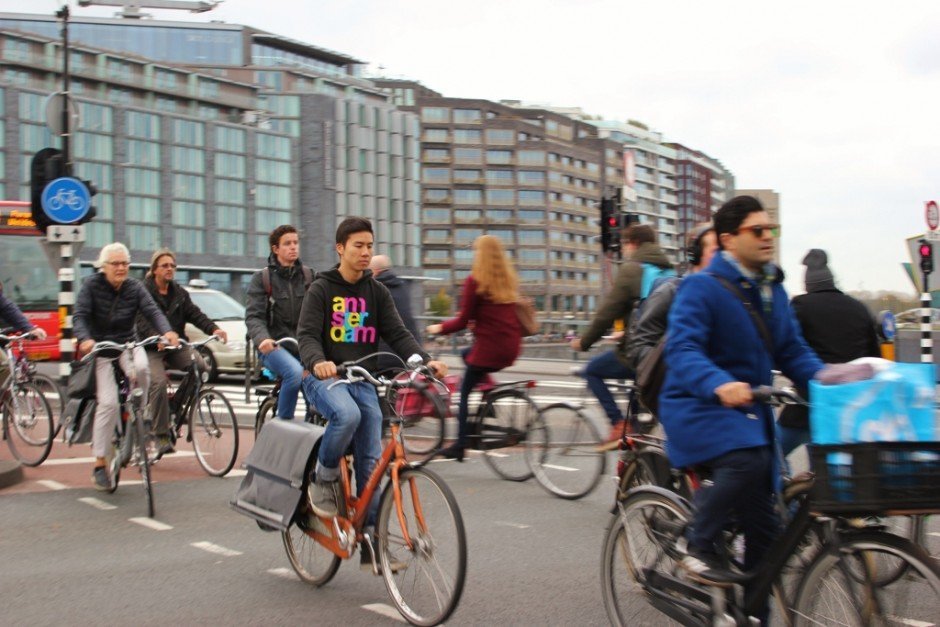 Bicycles are everywhere. Of the 450 photos I took in our one day in Amsterdam, I would be hard-pressed to find more than 10 that didn't have a bicycle somewhere in the frame. As fans of pedal power, we were impressed with so many people using bikes as their method of transportation. We found it amazing how effortlessly people moved about on bicycles, even with the extra encumbrance of hauling groceries, musical instruments and multiple children.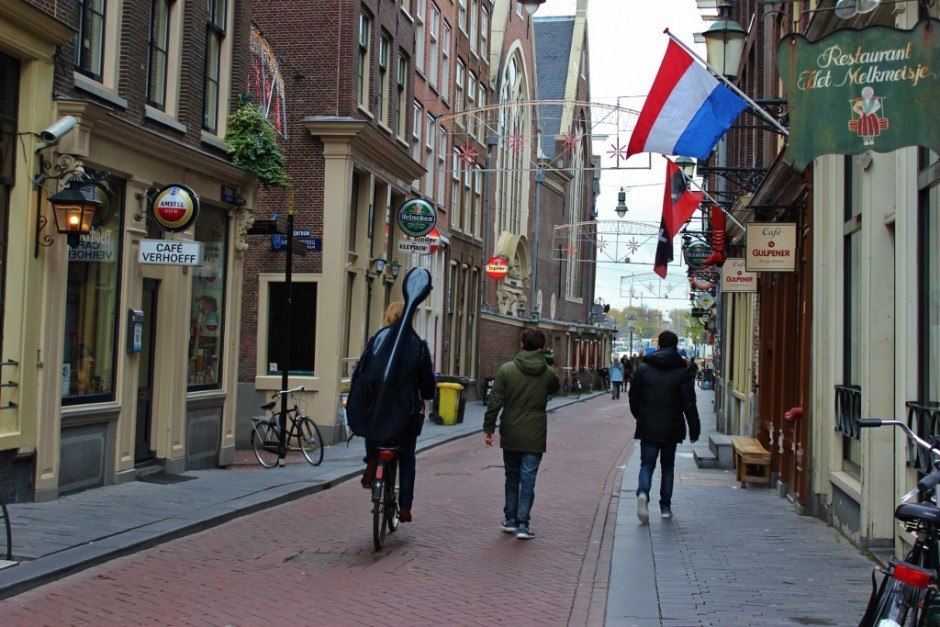 That being said, bicycles are everywhere. It isn't really a negative, it just meant that as we were walking through the city we had to be aware of the motion around us. Wanting to ooh and ahh over the canals and sights was superseded by pausing to look both ways (at least twice) before crossing streets and angling for a photo op.
Amsterdam first impressions: Amsterdam Beer
When we arrived in Amsterdam, I was really looking forward having a locally brewed Heineken. The distinctive red star logo is plastered throughout the city. Even if Heineken is mass produced, drinking beer in the country from which is comes seemed appropriate. But, when we wandered into Café P96 on the Prinsengrach Canal, we were introduced to the Brouwerij't IJ IPA. Once I had a sip of the fresh and hoppy craft brew, there was no turning back. We took recommendations on a few other local beers, but none were as good as our first. As for the Heineken, well, I'll have to forego that local experience. No worries, though, I can order it from bars all over world. It's sold in 178 countries, as a matter of fact.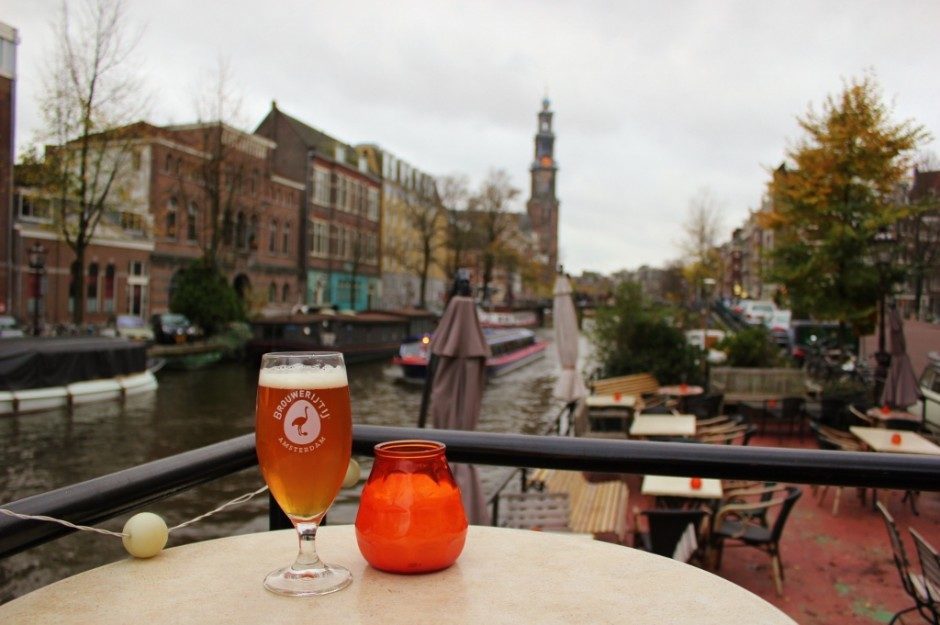 Amsterdam first impressions: Legalized Marijuana
From the moment we exited the airport, we detected the scent of potent pot floating in the air. Within 24 hours of being in Amsterdam, the smell became commonplace and no longer garnered our attention. In The Netherlands, buying and being in possession of small quantities of marijuana is legal. Joints are sold in coffee shops. Some shops, with names like Coffeeshop Reefer, seem to be geared toward tourists who find the freedom to smoke up a novelty. Other shops are more reserved. Regardless, if we were passing by coffee shop doors, we were sure to get a whiff. Smoking pot is not just limited to the shops though. It isn't uncommon for people to blaze one while sitting on a canal-side bench or while walking down the street with a group of friends.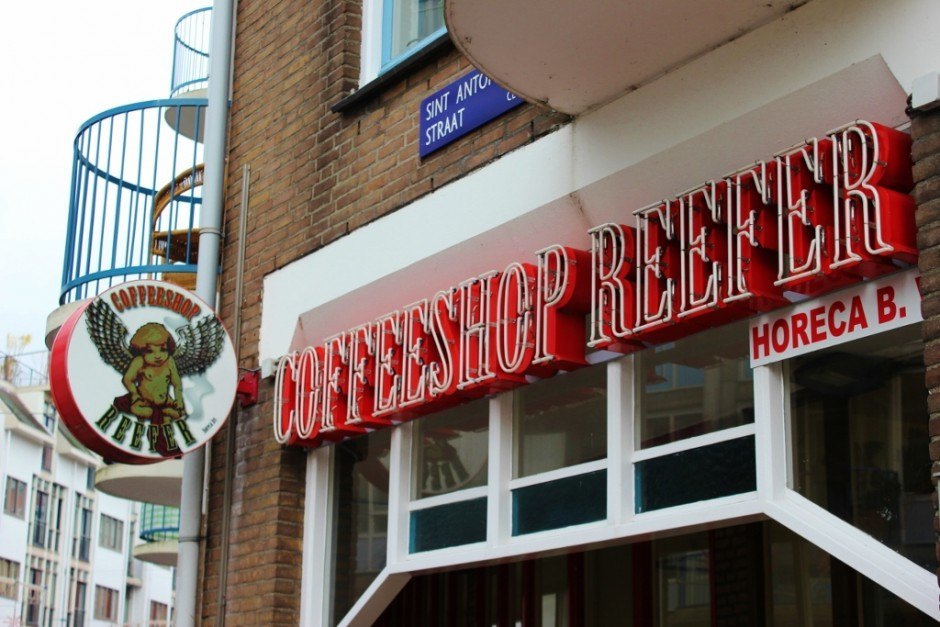 The unfortunate side effect is the idiots who overdo it. We saw more than one foreigner dazed and confused and struggling to function in broad daylight. Not cool.
Amsterdam first impressions: Red Light District
Unlike my complete acceptance of legalized drugs, I am still unsure what to make of the Red Light District. Prostitution is legal in Amsterdam and I try not to judge. Still, an internal debate was warring within. Based on my stance on feminism, should I applaud or be appalled? The women are running their own businesses, so they are entrepreneurs, of sorts. Hell, they even have a union. But, on the flip side, they are promoting a trade that is degrading to women and perpetuating a culture in which women are treated as objects.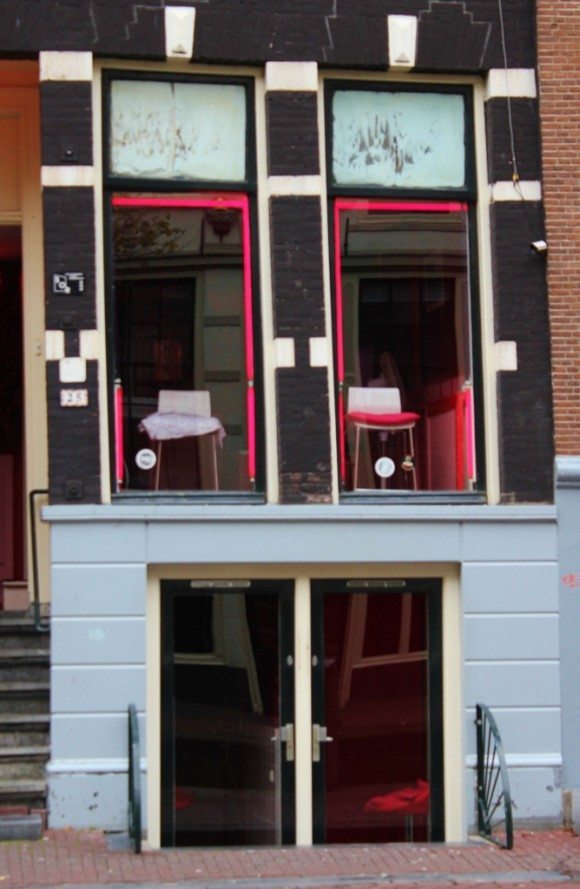 Regardless of my personal opinions on the matter, the Red Light District is marketed as a tourist attraction and, to be honest, I think it's weird. We didn't venture into the area after dark, but even during the day, young women stood in the red-lit, glass-paneled box windows in their lingerie. The girls we saw looked bored, texting on their phones and not even looking into the crowd outside their windows. It was unsettling. I felt sorry for them the same way I feel sorry for lions held in small cages at the zoo.
Amsterdam first impressions: Sights and Museums
Fortunately, there are more sights to see in Amsterdam than just the Red Light District. Historic buildings, remarkable markets, cavernous churches and a multitude of museums are found throughout the center of the city. Attempting to enter all of the sights would have required more than a day's time and a big part of our budget, as nearly all of the sights charge an entry fee. Still, with a second day in the city, we probably would have spent part of it waiting in line to see the Anne Frank Museum and paying a small fee to climb a few of the church bell towers.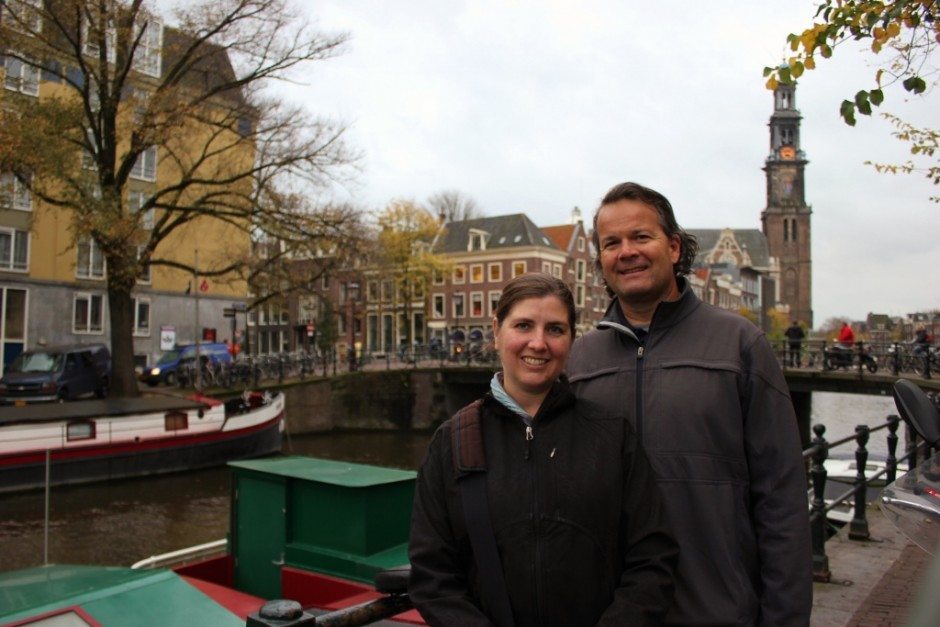 Since our Amsterdam first impressions weighed heavy on the positive side, we are confident we will be back to see more of the city one day.
We want to know: Have you been to Amsterdam? What were your Amsterdam  first impressions? Did anything surprise you? Tell us about it in the comments!
Pin it!