Hey there! Welcome to JetSetting Fools! You will find our best travel tips for destinations worldwide. Some of the links on this site are Affiliate Links and if you use them to make a purchase, we may earn a small commission. For more information, read our Disclosure Policy.
---
Before arriving in the Netherlands, the only thing we knew about local Dutch cuisine was cheese and Dutch apple pie. While the idea of gorging on nothing but these Dutch delicacies sounded appealing, during our two-month stay in the city of Nijmegen, we sampled a variety of delicious Netherlands food. Our wintertime visit included a Dutch menu of hearty dishes, sweet treats, holiday specialties…and lots of cheese.
Our extended visit to the country was not intended to be a lesson in traditional Dutch food – we were actually there dog-sitting for some friends over the winter holidays – but we quickly took a liking to the local fare and trying as much popular Dutch food as possible became a mission during our stay. We didn't limit our exploration of Netherlands traditional food to dining out; we also researched easy dutch recipes and sought out Dutch products at the grocery store so that we could feast on Netherlands food and drink at home, too.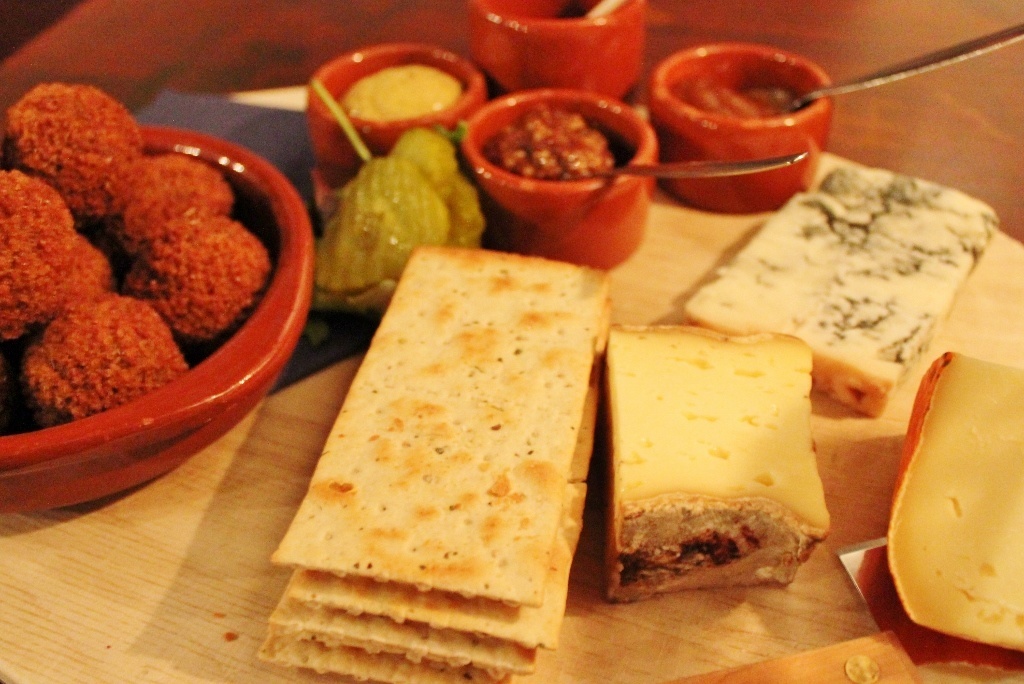 Must-Try Dutch Cuisine
Our list includes examples of traditional Dutch food that we liked best. In our discovery of the local fare, we tried to find real Dutch food – and often asked ourselves, "What do the Dutch eat?" – because we were most interested in eating typical Dutch dishes.
In our education of typical Dutch food, we learned the word 'lekker.' There doesn't seem to be a direct English translation, but the word 'lekker' is closest to 'yummy' – and we can assure you, Dutch cuisine is lekker!
Kaas (Cheese)
Let's get straight to the point: The cheese in the Netherlands is ah-mazing. Cheese shops, Dutch delicatessens – and the grocery store – stock everything from large round slabs down to tiny wedges. Soft cheese, hard cheese, old or young…we like them all. The country's specialty is Gouda, named after the city where it originated, but pronounced how-dah – and is nothing like Gouda cheese in America. There are different types based on age; our preference is the Oude (Old) cheese that has aged 10-12 months. Cheese crystals crunch between our teeth and the pungent, but oh-so heavenly, taste lingers long after the cheese is gone.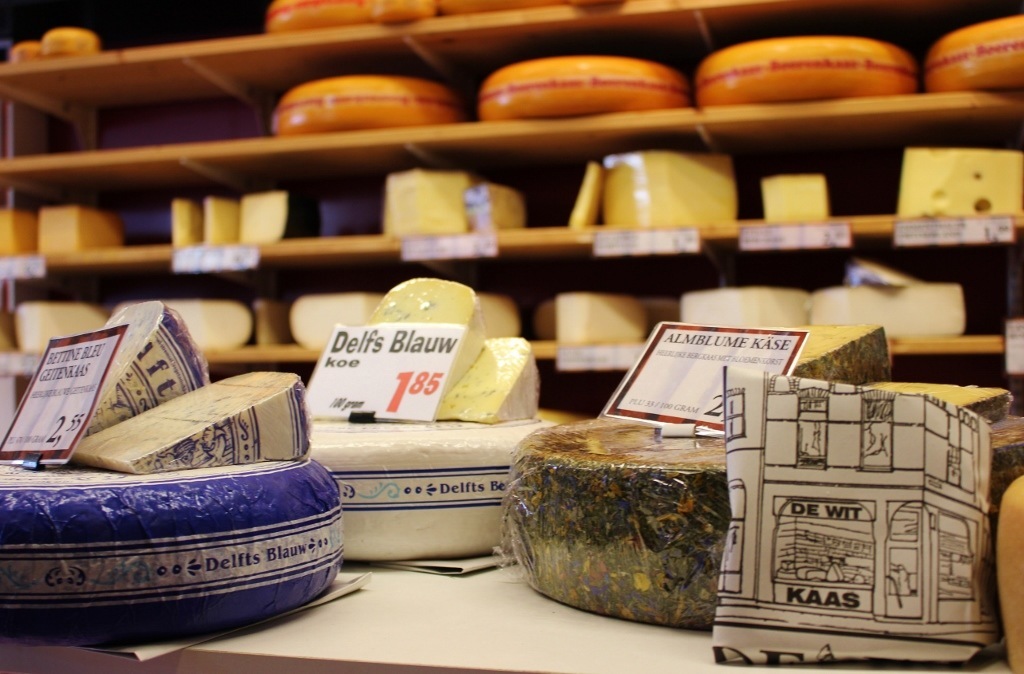 Stamppot (Mash Pot)
Stamppot is comfort food at its best – and it reigns as the Netherlands national dish. It is so simple that we were suspect as to how flavorful it would be, yet we were completely blown away by the incredible taste. The traditional Dutch dish has a potato base and is prepared with vegetables, according to taste (so you might find that traditional Dutch recipes for Stamppot vary slightly). Basic ingredients – white potato, sweet potato, carrots, onion and cabbage – are simmered in a pot, mashed and topped with rookworst (smoked sausage). Add a shake or two of salt and pepper and a typical Dutch meal is served!
Top Tip: We made Stamppot several times at home – as it is one of the easiest Dutch dinner recipes to make. Because the ingredients are international staples, this is one of the typical Dutch dishes that can be made almost anywhere in the world! If you want to try to make it at home, we included this Netherlands food recipe at the end of the post!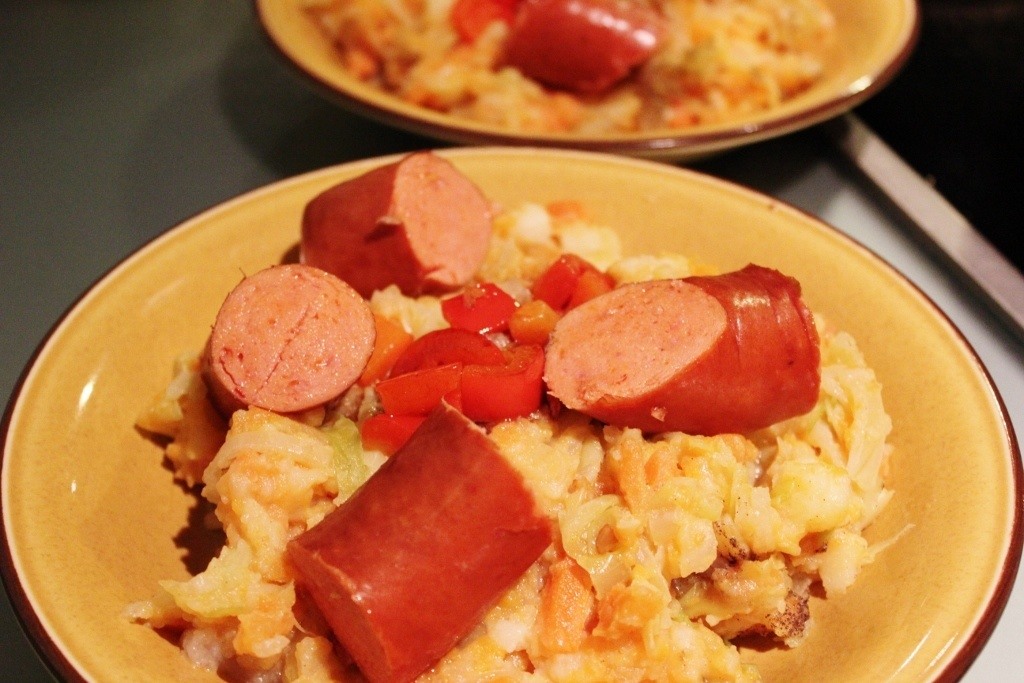 Erwtensoep (Pea Soup)
When we reunited with our Dutch friend, she came bearing gifts – including Netherlands typical food: erwtensoep. We've never been a big fans of pea soup, but when Dutch food experts (and by that, we mean Dutch people, like our friend, Leonie) tell us erwtensoep is one of their favorite traditional Dutch meals, we go ahead and try it. We are glad we did, because erwtensoep isn't like any pea soup we've had before. The thick soup is almost like a paste and variety of vegetables accompany the peas, saving it from tasting solely of peas. The soup is commonly served with sliced rookworst, a Dutch meat, on top – and we couldn't help but add a little shredded cheese, too (because, when in the Netherlands…).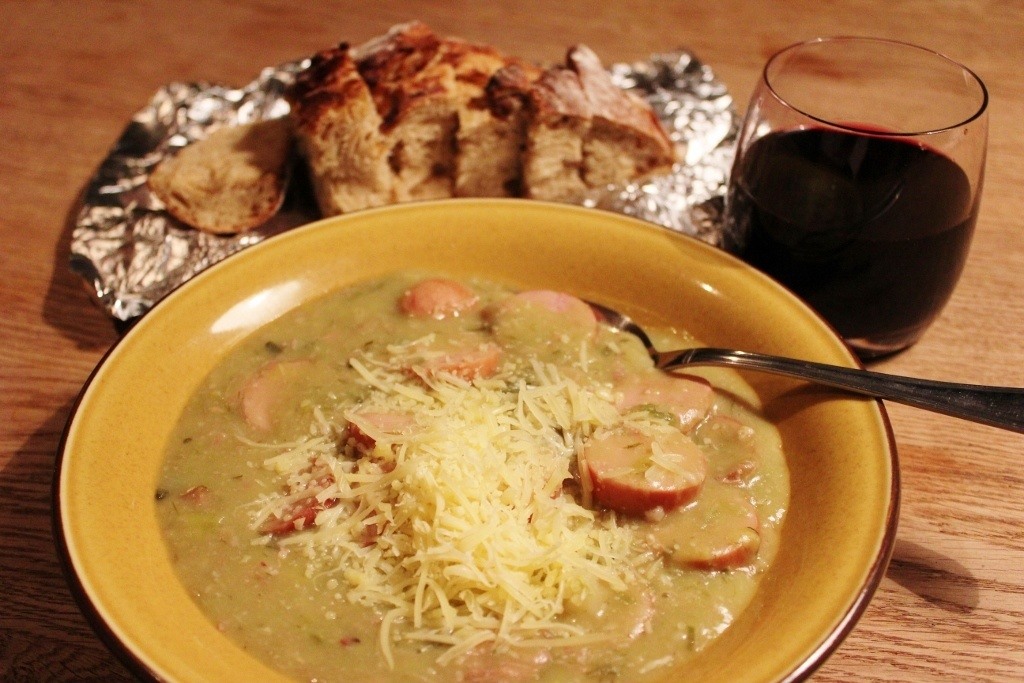 Rookworst (Smoked Sausage)
It took us a while to warm up to rookworst, which is actually hard to believe considering our affection for savory smoked sausages. The problem was that the Dutch meat sits on an unrefrigerated shelf at the grocery store – and, quite frankly, the idea of unrefrigerated meat makes us squeamish (even if it is smoked and vacuum-packed). Once we got over our ridiculous hang up, we started indulging. In addition to piling it on Stamppot and Erwtensoep, we've mixed it in with pasta and rice dishes, too.
Kibbeling (Fried Fish)
We try not to make it a habit of eating fried food, but in the Netherlands, Kibbeling – little nuggets of deep fried fish – are too good to pass up. The Dutch street food – served from trailers often parked in market square – comes with a creamy (and caloric) mayo-based dipping sauce. Many of the same establishments sell the popular Dutch raw herring. The fish is eaten either on bread or by itself (just hold the tail, throw your head back and eat), but the Dutch herring experience pushed the limits of our palates and we passed on this weird Dutch food in favor of the cooked kibbeling.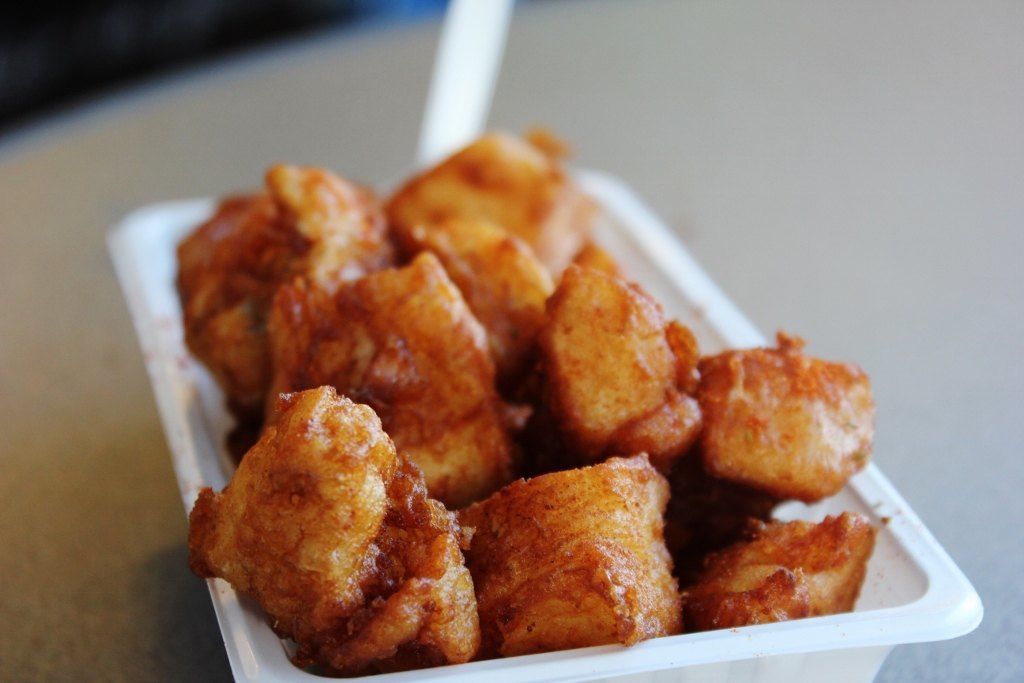 Pannenkoeken (Pancakes)
When we first found out that the Dutch are fond of pancakes, we imagined sweet Netherlands breakfast food– and then we learned how wrong we were. Pannenkoeken – Dutch pancakes – are more like crepes and can be prepared both sweet and savory and are a typical Dutch dinner or lunch. Each pancake is as big as a plate. We prefer the savory pannenkoeken, topped with cheese, ham, tomato and fried onions (but more on Dutch sweets in a minute!). There is a pancake restaurant in the hills by our house, but I also made them at home using this recipe.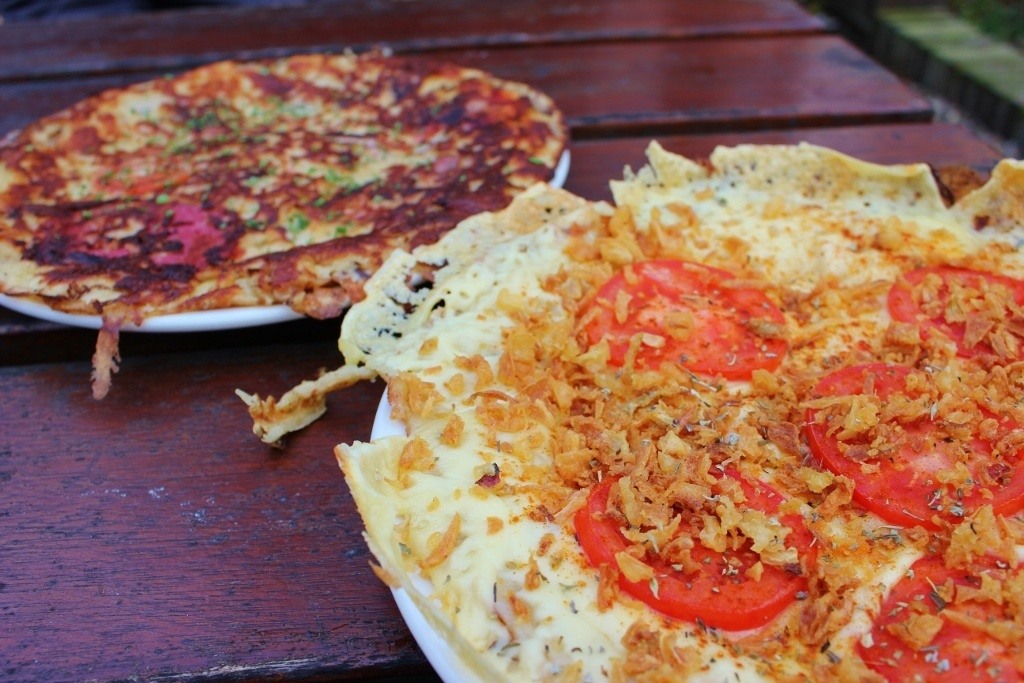 12-uurtje (Twelve o'clock)
There are several variations of this typical Dutch lunch menu item – and it is just unique enough that it should be mentioned. A 12-uurtje is served with three items on the plate, usually assembled something like this: one slice of white bread topped with cheese, ham and a fried egg; another slice of white bread topped with a single meat croquette; and a small side dish, like potato salad…covered in mayo. The Netherlands meal is eaten with a fork and knife.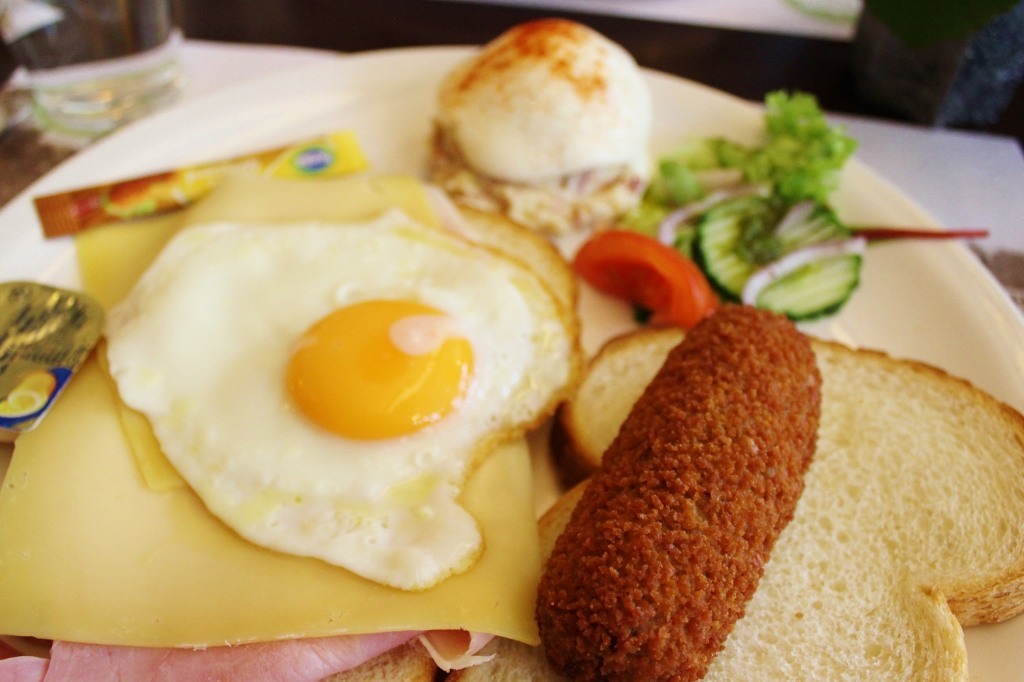 Indonesian Food
It would be impossible to spend any time in the Netherlands and not notice the copious amount of Indonesian food on offer. At first, we didn't make the connection, but, by re-educating ourselves on the 17th century spice trade and the Dutch East India Company, we remembered that Indonesia was colonized by the Dutch; Indonesian cuisine was introduced to the country and today it remains of staple of what to eat in the Netherlands. Chicken Satay is a dish we are familiar with, but Bami Goreng was new to us. The stir fried noodles are a meal on their own – and are made even better when covered in satay sauce.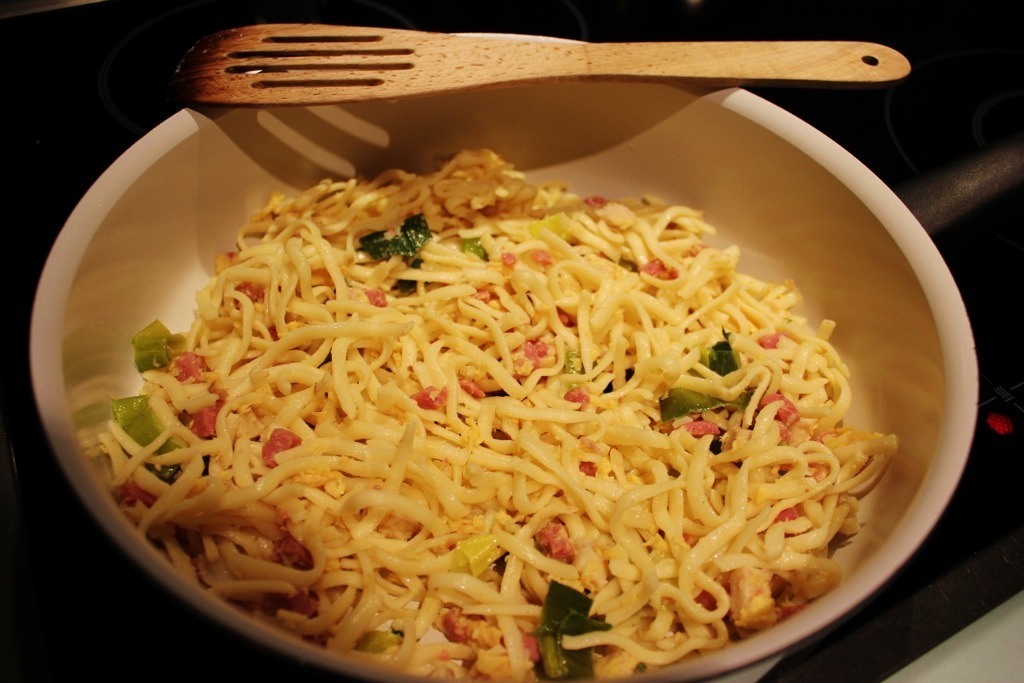 Bitterballen
The deep-fried bitterballen is one of the favorite Dutch snacks in the Netherlands – especially prevalent at bars and taverns. The Dutch appetizers are little round balls, similar to croquettes. Bitterballen are crispy on the outside and filled with a thick meaty gravy-like mixture. Like most bar food, the Dutch snack food pairs well with beer and mustard.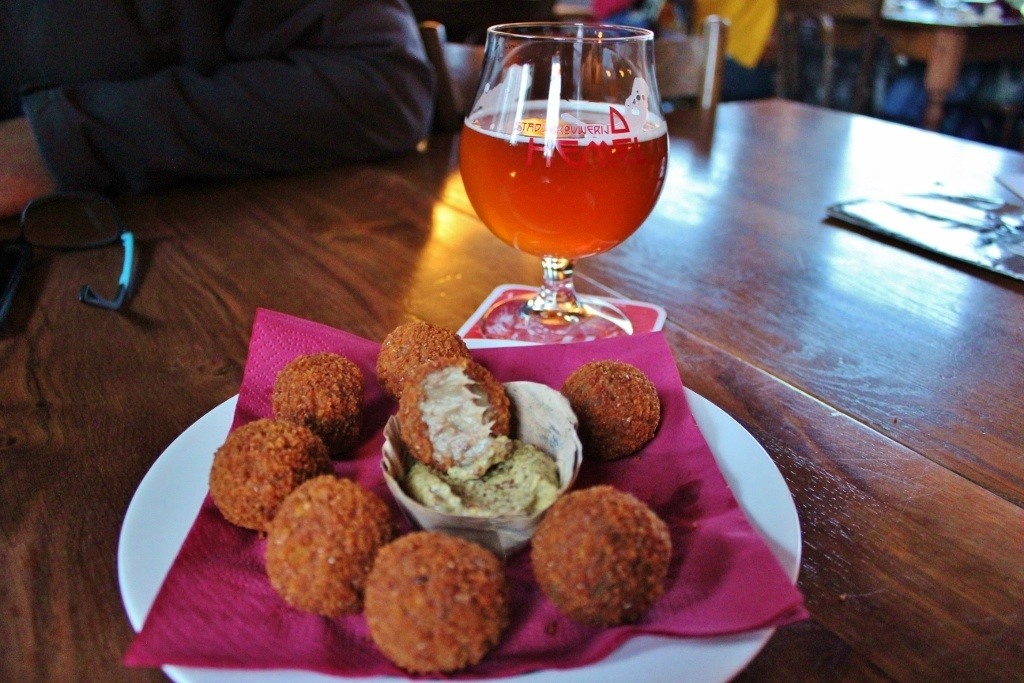 Patatje Oorlog (War Fries)
Fried potatoes are international; the Netherlands can hardly take credit for fries. What makes Patatje Oorlog an authentic Dutch food, however, are the assembly of toppings that are slathered on the fries. An order of patatje oorlog fries will be topped with a heaping gob of mayo, then satay sauce and raw, diced onions, nearly drowning the fries in sauce. Eating this dish requires a fork (and a strong stomach!) – and even then they are messy! *Another version is to use curry sauce instead of satay sauce.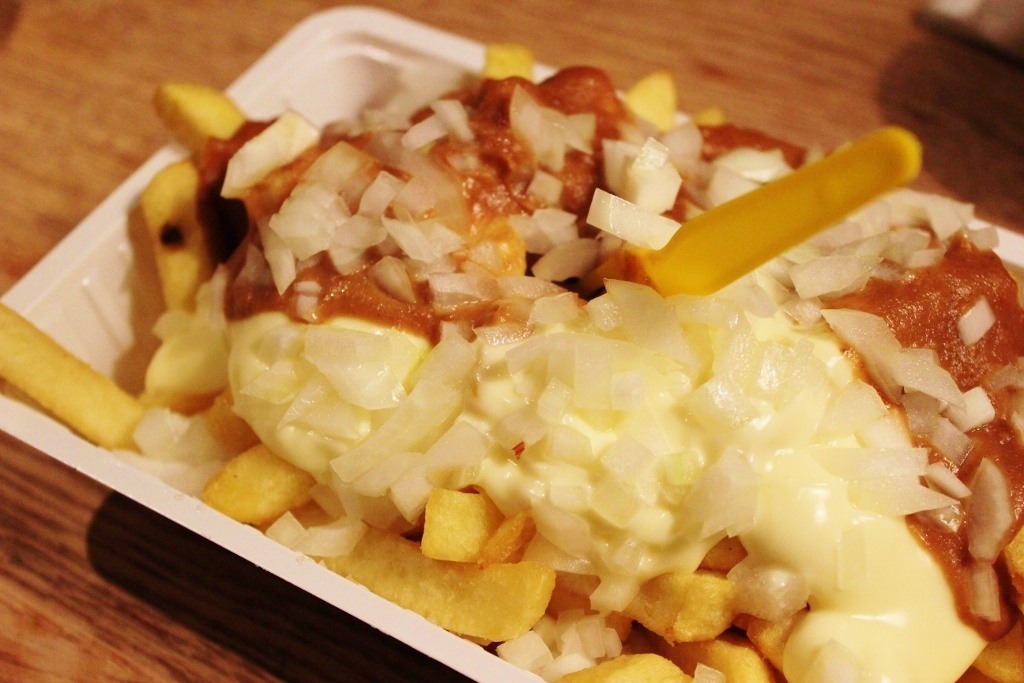 Borrel Nootje (Drink Nuts)
Borrel Nootje are cocktail peanuts with a twist – and while they don't rank as top traditional Dutch cuisine, they should be on your Dutch food list of things to try. Rather than the peanuts being salted, each individual nut is coated with a crispy, spicy layer of flavor. There are several varieties including garlic and paprika. I also think there might be an addictive chemical added, because once we start eating them, we can't stop.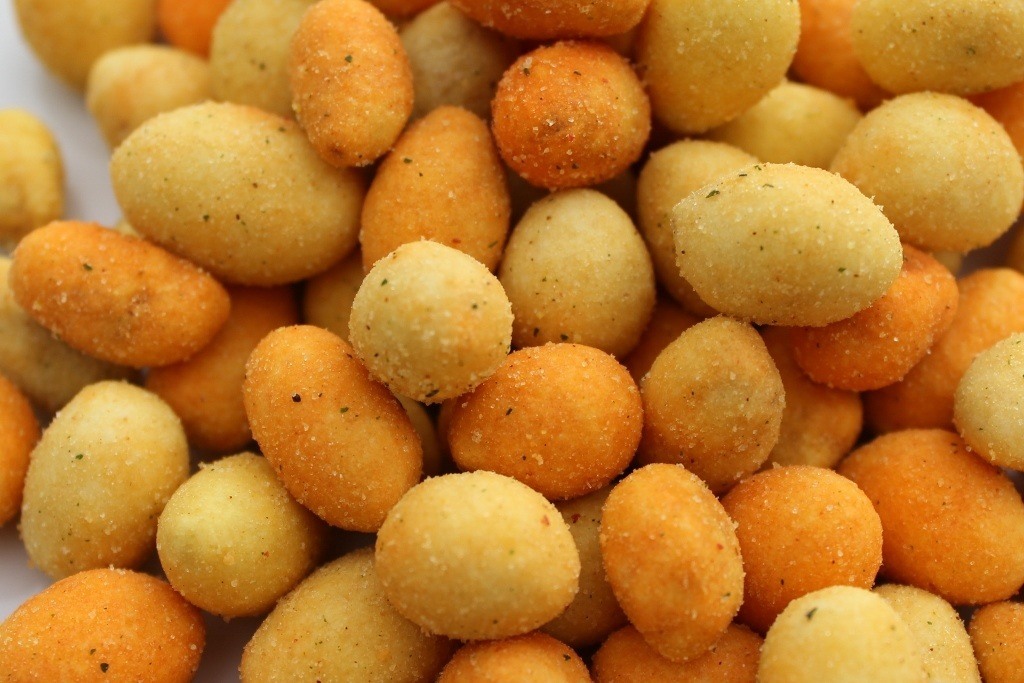 Netherlands Stroopwafel (Syrup Waffle)
Not everything in the Netherlands is savory – and stroopwafels are proof of that! These sweet traditional Dutch cookies are made of two thin, Netherlands waffle wafers stuck together with just a bit of caramel syrup in between them. When heated slightly they become gloriously gooey – and rank as one of our favorite Netherlands desserts!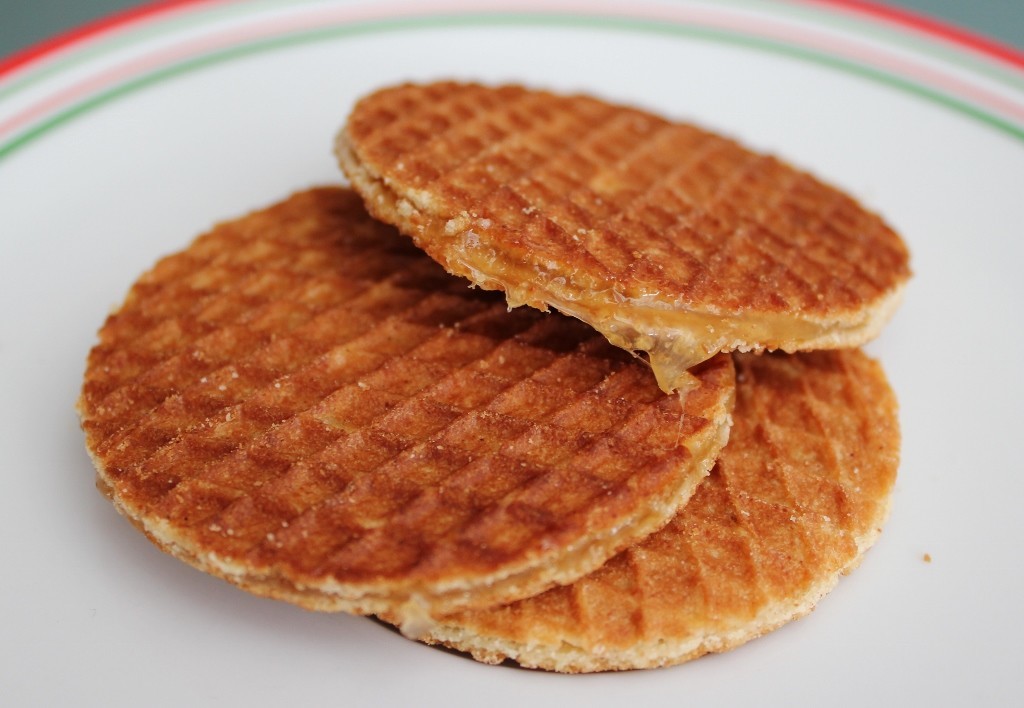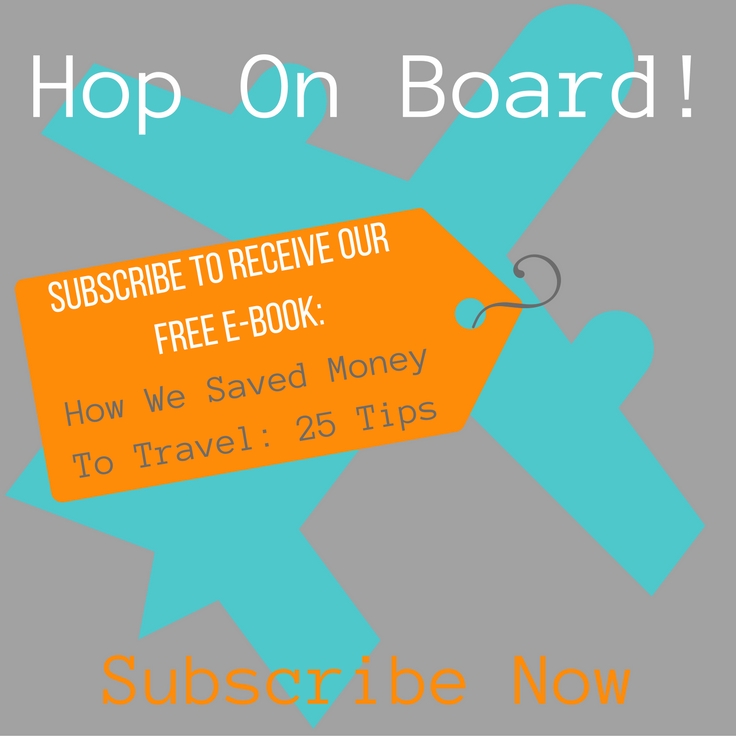 Hagelslag (Sprinkles)
Remember as a kid, how sprinkles made ice cream so much better? Well, in the Netherlands, sprinkles – which they call hagelslag – aren't reserved for kids or ice cream. Hagelslag is consumed – usually topping a slice of buttered bread – as a snack or at any meal; it is even eaten as a typical Dutch breakfast. We, however, would smear peanut butter on sweet Dutch pastries then top it with chocolate hagelslag. There are no rules…and sprinkles are fun.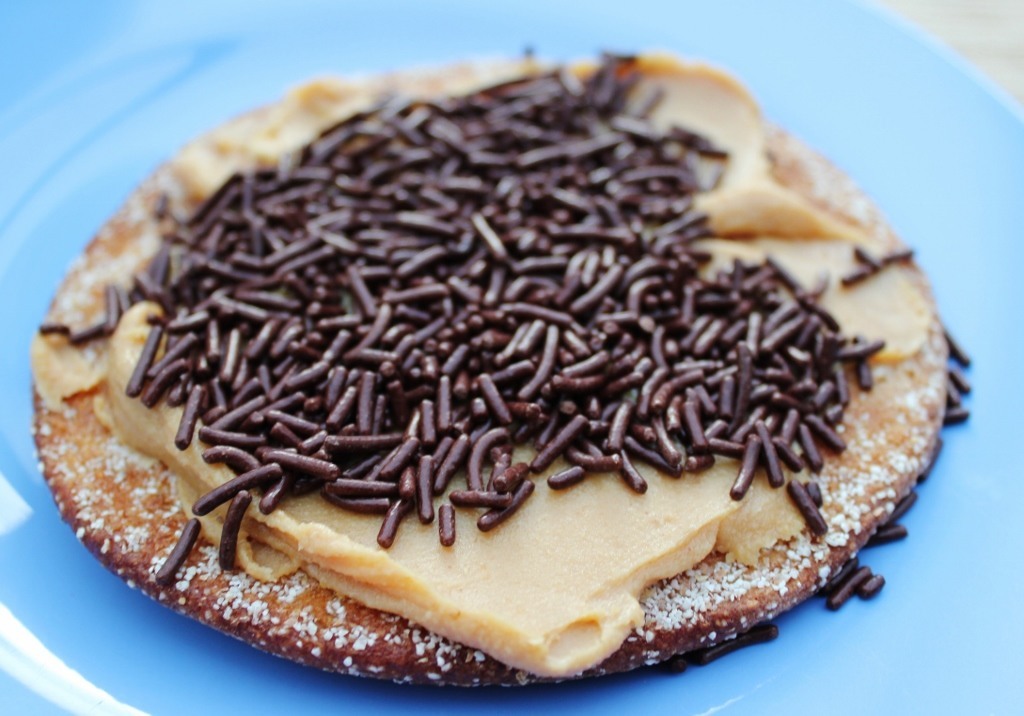 Appeltaart (Dutch Apple Pie)
When it comes to Dutch desserts, none is more famous than apple pie. Unlike American apple pie, Appeltaart is made in a spring-form pan, not a pie dish. The consistency is almost more cake-like than pie. The apples are sliced thicker and stacked high and the filling is sturdy, not runny. This Netherlands pastry is a staple and can be found on almost every menu and in every grocery store.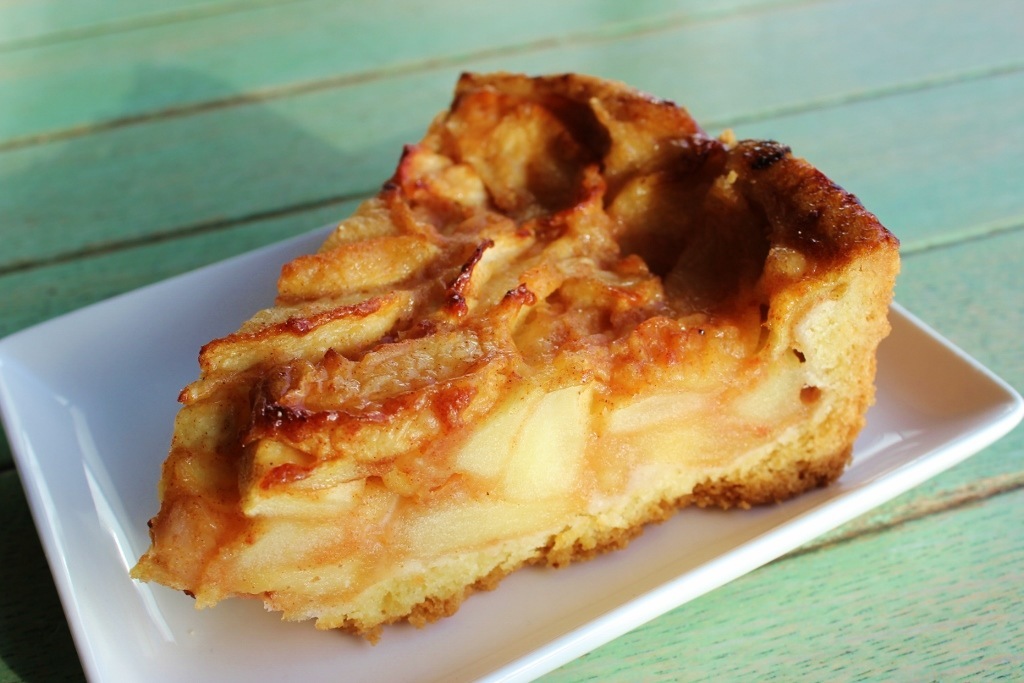 Dutch Cuisine for the Holidays
In the Netherlands, particular foods are only consumed during specific holidays. From November until the New Year, there are three distinct holidays to be celebrated: Sinterklaas, Kerst (Christmas) and the New Year.
Kruidnoten (Ginger Nuts)
According to Dutch traditions, Sinterklaas, the man who brings presents to Dutch girls and boys, arrives in the Netherlands by boat in November. He then visits children and appears in parades around the country until the presents are delivered on St. Nicholas Day, which is December 6. Kruidnoten, which translates to Ginger Nuts, go hand-in-hand with the Sinterklaas celebrations. However, they aren't actually nuts at all; Kruidnoten are dollop-sized spiced typical Dutch cookies, often coated in chocolate (milk, dark and white). Kruidnoten is only available until St. Nicholas Day – after Sinterklaas delivers presents, these Dutch Christmas food treats are no longer available!
Gourmetten
We wanted to eat traditional Dutch Christmas food for our holiday meal – and when we asked, "What do Dutch people eat at Christmas" everyone told us: Gourmetten! The popular Netherlands Christmas food tradition is similar to that of a fondue dinner; small portions of raw meat and vegetables are prepared in advance then tiered skillet is placed in the center of the table and each diner has an individual tray they use to cook their own meal.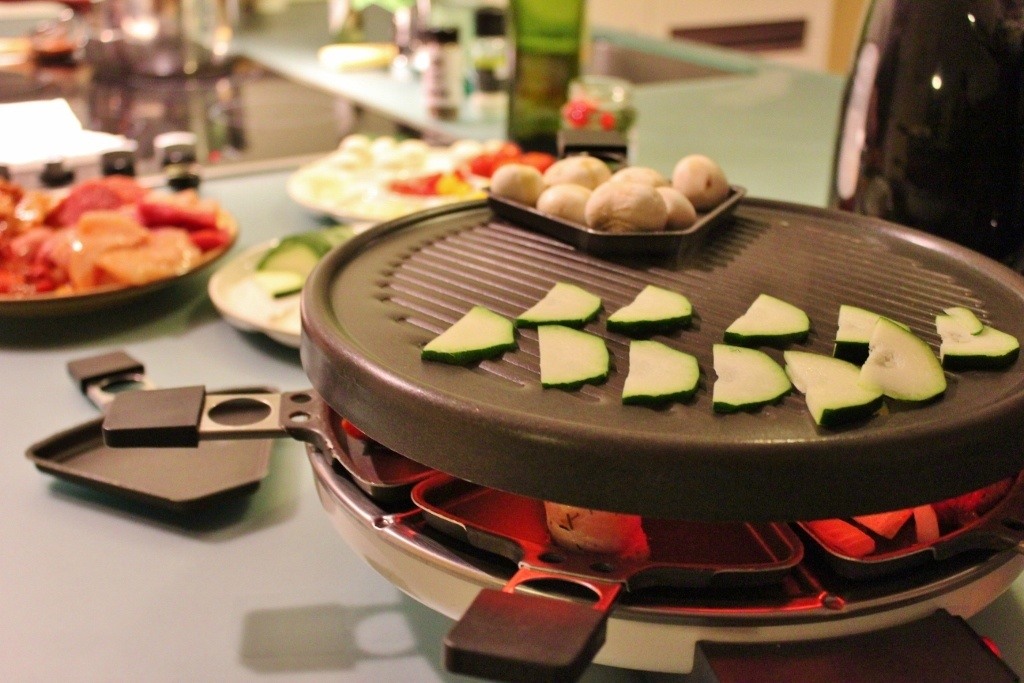 Oliebollen (Dutch Donuts)
Oliebollen makes an even shorter appearance than Kruidnoten – and are available between Christmas and New Year's Eve. The dough is deep-fried and then coated in sugar – and, obviously, delicious. Need we say more?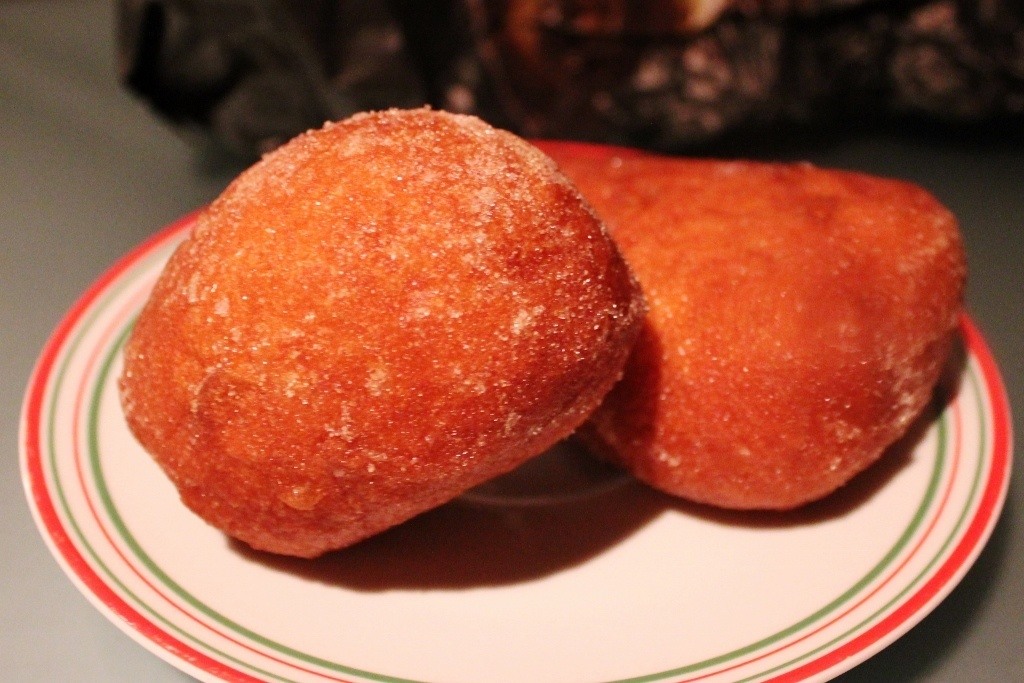 Bisschopswijn (Bishop's Wine)
Bisschopswijn is the Dutch version of mulled wine; the Dutch drinks are popular at Christmas markets to help stay warm while outside in the chilly air. The spicy concoction is fairly simple to recreate at home, as it comes with a pretty basic recipe (red wine, orange slices, cloves, cinnamon and a little sugar heated for 30 minutes and then served).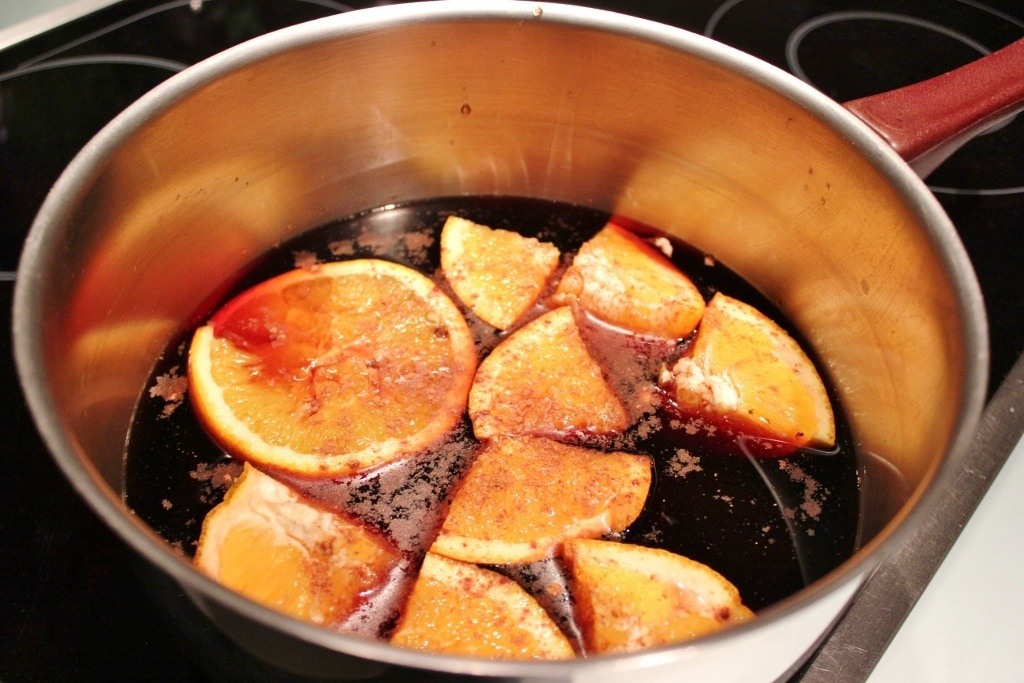 Are you in the Amsterdam and craving delicious Dutch Cuisine? Join a tour guide on an incredible discovery of must-try Dutch food on a highly-rated food tour! Book in advance, only 12 participants per tour!
---
Stamppot Recipe
Hungry for delicious Dutch cuisine? There's no better way to satisfy a craving for Netherlands food than to feast on the iconic Dutch national food dish: Stamppot. The Dutch meal uses ingredients that are readily available around the globe – so you can make it wherever you are in the world!
Indgredients:
1 lb white potatoes
1 large sweet potato
2 large carrots
2 medium yellow onions
½ lb fresh cabbage
1 garlic clove
½ red pepper
1 tbsp olive oil
1 package smoked sausage (rookworst if you can find it!)
½ stick of butter
½ cup of milk
Salt and pepper
Preparation:
Peel and cut potatoes into 1 inch cubes. Peel and slice the carrots, then cut the rounds into halves or quarters. Thinly slice the onions in rings. Wash and shred the cabbage. In a large pot, put the potatoes in first, followed by carrots, then onion, then cabbage and fill with water until is just covers the cabbage. Add a salt and pepper. Place on high heat until it starts to boil and then reduce to a simmer. Allow it to simmer for 20 – 25 minutes.
Meanwhile, cook the sausage according to package instructions. Once it is heated, slice into rounds or short links.
Mince the garlic and dice the red pepper. In a small skillet, heat the olive oil over medium heat. Once hot, add garlic and cook until brown. Add pepper and cook for 3 – 5 minutes.
Drain the vegetables from the pot and shake excess water from the strainer, then pour the vegetables back into the pot or into a mixing dish. Add the butter and milk (which I heated in the microwave for 30 seconds, but can be added cold, too). Use a masher to mash the vegetables, but don't over mash. The mixture should be thick and chunky.
Spoon into bowls. Top with sausage and the garlic and pepper mix and serve!
Note: The milk is optional. If not using milk, I use more butter. The garlic and pepper mixture is optional, but it adds nice flavor. A small sprinkle of cheese on top also adds a nice touch!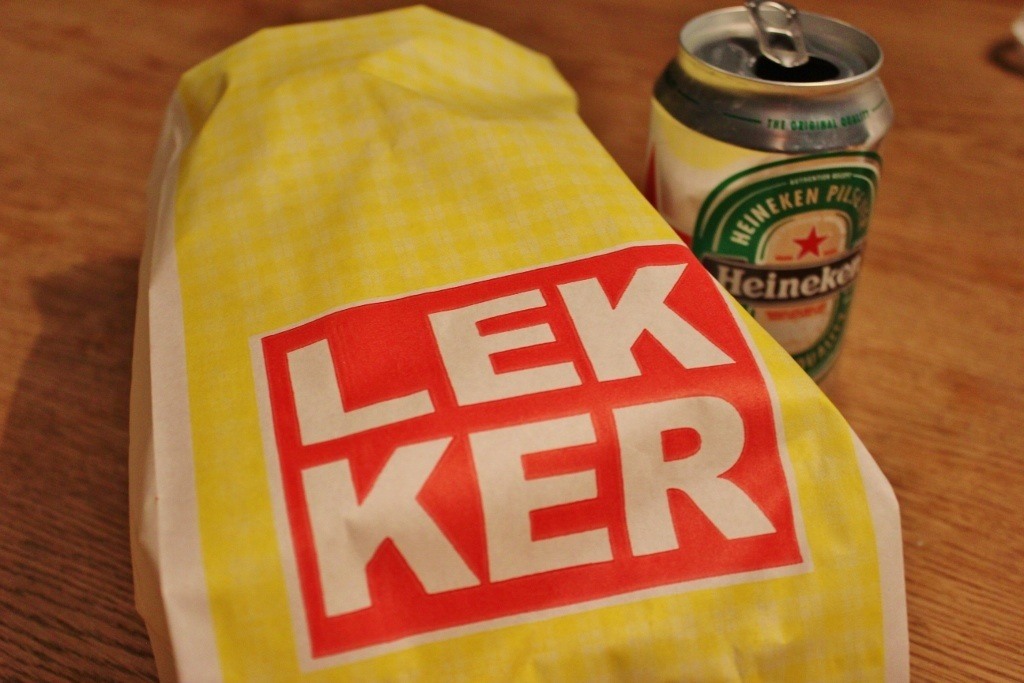 We want to know: What is your favorite Dutch cuisine? Is there anything you would add to our list of things to eat in the Netherlands? Give us your best tips and advice in the comments!
Start planning your trip to the Netherlands! Search for the lowest airfares, the best accommodations and fun things to do…then start packing! Want more travel planning tips? Head over to our Travel Planning page for more information and tips on traveling – and for country-specific information, take a look at our Travel Guides page!
Like what you're reading? Join the journey!
Subscribe to JetSetting Fools and get new blog posts and our quarterly newsletter direct to your inbox:

Pin it! See all of our travel pins on our JetSetting Fools Pinterest Board.