Hey there! Welcome to JetSetting Fools! You will find our best travel tips for destinations worldwide. Some of the links on this site are Affiliate Links and if you use them to make a purchase, we may earn a small commission. For more information, read our Disclosure Policy.
---
We didn't have high expectations for the bars in Lecce, Italy. It is a small, historic town that markets its architecture more than its nightlife. Being in the middle of a lesser-known wine region, we knew wine would be flowing, but we weren't sure what we would find in the way of craft beer and cocktails. With our fun-time friends in town and my reluctance to stay in one location too long, we have discovered a multitude of imbibing establishments.
Bars in Lecce, Italy: Birra
We have a knack for finding beer meccas, but don't let that get you excited, Lecce isn't one of them. Italy isn't exactly known for its beer production, but craft brew is certainly on the rise. We found more than a few bars in Lecce, Itay serving up pints of goodness along with fun times.
Irish bars are always a good bet for a beer loving crowd. Apparently Joyce Irish Pub is so good that we shut it down…twice. There is a dining area, but we never made it past the small wooden bar crammed with Irish themed paraphernalia. Pints of Guinness were flowing, but I preferred the local Taranta. The friendly staff – including a confident 13-year-old bar assistant – made it all too easy to fall for this place.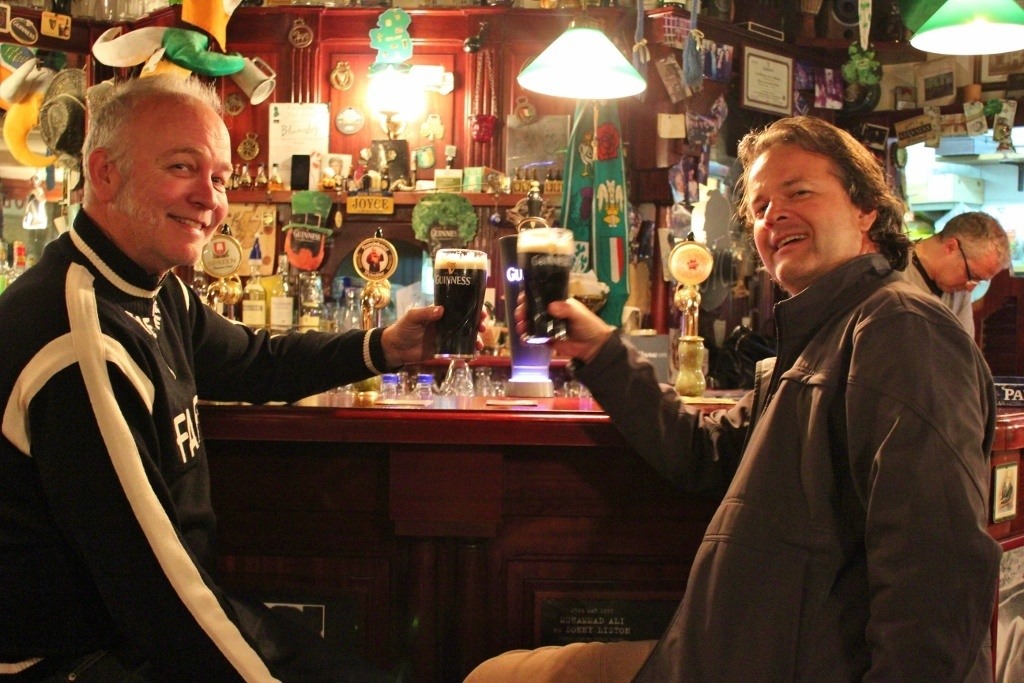 Just across the way from Joyce is this modern and stylish brew lounge. Their brew, 3/4, and the sled of meat and cheese were a big hit. It's definitely a trendy spot – judging by the constantly filled tables – but has a low-key vibe that makes it comfortable to linger over a few beers.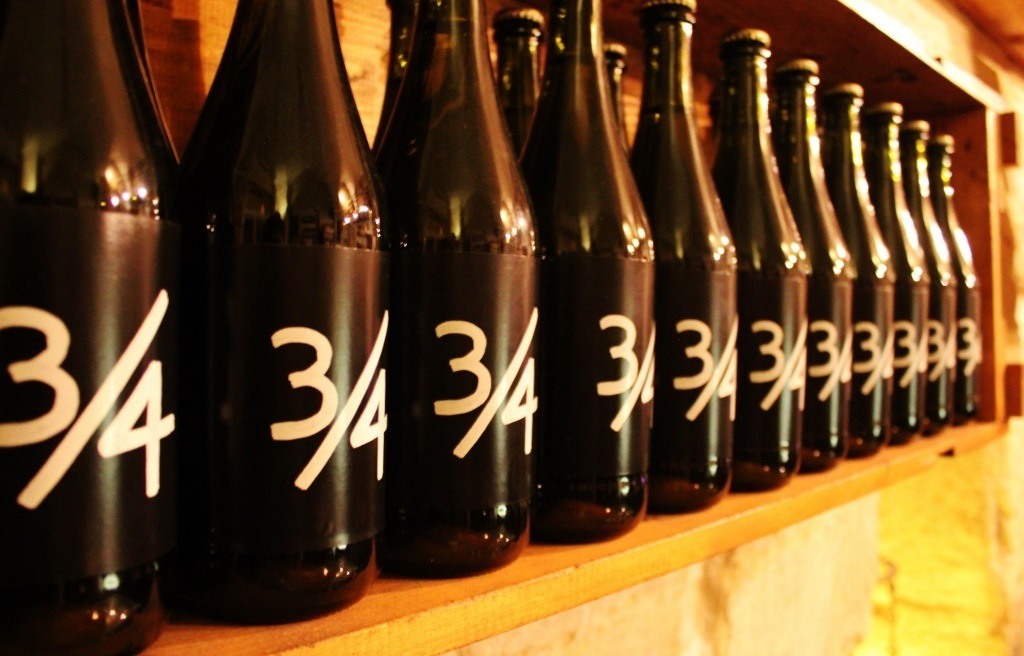 Located on a main street in the old town, we zeroed in on this place on our day of arrival. We could see the many taps at the bar through the glass door that was covered in craft brew stickers. Four picnic tables fill the main room (which is decorated with an old rail car) and there is a pool table in the back, where smoking is allowed. With local beers on tap and more popular craft beer by the bottle, it has one of the best craft brew selections in town.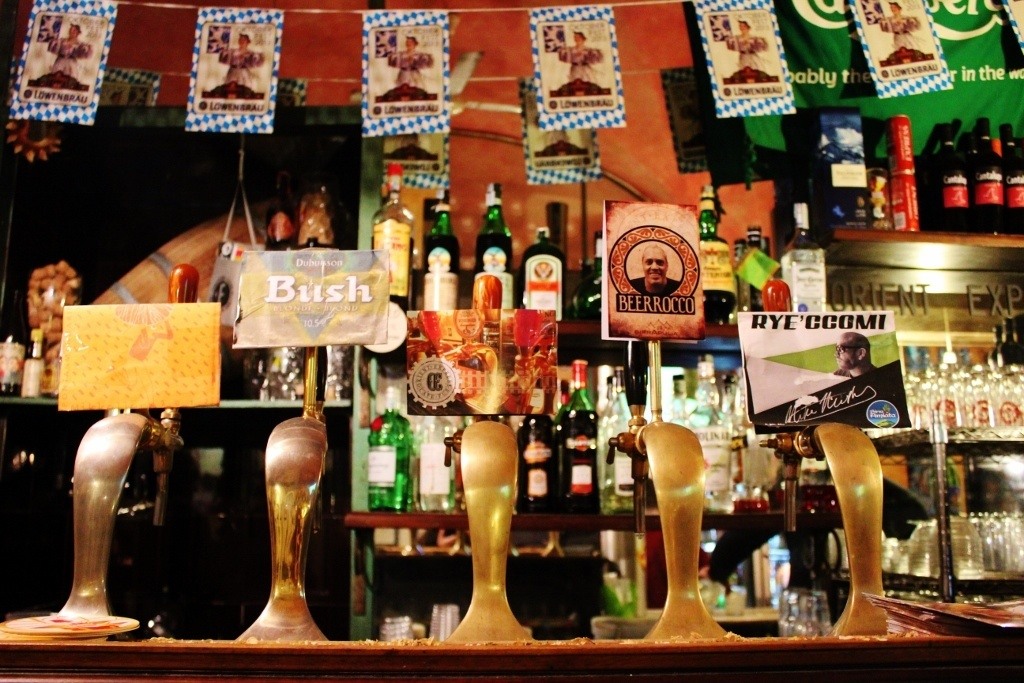 This place wouldn't have made our list based on ambiance, but that's not what our list is about. It's about beer and this place has an astonishing bottled beer selection. Beers from all over the world are listed on their menu, including our favorite beer from Belgium, Brugse Zot.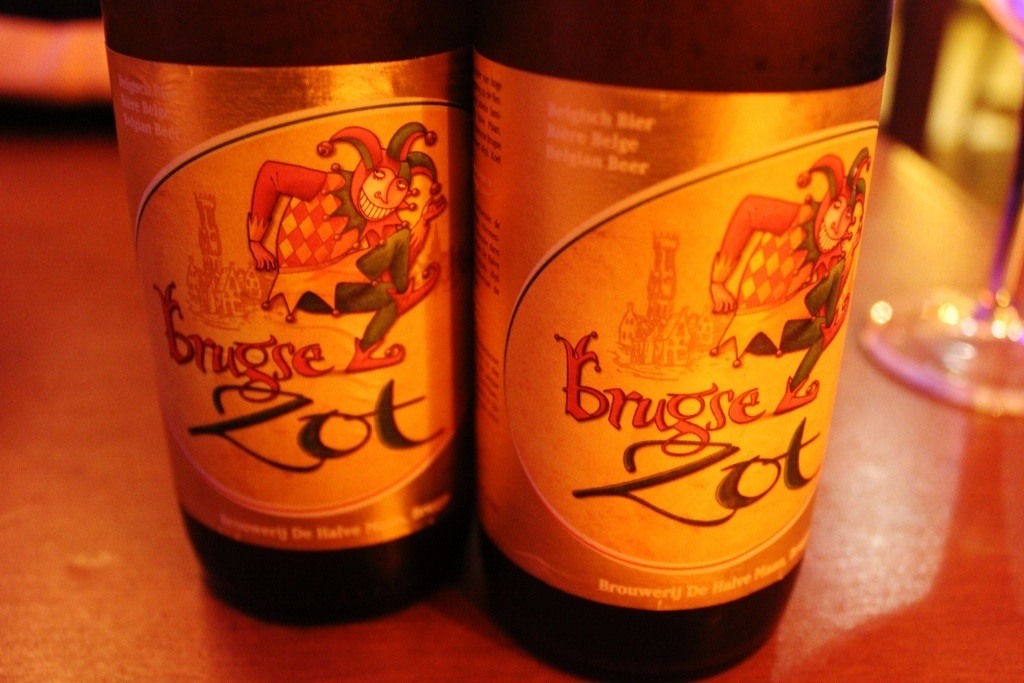 Bars in Lecce, Italy: Vino
Excellent, local (and affordable) wine is available just about everywhere in Lecce, but a series of wine bars in Lecce, Italy to the left of Santa Croce – or "Wine Row" as we've come to call it – is the place for wine lovers interested in trying something besides the vino rosso della casa.
We felt slightly overwhelmed when presented with a list of more than 200 wines. Instead of trying to navigate our way through it, we explained our preferences to our waiter and asked him to choose for us – and to keep it at €5 per glass. He picked a different wine for each of us and was spot on. We sipped at the high tables outside and enjoyed the sunny weather and quiet afternoon.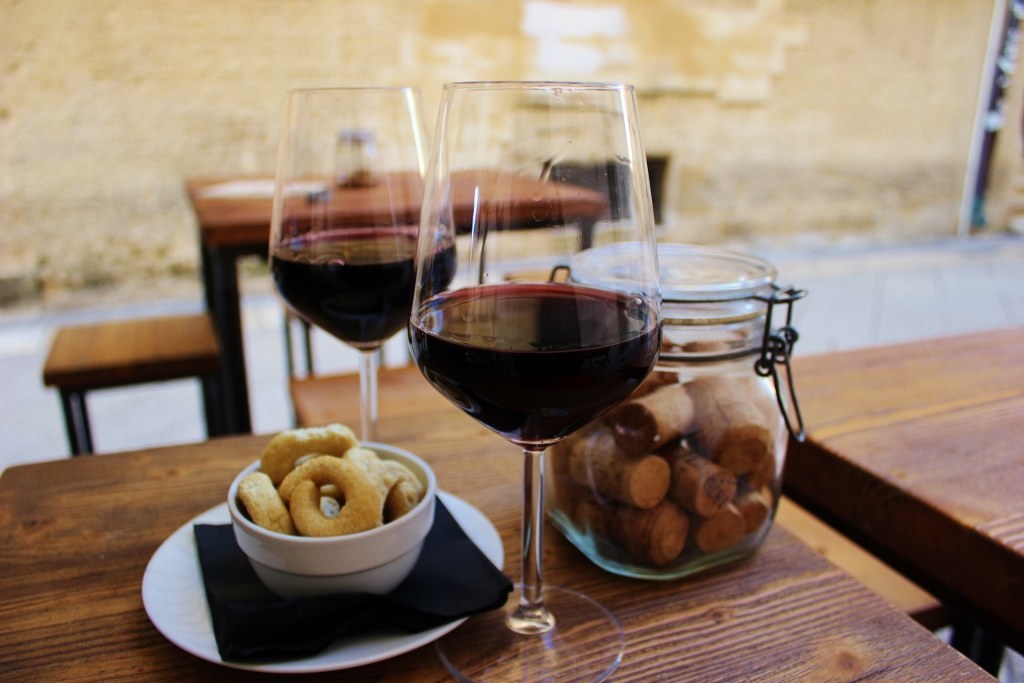 With bottles stacked to the vaulted ceiling, a ladder was used to fetch bottles from high up (like in an old-fashioned library). Cozy and comfortable, with a dark and moody atmosphere (enhanced by a solo musician and his guitar), we chose the house wine and complimented it with the upmarket aperitivi.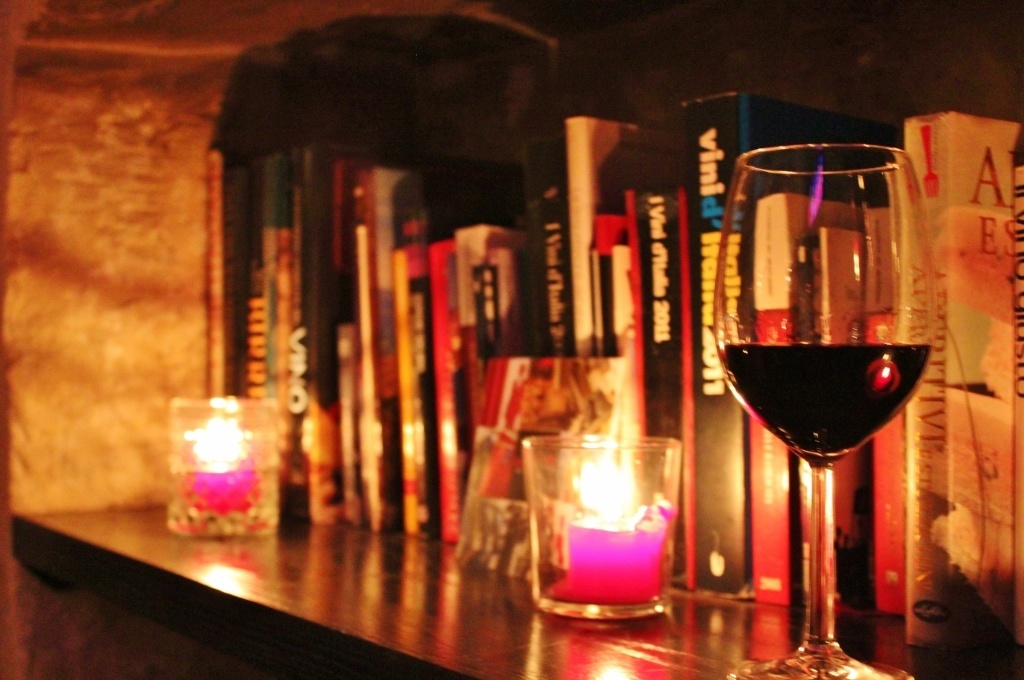 Good tunes lured us into the classic wine bar with splashes of modern art. All we had to do was mention red wine and the waiter brought five bottles to our table. He poured us a taste of bold (and expensive) wine first and also let us try a sweet (and much less expensive) wine. We chose a bottle in the mid-range that wasn't quite as delicious as our first taste, but also not nearly as pricy.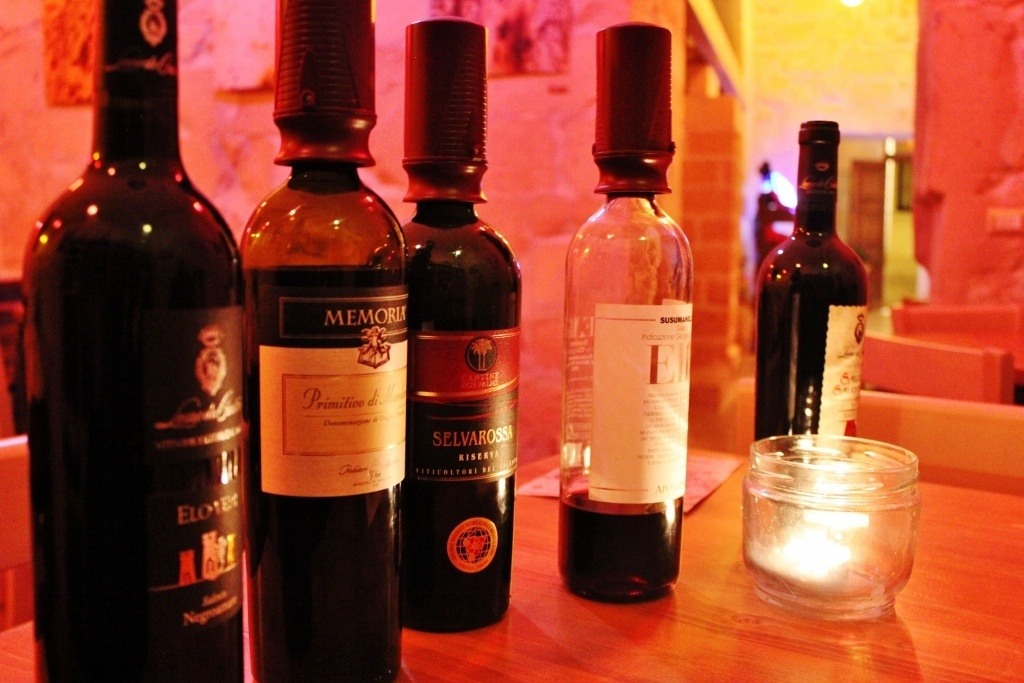 Bars in Lecce, Italy: Cocktails
We were surprised to find a few dedicated craft cocktail bars in Lecce, Italy that were mixing up fantastic concoctions at affordable prices (which is probably why they were always packed). Campari and soda seems to be all the rage in Lecce, but I must admit I'm not a fan. The overwhelming alcohol aftertaste made me nervous about breathing near the lit candles. Fortunately, the bartenders are happy to take the liberty to create cocktails that are aimed to please only the person drinking it.
This shabby chic corner spot always has a crowd. As I was perusing the drink menu tacked to the wall, the bartender approached me, told us to forget the menu and just tell him what we liked. After a bit of conversation, we could almost see the wheels turning in his head as he ducked back behind the bar and thoughtfully started creating his masterpiece: a Prosecco cocktail embellished with just a touch of this and a spritz of that. It was light and refreshing – and a good break from full-bodied vino rosso.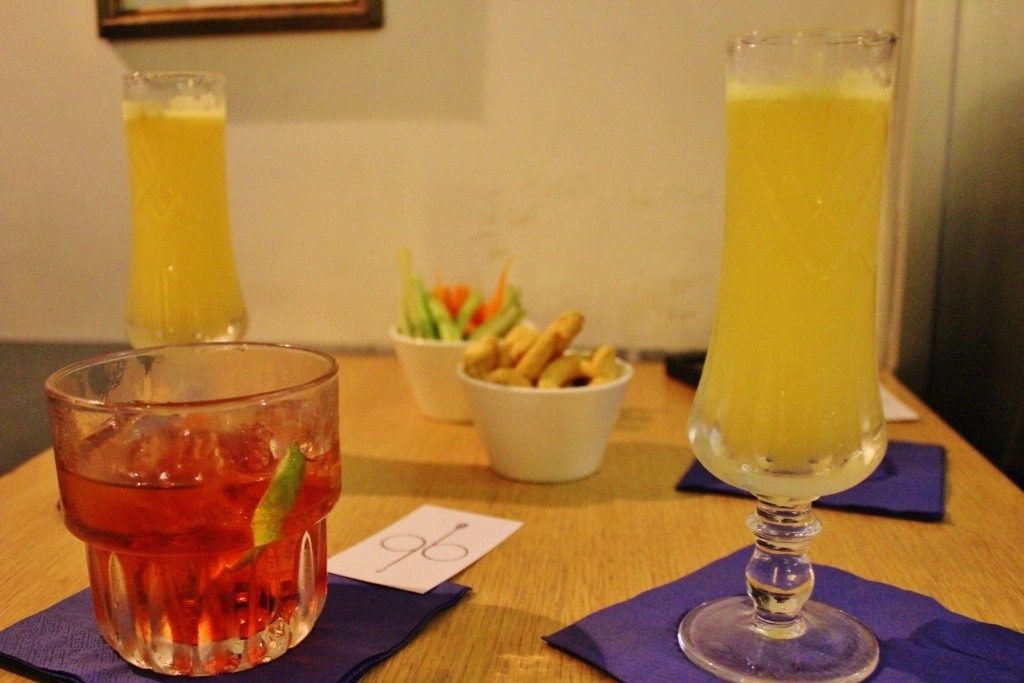 This bright bar, connected to an equally trendy restaurant, is a big hit with the young, shot-loving hipsters. We took a seat at the bar and took in the baffling scene. Generic drinks were ordered and paid for at the register and then in pairs or small groups, they presented the receipt to the bartender. With just a glance at the receipt and a few quick questions, the master mixologist would go to work to create designer shots. Those taking the shots would do a quick cheers, toss it down the hatch and move away from the bar to allow room for the next group. It was fascinating, yet I felt a few years too late for the party.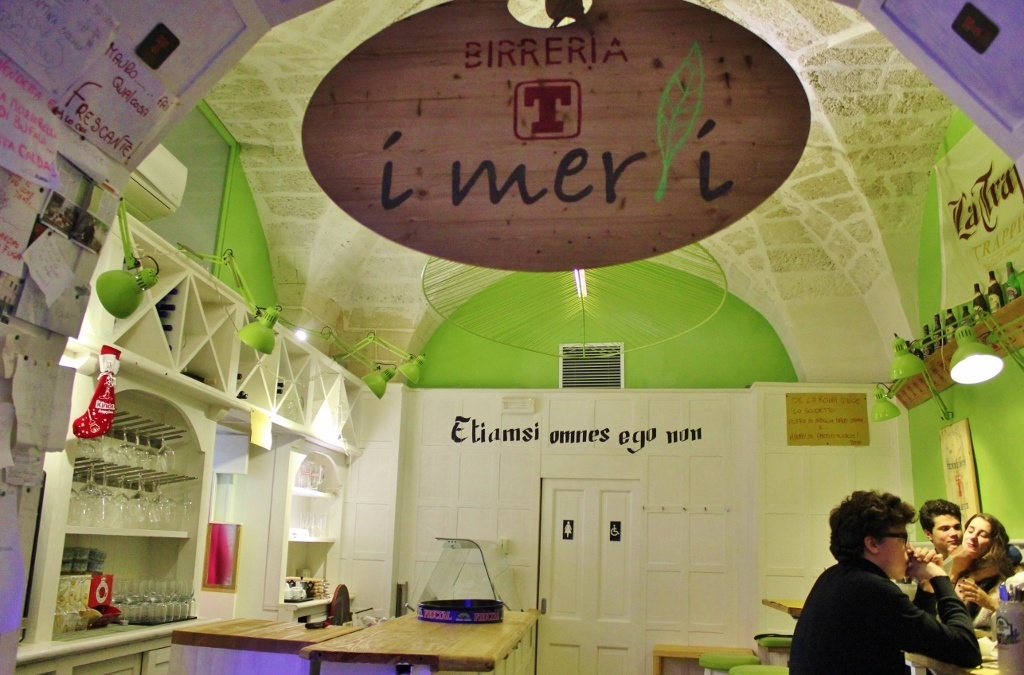 As it turns out, the Lecce nightlife is a lot more happening than we anticipated. Whether we wanted a quiet glass of wine, a local craft beer or a fancy cocktail, we were able to find whatever suited our mood at one of the bars in Lecce, Italy.
We even ventured into the more local spots, like Bar Moro, which was always humming with friendly patrons. For us, simply observing as the town came to life late in the evening was mesmerizing. Bars that had been completely hidden during the day, appear like magic at night. Discovering these gems added an intriguing element to our stay in Lecce, Italy.
Our top tips for your trip to Lecce, Italy
Where To Stay
During our visit to Lecce, we stayed in an Airbnb Apartment. Not already a member of Airbnb? Use this link to create an account and save money on your first stay!) However, for those who prefer staying in traditional accommodations, there are many hotels to choose from in – or close to – the city center. Check out these top-rated hotels (based on guest reviews!) for your upcoming trip:
Before You Go
Don't forget to pack a pair of lightweight and comfortable walking shoes. I (Sarah) have traveled with these shoes by Columbia, Skechers and Reef. Kris prefers wearing these shoes by Merrell and Sanuk.
We're certain you'll be snapping tons of photos during your trip. Rather than relying on your mobile phone to capture the sights, upgrade to an actual camera for higher quality photos. We travel with a Canon Rebel (which takes amazing photos, but can be a bit clunky) and a Canon PowerShot ELPH (which takes beautiful pictures, is slim and lightweight – and the new models are wifi enabled so you can share your trip pics to social media in real time!).
We think travel insurance is essential! If you haven't already obtained travel insurance for your trip, travel protected with World Nomads.
Want more travel planning tips? Head over to our Travel Planning page for our complete packing list and other travel resources!
Like what you're reading? Join the journey!
Subscribe to JetSetting Fools and get new blog posts and our quarterly newsletter direct to your inbox:

We want to know: Are there any bars in Lecce, Italy you would add to the list? Which is your favorite? Let us know int the comments!
Pin it! See all of our travel pins on our JetSetting Fools Pinterest Board.