Hey there! Welcome to JetSetting Fools! You will find our best travel tips for destinations worldwide. Some of the links on this site are Affiliate Links and if you use them to make a purchase, we may earn a small commission. For more information, read our Disclosure Policy.
---
When the first stop while touring Vietnam's Central Highlands was at a 'cricket farm' for a taste of the fried critters, it clearly set the tone for the day. As promised, this was not going to be like any other tour in Vietnam.
Our day was filled with Vietnam life rather than sites and we met no other tourists along the way as we were led by a local man through small-town markets and the village he grew up in in Vietnam's Central Highlands.
Set up through our hotel as more of an experience than a tour, our small group of seven people set off bright and early for an adventure with only a vague itinerary ("You will see a waterfall and a village.") and promises of a unique journey into real-life Vietnam that most tourists never see.
We were a bit apprehensive, but opened our minds to whatever would be presented to us. We left the city of Dalat behind as we traveled through mountainous dirt roads, past scenic hillside farms and over shaky, plank covered bridges into a world we knew existed, but never thought we'd see.
Touring Vietnam's Central Highlands:
Cricket Farm
Truth be told, the crickets didn't taste all that bad – similar to airy veggie crisps….just with legs. And that was just the start of the day's culinary excursion.
Local Market
Before we got a guided tour through a seriously local market, our guide gave us some no-nonsense, practical advice about acceptable market protocol. Some of his words of wisdom: Don't ask the price unless you really want to buy it, only women should negotiate prices, don't stand in front of a stall unless you are buying (if you're not buying, you're blocking) and the later you shop, the better the price, because the produce only has a one-day shelf life.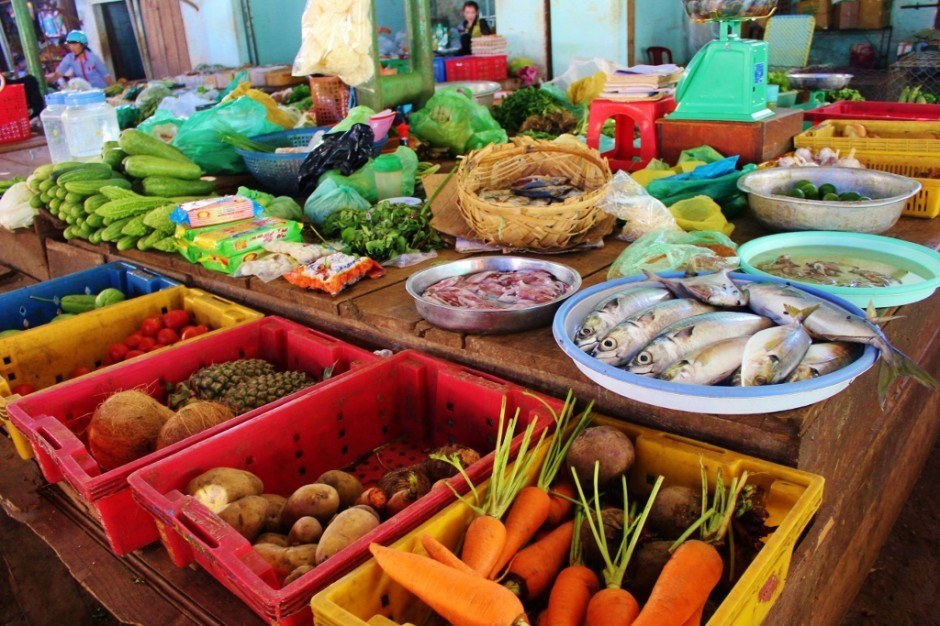 He also let us in on the harsh reality that Westerners don't much like to talk about: they eat all animals (even those we keep as pets in America) and they eat all parts of animals, which are prominently displayed throughout the market.
As we looked around, we noticed feet seemed to be especially popular – chicken feet and pig feet, that is. At the 'beef stall' a woman told us that she gets up early every morning to butcher one cow and then sells the meat at the market. Talk about farm to table freshness (too bad it is all just sitting out on a table in the heat)!
Price is often based on freshness, so live fish swimming in water are more expensive than the ones that are still alive, but barely breathing on a plate and those are more expensive than fish on ice (or not on ice). Dried fish is also popular, as it doesn't need to be consumed right away and baskets of it fill entire tables.
The same idea goes for duck and chicken. The priciest are the live chickens; you pick it, they kill it. The cheaper option is to buy the parts already cleaned and cut at another stall.
It's not all meat though: foreign fruits, colorful vegetables and fragrant flowers filled many of the stalls. There were also quite a few women selling ready-to-eat goods. We tried a moist rice cake with egg yolk dipped in a delicious sauce and fresh veggie spring rolls.
Sweet treats are also popular and we sampled a bevy of them, from fried dough to something rolled and wrapped in banana leaves to goopy gel-like custard, which we were told contained green beans, but we couldn't taste them. We were stuffed and on a sugar high and it wasn't even 10am.
In the merchandise section of the market, we gained a better understanding of a few Vietnamese customs that before had baffled us. Many items in these stores appear to be children's toys, but in fact are part of the rituals for honoring the dead.
Stacks of paper money are purchased for funeral processions and littered along the way to 'buy' the path for the deceased into heaven. On the anniversary of a person's death, 'gifts' are purchased for that person in remembrance and then burned as an offering to them in heaven.
Our trip around the small market left us full of all the food – and knowledge – that we'd just ingested. Our guide picked up a few items for our lunch and then we made our way down a dirt road to small, family-owned silk factory.
Silk Factory
Unlike the large factories that dedicate a portion of their business to tourists, this one was local and real. They barely glanced in our direction as we did a self-tour of the two room, non-stop, humid workshop. Only women worked in this factory and they had a clear method to what we could only understand as madness as they simultaneously unwound multiple silk cocoons onto small spools that were then spooled onto bigger ones.
The tedious work is considered to be excellent employment, but the daily pay is less than the hourly minimum wage in America and they are required to work seven days a week, including holidays. I don't think I will ever touch a piece of silk fabric again without thinking about these women.
Elephant Waterfall
Our next stop was a nod to Vietnam's natural wonders: the Elephant Waterfall, or as locals call it, Volcanous Waterfall. We navigated the uneven, slippery path to the bottom of the falls, chasing after our guide as he easily made the decent.
We squeezed through two rocks, balancing ourselves on a small log (only about 4 inches diameter) into a mist-filled cave on the side of the falls that left us dripping wet as if we had plunged into the pool of water instead of standing next to it. We retraced out steps out to a lookout point where we could see tons of water spilling over the rocky edge – a secluded slice of nature amongst Vietnam's constantly chaotic culture.
Countryside
We wound through curvy countryside roads on the way to the village, but pulled over on the side of the road at various places for quick lessons on Vietnam country living. We stretched our legs a bit by hiking to a lookout point where we could see the valley and farms spread out below us. This is not what I envisioned Vietnam would look like and I'm grateful that we were able to catch a glimpse of it.
Coffee Plantation
We walked through a coffee plantation, a big business in Vietnam, and learned about the process of growing coffee beans and some of the struggles the farmers and workers face. When rain doesn't fall, they have to fetch it by hand from the nearby river; poisonous snakes make harvesting a terror and prices rise and fall depending on the Brazilian coffee market.
Curry farm
On the other side of the street was a plantation dedicated to curry, which is made from the seeds of the walnut-sized fruit, dried and then ground into powder. The seeds – if not dried out – can also be used as lipstick, which all three of the girls on our tour tried on. All-natural, long-lasting and not a bad color!
While touring Vietnam's Central Highlands, we had been introduced to small-town, real-life Vietnam and our day was only half over.
Click here to continue reading about the second half of our day, Visiting a Vietnam Village
This tour is available by booking a room at the Villa Pinkhouse or contact the host at mrrotsecrettour@gmail.com or by phone 0913953300
We want to know: Have you toured Vietnam's Central Highlands? What was the highlight of your tour? Does Vietnam's Central Highlands interest you? Why or why not?
Start planning your trip to XX! Search for the lowest airfares, the best accommodations and fun things to do…then start packing! Want more travel planning tips? Head over to our Travel Planning page for more information and tips on traveling – and for country-specific information, take a look at our Travel Guides page!
Like what you're reading? Join the journey!
Subscribe to JetSetting Fools and get new blog posts and our quarterly newsletter direct to your inbox:

Pin it! See all of our travel pins on our JetSetting Fools Pinterest Board.