Hey there! Welcome to JetSetting Fools! You will find our best travel tips for destinations worldwide. Some of the links on this site are Affiliate Links and if you use them to make a purchase, we may earn a small commission. For more information, read our Disclosure Policy.
---
It's hard to believe that after all the beaches we've stayed on, we've only once caught sight of dolphins. And that was six months ago in Punta del Diablo. Being that Mauritius just might be our last stay on a tropical paradise during our yearlong journey around the world, it was high time we set out in search of the elusive creatures.
We had heard that dolphins on Mauritius were often be spotted in the deep bay off the beaches of Tamarin, a town just to the south of Flic en Flac. We had considered taking the long walk to search them out, but then we heard of something better: a boat tour that included swimming with dolphins on Mauritius. The excursion that would take us in Tamarin Bay where we could go swimming with the dolphins and then on to a few spots for outer reef snorkeling and, finally, a beach BBQ lunch.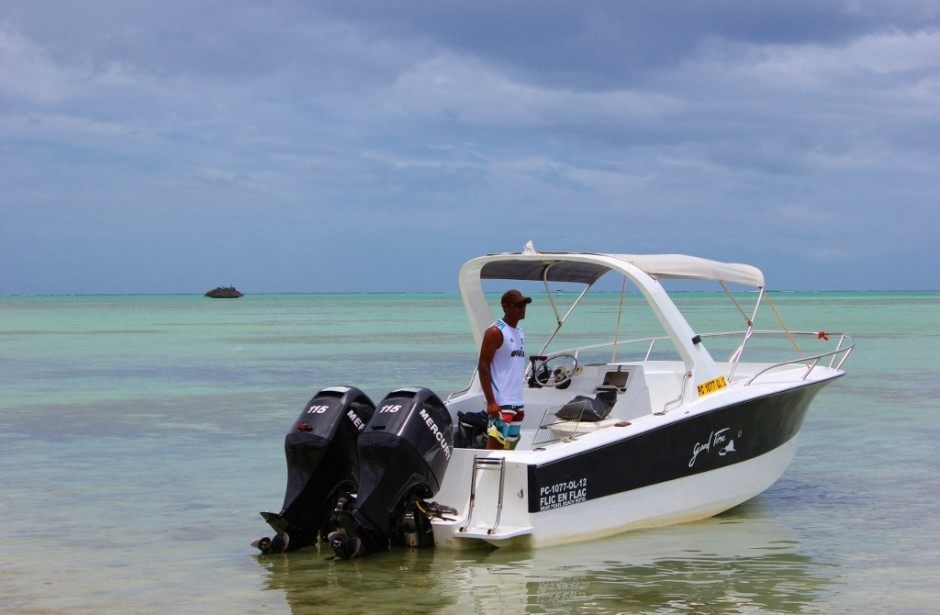 Swimming with Dolphins on Mauritius
When we arrived at the Tamarin Bay, I was humored by the scene. About 15 boats and a handful of snorkelers bobbed in the water. Everyone was wide-eyed, scanning the water's surface for dolphin fins. I was amused and started to think the whole thing was a hoax. I doubted dolphins were there at all.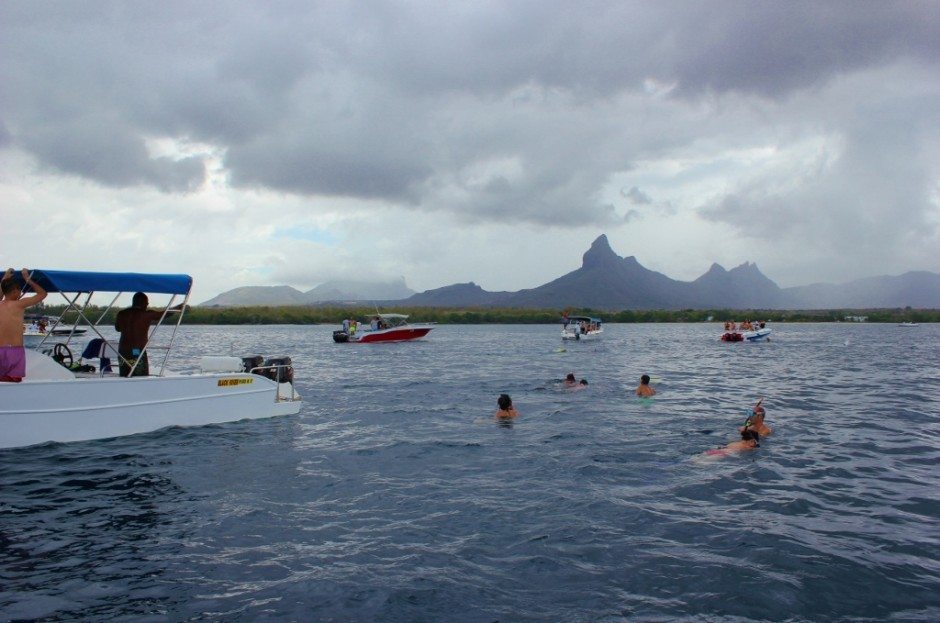 But then, out of nowhere, an entire pod of dolphins broke through the surface. In a mad dash, all the boats – and the snorkelers – angled toward them, trying to get a better view. But, just as quickly, they disappeared into deeper water and all boats came to a halt, waiting for them to reappear. It went on like this for about half an hour. Sometimes we were the lucky boat that the dolphins would swim right next to and other times they were so far away they were barely visible.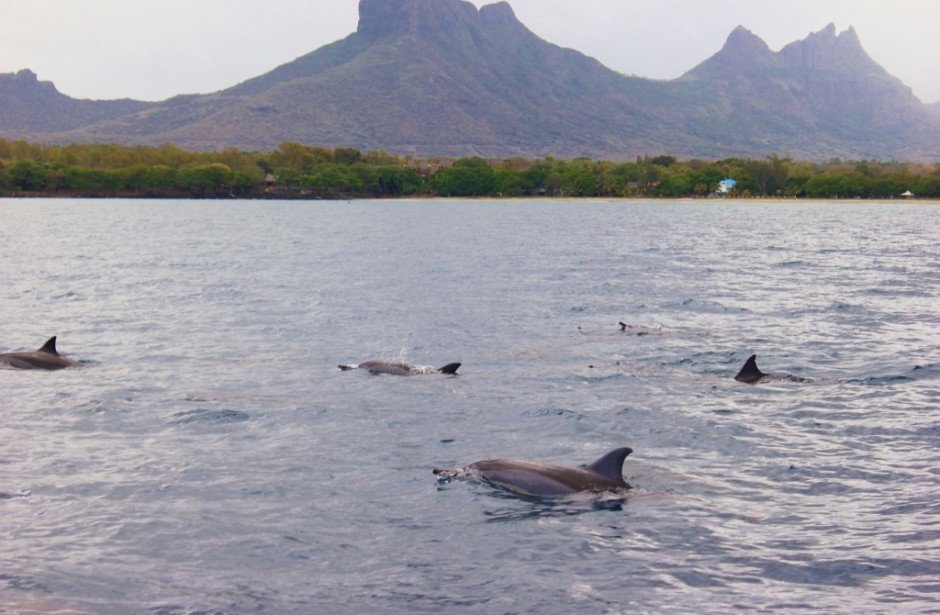 As a few of the boats departed, we were finally allowed off the boat for a chance to go swimming with the dolphins. We put on our snorkel gear and waited on the edge of the boat for the crew to position us where they thought the dolphins might be and give the command, "Go! Now! Jump!" Of course, when it finally happened, I awkwardly plunked into the water and immediately gulped a gallon of sea water. As I flailed around, I completely missed my shot of swimming with dolphins. Kris, however, was off and swimming, but was too far behind the swift porpoises.
Dismayed, we got back on board the boat. But, we were given a second try and we were much better prepared and positioned. When the crew gave the command, we jumped in and could see the pod of dolphins swimming deep in the water below us.
They moved as a unit, but occasionally, one would break off to the side in a playfully spin. They were sleek and lightning fast and even with fins on my feet, I was unable to keep up. I popped above the surface to catch my breath and survey the scene.
To my surprise, the pod was cresting the surface heading in a new direction about 10 feet away from me. I swam like mad and just caught up with the last few, nearly able to touch them before they dove deep out of sight. Seeing them so close to tthe boat was thrilling, but swimming with dolphins on Maurutius was beyond exhilarating.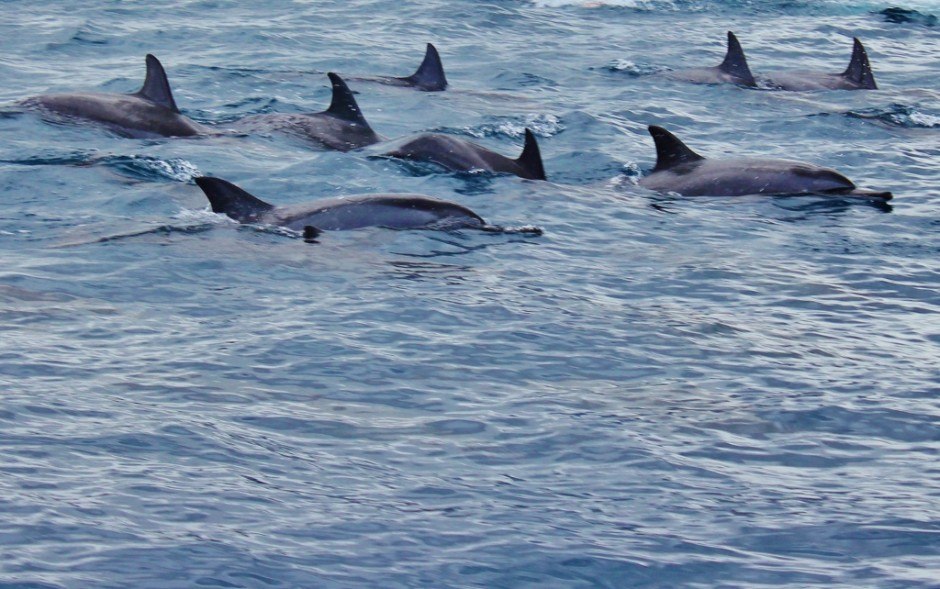 Snorkeling the outer reef on Mauritius
It was also exhausting. When our time swimming with the dolphins on Mauritus was up, we motored to the outer reef in search of a snorkeling spot. Snorkeling in the deeper water of the outer reef provided a completely different scene from the inner reef. Large, protruding reefs housed bigger, more exotic fish than we had seen on the other side in the shallow lagoon.
We saw a variety of trumpet fish; some long and skinny with needle-like stingers and others that were thicker with propeller-like fins. A family of small squid, highlighted in bright neon colors, floated right by us. A school of black fish swam so tightly together they looked like a massive shadow moving in rhythm with the current. As we swam closer to the reef, the fish were more abundant and were pulled and pushed with the strong, crashing waves. It was a cloudy day, but when the sun broke through, the reef lit up in a rainbow of colors.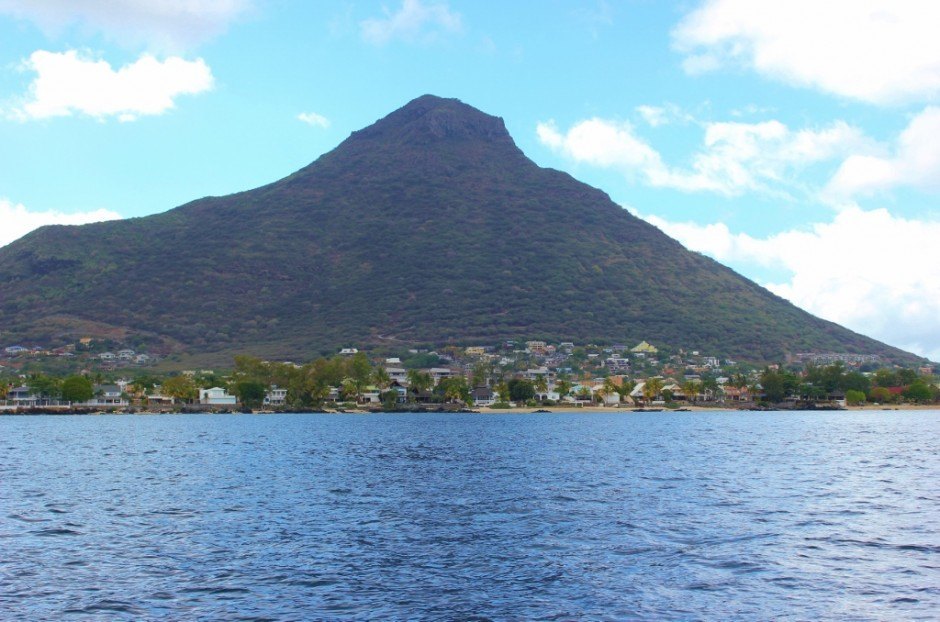 Crystal Rock, an exposed coral head, sits alone in the vast sea. The view above water was prettier than below, where we only saw a few fish and several eels.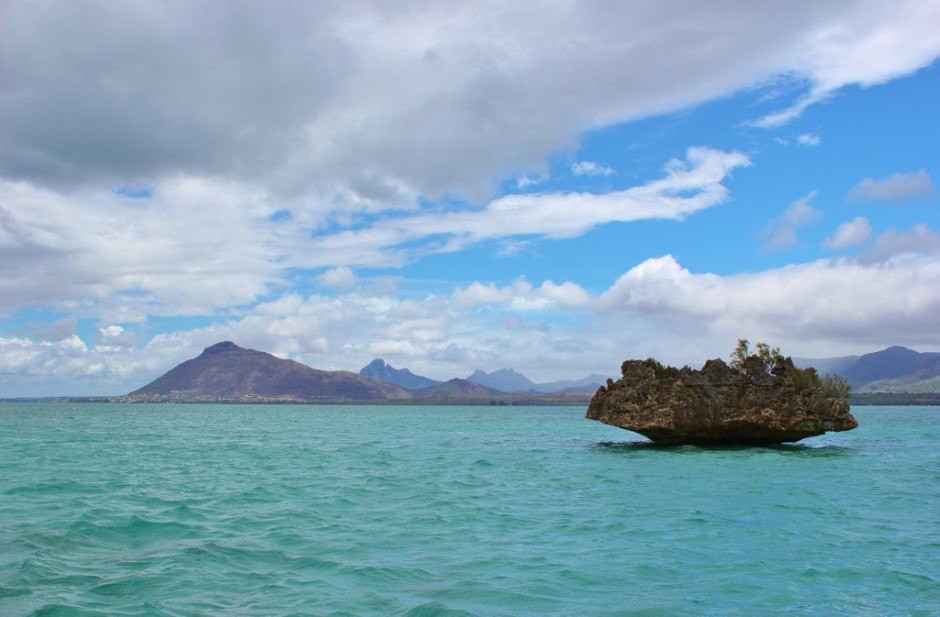 Beach lunch on Mauritius
Lunch was on Benitiers Island, a relatively flat landmass toward the southern coast of Mauritius. Tented picnic tables were set up along the shore and boats were anchored in the shallow sandbar. Coolers of food were brought ashore from our boat and our captain became our chef as he grilled up tuna, chicken, sausage, rice, garlic bread and even banana flambé. The drinks were just as plentiful, with a choice of local beverages: Goodwill rum and Coke, known as Mauritius Coffee, Phoenix beer and Bordofin wine.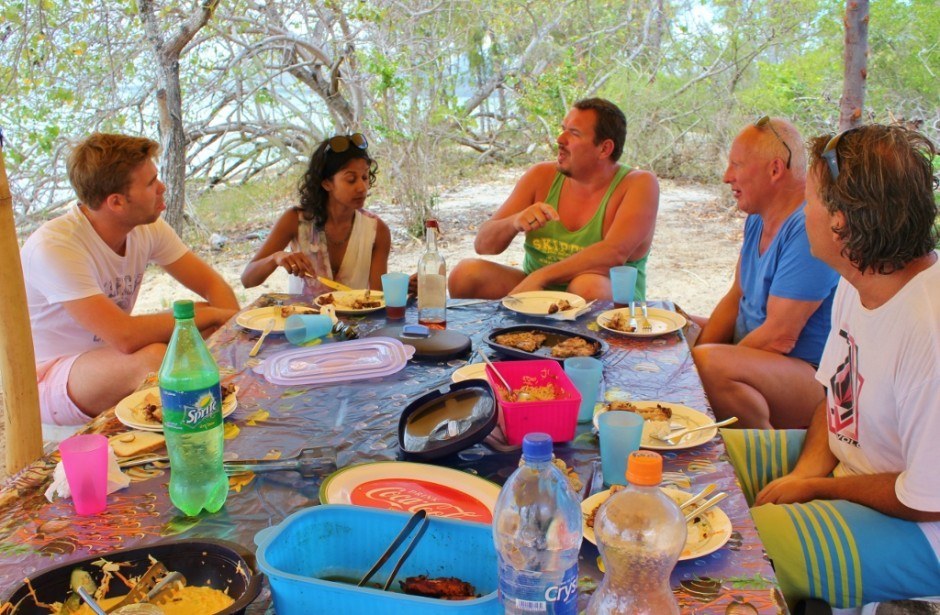 The table conversation quickly shifted from pleasantries to travel talk. We were enthralled by the stories of places we've yet to go. We eagerly (and enviously) learned how others make long-term travel possible. Every time we meet new people, our eyes are opened a little wider and the wheels in our heads start turning a little faster. So many opportunities.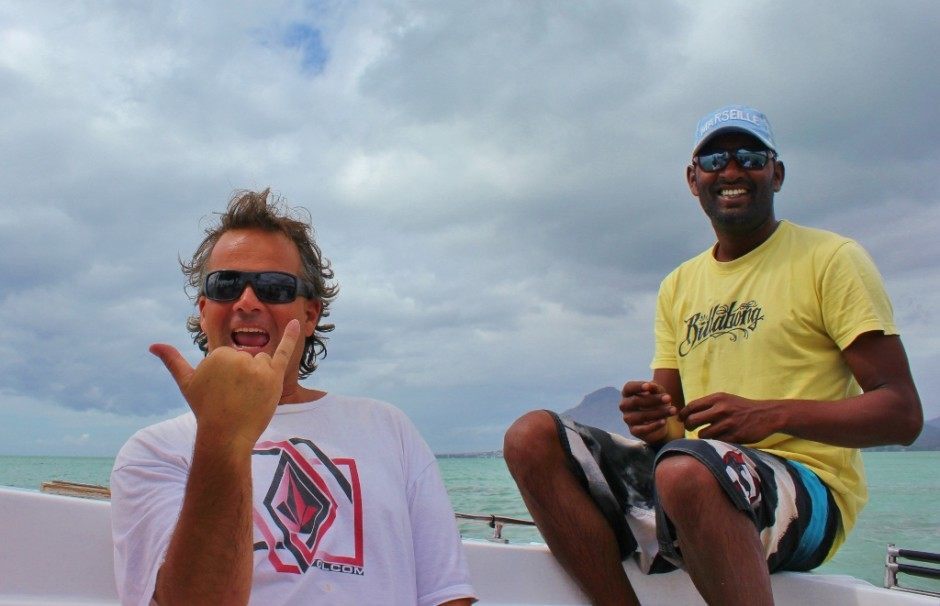 We want to know: Have you ever been swimming with dolphin on Mauritius? Or anywhere else in the world? Tell us about it in the comments!
Pin it!