The Czech Republic is many things – it's history, architecture, art…and it's beer. The country is the birthplace of the pilsner and Prague has long had a reputation as the beer capital of the world. Beer, which often costs less than a bottle of water, is for sale in every nook and cranny of the historic and architecturally diverse city. Beer is even an option as part of value meals at Burger King (no joke). And, for those who love beer so much they want to bathe in it, there are Beer Spas and beer soaps that offer just that. From cavernous halls to street kiosks – and at every café, bar and restaurant in between – it takes little effort to find beer in Prague. However, we weren't just looking for any beer – we were in search of craft beer in Prague.
We are not snubbing the classic, popular and mass-produced beers that centuries ago earned Prague beer-bragging rights. Pilsner Urquell, Staropraman and Budweiser Budvar are all fine beers, if you like uninspiring suds are only into pilsners and lagers. And, quite frankly, it wouldn't be proper to visit Prague without hoisting at least one of these in a classic beer hall (keep reading for our recommended watering holes!). However, it would be equally shameful to spend time in a country that boasts hundreds of breweries and miss out on what's brewing locally.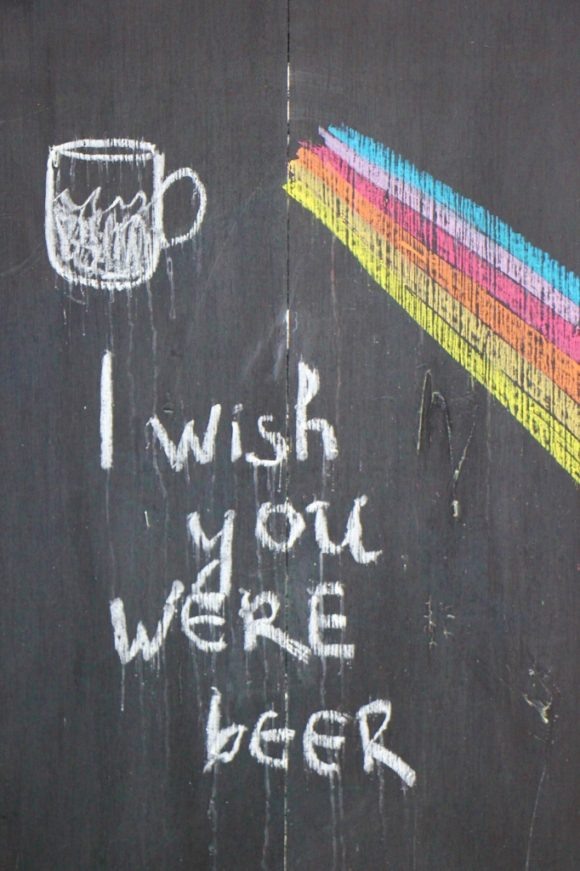 16 Bars for Craft Beer in Prague, Czech Republic
We found several spots serving up craft beer in Prague. Our list (arranged alphabetically) includes a range of small brewers – some more inventive than others – and tasting rooms, located in the heart of the Old Town, a short walk outside the city center or just a tram ride away.
Bad Flash Bar
Address: Krymska 2, Prague 10 | Website | Facebook Page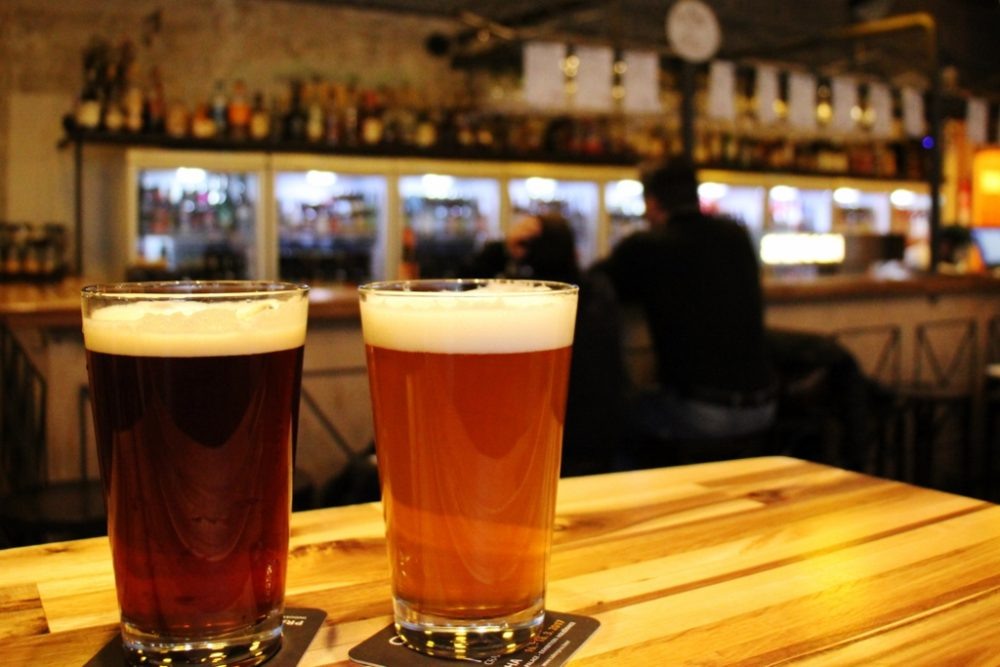 Located on the trendy, bar-laden Krymska Street, Bad Flash Bar brews their own beer, as well as sells beer from small breweries around the world. Inside the shabby chic space there are 12 beers on tap and 300 bottled beers to choose from – as well as a casual atmosphere and friendly bar staff. They have a second location in Karlin.
Brevnov Monastery Brewery
Address: Marketska 28/1, Prague 6 | Website | Facebook Page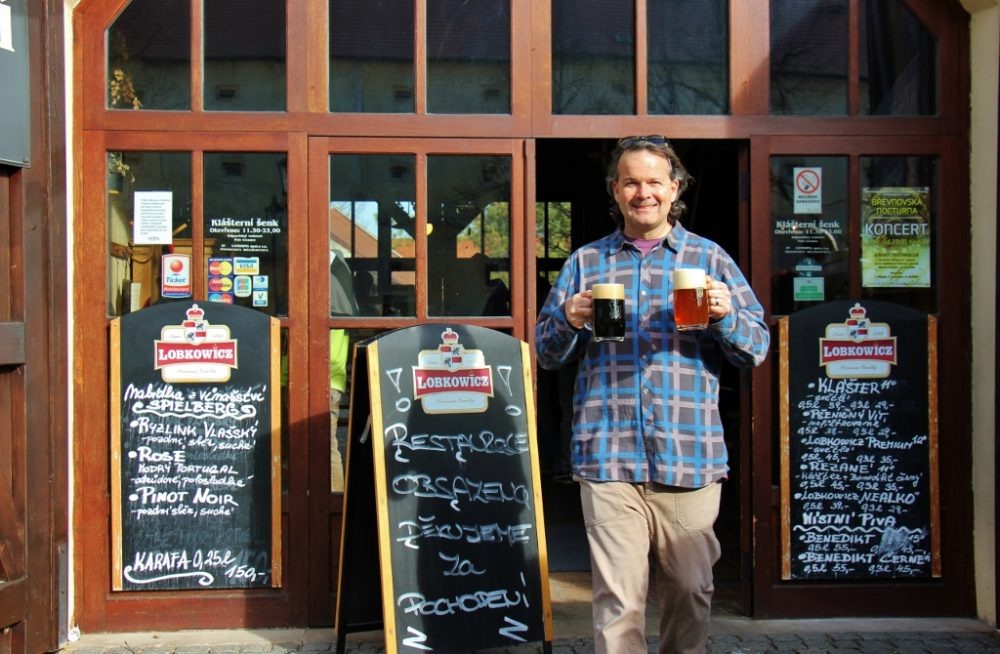 Regarded as the oldest brewery in Bohemia, monks started brewing beer at Brevnov Monastery in the year 993. They still produce traditional Czech beers today, operating the brewery next to the church in the former farm stables. During our visit, the brewery was closed, but we were able to order the monks' fresh brew from the adjoining restaurant.
Brewery U Tri Ruzi
Address: Husova 10/232, Prague 1 | Website | Facebook Page
Tucked into the Old Town not far from the Charles Bridge is Brewery U Tri Ruzi, a cozy and historic house that dates to the 15th century. Their beer is brewed on the ground floor – where they produce traditional lagers, as well as other craft beers. The warm atmosphere was inviting, so we stayed for a bite to eat (which we can also highly recommend!).
Craft House Prague
Address: Navratilova 11, Prague 1 | Website | Facebook Page
Craft House Prague is a modern taproom, pouring beer from 27 rotating taps (current list is available online), as well as selling select beers by the bottle. The actual bar is rather small – and at first we thought perhaps it was a take-away only spot – but the bartender was both patient and knowledgeable…and there is ample seating to the right.
Fat Cat Brewery and Pub
Address: Karlova 147/44, Prague 1 | Website | Facebook Page
Although located in the heart of the Old Town, Fat Cat is a spacious and contemporary bar serving gourmet burgers alongside a selection of locally brewed craft beers. The bright atmosphere was anything but traditional and seemed to attract a younger crowd. Both the craft beers and burgers satisfied our cravings!
Illegal Beer
Address: Ve Smeckach 16, Prague 1 | Website | Facebook Page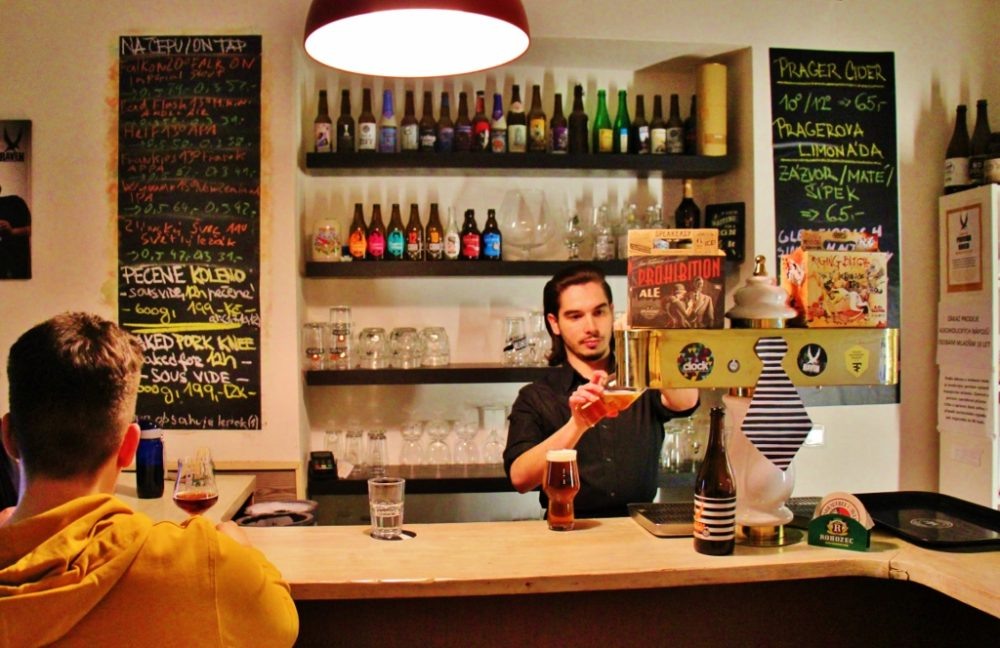 Illegal Beer is an unpretentious yet hip hangout featuring six beers on tap, as well as a few by bottle. Located near Wenceslas Square (and just around the corner from Craft House Prague), the patrons inside the small bar were a mix of locals and tourists – and the bartender was helpful with suggestions.
Lod Pivovar
Address: Stefanikuv Most, Prague 1 | Website | Facebook Page
Lod Pivovar, a brewery on a boat, scores major points just for being unique in a city that is flush with beer. We were slightly skeptical of what the beer and ambiance would bring, but both surpassed our expectations.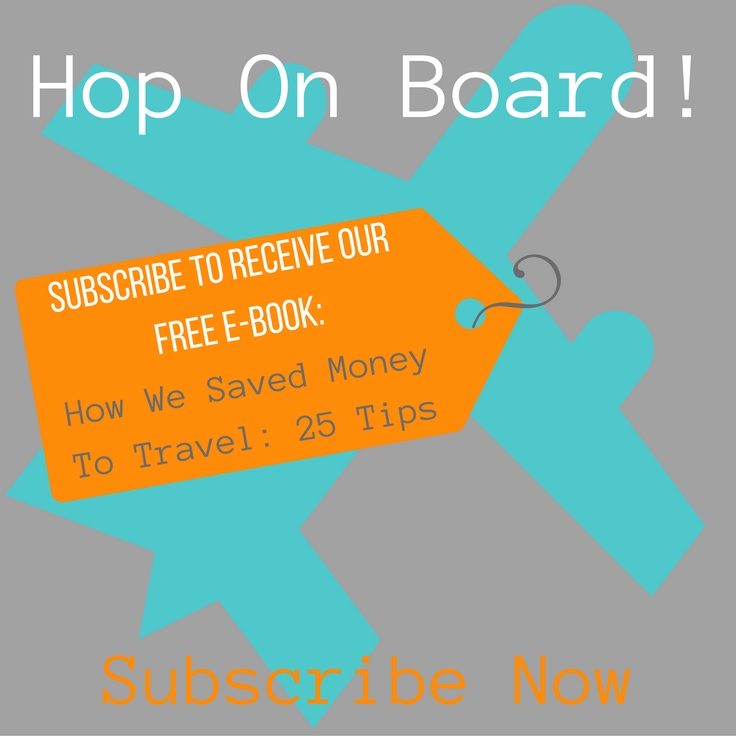 Mrtva Ryba
Address: Benatska 4/1965, Prague 2 | Facebook Page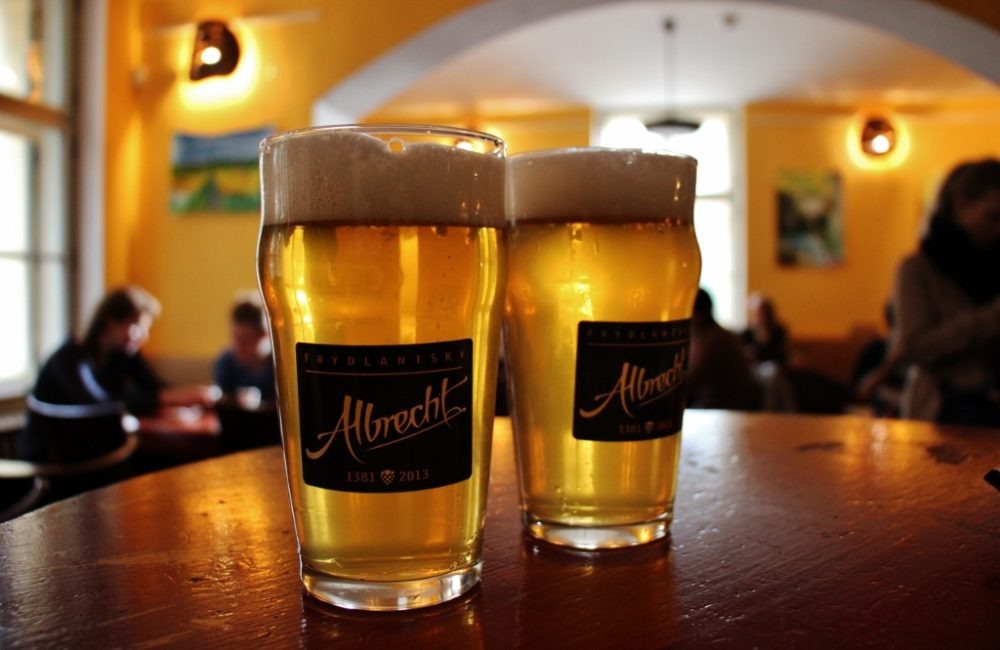 A bit of a hidden gem, Mrtva Ryba is a small, inconspicuous place located near the Charles University Botanical Gardens, south of the city center. On our mid-day visit, the place was packed with a fun student crowd and, even on a chilly day, guests spilled out onto the patio. Catering to students, the craft beer on tap was inexpensive, as was the daily menu offering.
Pipa Beer Story
Address: Dlouha 14, Prague 1 | Website | Facebook Page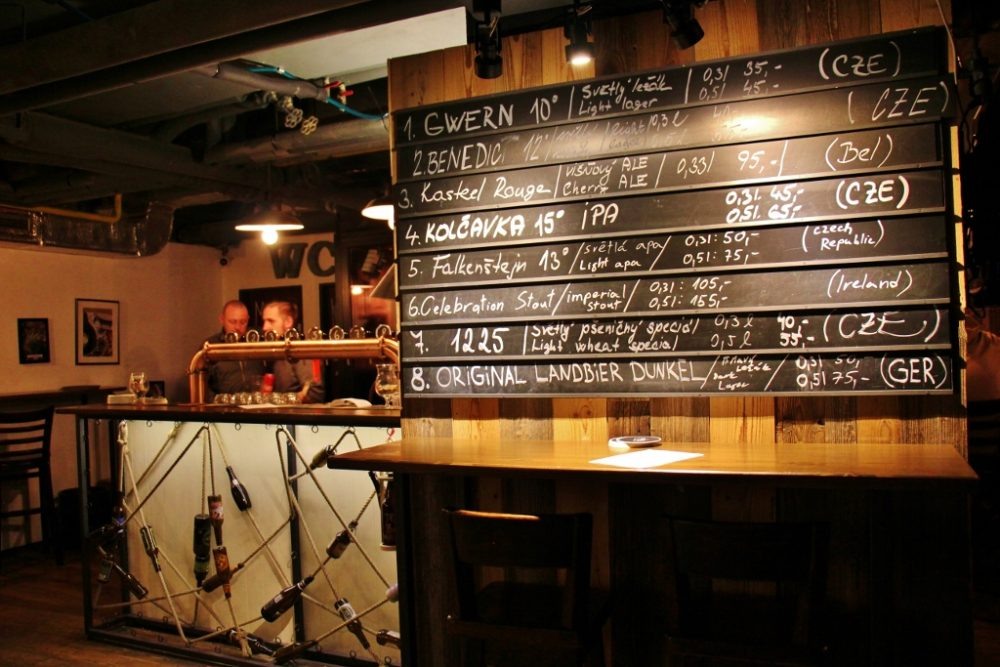 Located just off the main square in the Old Town, Pipa Beer Story has the vibe of an upscale pub. The basement taproom features eight craft beers on tap and a carefully selected menu of food and cheese pairings.
Pivovar Hostomice
Address: Soukenicka 17, Prague 1 | Website | Facebook Page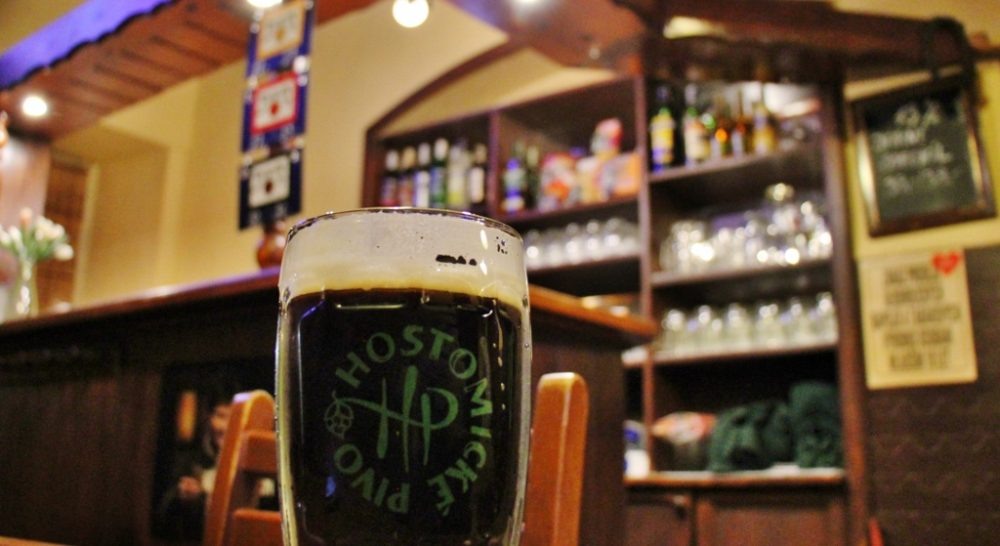 With just three beers on tap, five tables and nothing translated in English, we definitely stepped into a local spot when we walked into Pivovar Hostomice. They only tap their own beer, which is produced in a brewery in the town of Hostomice, southwest of Prague.
Pivovarsky Klub
Address: Krizikova 17, Prague 8 | Website | Facebook Page
The beer selection at Pivovarsky Klub is a bit overwhelming with about 250 bottled beers from all over the world on their menu and on display. We focused our decision on the six taps of locally brewed draft beer at the bar to quickly narrow our choices. The staff were helpful – and although we didn't eat, the food looked phenomenal.
Prague Beer Museum Gastropub
Address: Dlouha 46, Prague 1 | Website | Facebook Page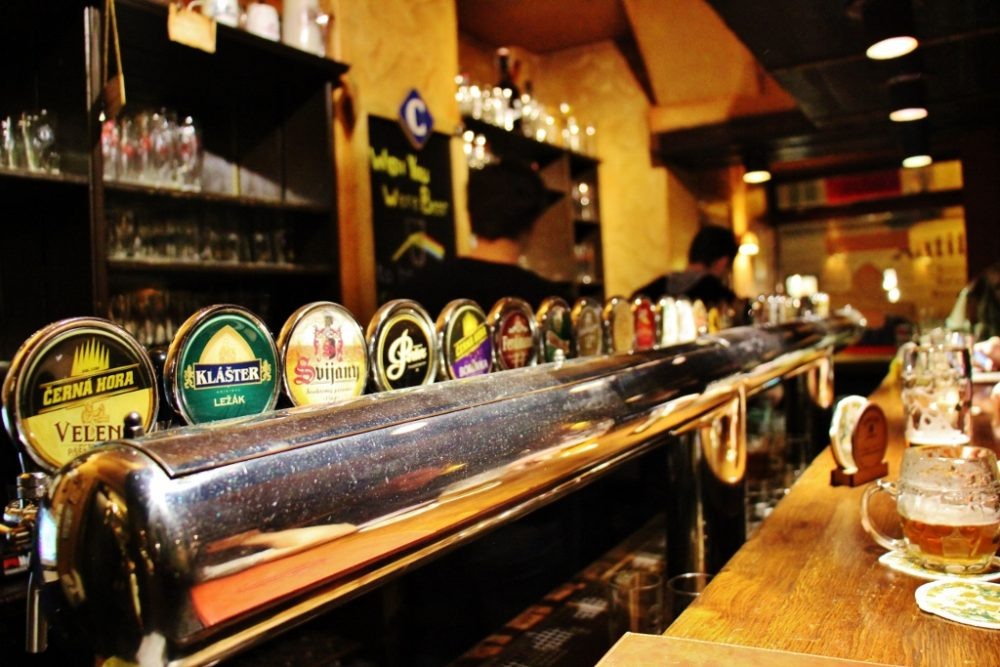 The concept of Prague Beer Museum (which is not really a museum) is to offer a tasting room for small brewers from around the Czech Republic in one place. They offer 30 beers on tap, knowledgeable staff and a lively environment.
T-Anker
Address: 5th Floor, Namesti Republiky 656/8, Praha 1 | Website | Facebook Page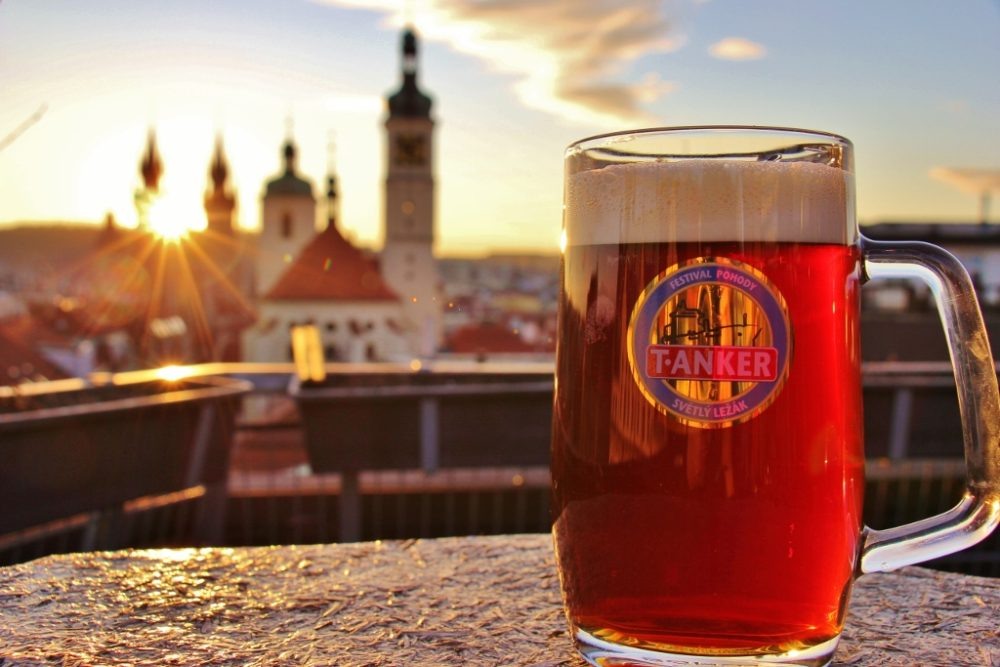 What's better than a rooftop bar? A rooftop bar in Prague that pours local craft beers…which is exactly what T-Anker is. With a rotating tap of Czech craft beers and an elevated view, it's a perfect spot for sunset. (Don't mind the sketchy elevator entrance; just get in and push 5 to get to the bar.)
U Kunstatu Craft Beer Club
Address: Retezova 3, Prague 1 | Website | Facebook Page
U Kunstatu has a large range of regional beers from mid-sized breweries, as well as a few local beers on tap. Beer tastings are their emphasis – and guests are invited to create their own sampler platter of beers or join the daily beer tasting event. We opted to simply have a glass of beer in the bar and mingled with fellow tourists. Tip: Take a peek into the cellar before you leave!
U Medvidku
Address: Na Perstyne 7, Prague 1 | Website | Facebook Page
The brewery at U Medvidku is tucked into an upstairs room of the historic brewery building that dates to the 15th century – and is where you want to be if you want to try their brewed beer (they serve mass-produced beer in the restaurant on the ground level). The room was cozy, the beer was cold and the wait staff was all business.
U Supa
Address: Celetna 22, Prague 1 | Website | Facebook Page
Located on one of the Old Town's main thoroughfares, U Supa is the oldest brewery restaurant in Prague – yet tinged with a modern ambiance. In the brightly lit beer hall a young man played the accordion while the busy bartender continuously poured their light, semi-dark and dark beers into glass beer mugs.
Watch our short and fun video of drinking craft beer in Prague!
Beer Halls
While on our search for craft beer in Prague, we somehow managed to fall into a few drinking holes not dedicated to craft. Although the beer may have not suited our hop-loving palates, the experiences made up for it. Two beer halls stand out – one classic, one slightly modern – both serving Pilsner Urquell. U Zlateho Tygra is what I imagine pubs have looked like in Prague for centuries: shared wooden tables filled with boisterous beer drinkers. To keep track of the number of beers each person consumes, the server keeps a running tally on a small slip of paper at the table. Lokal Dlouhaaa is slightly more contemporary, but far from sleek or polished. The lengthy beer hall seems to go on forever, but the service is quick and the atmosphere is jovial.
Our top tips for your trip to Prague
Where To Stay
During our visit to Prague, we stayed in this awesome Airbnb Apartment. (Not already a member of Airbnb? Use this link to create an account and save money on your first stay!) However, for those who prefer staying in traditional accommodations, there are many hotels to choose from in – or close to – the city center. Save on over 1,000,000 hotels in more than 220 countries with Booking.com! No booking fees ever.
Stay Connected
When you are traveling and want (or need!) to stay connected, a wifi hotspot is the way to go. When traveling through Europe, you can stay connected with reliable wifi from Tep Wireless. The personal mobile wifi hotspot can be rented for days or months at a time and allows you to easily connect to the internet from your mobile devices wherever you are. With a Tep Wireless hotspot, you can search for directions, look up sight information and share your travel experiences on social media in real time.
Before You Go
Don't forget to pack a pair of lightweight and comfortable walking shoes – cobblestones and beer don't mix well! I (Sarah) have traveled with these shoes by Columbia and Skechers. Kris prefers wearing these shoes by Merrell and Sanuk.
We're certain you'll be snapping tons of photos during your trip – because Prague is just that beautiful! Rather than relying on your mobile phone to capture the sights, upgrade to an actual camera for higher quality photos. We travel with a Canon Rebel (which takes amazing photos, but can be a bit clunky) and a Canon PowerShot ELPH (which takes beautiful pictures, is slim and lightweight – and the new models are wifi enabled so you can share your trip pics to social media in real time!).
It's easy to get turned around or lost in any new city! Be sure to have a good city map and/or guidebook prior to arriving.
We think travel insurance is essential! If you haven't already obtained travel insurance for your trip, travel protected with World Nomads.
Want more travel planning tips? Head over to our Travel Planning page for our complete packing list and other travel resources!
Like what you're reading? Join the journey!
Subscribe to JetSetting Fools and get new blog posts and our quarterly newsletter direct to your inbox:

We want to know: What is your favorite place to drink Craft Beer in Prague? Tell us in the comments!
Pin it! See all of our travel pins on our JetSetting Fools Pinterest Board.