Hey there! Welcome to JetSetting Fools! You will find our best travel tips for destinations worldwide. Some of the links on this site are Affiliate Links and if you use them to make a purchase, we may earn a small commission. For more information, read our Disclosure Policy.
---
Shrouded in mystery and one of the most isolated places on earth, Easter Island boasts a fascinating history and stunningly scenic landscapes. Hiking in Easter Island along the southwestern coastline cliffs takes trekkers to some of the most historic Rapa Nui sights. The points of interest can easily be seen via a car or Easter Island bus tour, but to hike Easter Island offers a completely different experience.
Easter Island Hike Overview
On our Easter Island hike, we visited some of the top attractions in the UNESCO-listed Rapa Nui National Park. We began our day in the main town, Hanga Roa, first visiting Ahu Tahai before following the shoreline south. We passed several restored Moai platforms and walked through the Hanga Piko fisherman's village before arriving at Ana Kai Tangata cave. From the cave, we set off on a trail through the forest, gradually climbing to Rano Kau crater. After taking in the views, we continued to our final stop, Orongo Village atop 1000-foot-tall cliffs.
Hike Easter Island: Highlights and Details
Hiking Easter Island was a great opportunity for us to see top attractions – while stretching our legs. We would rate this as an easy-to-moderate hike. The incline is mostly gradual and it's fairly simple to find your way. We took the same route out and back; the total round-trip length of the hike is about 14km (less than 9 miles). Some of the hike follows the road.
Below, we have outlined the route on an Easter Island map. If you plan on taking this Easter Island hike, be sure to Save, Bookmark or Pin this post for easy access during your trip!
Ahu Tahai
At Tahai, there are three Moai platforms: Ahu Vai Uri, Ahu Tahai and Ahu Ko Te Riku (listed south to north). Ahu Vai Uri has five standing Moai. Ahu Tahai has one standing Moai, without topknot. Ahu Ko Te Riku is also solo, but with both a topknot and eyeballs.
Other sights at Tahai include the remains of boat houses (named for their shape), chicken coop caves and the grave of archaeologist Mulloy, who is credited for much of the restoration on the island.
We often started – and always ended – our days at Ahu Tahai. It is the place to watch the sunset on Easter Island…and we highly recommend circling back to it at the end of your hike to enjoy the scene.
Ana Kai Tangata
Ana Kai Tangata was a gathering cave, but we enjoyed solitude during our hike, as we were the sole visitors. The cave entrance is located at sea level, which is accessible via a marked path and steps down the cliff.
There are two other caves in the area that we could see from the clifftop, but neither have paths to them. We determined both could be better reached by boat. While standing atop the cliffs, I kept my distance from the edge, but Kris happily explored the overhanging rocks. Use caution when exploring.
Forest Hike
We found the trailhead to the clearly marked path that would lead us to directly to the crater. We passed by the CONAF Headquarters (National Forest Corporation), a botanical garden and through a wonderfully shaded forest of Eucalyptus trees.
The last stretch of inclined trail required some extra energy, but we often took breaks to stop and look back over Hanga Roa. As the town grew smaller, a clearer outline of the island took shape.
Kris (being the aviation geek that he is) timed our hike perfectly so that we were in an optimal position to watch the daily LAN flight from Santiago landing at the airport.
Rano Kau Crater
When we finally climbed the last three steps to Rano Kau crater's edge, we were absolutely awe-struck. The extinct volcanic crater – nearly 1km wide – is filled with fresh water and reeds. The vibrant colors almost didn't look real.
The southwestern wall of the crater takes the brunt of the harsh elements (wind, rain, and salt) and is crumbling under the pressure. Nicknamed 'the bite,' this missing section is a window to the vast ocean; a striking contrast between containment and freedom.
Orongo Village
From Rano Kau, it's a 15-minute walk to Orongo, where historic stone dwellings cling to the side of the cliff overlooking the ocean. The historic location was the site of the tribe's Birdman Competition. The era of the Birdman Competition on Easter Island occurred post-Moai. For one and a half centuries, tribes participated in the games, with the last race taking place in 1866.
Birdman Competition
The Birdman Competition was a test of strength. It took place in the spring when the Sooty Tern (a seabird) migrated to Motu Nui, the furthest of the three islets beyond the cliff walls, to lay its eggs. The competitors, young men representing their tribe, were tasked with scaling down the walls, swimming out to Motu Nui and capturing an egg. The first to bring an safely to Orongo was the winner. The victorious tribe would gain great benefit over the other tribes and their leader would be placed in the highest stature.
It is difficult to imagine the month long competition and the festivities that took place. They, like so much of the island, seem mythical. However, like so little of the Rapa Nui history, the Birdman Competition is actually recorded fact.
Return Hike on Easter Island
The hike back to town was a breeze, mostly because it was downhill (minus our one incident of a bovine roadblock). Once back in Hanga Roa, we enjoyed a much needed empanada and beer before heading back to Tahai to enjoy sunset. Saludos!
Easter Island Hiking Map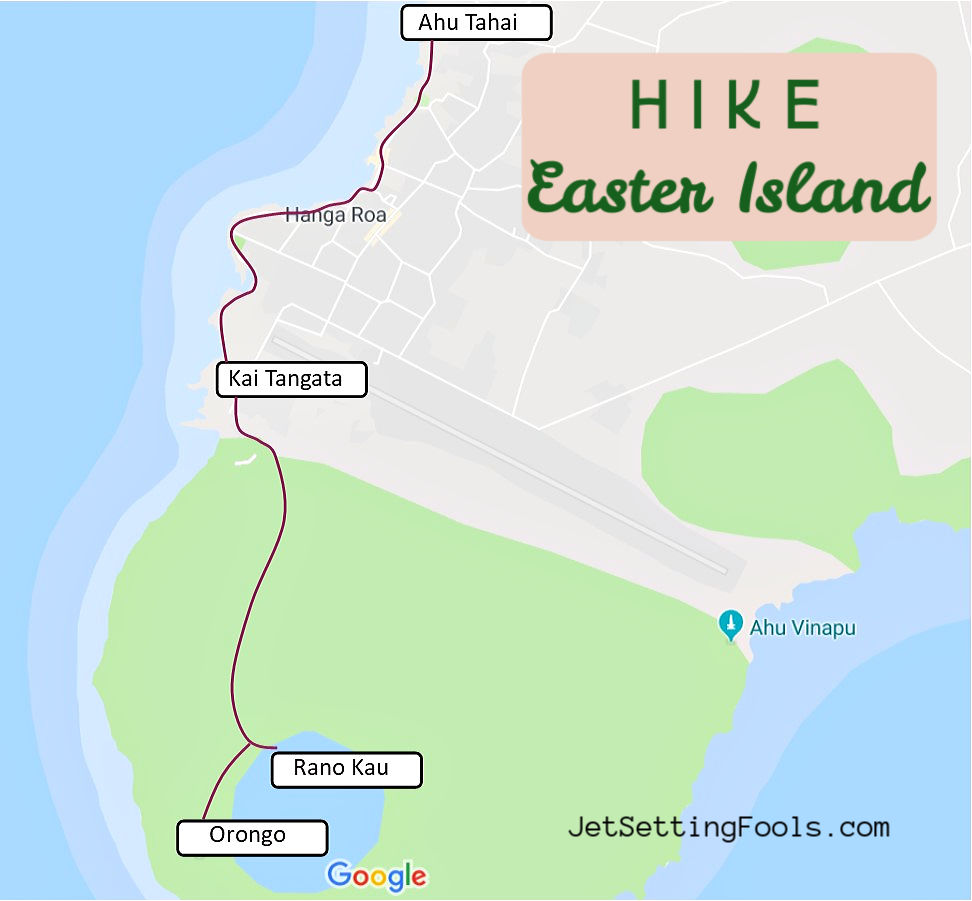 What You Need to Hike Easter Island
Don't forget to pack a pair of lightweight and comfortable walking shoes. I (Sarah) have traveled with these shoes by Columbia and Skechers. Kris prefers wearing these shoes by Merrell.
Bring plenty of water with you, as there is no place to refill! We recommend traveling with collapsible water bottles that are easy to pack.
We're certain you'll be snapping tons of photos during your hike. Rather than relying on your mobile phone to capture the sights, upgrade to an actual camera for higher quality photos. We travel with a Canon Rebel (which takes amazing photos, but can be a bit clunky) and a Canon PowerShot ELPH (which takes beautiful pictures, is slim and lightweight – perfect for hiking!
We think travel insurance is essential – especially when hiking in foreign places! If you haven't already obtained travel insurance for your trip, travel protected with World Nomads.
Looking for more Easter Island Things To Do? Check out our Easter Island Itinerary for our top tips!
Want more travel planning tips for Chile? Head over to our Travel Planning page for our complete packing list and other travel resources!
Like what you're reading? Join the journey!
Subscribe to JetSetting Fools and get new blog posts and our quarterly newsletter direct to your inbox:

We want to know: Have you gone on an Easter Island hike? What route did you take? Give us your best tips and advice in the comments below!
Pin it! See all of our travel pins on our JetSetting Fools Pinterest Board.