Hey there! Welcome to JetSetting Fools! You will find our best travel tips for destinations worldwide. Some of the links on this site are Affiliate Links and if you use them to make a purchase, we may earn a small commission. For more information, read our Disclosure Policy.
---
It didn't take long to start forming our first impressions of Vietnam. From the moment we left the Hanoi Airport it was clear that we had entered another world; a world of perpetual motion.
The constant horn honking and motorbike traffic is like nothing we've ever seen before – and we hadn't seen anything yet. The first, small roundabout we encountered was a disorderly mess of converging vehicles, where I was sure there was going to be an accident or, at the very least, it would culminate in gridlock. Neither happened and we were happily on our way honking on down the road.
By the time we settled into our hotel room it was already getting dark. Tired from our day of travel, we were hesitant to venture out in the increasing street commotion, but we needed to eat dinner. We made it from our hotel a half block down the sidewalk to the corner cafe. We got a front row seat to the motorbike madness.
It was happy hour, which made the already inexpensive beer (Yea! We finally found cheap beer!) even cheaper. We had a few rounds and watched as what seemed all of Hanoi passed us by.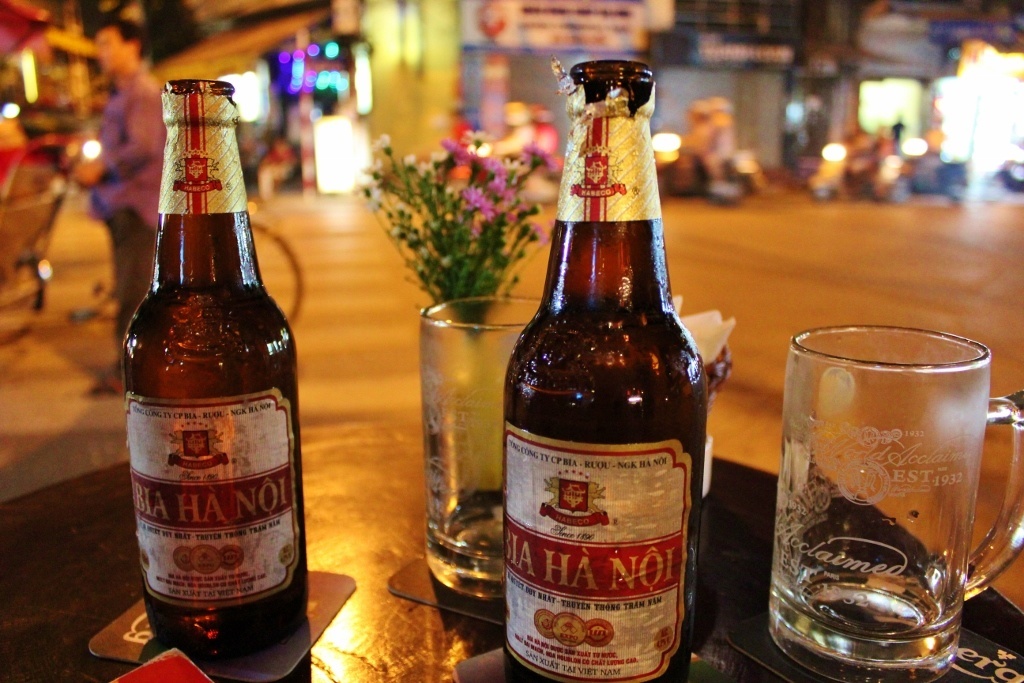 Scooters buzzed in every direction. Many girls sat side-saddle with sparkly high heeled feet delicately crossed at the ankles. Families of four and five (and in one amazing feat, six) shared one bike, often with toddlers standing on the seat in the space between mother and father and an older child standing up front by the handlebars.
Cars, buses, bicycles and walkers all mingled in. And always, always, always there was the honking of horns. We were utterly amazed at how smoothly it actually flowed. A never-ending march of ants up and down the road.
Off the streets and on the sidewalks, another scene was taking place. A few boxes containing fresh produce we set out, a blanket displayed a variety of shoes and a machine hummed, pumping out fresh-made sugar cane drinks. Low, plastic stools were scattered about for clients, friends and the weary. Peddlers also walked or biked their product along the busy street: baskets of fried desserts, fruits and t-shirts were all offered to us tableside.
Hanging above the sidewalks and across the streets are a tangled web of electrical wires. A fitting jumble to the traffic below.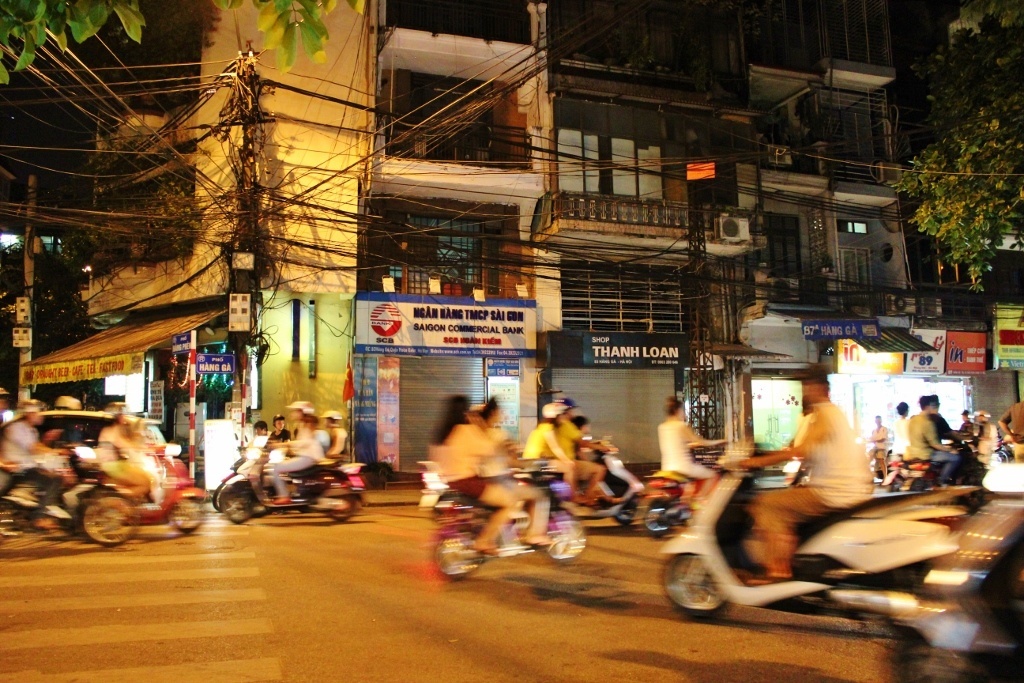 Our first impressions of Vietnam were set. The entire street scene was surreal and we just soaked it up. Welcome to Vietnam!
We want to know: What were your first impressions of Vietnam? Have you ever traveled to a place where your first impressions were set immediately? Tell us in the comments!
Pin it!