Hey there! Welcome to JetSetting Fools! You will find our best travel tips for destinations worldwide. Some of the links on this site are Affiliate Links and if you use them to make a purchase, we may earn a small commission. For more information, read our Disclosure Policy.
---
My desire to visit Vietnam was ignited the first time I glimpsed a photograph of Halong Bay. It countered the image of Vietnam I had conjured in my head; the one where chaotic streets are overcrowded with motorbikes and stifled with pollution. The picture of Halong Bay showed a different scene entirely – one of tree-covered karst mountains rising from an azure sea. I was intent on traveling to Vietnam just to see Halong Bay with my own eyes. I didn't know it then, but my expectations would be surpassed when we actually experienced the UNESCO World Heritage site on a 2-night Halong Bay cruise.
When we traveled to Vietnam during our yearlong journey around the world, we had less than a month to explore the country (due to a bit of misunderstanding regarding our visa application). Our time was limited, but beyond our first two night's accommodation at the Serenity Hotel in Old Town Hanoi, we had made zero other plans. Our online research was highlighted by scam alerts, making us weary of booking anything in advance. Instead, we decided to allow our instincts from personal encounters guide our way through Vietnam. We hoped to gain insight from fellow travelers, but it was in our conversations with our hotel staff in Hanoi that led us to book a 2-night Halong Bay cruise.
As we waded through the mounds of glossy brochures while eating breakfast at the hotel, the staff helped explain our options from cheap to luxury – all of which were offered as single day trips or multiple day, overnight expeditions. We wre told that the differences in price would be apparent, not just in the quality of the boat but the food and the tour guides too. Most junk boat operators offered the full range of options. The hotel steered us toward the junk boat company of their choice (whether it was because a cousin worked there or honest feedback from fellow guests, we'll never know). We quickly settled on a mid-range cruise that fit our budget; however, the biggest decision for us was the length of time: Should we go on a 1- or 2-night Halong Bay cruise?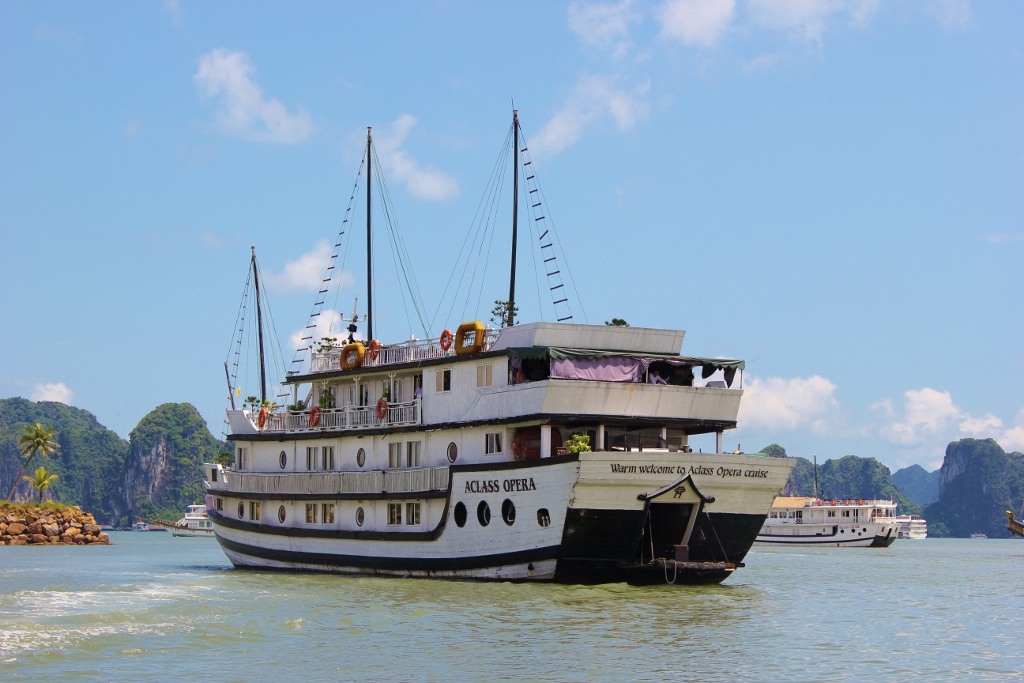 Our consideration was based on three factors: time, money and experience. How the 2-night Halong Bay cruise won us over was the opportunity for deeper exploration with a more intimate group of travelers during our second day on the boat. Halong Bay was what lured us to Vietnam in the first place, so we were willing to stretch our budget for an extra day on the sea amidst the giant landmasses. In the end, the second day of our Halong Bay cruise was one of the highlights of our time in Vietnam.
2-Night Halong Bay Cruise Itinerary
Day One
(Read a detailed account of Day One of our 2-night Halong Bay Cruise)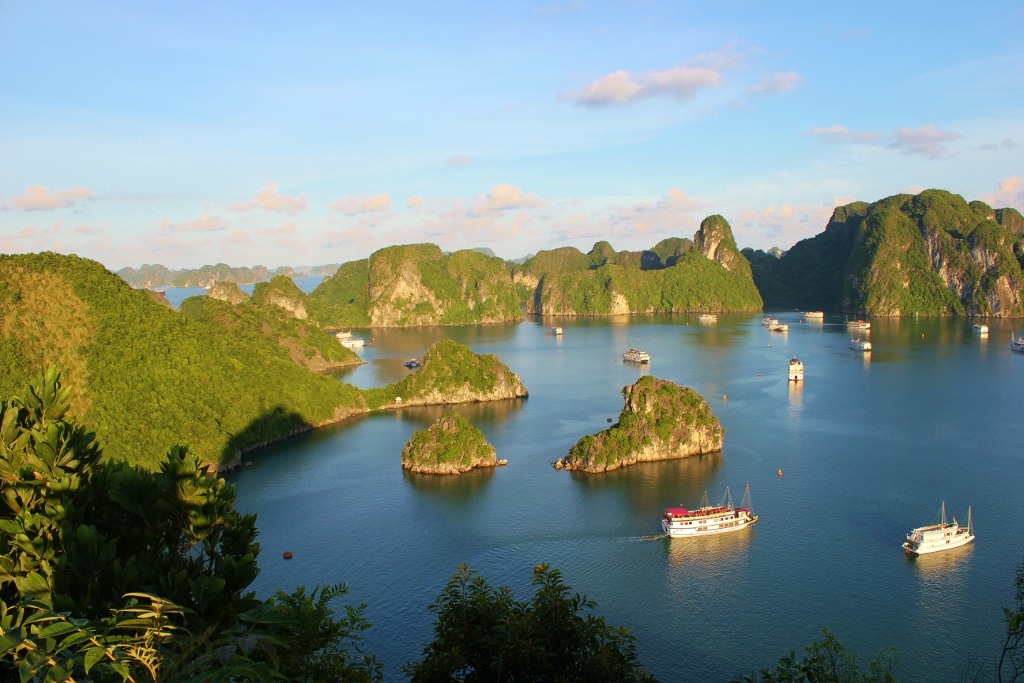 Take shuttle bus from Hanoi to Halong Bay; tender to ship
Meet crew, review itinerary, check into rooms
Eat lunch
Spend free time on boat
Go kayaking in the sea
Go hiking on a karst
Go swimming at a beach
Drink wine on the deck
Eat dinner
Join in on karaoke fun
Try squid fishing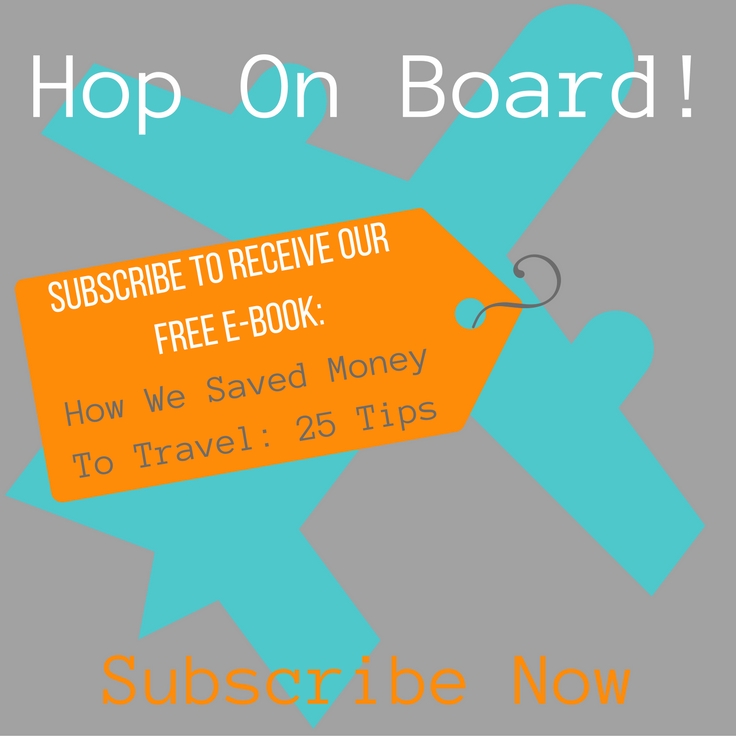 Day Two
(Read a detailed account of Day Two of our 2-night Halong Bay Cruise)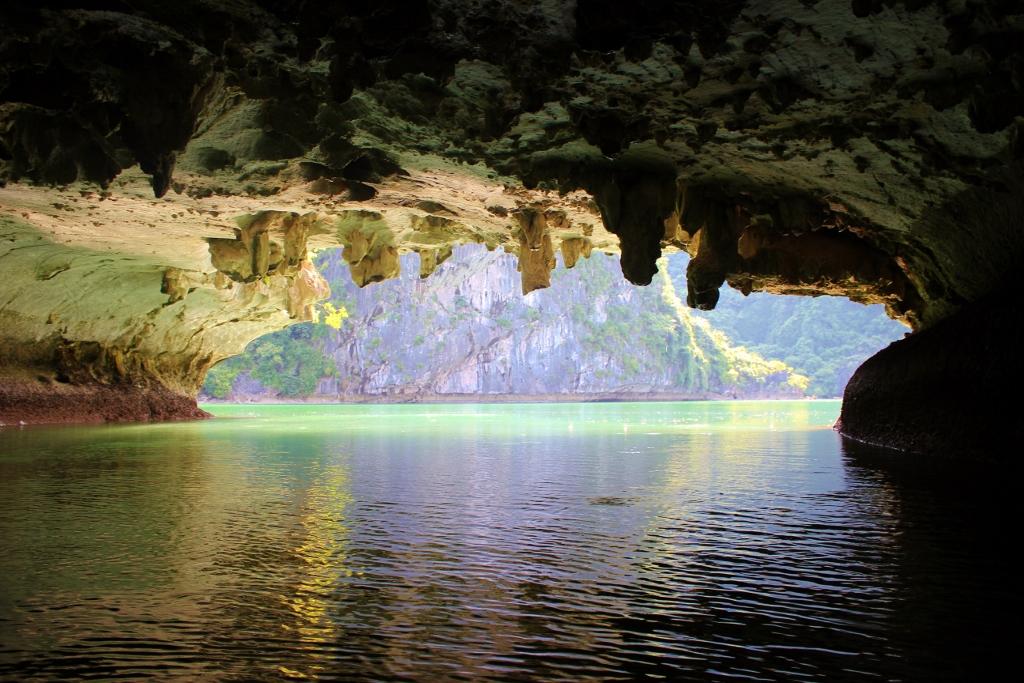 Take Tai Chi class
Eat breakfast
Board day cruiser boat, meet guide and crew
Go hiking on a karst
Go swimming at a beach
Visit an oyster farm
Go swimming around boat (and diving from boat)
Eat lunch
Go kayaking through caves
Go swimming around boat (and diving from boat)
Return to our junk boat
Drink wine on the deck
Eat dinner
Sing a round of karaoke
Try squid fishing
Day Three
(Read a detailed account of Day Three of our 2-night Halong Bay Cruise)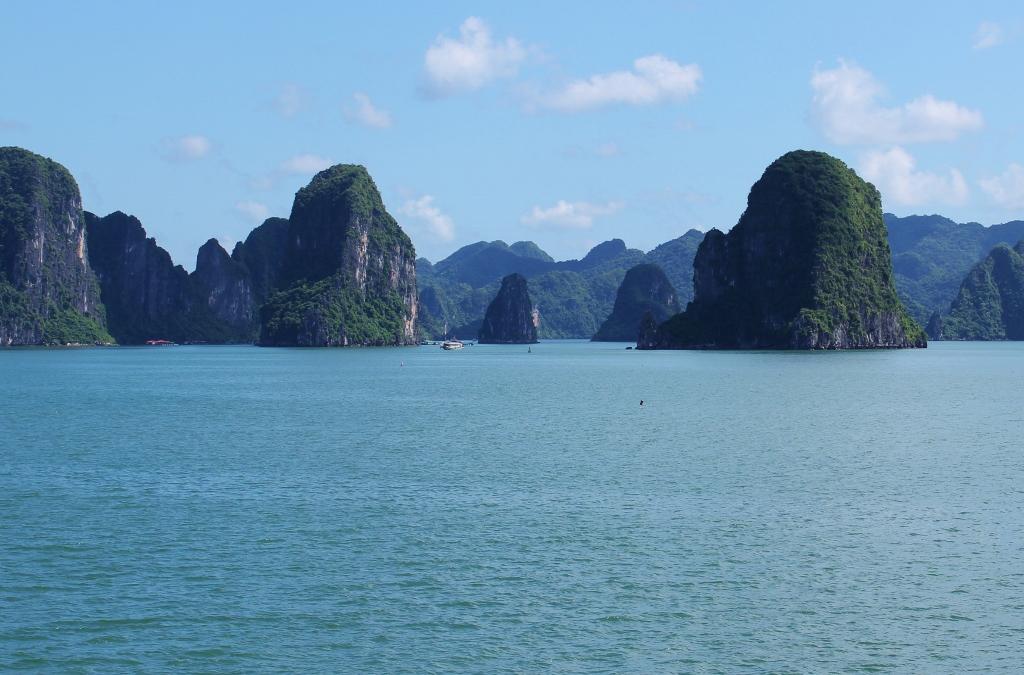 Take Tai Chi class
Visit Amazing Cave
Participate in hands-on cooking demonstration
Spend free time on boat
Eat lunch
Depart junk boat and take shuttle bus back to Hanoi
Details and Tips for a 2-Night Halong Bay Cruise
As we understand it, most of the junk boats carry 1- and 2-night Halong Bay cruise passengers on every ship. On our first night, there were about 25 passengers, only six of us were on the boat for two nights. In the morning, while we boarded the smaller boat that maneuvered deeper into the bay, the rest of the 1-night cruise passengers visited the cave and then sailed back to port (following what would be our Day Three itinerary). The boat then welcomed new passengers and sailed back into the bay. When our second day of exploration was complete, we joined them for wine on the deck, then dinner and subsequent activities.
The shuttle bus to and from Hanoi is included in the price of the cruise. It takes about 3.5 hours, once all of the passengers have been picked up from the various hotels. A guide rides the bus as well, which allowed us time to ask questions and learn more about Vietnam. Not everyone on the shuttle bus boarded the same junk boat. There is a stop mid-way through the drive for a bathroom break.
We paid $400 USD total for two people for the 2-night Halong Bay Cruise with Aclass. After we booked, we were informed by our hotel staff that we had been upgraded to a better ship without extra cost. We are not certain if we were lucky or how common this practice might be. The amount we paid was less than anywhere stated in the brochures.
Alcoholic beverages and other drinks are not included in the price of the 2-night Halong Bay Cruise. Price of a beer aboard the junk boat is about $2 USD.
A note of advice: Don't get too caught up in the details. The iconic sails will most likely not be raised on any of the boats. Jumping from the big junk boats is no longer allowed – and may not be possible from the smaller boats either. Beautiful Cave might be visited instead of Amazing Cave. The guide on the shuttle bus may not be the guide on the boat. Last minute changes may occur. Like a lot of things in Vietnam, what is presented isn't always what is delivered. Try not to agonize what is happening behind the scenes; instead focus on the big picture: getting to spend time on the water while marveling at the karsts.
For more information and to book this cruise check out Halong Hub at their official website.
Final thoughts on our 2-night Halong Bay Cruise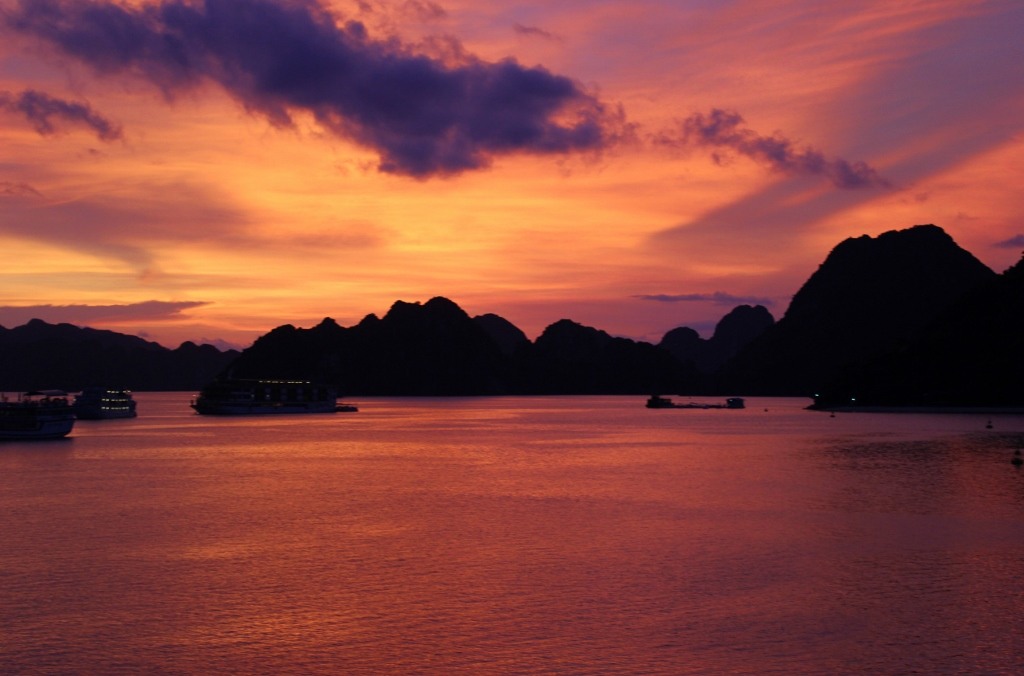 Looking back at our experience on Halong Bay, we couldn't have imagined spending only one night on the junk boat. We think we would have felt rushed – in and out and gone. On the first day of our 2-night Halong Bay cruise, we sailed into surrounding karsts, but we did so with about 20 other boats the same size as ours. Although the scenery was like nothing we had seen before, watching several boats all anchor in the same cove was a bit of a racket.
Perhaps if our visit to Vietnam had been limited to only one week, then one night might have sufficed. But, spending the second day on Halong Bay away from the crowds and in the hidden coves was exactly how I first envisioned visiting Halong Bay would be. We felt solitude amongst the quiet nature – just us and the karsts and the sea.
Before You Go: Our top tips for your trip
Don't forget to pack a pair of lightweight and comfortable walking shoes for the caves. I (Sarah) traveled with these shoes by Skechers and Reef. Kris prefered wearing these shoes by Merrell and Sanuk.
We're certain you'll be snapping tons of photos during your 2-night cruise on Halong Bay. Rather than relying on your mobile phone to capture the sights, upgrade to an actual camera for higher quality photos. We travel with a Canon Rebel (which takes amazing photos, but can be a bit clunky) and a Canon PowerShot ELPH (which takes beautiful pictures, is slim and lightweight – and the new models are wifi enabled so you can share your trip pics to social media in real time!).
We think travel insurance is essential! If you haven't already obtained travel insurance for your trip, travel protected with World Nomads.
Want more travel planning tips? Head over to our Travel Planning page for our complete packing list and other travel resources!

Like what you're reading? Join the journey!
Subscribe to JetSetting Fools and get new blog posts and our quarterly newsletter direct to your inbox:

We want to know: Have you taken a 2-night Halong Bay cruise? What was your experience? Tell us in the comments!
Pin it! See all of our travel pins on our JetSetting Fools Pinterest Board.