Hey there! Welcome to JetSetting Fools! You will find our best travel tips for destinations worldwide. Some of the links on this site are Affiliate Links and if you use them to make a purchase, we may earn a small commission. For more information, read our Disclosure Policy.
---
Why visit Siem Reap? Siem Reap is the obvious choice as a home base for touring the temples of Angkor and while the temples will always take first place, Siem Reap is a welcoming city that could stand on its own. To actually visit Siem Reap – and not just the Temples of Angkor – allows people to witness a grand melting pot of local customs and tourist attractions; traditional Cambodian life and modernization. The old is giving way to the new as Western tourists with money continue to flood the city and residents aren't blind to the opportunities and possibilities of a better life.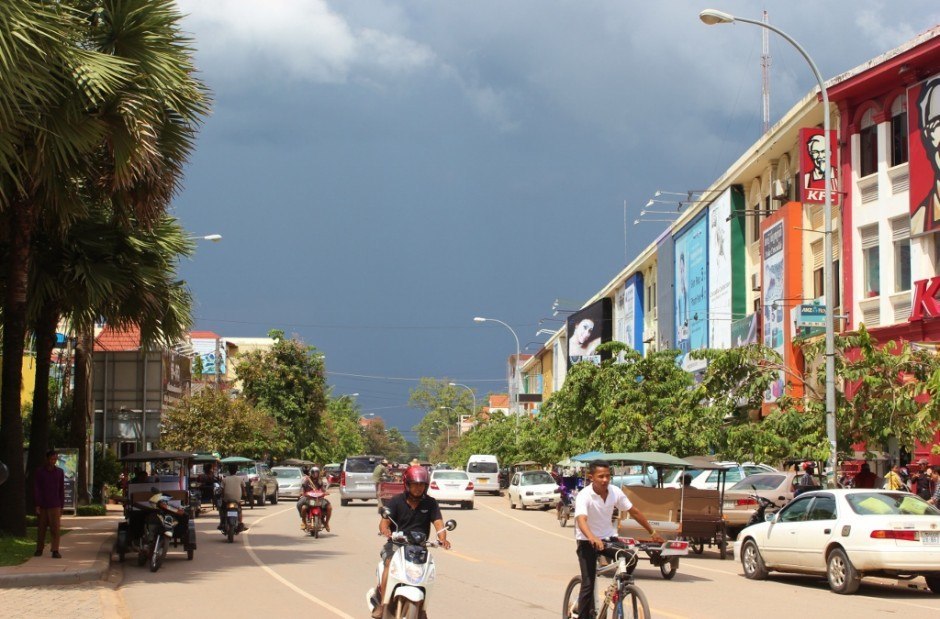 Why visit Siem Reap?
The People.
There is nothing flashy about the city. The streets are filled with scooters and family restaurants occupy sidewalk space. Buildings are low-rise and red-roofed. Many streets are unpaved and trash is deposited (and collected) just about everywhere.
The people are full of life…and smiles. We loved watching locals as they went about their day, whether it was cleaning, cooking or selling, they were likely to be found in fits of laughter as they joked and played pranks. They work long hours, often away from their families, for little money and they still laugh. It isn't complex, but I found myself pondering over it, as if it is a foreign concept…well, maybe it is.
English is widely spoken by the younger generations and they are eager to practice speaking it, although most conversations were an attempt to get us to buy something. A typical conversation went like this:
"Where you from?"

"America."

"Ohhh, The United States of America. Washington D.C. your capital. Barack Obama your president."

"Yes, that's right."

"And before him George Bush and before him George Washington."

"Uh huh." Close enough.

"Buy book from me. I use money to pay English lessons. Or buy bracelet; my mother made it. She is sick. Here, 10 bracelets for $1 (pronounced onnnnnne dolllllla). You buy from me."
Everybody wants a dollar and tourism is definitely what makes the dollar go round. (And, an interesting fact, the currency is actually the US Dollar; accepted – and preferred – everywhere.) We would have loved to give them all a dollar. The people we connected with were open and honest, willing to share their stories and their future aspirations. They tugged on our heart-strings and more than once we wished we had visited when we still had an income and could have more freely given a dollar and even more.
The city itself is smaller than we thought it would be and completely walkable. We stuck to the main core of the city but opted for the alleys and side-streets and found both the usual and the unique.
The Markets.
The city is covered in markets – The Old Market, The Day Market, The Night Market. For those more inclined to let vendors come to them, there is plenty of that, too, as children as young as four or five years old are ready to haggle a price for postcards, magnets, books and bracelets they carry with them through the streets.
The Old Market is probably the most authentic and where locals would go for produce or dried goods. The other markets are stocked with clothes, bags and souvenirs.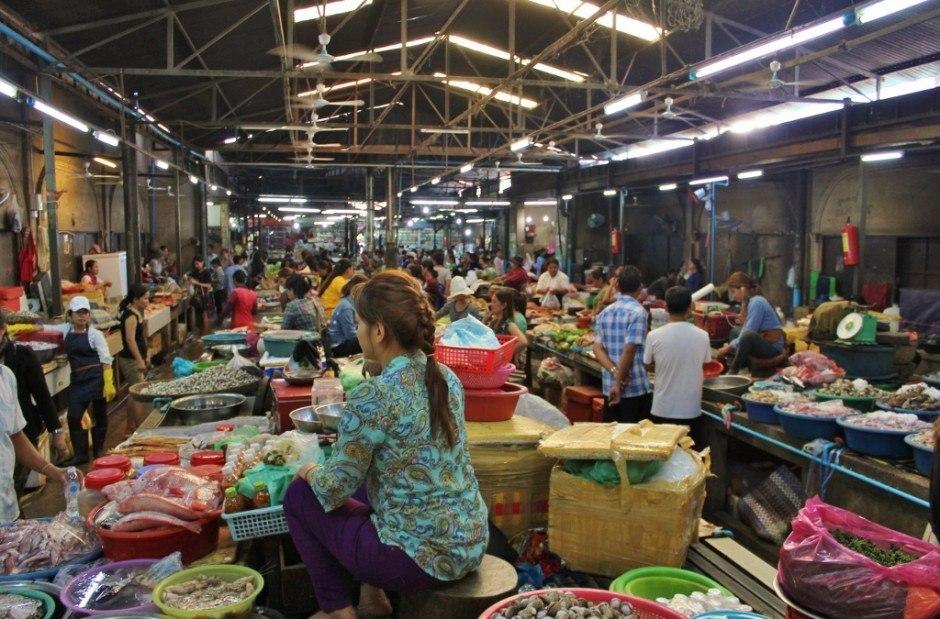 Pub Street.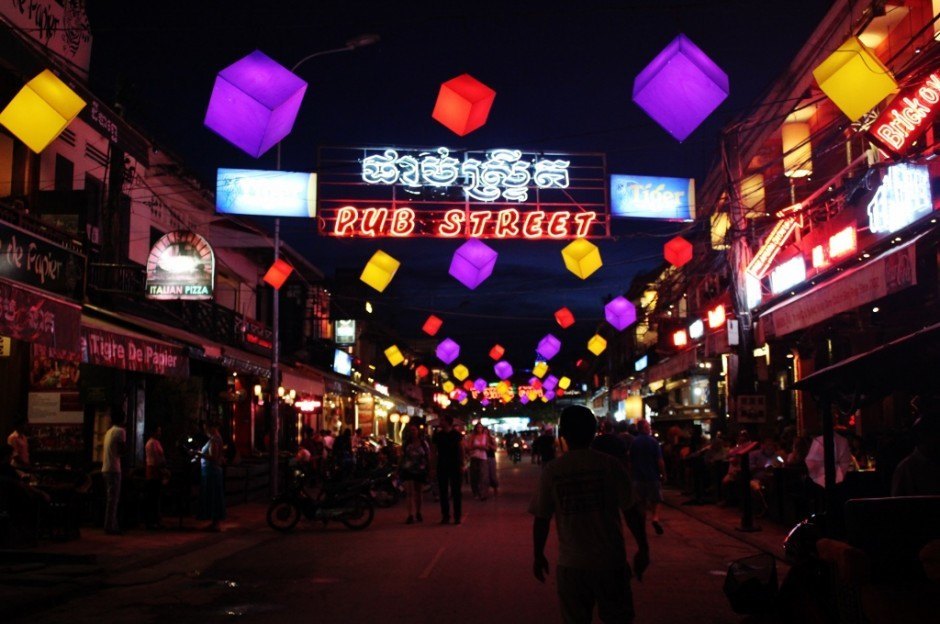 Famous for its large concentration of late night pubs and clubs including Angkor What? and The Temple Bar, tourists definitely outnumber the locals. Fifty cent draught beers and $1.50 strong cocktails entice travelers to abandon their early morning temple schedule. The people-watching alone is worth the trip; think Bourbon Street in New Orleans, minus the beads.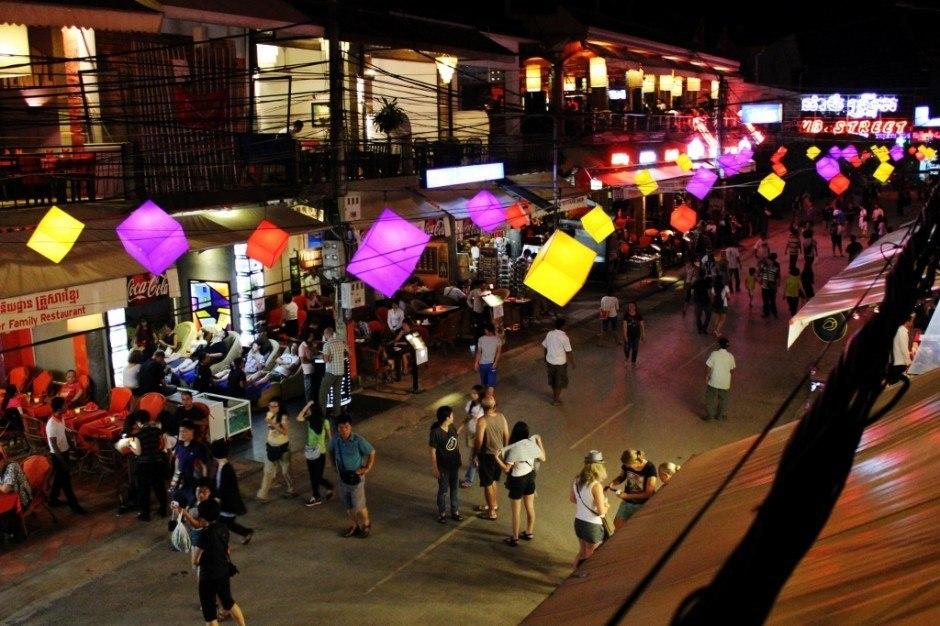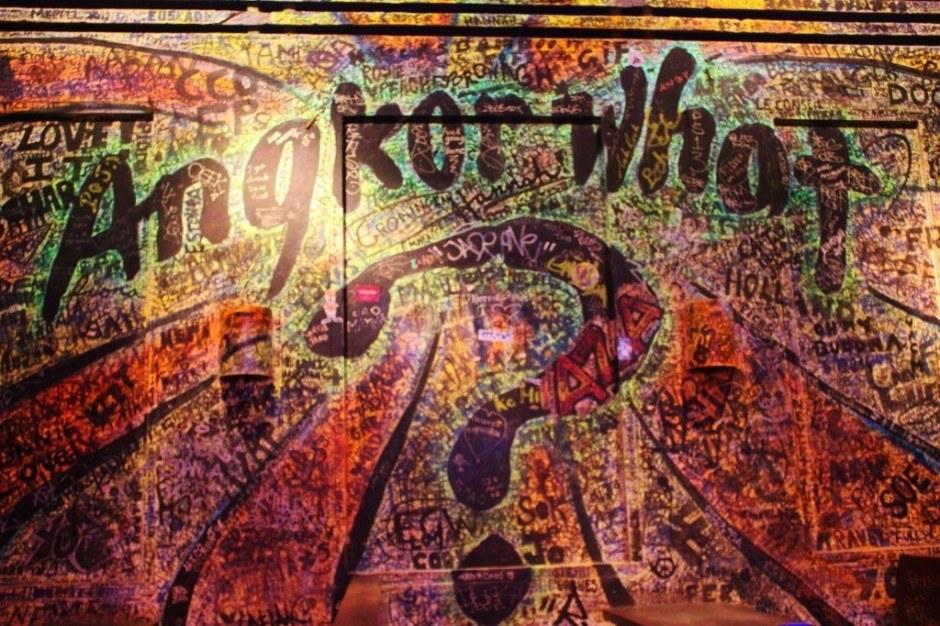 Fishy Pedicures.
I'd heard stories about pedicures that involve fish eating the dead skin off of feet, but I'd never seen it…until Siem Reap. Large fish tanks surrounded by bench-seating and filled with two-inch long fish can be found throughout the city. For $3 we were allowed to immerse our feet into the water for a half hour as fish nibbled at our toes. After the initial ticklish shock, we relaxed as the fish went to work. My feet are the softest and smoothest they have ever been!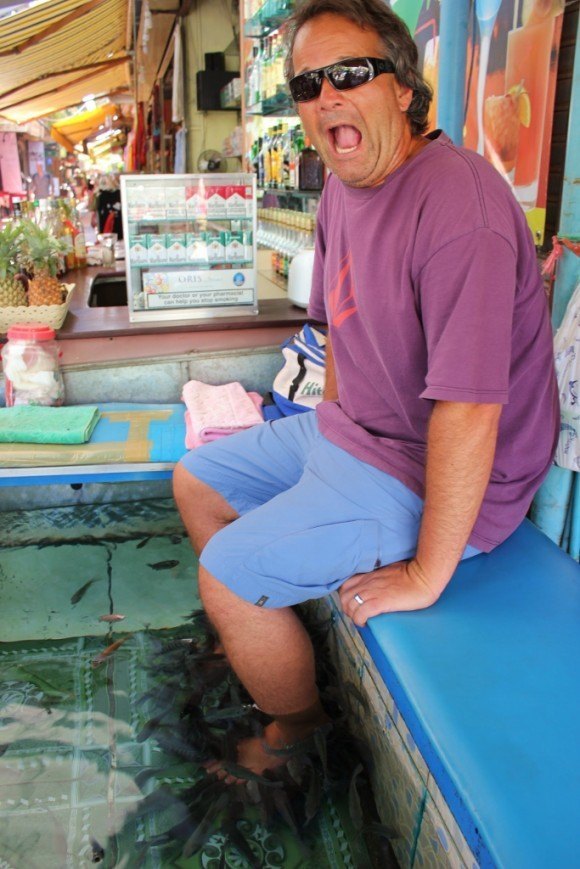 Inexpensive and Inventive Tuk-tuks.
It would be impossible to walk along a street in Siem Reap and not hear the question, "You need tuk-tuk, sir?" The motorcycles with attached carriages are waiting outside of every hotel, restaurant, bar, market and temple in the city. A few drivers with an entrepreneurial spirit even name their tuk-tuks or offer premium services like music playlists. But, one thing is the same, the going rate for a ride is just a dollar.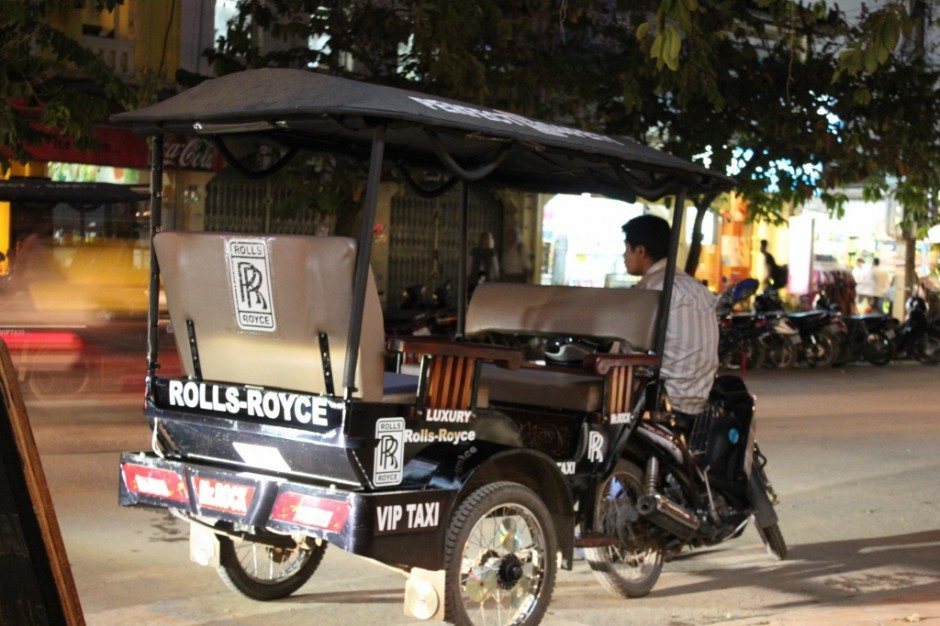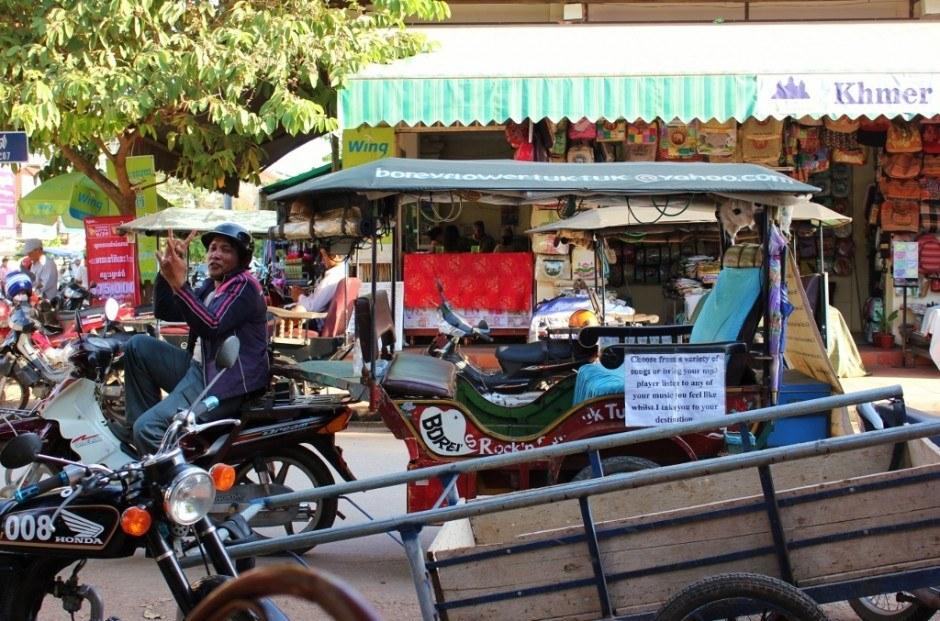 Affordable Accommodations.
Another element that made our stay exceptional in Siem Reap was our hotel, The Villa Siem Reap. From the moment we walked in and were greeted by Mr. Phally to our morning breakfasts with our waitress, Peep, to our final farewell, we felt like premier guests, always addressed by name…and with a smile. It was a bonus that the air con was like an ice box, the pool was refreshing and the food was delicious and we wouldn't have wanted to stay anywhere else.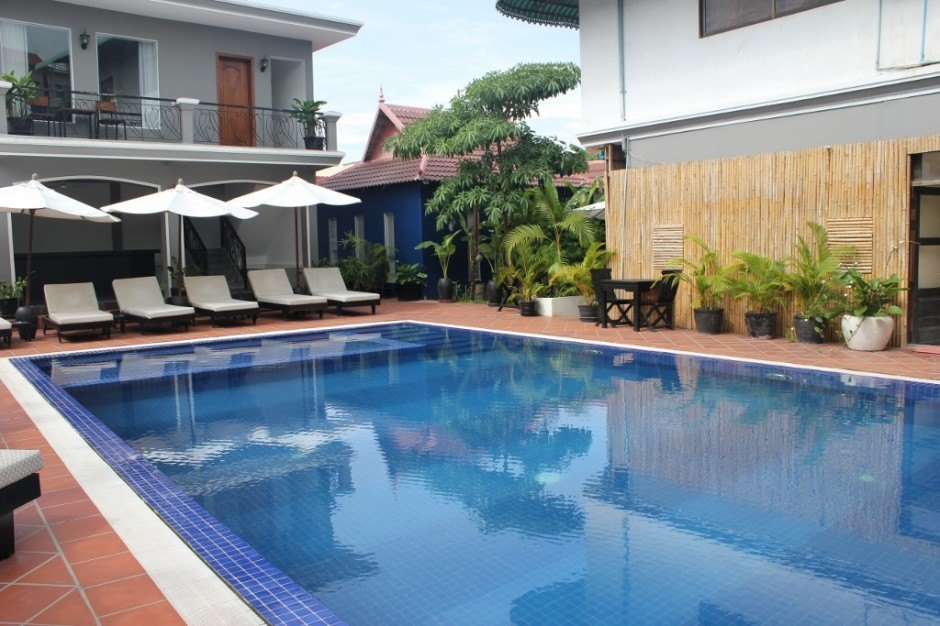 We want to know: What other reasons do you have to visit Siem Reap? Tell us in the comments!
Pin it!