Hey there! Welcome to JetSetting Fools! You will find our best travel tips for destinations worldwide. Some of the links on this site are Affiliate Links and if you use them to make a purchase, we may earn a small commission. For more information, read our Disclosure Policy.
---
Twice before we have visited Madrid on quick, less-than-24-hour layovers. Both times, we dashed through the city to see the sights of Madrid as quickly as we could. On our most recent trip with friends we had more time – but still only 2 days in Madrid – and we were anxious to show our visiting friends to the best sights in Madrid. We compiled a list of the top Madrid landmarks, grabbed a Madrid tourist map and designed a Walking Tour Madrid Route that provided the perfect introduction to the city.
Note: To better use this guide as a Madrid Trip Planner, we have included a Madrid Walking Map at the end of the post, as well as additional Madrid sightseeing information.
Walking Tour Madrid
Whether you have one day in Madrid or one week in Madrid, touring the major sights of the city on foot is the best place to start! Budget travelers, independent travelers and those simply short on time can use our outlined self-guided walk as a free tour Madrid. We've outlined 10 sights to see in Madrid – including plazas, churches, markets and museums – in the form of a Madrid Self-Guided Walking Tour. (See Madrid map below!)
#1: Puerta del Sol
Start your city tour Madrid in the bustling Puerta del Sol, a hub of activity in the city center. Marking the 0 km point for six roads in Spain, the square is home to Madrid's iconic clock tower – and the centerpoint of the city's New Year celebrations. The name of the square, Puerta del Sol, translates to 'Gate of the Sun' – as city gates featuring the sun used to stand on the site. The square is a busy one: business men rush through, tired tourists rest and street performers – everything from people dressed up as Disney characters to Egyptian living statues – work for tips. It's quite the spectacle.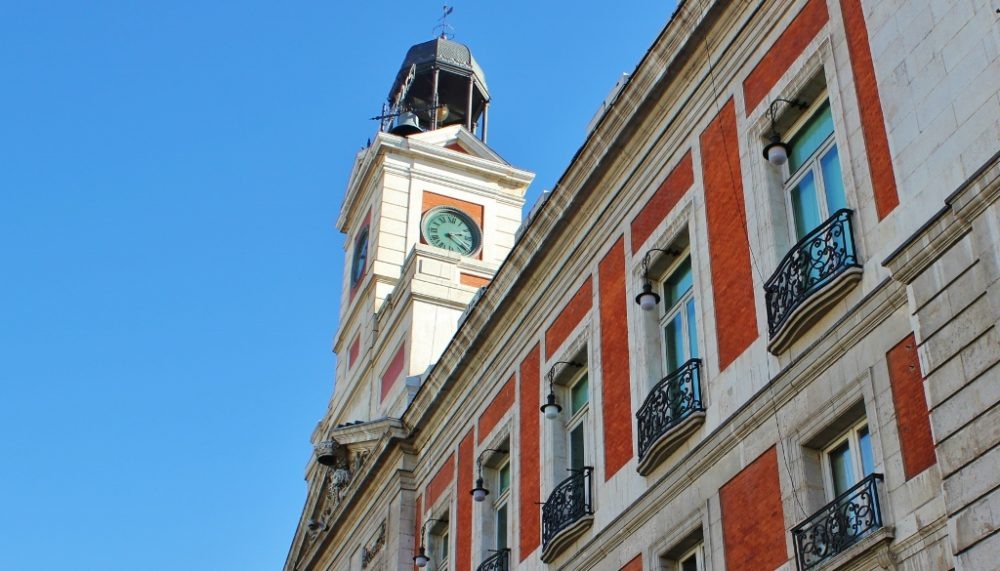 #2 Plaza Mayor
The second stop while city sightseeing Madrid is Plaza Mayor, a vibrant square, which is enclosed by a three-story building featuring picturesque iron gated balconies (237 of them!). The perimeter is lined with cafes, each with outdoor seating (and inflated prices – although, they are still difficult to pass by!). Street performers roam the square finding a variety of ways to entertain the very international crowds. In the winter, Plaza Mayor is occupied by a Christmas market with decorations dangling overhead.
#3: Mercado de San Miguel
Stop #3 on the free walking tour Madrid is the modern, upscale marketplace, Mercado de San Miguel – hope you are hungry! Featuring fresh produce, meat and fish and tasty prepared delicacies, the market is busy throughout the day. Spend time squeezing your way through the crowds to peer into the cases of fine cheeses, divinely crafted desserts and beautifully displayed fruit. If something is too mouthwatering-good to pass by (like the goat cheese and sauteed onion creations at the tapas stall), stay for a bite before continuing your Madrid tour.
Tip: For a real taste of Madrid, consider joining a culinary tour that explores the best gastronomy of the city – and includes a stop at Mercado de San Miguel.
#4: Town Hall
Continue your self-guided walking tour of Madrid to the Plaza de la Villa. The quaint square features the 17th century Town Hall building, which takes up an entire side of the square and is fronted by a pretty, fenced garden.
#5: Almudena Cathedral
Next up on your Madrid city walk is the massive, but relatively modern, Almudena Cathedral. More impressive than the size is that it took 100 years to build – was only just completed in 1993. The Madrid Cathedral was consecrated by Pope John Paul II. The large church is topped with a dome that measures 65-feet across.
Tip: The cathedral is open to visitors– take a look inside!
#6: Royal Palace
Sitting next door to the cathedral is the grand Royal Palace , which is the stop on our Walking Tour Madrid. The Royal Palace, which seems to go on forever, is one of the top Madrid landmarks. It is the largest palace in Europe with 2,800 rooms and almost 1.5 million square feet. The palace is open to visitors (for a fee), but the Sabatini Gardens on the north side of the palace are open to the public.
Tip: If you want to visit the palace and are trying to see Madrid in a day, be aware that there are often long lines to get inside. Be sure to purchase Skip-the-Line tickets in advance.
#7 Plaza de Oriente
Stop #7, Plaza de Oriente. is just across the street from the palace. The square was designed in 1844 and is lined with statues, trees, shrubs and a fountain in the center. Plaza de Oriente is a great place for relaxing, people-watching and taking a quick break from walking around Madrid.
#8: Gran Via
All Madrid walks should include the city's most famous street, Gran Via, which is why we included it on our Madrid Self-Guided Walking Tour! Walking along the wide Gran Via just feels classy. The street is known for its early 1900s architecture and boasts many upscale shops – but it is also referred to as Spanish Broadway for its exciting Madrid nightlife.
#9: The Prado Museum
The next stop is one of the best museums in Madrid: The Prado. Founded in 1819, the Prado Museum features a grand collection of renowned artwork – most notable is Las Meninas by Velazquez. Many consider the Prado to be one of the greatest art museums in the world. There is an admission fee to enter the museum, which can also be combined with a Prado Museum tour…both of which are are included with an iVenture card (Tip: The Prado has free entry from 6-8pm Monday-Saturday and from 5-7pm on Sundays and holidays.)
Tip: Behind the museum is Retiro Park – one of the best parks in Madrid!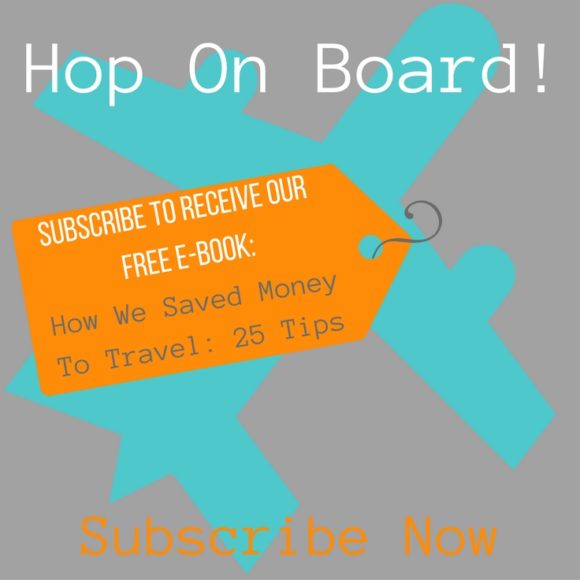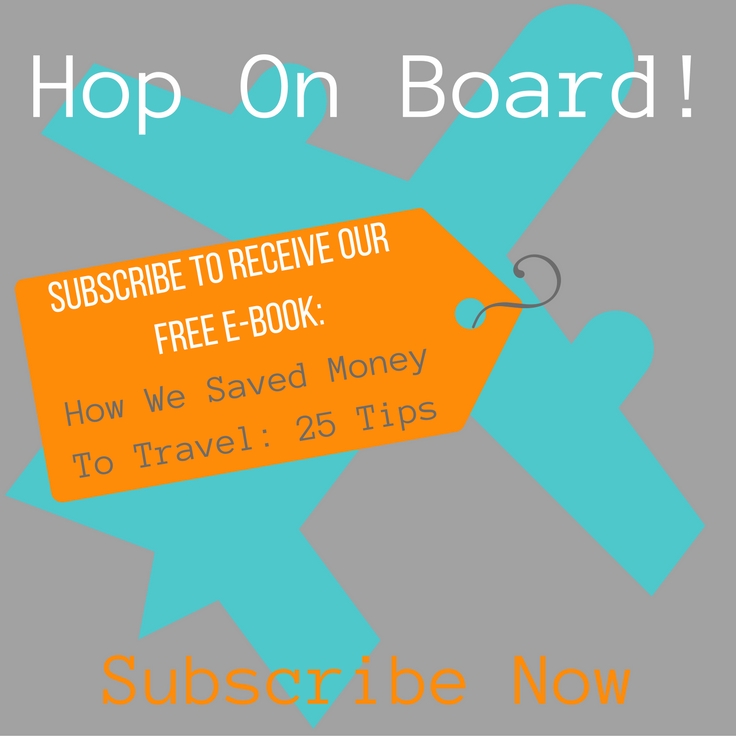 #10: Plaza de Santa Ana
The final stop on our walking Madrid tour is Plaza de Santa Ana – a square that quickly became our favorite square in Madrid. The square is home to the 17th century Teatro Espanol, the oldest theater in Madrid, yet the cafe-lined square has a quaint, neighborhood feel to it. In the winter, a large illuminated Christmas tree cast a blue, wintry hue over the square at night.
---
Madrid City Tour Map
Link to Madrid Attractions Map walking directions on Google Maps
The route of our Walking Tour Madrid covers 4.5km (not including any detours to gardens or parks) and can take as little as 1 hour without stops. However, if you plan on visiting the San Miguel Mercado, Almudena Cathedral, Royal Palace and/or Prado Museum, it could take a full day to complete the route.

---
Our top tips for your trip to Madrid
With sights located within easy walking distance, tourists can see a lot with just 1 day in Madrid. However, we recommend spending at least two days in Madrid (as outlined in our One Week Spain Itinerary). If you are wondering what to do in Madrid for 3 days, we suggest taking a day trip from Madrid (see options below!).
Madrid Sightseeing Tips and Guided Tours
While we enjoyed sightseeing Madrid on our own, there are many guides that can help lead the way! Consider one of these highly-rated guided tours for your trip to Madrid:
As an alternative to seeing the city on foot, visitors to catch a ride on a Madrid sightseeing bus, like the Hop-On Hop-Off Bus, or explore the city on two wheels on a Segway Tour or a popular Bike Tour.
There are many options when it comes to visiting Madrid – as there is so much to see and do in the city! In addition to the sights, there is Flamenco dancing, tapas tastings and soccer matches.
Money-Saving Tip: Some of the sights on our Madrid Self-Guided Walking Tour require an entry ticket. To save money, consider purchasing an iVenture Card that includes entry to top sights and attractions in Madrid, as well as other discounts.
Madrid Day Trips and Multi-Day Tours
There are also several Madrid Day Trips to popular destinations, like Toledo, that can be booked in advance on Viator. and Multi-Day Tours from Madrid that include top Spanish cities (Barcelona, Seville and Cordoba to name a few!). Intrepid Travel offers several tours from Madrid, including an 8-day Spain Highlights Tour and 15-day Best of Spain Tour.
Where To Stay in Madrid
During our visit to Madrid, we stayed in an Airbnb Apartment. (Not already a member of Airbnb? Use this link to create an account and save money on your first stay!) We have found that staying in apartments is often less expensive than hotel rooms – with the added benefit of a kitchen and, usually, more space. Madrid holiday apartments can also be searched on FlipKey (which part of TripAdvisor) or VRBO.
However, for those who prefer staying in traditional accommodations, there are many Madrid hotels to choose from in – or close to – the city center. Compare prices on HotelsCombined.com or take a look at these top-rated hotels (based on guest reviews!) for your upcoming trip: Only YOU Boutique Hotel, Gran Melia Palacio de los Duques, Catalonia Las Cortes. You can also try to score a deal on a hotel in Madrid by bidding on Priceline.
Budget travelers can search for Madrid Hostels – like Sungate ONE, OK Hostel or Open Hostel. For a true bargain – and a unique experience – search for hosts on Couchsurfing, where travelers stay with locals for free.
Getting There…and around
In Madrid
Madrid can be reached by plane, train, bus or car. We have arrived by flight to the Madrid Airport – as well as by train to the Atocha Train Station. Madrid is well-connected by a public transportation system that includes the Metro, Rail and Buses, but the city is also extremely walkable.
In General
Our preferred method of getting anywhere is by flying (we are JetSetting Fools, after all!) and when we do need to purchase plane tickets, we start our search for the best deals on airline tickets on Skyscanner or Flight Hub.
To get from city to city when flights are not possible, we usually rely on public transportation and take trains or buses. In Europe, we use Eurail to find train tickets and our preferred bus company is FlixBus – as it is economical, clean and comfortable with on-board wifi, seat-back entertainment, refreshments and a toilet. We aren't keen on driving abroad, but renting a car can often save time and money (especially when traveling with more than two people) – and it allows for greater discovery.
Before You Go
Want more travel planning tips? Head over to our Travel Planning page for our complete packing list and other travel resources!
Like what you're reading? Join the journey!
Subscribe to JetSetting Fools and get new blog posts and our quarterly newsletter direct to your inbox:

We want to know: What would you add to our self-guided walking tour to sights in Madrid? Tell us in the comments!
Pin it! See all of our travel pins on our JetSetting Fools Pinterest Board.