Hey there! Welcome to JetSetting Fools! You will find our best travel tips for destinations worldwide. Some of the links on this site are Affiliate Links and if you use them to make a purchase, we may earn a small commission. For more information, read our Disclosure Policy.
---
Spain features varied landscapes, vibrant cities and incredible cuisine. The large country has numerous destinations – and with so much to see, planning a vacation to Spain can be perplexing! To help fellow travelers, we created an easy-to-follow, day-by-day Spain Itinerary that highlights the absolute best of the country.
We designed our Best of Spain Itinerary when a friend from the States joined us on our European travels. She had limited time, so we planned a Spain One-Week Itinerary to show her the best of the country (not an easy task when planning a trip to Spain!). On her One Week in Spain vacation, we visited the three most popular cities in the country: Barcelona, Seville and Madrid.
Places to Visit in Spain
For our Spain travel itinerary, we include top Spain destinations: Seville, Barcelona and Madrid. We think the three cities offer the perfect introduction for a first time visitor to Spain. Read a quick summary of each location before jumping into our detailed day-by-day tour of Spain.
Barcelona
With an array of sights, Barcelona dazzles visitors. The city features an old town rife with Gothic buildings and Gaudi's Modernism architecture, but the city is so much more than historic buildings. Barcelona highlights include nature (a stunning shoreline, beach and mountains) and phenomenal cuisine, too.
Find out more in our detailed 3-Day Barcelona Itinerary!
Seville
The city of Seville is comprised of quaint neighborhoods and delectable tapas bars. The city is best discovered on foot. Top activities include exploring the best attractions – like the Cathedral and Alcazar – and sampling an array of scrumptious tapas.
Find out more about Seville neighborhood destinations!
Madrid
Madrid is a buzzing city with a compact center. Top features of Madrid include spacious plazas, lush parks, the Royal Palace and the Prado Museum. The capital city is one of the largest in the European Union (only London and Berlin are bigger), yet the city sights are easy to navigate.
Find out more in our self-guided Madrid Walking Tour!
Top Tip: While we think these three cities constitute the Best Spain Itinerary for One Week, there are other top destinations in the country and across borders. We include trip variations to other top spots – like San Sebastian in northern Basque and Lisbon across the border in Portugal – at the end of the post.
Spain Trip Planner
Choosing where to go in Spain in only the first step in planning a trip. Visitors also need to consider their route. The cities we include in our One Week Spain Itinerary are well-connected for touring Spain by train (our version of a Spain road trip!). We discuss options for getting around Spain in more detail at the end of the post.
How Many Days in Spain
How much time you spend in Spain should be decided based on your personal interests and total allotted time for your trip. We have spent as little as one day in Spain while transiting between countries (clearly, not enough time!) – and could easily spend more than a month touring Spain.
Our 1-Week in Spain Itinerary is an ideal way to spend 7 days in Spain. But, what if you only have 5 days in Spain or are trying to plan a 10-Day Spain Itinerary? We've got your covered with numerous sample Spain itineraries, which we share after the details of our Spain Itinerary 7 Days.
---
Our Spain Itinerary 7 Days: Overview
With 7 days in Spain, it is possible to visit the major sights in three cities, which is why we created our Barcelona, Madrid, Seville Itinerary. For this Spain travel itinerary, we decided to plan our time as follows: 3 days in Barcelona, 2 days in Seville and 2 days in Madrid. Our 1-week Spain Itinerary outlines what to see in Spain in 7 days.
Top Tip: While our Spain-in-One-Week Itinerary features activities and information for each day, we also recommend using a Spain guide book (Lonely Planet and Rick Steves are our favorites!). It's also a good idea to learn basic Spanish phrases and bring a pocket phrase book with you on your trip!
1 Week in Spain: Day-by-Day
In our one week in Spain, we took in the city sights and top attractions, visited museums and appreciated architecture, explored neighborhoods and consumed a ton of tapas and sampled several of Spain's well-known red wines. You can use our guide as your Spain trip planner for Barcelona, Seville and Madrid exactly as it is written or use it as a base and tailor it to best fit your travel style. Start your One week in Spain in Barcelona…
Day 1: Arrive in Barcelona
Arrive in Barcelona and waste no time getting acquainted with the city. Our Spain vacation itinerary begins with exploring the top city sights. Start in the heart of the city on Las Ramblas, the city's wide pedestrian path lined with shops and street entertainers, and walk to La Rambla del Mar on the waterfront.
Follow the coastline north past the harbor full of sailboats to Barceloneta, the city's best beach town. Next, venture into Parc de la Ciutadella and wander the paths to waterfalls, ponds and monuments before exploring the streets of the La Ribera and Barri Gothic neighborhoods.
Top Tip: This is a full-day walking tour covering 5+ miles. Find detailed information for exploring Barcelona on foot in our self-guided Barcelona Walking Tour.
Day 2: Explore Barcelona Sights
On the second day of your 7-day trip to Spain, get an early start and hike up Montjuic (Jewish Mountain) to the hill-topping castle for views of Barcelona and the sea. The Montjuic Castle dates to 1640 and was built as a military fortress (and can be visited for a fee). Bring a picnic lunch and dine al fresco. Retrace your steps back down the hill and spend the afternoon visiting the MNAC (Museu Nacional d'Art de Catalyuna) art museum. In the evening, discover the best tapas in the city in the neighborhood near the base of Montjuic.
Top Tip: Get our tips for top recommended spots for the Best Tapas Bars in Barcelona.
Day 3: Discover Barcelona Modernism
A trip to Barcelona would not be complete without contemplating the works of the city's most famous architect, Antoni Gaudi – and that is exactly what you will do on Day 3 of your 1 week trip to Spain. His unique works are scattered throughout the city, but he is best known for his (still) unfinished Sagrada Familia church, but other must-see Gaudi sights are Casa Batllo and Casa Mila. Join a Gaudi tour to best learn about his life and work.
In the afternoon, wander through more of Barcelona's picturesque neighborhoods, like L'Eixample (or the La Ribera and Barri Gothic quarters, if you didn't have time to see them on your first day).
Top Tip: Get more tips for things to do in Barcelona in our Best Barcelona Itinerary!
Day 4: Arrive in Seville
Begin Day 4 of your one-week trip to Spain on board the morning AVE train (6 hours) from Barcelona to Seville in the Andalucia region. After checking into your Seville accommodations, head straight for the city center.
Visit the landmark Seville Cathedral, which was built between 1401 and 1519 and is one of the largest Medieval churches in the world. Climb the 12th century La Giralda tower, then enter the Alcazar palace that stands opposite the cathedral (where scenes for Game of Thrones have been filmed). Spend the evening tapas-tasting and then seek out a spot for Flamenco dancing.
Top Tip: Find our recommended spots for the Best Tapas in Seville or join a combo tapas/flamenco tour.
Day 5: Wander Seville Neighborhoods
For day 5 of our Spain itinerary, we'll spend time soaking up the charm of Seville by discovering the quaint neighborhoods of the city. See more of the city center, then step into Barrio Santa Cruz, the old Jewish Quarter. Cross the river and get lost in the colorful lanes of Tirana. Go south of the Seville Center to the ornate Plaza de Espana and Parque de Maria Luisa…but don't miss Macarena (and the Basilica de la Macarena) on the north side of the city!
Top Tip: Read our guide to visiting the most picturesque Seville neighborhoods.
Day 6: Arrive in Madrid
Take the morning train (3 hours) to Madrid for your final two days of your 7-day tour of Spain. Discover the top sights in the city on your own walking tour (or join a guide for a tour of Madrid!). Linger over a long lunch in Plaza Mayor before visiting two of the city's top sights: the Almudena Cathedral and the Royal Palace. Take a leisurely stroll while window shopping (or really shopping!) on Gran Via, Madrid's high-end shopping street.
Tip: Use the information from our Madrid Walking Tour as your Madrid Trip Planner.
Day 7: Visit Madrid Top Attractions
In the morning, peruse the goods at the Mercado San Miguel and (resisting the temptation to consume the tapas on-site) gather items for a picnic lunch. Walk to the east side of town to 300-acre royal park, Retiro Park, and find a nice spot to enjoy lunch among the lush gardens. Spend the last hours of your time in Madrid examining the prestigious artwork at the world-renowned Prado Museum.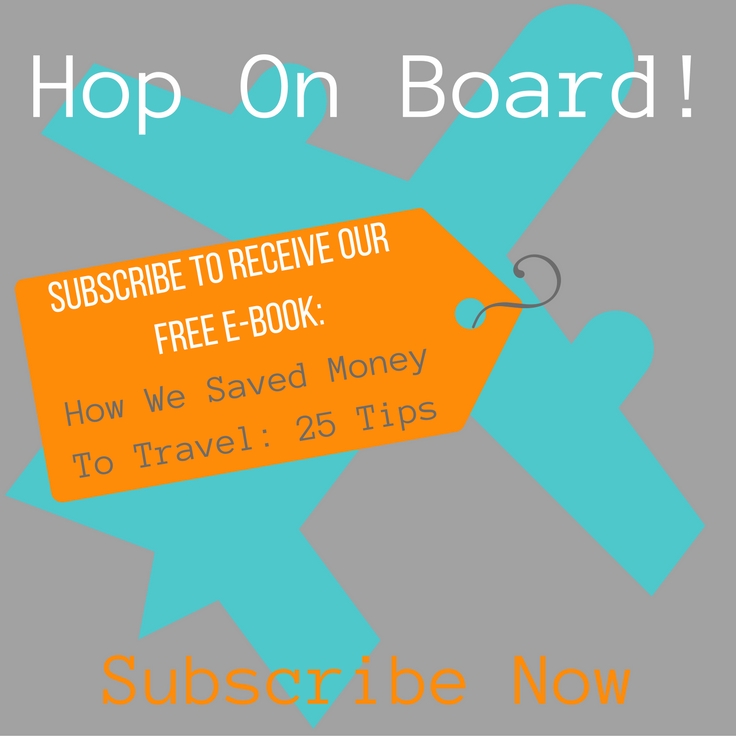 ---
What is the Best Itinerary for Spain?
Naturally, we think our Spain Itinerary for 7 days is the best way to discover the country! (We would not have planned it for our friend if we didn't think it was the best!) However, there is no right or wrong way to visit Spain. To help other travelers create their best Spain itinerary, we are offering several suggestions for ways to spend time in the country.
Spain Trip Itinerary Variations
When designing your best Spain vacation itinerary, use our Spain One-Week Itinerary as a base – and alter it for longer or shorter stays. How to plan a trip to Spain really depends on how much time your have and what your interests are. Use the following Spain travel planner suggestions to get the most out of your trip!
Top Tip: Travelers who have more time than a week can add a combination of destinations and day trips to their itinerary. Below, we highlight top-rated day trips from each city for some ideas.
Spain Itinerary 5 Days
With only 5 days in Spain, travelers will be limited with what they can see. However, we recommend making the most of the time in Spain!
5-Day Spain Itinerary: Barcelona and Madrid
Visitors who like to explore big cities can spend their 5 days in Spain in the top two cities in the country: Barcelona and Madrid. Use our Spain week itinerary, but eliminate Seville to create a Madrid-Barcelona Itinerary.
Fast-Paced Spain 5-Day Itinerary
Alternatively, visitors who like to see it all and are intent on squeezing as much as possible into 5 days in Spain can create a fast-paced Barcelona-Seville-Madrid Itinerary. We would recommend spending 2 days in Barcelona, 1 day in Seville (1 very short day) and 2 days in Madrid. Be aware, however, you will be rushed!
Spain-Portugal Itinerary 7 Days
As an alternative to our detailed Spain One-Week Itinerary, visitors with limited time who want to visit both Spain and Portugal can create an 1-week itinerary that includes both countries.
The route we would recommend is Barcelona (3 Days), Seville (2 Days) and Lisbon (2 Days). Use our Lisbon Itinerary to plan your time in Portugal.
Spain Itinerary 9 Days
With 9 days in Spain, visit Barcelona, Seville and Madrid with 3 days in each city. Add day tours to each extra day in Seville and Madrid – see the suggestions below!
Spain Itinerary 10 Days
With 10 days in Spain, travelers have the opportunity to see a lot more of the country – either on day trips or with added destinations.
10-Day Spain Itinerary: 3 Destinations
An ideal way to spend 10 days in Spain is to use our outlined 1-Week Spain Itinerary and simply adding one additional day in each city. Visitors would spend 4 days in Barcelona, 3 days in Seville and 3 days in Madrid – for a more relaxed Spain travel route. On the additional day in each city, we recommend taking a day trip (see the list below!).
Spain 10-Day Itinerary: 4 Destinations
Alternatively, follow our Spain week itinerary as outlined, then add a fourth destination to visit on the last three days of your trip. Our top recommendations for additional destinations are Lisbon and San Sebastian.
Lisbon, Portugal is a fascinating destination. The colorful city is spread over seven hills – with top sights, like the castles of Sintra – just a short train ride away. Classic yellow trams rattle through the historic center and locals abide by old traditions. Find out more about the city in our guide to the Top Things To Do in Lisbon.
San Sebastian is located in the northern part of Spain in Basque Country. The region is distinctly different from the rest of the country, featuring a unique cuisine, seaside landscapes and small towns. Get our tips for how to spend the last three days of your trip in San Sebastian in our 3-Day Basque Country Itinerary.
2 Weeks in Spain
With two weeks in Spain, we recommend following the suggested itinerary for Spain in 10 days (4 days in Barcelona, 3 days in Seville and 3 days in Madrid) and then venturing across the border into Portugal and spending 4 days in Lisbon.
Alternatively, a two-week Spain Itinerary could be spent entirely in the country by following the suggested itinerary for Spain in 10 days (4 days in Barcelona, 3 days in Seville and 3 days in Madrid) and then heading north to San Sebastian. However, you would most likely have to return to Madrid to fly back to your home country.
Spain Itinerary 3 Weeks
With 3 Weeks in Spain, you can get creative! You could easily spend a week in each city (Barcelona, Seville and Madrid) taking time to really experience each place. Alternatively, you could add more destinations to your trip. To get the most out of the trip, we suggest adding both San Sebastian (with a side trip to Hondarribia) and Lisbon, Portugal to your 3-Week Spain itinerary.
Southern Spain Itinerary
For tours of Southern Spain, check out this Andalucia Itinerary: Tour Cordoba, Seville and Granada in 4 days on a guided tour from Madrid.
Top Spain Day Trips
If you are extending your 1-Week Itinerary for Spain to include day trips, use the below suggestions for top-rated trips and activities from each city!
Barcelona Day Trips:
Seville Day Trips:
Madrid Day Trips:
Guided Tours of Spain
We opted to see Spain on our own, but there are many tours around Spain that are led by qualified guides. Although guided Spain tours usually cost more than planning the trip on your own, booking Spain tour packages can be a hassle-free way to see the country.
Start your search for guided tours of Spain with Intrepid Travel, where you can find The 15-Day Best of Spain Tour (Barcelona, Valencia, Cordoba, Ronda, Costa de la Luz, Seville, Granada and Madrid) and the 15-Day Spain and Portugal Tour.
Map of Spain Itinerary Destinations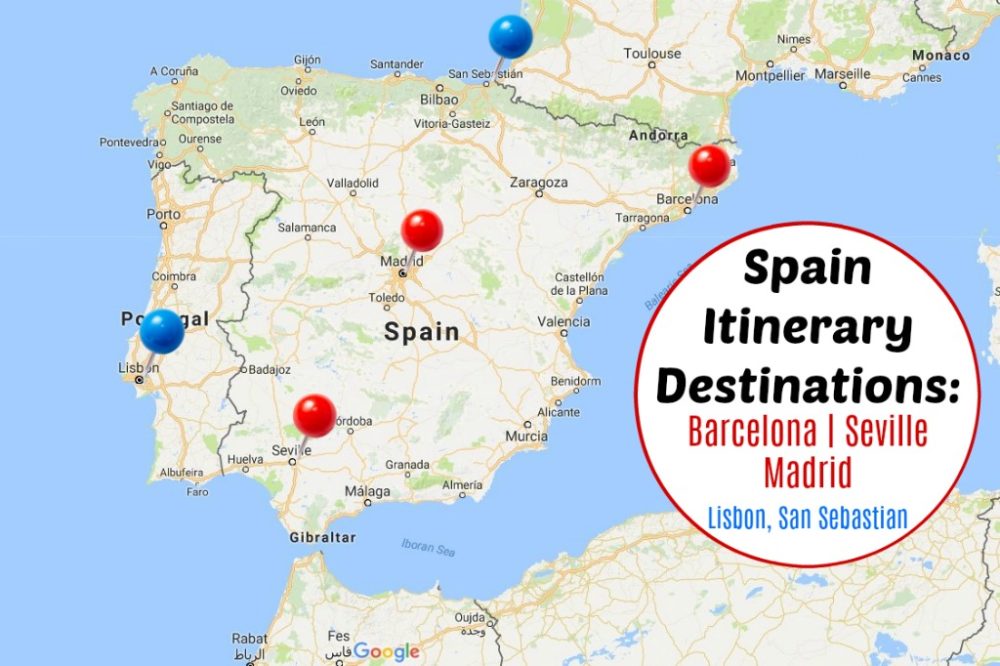 ---
Spain Itineraries Travel Info
When planning a trip to Spain, visitors need to consider how to get to each destination. (We detail tips on How To Get To Spain in a minute!).
Spain by Train Itinerary
Exploring Spain by Train is an incredible way to see the country. For our outlined itinerary, we wouldn't necessarily recommend buying Spain rail passes, as they are likely not an economical choice (but we always recommend doing your own research!). Instead, buy individual tickets in advance. Always compare ticket prices – as prices can differ according to type of train and time of ride.
Although we explored Spain by train, it is possible to also fly via airplane, self-drive with a rental car or take a bus. There are flights from Barcelona to Seville that take about the same amount of time and cost about the same amount of money as the train. We chose to take train trips in Spain because we wanted to view the scenery along the way. Flights are also available from Seville to Madrid but flying doesn't necessarily save time or money.
Compare routes, prices and times for Spain trains, flights and buses on Omio!
Road Trip Around Spain
For those interested in a Spain road trip from Barcelona, you can still use this itinerary as the base for your Spain Road Trip Planner. You will need to account for additional time on the road (drive times from Barcelona to Seville are 9+ hours depending on the Spain road trip route).
Search for the best car rental rates on Expedia!
---
Our Top Tips for your Trip to Spain
When to Go to Spain
If you are waiting for the best time to travel to Spain, it's…now! Summers can be crowded, but the days are longer (optimal for sightseeing!) and it's a great time for the beach. Winters are cool, but sunny, and the cities are beautiful when decorated for the holidays. (We spent Christmas in Barcelona and New Year's Eve in Madrid.) Autumn and Spring can be ideal, but the weather is unpredictable.
Where To Stay in Spain
During our visit to Spain, we stayed in Airbnb apartments. (Not already a member of Airbnb? Use this link to create an account and save money on your first stay!) We have found that staying in apartments is often less expensive than hotel rooms – with the added benefit of a kitchen and, usually, more space.
However, for those who prefer staying in traditional accommodations, there are many Spain hotels to choose from in – or close to – the city center in Barcelona, Seville and Madrid. Check out these top-rated hotels (based on guest reviews!) for your upcoming trip:
In Barcelona: Catalonia Magdalenes | Hotel The Serras | Hotel Casa Camper
In Seville: Hotel Casa Del Poeta | Hotel Amadeus & La Musica | Hotel Casa 1800 Sevilla
In Madrid: Francisco I | Catalonia Puerta del Sol | Preciados
Budget travelers can search for Spain Hostels in Barcelona, Seville and Madrid on Booking.com.
Getting To Spain
Our preferred method of getting anywhere is by flying (we are JetSetting Fools, after all!). All of the destinations included in our sample Spain itineraries – Barcelona, Seville, Madrid, San Sebastian and Lisbon – can be reached by plane.
For our highlighted 1-Week Spain Itinerary, we recommend booking a flight that arrives in Barcelona and departs from Madrid. To travel from Barcelona to Seville and from Seville to Madrid, we took the train, but it is possible (and possibly faster and/or cheaper) to fly.
Start your search for the best deals on airline tickets on Skyscanner.
Before You Go to Spain
Start planning your trip to Spain! Search for the lowest airfares, the best accommodations and fun things to do…then start packing! Want more travel planning tips? Head over to our Travel Planning page for more information and tips on traveling – and for country-specific information, take a look at our Travel Guides page!
We want to know: What would you add to our Spain Itinerary? What are your Spain must-see cities and sights? Give us your best tips and advice in the comment section!
Like what you're reading? Join the journey!
Subscribe to JetSetting Fools and get new blog posts and our quarterly newsletter direct to your inbox:

Pin it! See all of our travel pins on our JetSetting Fools Pinterest Board.