Hey there! Welcome to JetSetting Fools! You will find our best travel tips for destinations worldwide. Some of the links on this site are Affiliate Links and if you use them to make a purchase, we may earn a small commission. For more information, read our Disclosure Policy.
---
Chiang Rai, Thailand is often toured as part of a day trip to Northern Thailand from the more popular city of Chiang Mai. The 'Golden Triangle' tour, as it is often called, makes a short stop at the White Temple – the most famous of Chiang Rai attractions – but bypasses the city itself. While seeing the White Temple was high on our list of things to do in Chiang Rai, we knew there was more to see in the ancient city. Rather than breezing through on a Chiang Rai day tour, we booked 10 days in the city. Our longer stay allowed us to discover some of the top things to do in Chiang Rai.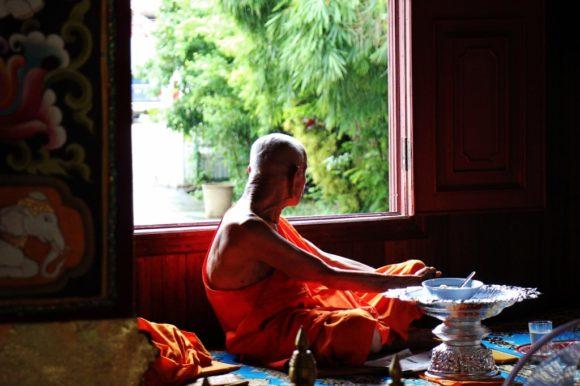 The 14 Best Things to Do in Chiang Rai
The city of Chiang Rai, Thailand was founded in the year 1262 and is filled with history and tradition, yet the city doesn't boast an obvious Old Town appearance. Chiang Rai tourist attractions are located throughout the city center – and just beyond the city limits. Chiang Rai sightseeing isn't limited to specific sights, but also includes experiences.
#1 Marvel at the White Temple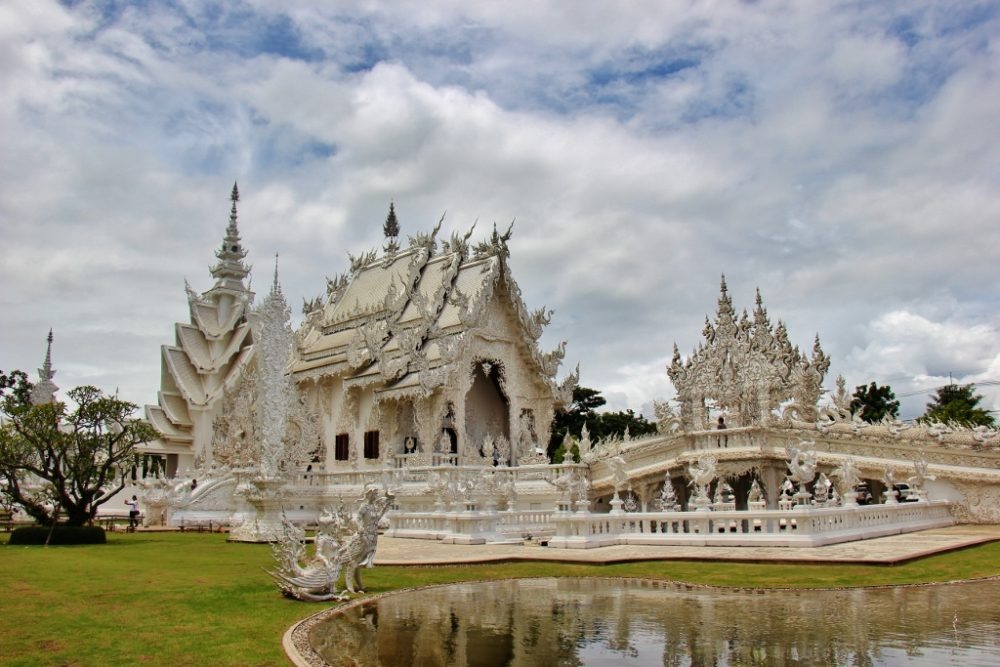 The intricately detailed, colorless White Temple (officially called Wat Rong Khun) is a Chiang Rai must-see. In a land of brightly decorated temples, the stark White Temple is captivating. The Chiang Rai temple was opened in 1997, replacing a previous temple that was in disrepair.
Renowned Thai artist, Chalermchai Kositpipat, designed and built the unique structure using his own funds (reportedly spending more than $1 million USD on the project so far). Not only does the temple stand out for its lack of color, but also incorporates elements not usually seen at temples, like the pool of reaching hands and carvings of caged heads (that are, quite frankly, a bit creepy), all of which illustrate symbols of the Buddhist beliefs (at least according to the artist).
When visiting the White Temple, take note of the stunning Golden Building, which oddly houses the bathrooms, and don't miss a walk through the Gallery, which contains paintings by Chalermchai Kositpipat (including one depicting US President Bush riding a missile).
Cost: 50 baht ($1.50 USD) entrance fee.
Getting There: We used Grab to get to the temple and then chartered a songthaew for the ride back; each ride costs 150 baht ($4.50 USD).
#2 Hike to Khun Korn Waterfall
Waterfalls abound in the mountainous region of Northern Thailand and there are several that are easily accessible from the city. Khun Korn (also called Khun Kon or Tat Mok) is the highest and most popular Chiang Rai waterfall and is within the boundaries of the Nam Tok Khun Kon National Forest Park. The waterfall plunges 230 feet from a rocky ledge into a small pool. In the dry season, visitors can swim in the water below the falls, but during our visit in the rainy season, the powerful flow was moving too fast to take a dip. We were still able to cool down from the hike though; we got drenched from the waterfall's mist just by standing on the trail.
The hike to Khun Korn waterfall is slightly strenuous, but well-worth the effort. The trail – which is mostly shaded – winds, curves and climbs through bamboo groves and lush jungle. Along the route, butterflies floated on the breeze and we hiked to the (almost deafening) sound of singing cicadas.
Cost: Entrance to the Khun Korn Waterfall is free.
Getting There: We chartered a songthaew from the main bus station for 500 baht ($15 USD) roundtrip, which included 2 hours wait time.
#3 Eat Northern Thai Cuisine
The cuisine in Thailand varies drastically from region to region – and in Northern Thailand the food is more influenced by neighboring Myanmar (Burma) and Laos than the country's southern regions. Sticky Rice (also called Glutinous Rice) is more popular than steamed Jasmine rice and, while many restaurants serve Pad Thai, the dish is not one of Northern Thailand's traditional meals.
For a taste of typical Northern Thai Cuisine, order a bowl of Khao Soi. The spicy meal is a combination of boiled noodles and thinly sliced meat in a curry broth that is topped with crispy, fried noodles (which add excellent texture!). It is served with a side of pickled cabbage, diced onion and half a lime. Our favorite place for Khao Soi was at Khao Soi Phor Jai (also spelled Pho Chai) – but don't look for a sign in English, because there isn't one. The open-air, simple restaurant is located on Jetyod Road (south of the Chiang Rai clock tower on the west side of the street) and features a blue interior with a red sign (which you can see here). The service is straight-forward, the menu is limited and each meal only costs about 40 baht ($1.25 USD).
While Kris would have been content eating nothing but Khao Soi during our stay, I was more inclined to sample a variety of cuisine. At lunchtime, we often followed the crowds of locals into non-descript, Mom-and-Pop restaurants selling plastic bags of soup-to-go or feasted on basic meals of Northern Thailand spicy sausage and rice. Our go-to local spot for a good, filling meal was Muang Thong – an unpretentious restaurant with a longer menu, including both Northern Thai fare and Asian food staples (try the Chicken with dried chili's and cashews!).
Hot Pot is a traditional, entertaining and interactive way to eat dinner and is a featured menu item at the daily Chiang Rai Night Market (more on that in a minute). While a clay pot of herb-infused broth is heated over a bucket of burning embers, you add noodles, egg, meat, vegetables and fresh herbs to the pot and let it simmer until it's ready to eat!
When we were craving something familiar, we dined at PadThai Thai Food and Drinks (delicious Pad Thai and the best Fried Rice!) and shamelessly indulged in cheeseburgers at SanFran Burger and Beer.
Cost: Meals range from 40 baht ($1.25 USD) for local eats to 150 baht ($4.50 USD) for Western-style food.
Getting There: Use this link for a Chiang Rai map of our favorite restaurants.
#4 Shop at the Night Market Chiang Rai
Like in many towns in Thailand and Southeast Asia, there is a nightly bazaar in Chiang Rai. When the sun begins to set and the temperatures start to cool, vendors set up shop in booths and pander their wares – mostly to tourists. There are some crafts, but the majority of the merchandise for sale are trinkets and clothing.
For us, the real reason to go to the market was for dinner and entertainment. There are two dining areas – one with wooden tables and chairs and a lengthy menu geared toward tourists and one with metal tables and chairs where the locals congregate. We spent more time at the 'locals' dining area, where there are three main food choices: Hot Pot, Tempura and Sushi. Drinks are sold from a separate stall and a popular option for groups is the Tower of Beer – 3 liters of local draft beer – and a side of ice.
Both dining areas feature stages and various acts perform throughout the evening, providing a bit of Chiang Rai nightlife. Traditional dance, acoustic guitar and lip-syncers wearing lavish costumes graced the stage – and it's all absolutely free.
Cost: The Chiang Rai Night Market is free!
Getting There: The market is centrally located; use this link to find it on a Chiang Rai Map.
#5 Contemplate the artwork at the Black House Chiang Rai
Often referred to as the Black Temple Chiang Rai, the 40 structures and grounds at Baan Dam (the official name) are actually a museum. Designed by Thawan Duchanee, a controversial Thai artist, the displays are thought-provoking for some, and love-it or hate-it for others. It can be agreed upon, however, that the Black House museum is one of the most bizarre attractions in Chiang Rai. The buildings are a mix of traditional wooden huts and contemporary round structures. One odd building is shaped like a whale – and the main entrance is through the open mouth.
However, the strangeness is not only in the architecture, but more so in the interior design. Each structure is uniquely 'decorated' with animals…as in skins, horns, bones and pelts. Snakes and alligators are used as table runners, bears have been made into blankets and an elephant skeleton hides below a deck. And, if that isn't enough to stimulate the mind and senses, several phallic carvings make an appearance in the design, as well.
Cost: 80 baht ($2.40 USD) entrance fee
Getting There: We chartered a songthaew from the main bus station for 300 baht ($9 USD) roundtrip, which included 1 hour wait time.
#6 Visit the Temples in Chiang Rai
While the White Temple is the most-visited temple in Chiang Rai amongst tourists, the ancient temples in the city center are also beautiful places to visit in Chiang Rai. Many temples are located throughout the city center – some of which we simply stumbled into. If they were open, we took at least a quick look inside (which is why you should always carry something to cover your shoulders and legs with while touring Chiang Rai). Not all temples had information in English, but enough did that we were able to better understand the history of the city. We recommend visiting these city temples on a Chiang Rai tour (but, bear in mind that this is in no way an exhaustive list of temples in Chiang Rai). For a Chiang Rai Map of Temples, use this link.
Wat Phra Kaew Chiang Rai
Wat Phra Kaew – also known as the Emerald Buddha Temple – is famous throughout Thailand. The legendary Emerald Buddha, which is believed to have been carved by gods, was discovered at the temple in 1434 when either lightning or an earthquake destroyed the chedi, revealing the Emerald Buddha had been hidden for 45 years. (The Emerald Buddha has since been on the move, making appearances in one of the temples in Chiang Mai, Luang Prabang, Laos and is currently housed in the Temple of the Emerald Buddha in Bangkok at the Royal Palace.)
At Wat Phra Kaew Chiang Rai, a replica Emerald Buddha and story-telling murals can be visited, as well as the 700-year-old Phra Jao Lan Thong. There is also a museum on-site that displays religious artifacts – with a book of explanations in English and a pond filled with turtles that are fun to watch during their mid-day feeding.
Wat Doi Ngam Muang
Wat Doi Ngam Muang is accessed by a steep staircase flanked by dragons. A stupa at the temple houses the cremated remains of the founder of Chiang Rai, King Phraya Mengrai. The temple also features carved woodwork, including the detailed doors and tall pillars near the entrance.
Wat Phra That Chom Thong
Wat Phra That Chom Thong (also spelled Wat Phra That Jom Thong) was built in the year 940. The golden Lanna-style stupa is one of the oldest holy relic ubosots.
The Navel City Pillar of Chiang Rai
On the grounds of Wat Phra That Chom Thong are the 108 pillars arranged as the Navel City Pillar of Chiang Rai. Locals pay their respects here by sprinkling water on the foundation.
Wat Phra Singh Chiang Rai
Built in 1385, Wat Phra Singh is one of the oldest temples in Chiang Rai and, at one time, housed an important Phra Singh image (which now resides at the Wat Phra Singh temple in Chiang Mai).
Wat Ming Muang
Partially under construction during our visit (which it appears to have been for quite some time), we were dazzled by the ornate and colorful design of Wat Ming Muang. The temple, which is about 700-years-old, is also a memorial to Queen Chommuang, mother of King Mengrai the Great.
Cost: All of the temples in Chiang Rai are free to visit.
Getting There: Use this link to a map of Chiang Rai temples.
#7 Stretch your muscles with a Traditional Thai Massage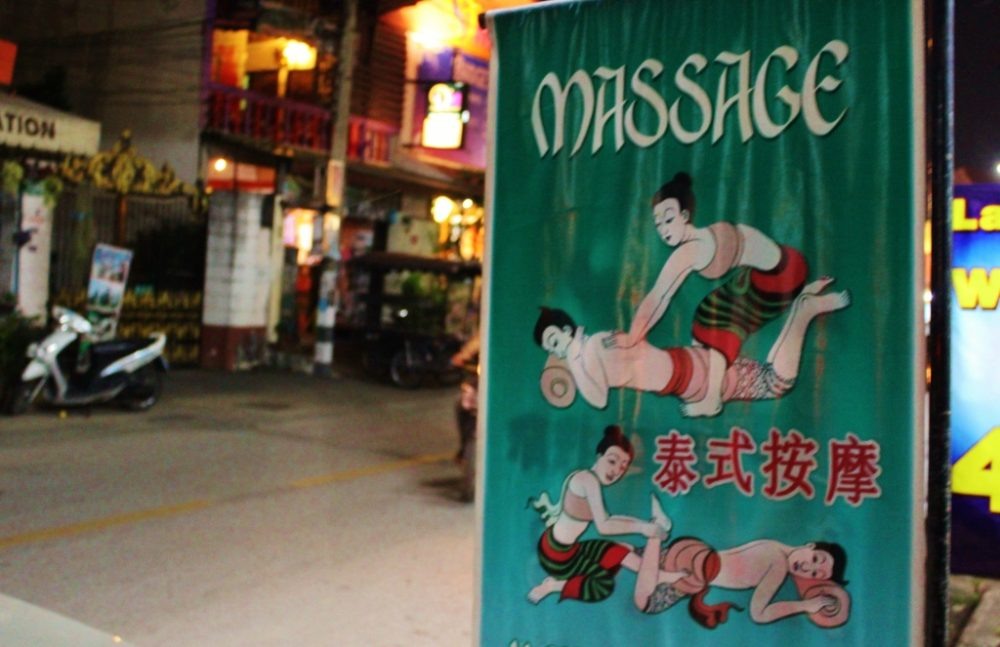 Getting a traditional Thai massage is one of the best things to do in Chiang Rai…and there are dozens of places offering inexpensive, hour-long massages in the city center. Unlike the relaxing massages that most Americans are used to getting at spas, Thai massages focus more on applying pressure and then stretching the muscles. The massage begins with washing the feet and then, after changing into the appropriate massage attire, the masseuse begins to work from the feet up the body to the head. For first-timers, the close relationship with the masseuse can be awkward, but in the end, it feels fabulous. However, if a traditional Thai massage isn't appealing, perhaps consider getting a foot massage instead.
(Read about our first time getting Traditional Thai Massages in Chiang Mai.)
Cost: 200 baht ($6 USD) or a one-hour Thai massage.
Getting There: Spas are located throughout the city center…you won't walk long without spotting one!
#8 Relax at Chiang Rai Beach
Another form of relaxation that doesn't require close contact with a stranger is a trip to Chiang Rai Beach, one of the little-known tourist attractions in Chiang Rai. But, don't get too excited: it's not that kind of Thai beach…so leave the beach ball and bikini at the hotel. The Chiang Rai Beach is a stretch of sandy embankment along the Kok River to the west of the city center (which, during rainy season, completely disappears). Rustic bamboo huts featuring floor mats are perched above the water's edge, allowing guests to kick back and relax with friends and a few beers. Local kids play in the water – and in dry season the river is low enough to cross to Wat Tham Phra (Buddha Cave).
Cost: Free to enter; drink and menu prices on par with restaurants in town.
Getting There: We took a tuk-tuk from the main bus station for 250 baht ($7.50 USD) roundtrip, including 1.5 hours wait time. If you take a tuk-tuk, make sure they understand where exactly it is you want to go. It might help to show them this: หาดเชียงราย
#9 Stroll the Walking Street Markets
In addition to the daily Chiang Rai Night Market, there are two weekend Walking Street Markets – a Saturday Walking Street Market and a Sunday Walking Street Market. The same vendors show up at both markets, but they are located on different streets. The Walking Street Markets are much better attended than the Night Market and if you visit Chiang Mai on a Saturday or Sunday it's a must-do!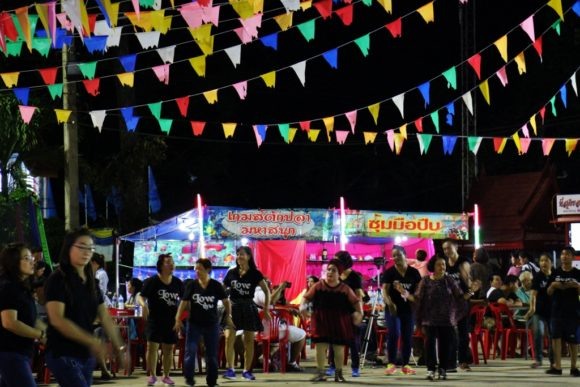 Join the flow of foot traffic (everyone walks in the same direction) as you shop your way down the street. Goods at the Walking Street Markets range from produce to shoes to cell phone cases and trinkets. Both markets feature a food street, stage and open space for dancing. Purchase plates of Pad Thai, whole grilled fish, sushi or fried insects, and then find a table or chair near the center stage to watch the locals dance – or, get out on the dance floor and join the fun!
Cost: Walking Street Markets are free!
Getting There: Use this link to find the Saturday Walking Market on a Chiang Rai map – and this link to find the Sunday Walking Market.
#10 Peruse the wares at the Daily Municipal Market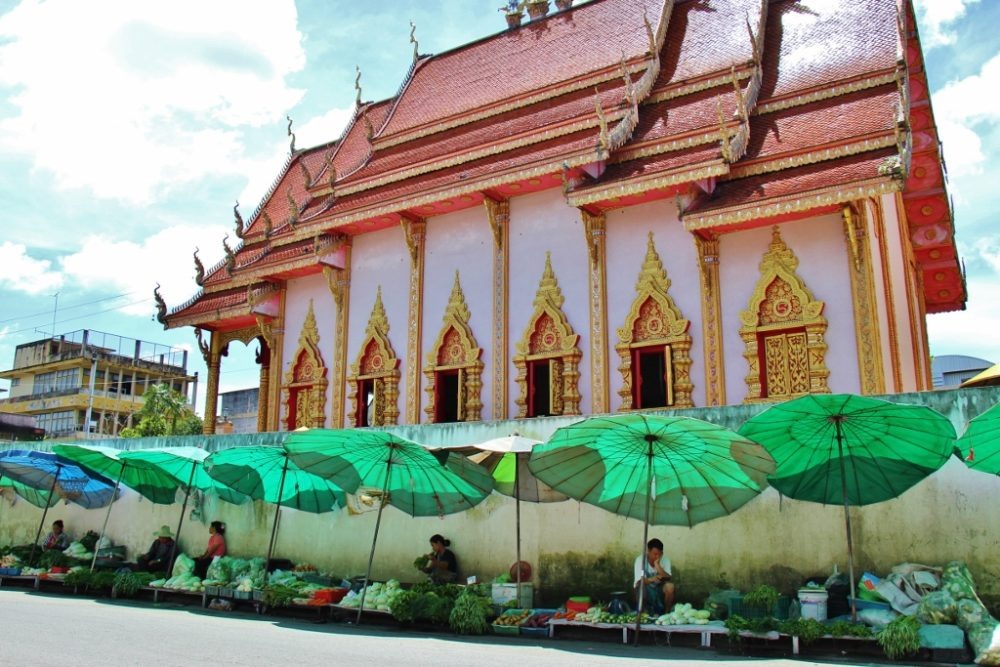 The Daily Municipal Market is one of the things to see in Chiang Rai that offers a glimpse into the local life in the city. The indoor Morning Market is a maze of stalls that sell everything – and anything – and is where many local residents do their shopping. Most of the fresh produce is sold on the sidewalk surrounding the perimeter of the market, but inside there are butchers, compact cosmetic shops, overflowing hardware stores and stalls selling kitchen supplies.
Cost: It is free to enter the Daily Municipal Market.
Getting There: Use this link to find the market on a map of Chiang Rai.
#11 Look up at the Chiang Rai Clock Tower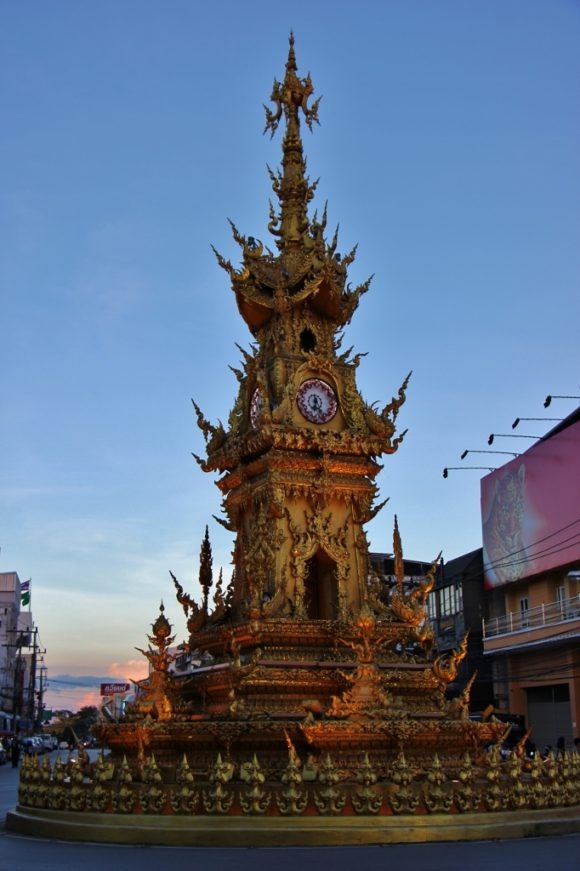 The opulent golden clock tower in Chiang Rai sits in the middle of a busy traffic roundabout at the intersection of Jetyod Raod and Thanon Baanpa Pragarn Road where motorbikes and tuk tuks buzz by it all day long. It was designed by Chalermchai Khositpipat, the same artist responsible for building the White Temple, in 2008. At 6:00, 7:00 and 8:00pm, colorful lights dance on the Chiang Rai clock tower, turning it pink, purple and blue.
Getting There: The clock tower in Chiang Rai is pretty difficult to miss, but use this link to find it on a city map.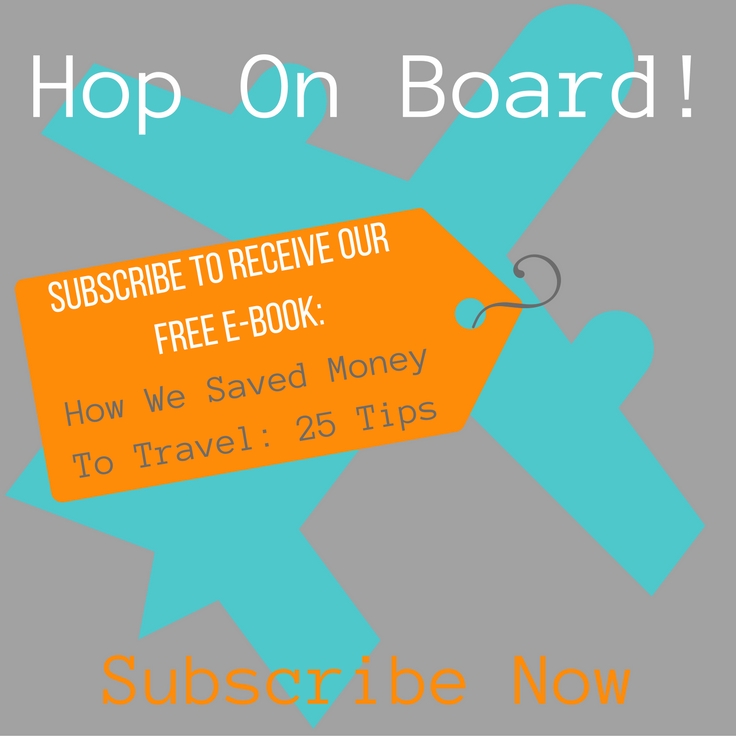 #12 Sip locally-produced Chiang Rai Tea
The region of Chiang Rai is well-known for its many tea plantations. The newly built and ultra-modern Choui Fong Tea farm is a popular day trip, but you can also taste locally-produced, organic tea in the center of Chiang Rai city. Suwirun Tea Shop sells more than 30 types of tea, including the regions Oolong Tea and an herbal lemongrass and butterfly pea tea that is blue in color.
The Suwirun Tea Shop also offers free tea making demonstrations (quite fascinating actually! I never knew making a proper cup of Thai tea required so much effort!) and tastings of their product.
Cost: Demonstration and tastings are free! Packages of tea are inexpensive – and make for a great gift or souvenir.
Getting There: Use this link to find Suwirun Tea Shop on a map.
#13 Watch sunset with cocktails
There are many places in the city to have a drink after a long day of Chiang Rai sightseeing, but there is one place where you can watch the sunset with a cocktail in hand: Dinner Late Café & Hangout. The stylish bar rises three stories with a small open-air, top-floor bar. In addition to the cocktails, they also are one of the few bars serving local and foreign craft beer.
Although the Chiang Rai nightlife was quiet during our visit, there are several bars around town to imbibe. On Jetyod Road, which we dubbed "Farang Street," a plethora of narrow bars line both sides of the street.
Cost: A bottle of a large, cold local beer (Chang and Leo) costs between 80-100 baht ($2.50-$3 USD). Cocktails and craft beer costs about twice as much.
Getting There: Use this link to find Dinner Late and the bars on Jetyod Road.
#14 Explore the café culture
While Chiang Rai remains one of the lesser-visited cities in Thailand, there are enough expats and backpackers in the city to warrant a thriving café scene. The air-conditioned, hip spaces offer free wifi and more expensive (but still cheap) fancy coffees and exotic-fruit smoothies.
Amongst the hip cafes in Chiang Rai, one novelty café stands out: Cat 'n' a Cup. At this café, patrons drink their beverage amongst the 30-or-so resident cats. The cats do as cats do: lounge around, sometimes curiously wonder onto laps (or laptops) and playful chase each other around the room. Treats, which can be purchased along with your coffee, guarantee an up close and personal encounter with an entire herd of cats.
Cost: Specialty coffee and smoothies cost 60-80 baht ($1.75-$2.50 USD).
Getting There: Use this link to find our favorite cafes, including Cat 'n' a Cup.
Our top tips for your Chiang Rai visit:
More on what to do in Chiang Rai
While there is plenty to do in Chiang Rai, the city is also a great starting point to explore more of Northern Thailand. Day trips from Chiang Rai head north to Myanmar (Burma), to hill tribe villages, the Opium Museum and to the Golden Triangle, where the borders of Thailand, Myanmar and Laos all meet. You can book tours of Northern Thailand and other Chiang Rai Tours in advance with Viator.
Where To Stay in Chiang Rai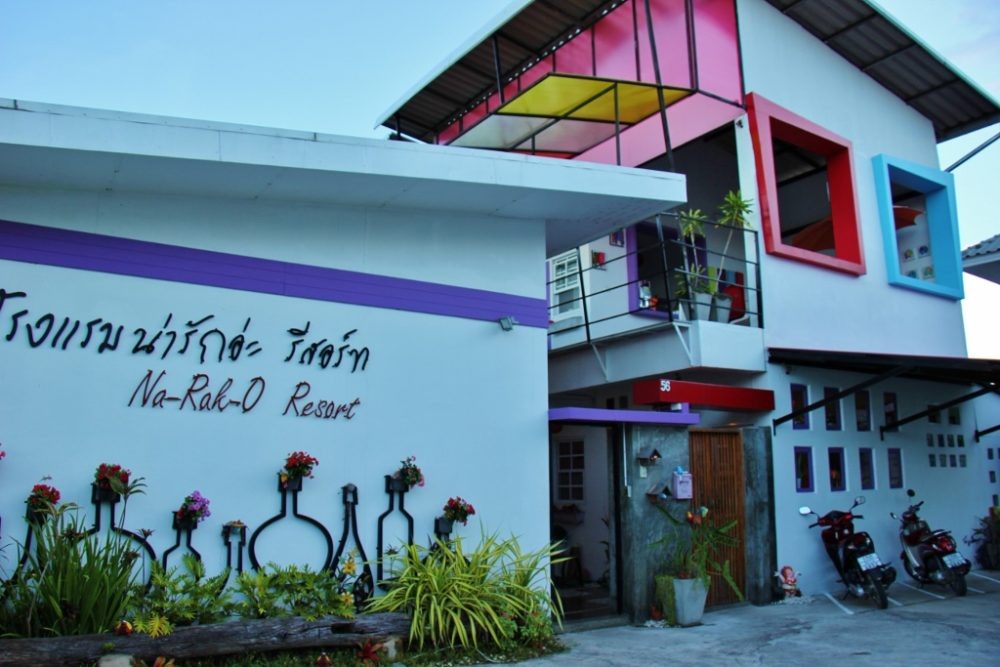 During our visit to Chiang Rai, we stayed at Na-Rak-O Resort, an economical and stylish hotel with an included cook-yourself breakfast – and a fantastic owner, Mam. It was centrally located, which is the best area to stay in Chiang Rai so that everything is within walking distance. There are many Chiang Rai hotels to choose from, which you can search here. Check out these top-rated hotels (based on guest reviews!) for your upcoming trip to Chiang Rai: Baan Jaru, Le Patta Hotel and Nak Nakara Hotel. Or, find a deal on a hotel room by bidding on Priceline.
We have often found that staying in apartments is often less expensive than hotel rooms – with the added benefit of a kitchen and, usually, more space. Chiang Rai holiday apartments can be searched on Airbnb (Not already a member of Airbnb? Use this link to create an account and save money on your first stay!), FlipKey (which is part of TripAdvisor) or on VRBO – Vacation Rentals By Owner.
Budget travelers can search for Chiang Rai Hostels – like Connect Hostel and Mercy Hostel. For a true bargain – and a unique experience – search for hosts on Couchsurfing, where travelers stay with locals for free.
Most hotels offer a Chiang Rai tourist map, so be sure to grab one from the front desk!
Getting to Chiang Rai
We flew from Bangkok to Chiang Rai, as our preferred method of getting anywhere is by flying (we are JetSetting Fools, after all!). We searched for the best deals on flights to Chiang Rai on Skyscanner and Flight Hub and booked a ticket with Nok Air. Chiang Rai can also be reached by bus from Chiang Mai.
Before You Go
Want more travel planning tips? Head over to our Travel Planning page for our complete packing list and other travel resources!
Start planning your trip to Chiang Rai! Search for the lowest airfares, the best accommodations and fun things to do…then start packing! Want more travel planning tips? Head over to our Travel Planning page for more information and tips on traveling – and for country-specific information, take a look at our Travel Guides page!
We want to know: What would you add to our list of things to do in Chiang Rai? How would you compare it to Chiang Mai? Give us your best tips in the comment section below!
Like what you're reading? Join the journey!
Subscribe to JetSetting Fools and get new blog posts and our quarterly newsletter direct to your inbox:

Pin it! See all of our travel pins on our JetSetting Fools Pinterest Board.