Hey there! Welcome to JetSetting Fools! You will find our best travel tips for destinations worldwide. Some of the links on this site are Affiliate Links and if you use them to make a purchase, we may earn a small commission. For more information, read our Disclosure Policy.
---
For anyone planning a trip to Thailand, passing through Bangkok is inevitable. On our first visit to Thailand, we only skipped through the city's airport while traveling from Siem Reap to Chiang Mai; we had heard Bangkok was a love-it-or-hate-it city and we weren't looking for a challenge. However, we felt like we missed out on seeing the capital city and, on a return trip to the country, Bangkok easily made its way onto our Thailand itinerary. Planning our Bangkok itinerary, however, proved to be a bit more difficult.
Although the city doesn't boast a long list of sights, it is a sprawling city filled with markets, temples and bars. Each neighborhood has its own character – and there is a long list of unique things to do in Bangkok. We wanted to explore Bangkok – and not just the tourist spots. There was no way we could see everything we wanted to see with just one day in Bangkok. Instead, we spent 7 days in Bangkok, slowly discovering (and eating our way through) the city.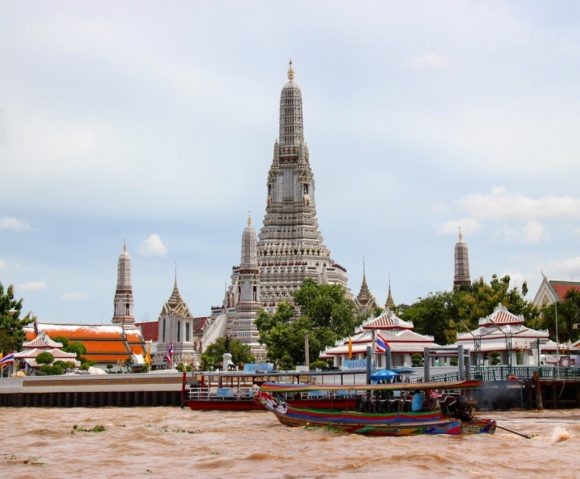 However, spending 4 days in Bangkok is plenty of time to see the highlights and get a good feel for the city. We created a Bangkok 4-day itinerary to help travelers more easily navigate the chaotic City of Angels – and we've included tips at the end of the post for people who are looking for a longer (or shorter!) Bangkok itinerary.
Note: Our Bangkok trip itinerary is ideal for travelers who want to experience Bangkok on a budget. The city is well-known as a budget destination, but costs can add up quickly. More on our Bangkok trip expenses below.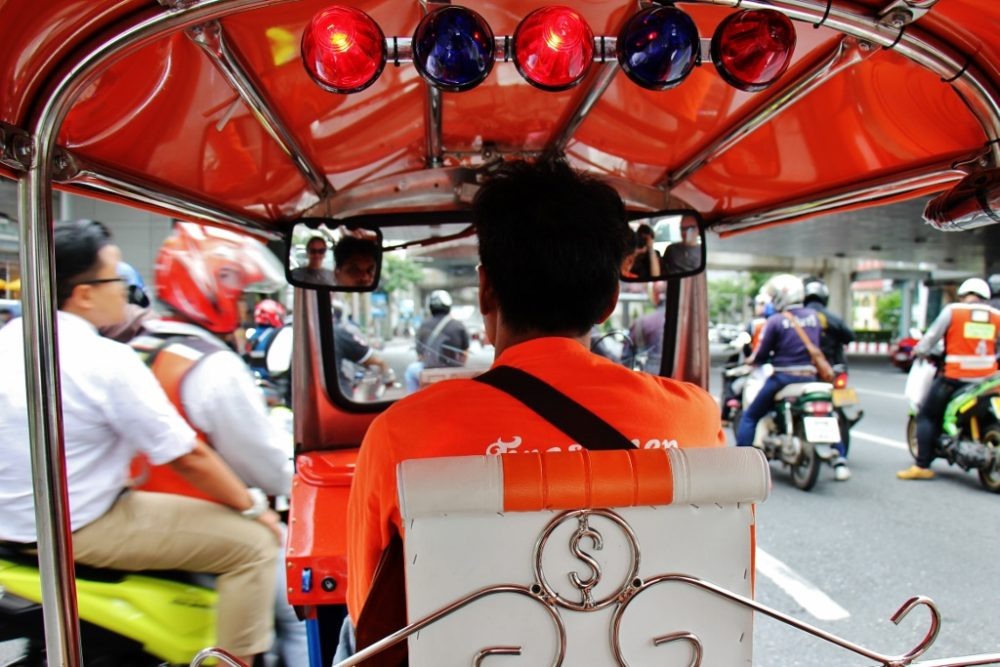 4-Day Bangkok Itinerary
Day 1
On Day 1 of our itinerary for Bangkok, you will visit some of Bangkok's most iconic places, from the Chao Phraya River, to several temples and the famous Khao San Road – then end the night with a classic meal!
Ferry on River
Kick off your trip with a ferry ride on the Chao Phraya River. The river has long played an important role in Bangkok, with the first settlements along the riverbank dating to the 15th century. The river was – and still is – a major transportation route. Cheap commuter ferries take passengers up and down the river for as little as 14 baht (40 cents USD) per ride. A ticket on the Tourist Boat costs more than 10 times as much – 150 baht ($4.50 USD), but the ticket is good for unlimited rides throughout the day…and is still inexpensive in terms of transportation costs.
Temple Tour Bangkok
Wat Pho
Wat Pho is Bangkok's oldest and largest temple – and home to the famous 151-foot-long reclining Buddha. The expansive grounds include a multitude of chedis, statues and the School of Thai Medicine (where you can stop and get a massage). Entrance into the complex costs 100 baht ($3 USD), which includes a bottle of water and information pamphlet. More info on Wat Pho on Wiki and traveler reviews of Wat Pho on Trip Advisor.
Grand Palace and Wat Phra Kaew
The Grand Palace was built in 1782 when King Rama I designated Bangkok as the new capital city of Siam. It served as the royal residence until 1925 and is still used for royal functions. The complex is made up of several buildings, including Wat Phra Kaew (The Temple of the Emerald Buddha). The entry fee is 550 baht ($16.50 USD), which was a little too steep for our Bangkok budget, but many tourists claim it is a must-see Bangkok sight. More information on the Grand Palace on Wiki and traveler reviews of Grand Palace on Trip Advisor.
Wat Arun
Hop across the river to Wat Arun (The Temple of Dawn), which is easily accessible via a 3.5-baht ferry crossing. The most striking feature is the central prang (tower) that is decorated in colorful ceramic tiles. More information on Wat Arun on Wiki and traveler reviews of Wat Arun on Trip Advisor.
More Sights on the West Bank of the River
If it is still early enough in the day (and the heat hasn't gotten to you yet), consider staying on the west bank of the river and taking a stroll south to a few more sights:
Wat Kalayanamitr – The colorful temple dates to 1825 and features a large sitting Buddha.
Kuan an Keng Shrine – Dedicated to the Goddess of Mercy, this Chinese temple has been standing for more than 200 years.
Santa Cruz Catholic Church – The church was first built in the 1770s after the arrival of Portuguese friars.
Wat Prayoon (Also called Wat Prayurawongsawat Worawihan) – The prominent feature at Wat Prayoon is Turtle Mountain, which has small spirit houses and is surrounded by a lake full of turtles.
Click here for a map of Bangkok sights on the west bank. Although the map routes the walk through the streets, there is a shoreline walkway that you can also take. At the end of your West Bank walk, cross Memorial Bridge to catch the next ferry.
Khao San Road
Known as a backpacker haven, Khao San Road is chock-a-block with cheap accommodations, rowdy bars and trinket shops. At night, the music is turned up, the neon lights are turned on and the street vendors peddle an incredible array of goods. For a low-key (and, dare I say, more mature) version of Khao San Road, head to nearby Rambutri Road.
Thip Samai for dinner
Thip Samai has a reputation of churning out the best Pad Thai in all of Bangkok. A line will surely wind down the sidewalk, past the busy cooks at the outdoor kitchen. Don't worry: it's worth the wait. The signature dish is Pad Thai wrapped in egg and a fresh orange juice. It may sound like an odd combination, but it is amazing!
Day 2
On Day 2 of our Bangkok trip planner, you will immerse yourself in Thai culture – including a visit to the city's largest market, a ride on a canal, a peek at life inside Bangkok's malls, and a Muay Thai fight.
Chatuchak Weekend Market
Touted as the largest weekend market in the world, the Chatuchak Market has more than 15,000 booths covering 27 acres just north of the center of Bangkok. The market is divided into 27 sections where shoppers can find everything from clothing and kitchenware to artwork and statues. There is an entire section of live animals – puppies, fish and squirrels being among the most popular. And, of course, delicious prepared food is offered throughout the market. We also stumbled onto a stall that was turned into a bar with live music and cold drinks (in the art gallery section).
Note: The Chatuchak Market is only open on weekends; if your trip doesn't coincide with a Saturday or Sunday, consider a market experience at Pratunam Market instead.
Muay Thai Fight at Channel 7
Thai Boxing – or Muay Thai – is the national sport of Thailand. The fierce competition takes place in a ring and the opponents use fists, feet, shins and elbows to fight their way to victory. The rowdy crowds surrounding the ring cheer with each strike and frantically place bets with their bookies standing nearby. The Muay Thai Fights at Channel 7 are free, but only happen on Sundays. If your trip to Bangkok doesn't include a Sunday – and a Muay Thai Fight is high on your list of things to see in Bangkok – you will have to purchase tickets to a Muay Thai Fight.
Jim Thompson House
The Jim Thompson House is an art museum located in central Bangkok. The structure was built in 1959 in the traditional Thai style by Jim Thompson – an American who owned a well-to-do Thai silk company, but mysteriously disappeared in Malaysia in 1967. The featured art at the museum is part of his personal collection of paintings and statues. Tickets cost 150 baht ($4.50 USD).
Ride a boat along the Khlong
Long before Bangkok was a city of scooters, tuk tuks and cars, the city was navigated by boat in the many narrow channels that served as streets. The canals (khlongs) earned the city the nickname of The Venice of the East, however, most have been filled in for vehicular traffic and only a few remain. A popular Khlong in the city center, Saen Saep Canal, runs east-west and offers both commuter ferries (for cheap) and a tourist boat (still pretty cheap, at 200 baht – $6 USD – for an all-day ticket). Unlike the ride on the river, the canal boat ride offers a glimpse into local life of those who live on the canal.
Bangkok Malls
We are rarely proponents of spending time in malls while traveling, with the exception of Bangkok…and it's not for the shopping! A trip to the mall in Bangkok comes down to one incredible thing: air conditioning. The fact that many malls also have stellar food courts that dish up cheap, local eats only makes it more appealing. We often found ourselves lingering over lunchtime meals while cooling down and being easily entertained by the busy atmosphere, but serious shoppers will delight in the choice of goods. Each mall has its own theme – whether it be cheap clothes (MBK), upscale designers (Paragon) or electronics (Pantip Plaza). Some malls are designed with a theme in mind like Terminal 21 – an airport-themed mall, complete with a 'pilot' that salutes you on your way in! More information on Bangkok Malls here.
Skywalk and Erawan Shrine
The Skywalk is a raised walkway the runs below the BTS Skytrain in Bangkok's central shopping district. The shaded footpath keeps walkers off the street and offers an elevated viewpoint of the city. Toward the eastern end of the Skywalk is the Erawan Shrine, which was built in 1956 to honor the Hindu god, Lord Brahma.
Sukhumvit Road
Sukhumvit Road is one of the longest boulevards in the world, running from Siam Square in the west almost to the border of Cambodia in the east. In central Bangkok, the road is home to luxury high-rises, malls, eateries, bars and some of Bangkok's most (in)famous nightlife: sex clubs. The two best known red light districts on Sukhumvit are Nana Plaza (located on Sukhumvit Soi 4) and Soi Cowboy (located at Soi 21). Both streets are filled with go-go bars, prostitutes and ladyboys all working under the glow of neon lights.
Want more details on Bangkok's sex industry? Sorry, no first-hand experience here, but if you're curious, you can find a complete (and I mean complete!) guide to Bangkok's go-go bars online at Bangkok Redeye.
Craft Beer
For those not interested in Bangkok's sex-trade streets, but looking for some fun places to drink good beer, there is plenty of that on Sukhumvit, too! Head further east on Sukhumvit and seek out craft beer bars, like rooftop bar Brewski. Or, use this Google Maps link to find more craft beer bars in the area. A word of caution for budget travelers: neither rooftop bars nor craft beer is cheap in Bangkok – expect to pay premium prices for both.
Day 3
On Day 3 of our BKK itinerary, you will spend the morning with locals at the city park and then peruse the booths of an authentic local market. Then, in the afternoon, get pampered at a spa and take in the views over the city from a rooftop bar.
Lumphini Park
In the center of Bangkok's soaring skyscrapers and sprawling concrete is Lumphini Park. The 142-acre green space was the first city park in Bangkok (designated as such post-World War I). The urban retreat includes trees, lakes, jogging paths and a giant statue of King Rama VI, who built the park in 1920 on royal grounds.
Khlong Toei Market
The Khlong Toei Market is considered one of Bangkok's last authentic markets. Rather than catering to tourists, the fresh market appeals to chefs and street food vendors from around the city who need to stock up on fresh meat, seafood and produce. The sights and scents are not for the faint of heart. Instead of kitsch stands selling gold cats waving a paw, shoppers at Khlong Toei Market will find entire stalls dedicated to one fruit or vegetable, crates of eggs stacked 30 high, fish on ice that are still wriggling and tables packed with an obscene amount of raw chicken.
Spa Treatment
As a budget-minded traveler, pampering myself at a spa is a rare occurrence, but totally affordable in Bangkok. There are hundreds of spas around the city offering ridiculously inexpensive massages. A quick foot massage can cost about $5 USD, while a two-hour traditional Thai massage can cost less than $15 USD. Just beware: Thai massages are all about applying pressure and stretching the body – and often feel more like a trip to the chiropractor than a relaxing massage. I think they are spectacular, but not everyone (like Kris) agrees with me. Read about our first Thai massage experience.
Sunset on a Rooftop Bar
Far from the scents, sounds, hustle and bustle of Bangkok's chaotic streets are the uber-posh rooftop bars. The open-air venues provide stunning views over the city and are a fantastic place to watch the sunset. The most popular rooftop bars – Sky Bar (featured in The Hangover 2) and Vertigo – come with a dress code and steep prices. Instead, we recommend heading to Zoom where they have a daily happy hour in the lounge (located just two floors below the rooftop deck with a small outdoor area – and try the Bangkokpolitan!).
Chinatown or Suan Plu
The Chinese settled the district in 1782 to sell goods shipped in from China. Today, Chinatown still is very much rooted in trade. Under the glow of neon lights, Yaowarat, Chinatown's main thoroughfare, comes to life at night. Food vendors line the street and, down alleys, shops overflow with goods. You could opt to take a tour of Bangkok Chinatown, like one of the many Food Tours.
For a less intense experience, head to Suan Plu. The low-key neighborhood has a decent mix of expats and locals. There are chic cocktail bars, like Smalls and Junker and Bar (Junker even has a happy hour with $3 USD cocktails…Cosmo on the Rock is highly recommended!) and cheap beer bars. In the evening, food vendors can be found along the main road and down Soi 8. Also on Soi 8 are fabulous restaurants serving international food at reasonable prices – like Uncle John (French), Nando Kitchen (Italian – NOT the chain!) and I'M Petra (upscale Thai, but not expensive and indoors with air con!).
Day 4
Bangkok is filled with vibrant markets, historic temples and interesting neighborhoods, but there are a few sights outside the city that can be reason to leave the center of Bangkok. The most popular Bangkok day tours include a floating market, Ayutthaya, and the Bridge on the River Kwai.
Day Trips from Bangkok
Floating Market
When Bangkok was a maze of canals, goods and produce were sold from boats rather than booths – thus, the name: Floating Market. Although very few traditional and authentic floating markets still exist, there are a handful of markets where vendors still paddle their goods down canals. Search for a Floating Market Tour to add to your Bangkok itinerary.
Ayutthaya Tour
Ayutthaya, the former capital of Thailand, was first settled in the year 1350. By 1700, it was the world's largest city with 1 million residents – until it was almost entirely burnt to the ground in 1767. However, a few ruins remain – including temples and palaces – and the city is now registered on the list of UNESCO Heritage Sites. Look for an Ayutthaya Tour to add to your trip to Bangkok!
Bridge on the River Kwai
The Burma Railway was built by the Japanese during World War II (1943) to connect Burma to the sea. The task was completed by forced laborers (prisoners of war) and many died during the construction. The war story is told in a 1952 book, The Bridge on the River Kwai. A tour to the Bridge on the River Kwai includes history about the war.
Note: With some extra effort, you can organzie this trip on your own for less money. Read about how to get to the Bridge on the River Kwai without a guide.
More Tours in Bangkok
There are many tours in Bangkok that don't leave the city at all! If having a Bangkok tour guide is a more appealing way to see the city sights, consider finding a guide on Viator or for the many tours available – like a Temple Tour, Thai cooking class or a Bangkok By Night Tuk Tuk Tour.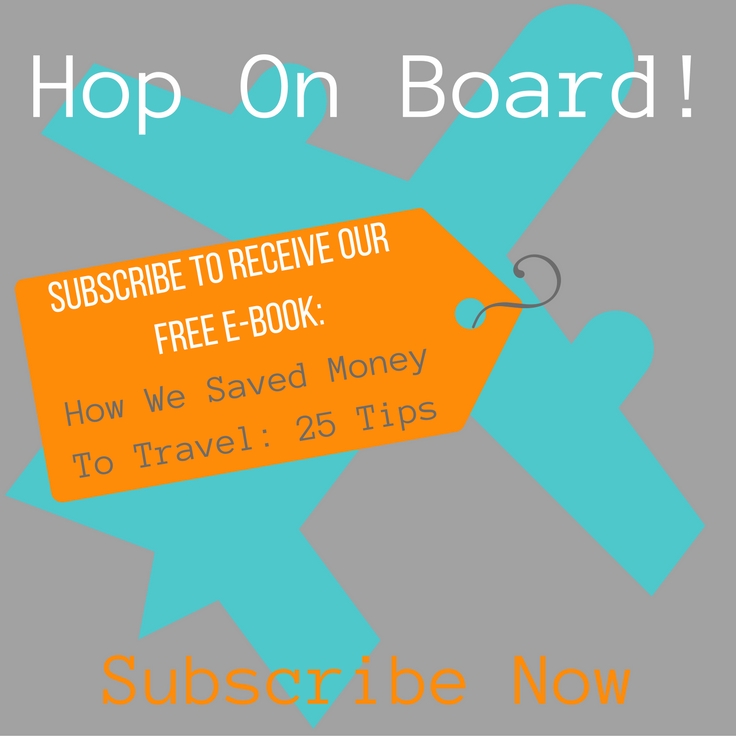 ---
Bangkok on a Budget
As we mentioned before, BKK is an affordable city and our Bangkok, Thailand itinerary was designed to showcase how you can experience the city without breaking the bank. There are many cheap things to do in Bangkok – with several sights being free or only charging a few dollars for entry (with the exception of the Grand Palace). However, Bangkok expenses can quickly add up – so it's important to set your Bangkok trip budget before going. Whether you are backpacking Thailand on a bare-bones budget or seeking a bit of luxury, it's easy to design a Bangkok budget trip.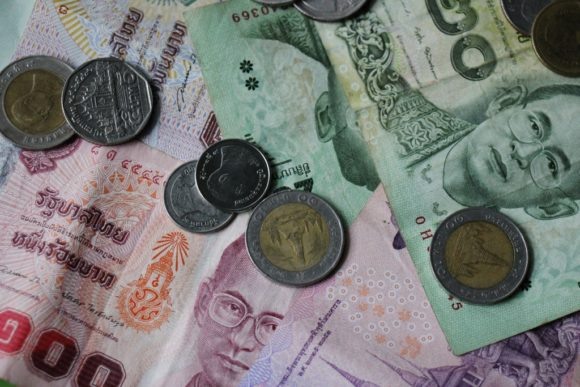 Currency
The Bangkok currency is the Baht, which is used throughout Thailand. You can check current conversion rates here. There are several money exchange offices (which we have heard have excellent rates), but we've always preferred to take out cash from local bank ATMs. However, in Bangkok, an astronomical fee of 220 baht ($6.60 USD) is now applied to every transaction – in addition to fees your bank will charge for foreign ATM and conversion. Therefore, it might be wise to attempt to calculate your total cash spending costs in advance of withdrawing cash and take the entire sum of money you will need at one time (which, of course, comes with its own pros and cons).
Bangkok Trip Cost
The biggest cost of a Bangkok trip is the accommodations – as it almost always is. Our second biggest expense was food, followed by drinks and then transportation. We barely spent any money on entertainment, as Bangkok prices for entry into sights is so low and much of our time was spent exploring markets and neighborhoods.
Budget Trip to Bangkok Breakdown of Costs
Finding a place to stay in Bangkok was a major task – which we detail more in a bit. After we chose where we wanted to be in the city, we were able to find a hotel that provided a basic breakfast (tea, coffee and toast) with an air-conditioned room for $30 USD per night.
Eating in Bangkok can be downright cheap, with most meals only costing a couple of dollars…unless eating Western food, which costs about 2-3 times as much. Street food and Mom-and-Pop restaurants are the best Bangkok budget options for cheap food.
Beers in Bangkok cost about $2 per bottle at a bar. Happy hours are a great opportunity to drink inexpensive cocktails – and beer is often discounted as well. Craft beer and all drinks consumed on rooftops are going to cost more…usually a lot more.
Getting around Bangkok is a little complicated, but doesn't have to be expensive. We like to get around most cities by walking, but for our Bangkok travel itinerary that would be impossible. The city is just too big…and too hot! Tuk tuks can be cheap, but it's also easy to get ripped off since there are no posted rates – and short rides often cost about 100 Baht ($3 USD). We steered clear of taxis for the same reason. However, we often used Uber, which was convenient for the set pricing and the detailed route map (so that we didn't end up getting driven around in circles just to rack up the rate!). Most of our Uber rides cost less than $4 USD, even when traveling longer distances.
The one caveat is that the traffic in Bangkok is deplorable – and minutes spent sitting in traffic cost money. Therefore, we mostly relied on public transportation that got us off of the roads– either the BTS Skytrain, the MTR subway or the ferries. All three systems use different payment methods: BTS requires a paper ticket, MTR uses tokens and ferries accept cash on board (or in advance from a ticket seller at a table) – but, it's a cheap and efficient method of traveling through the city. Fares on the BTS and MTR are charged by distance, with most rides costing about $1 USD. Tickets are purchased from machines and it is best to have small change available.
So, how much did our trip to Bangkok cost? We set our Bangkok trip budget at $100 USD per day for two people (for accommodations, food, drinks, transportation and entertainment) – and we came in just slightly under that amount at $98 USD per day.
---
Bangkok Itinerary Options and Tips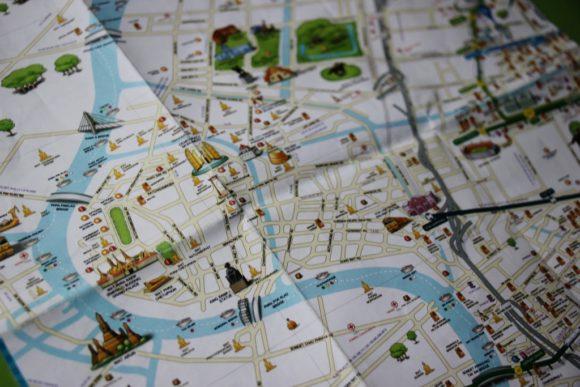 Our Bangkok in 4 Days itinerary can be used as a base for planning your trip to BKK, even if you have more or less time in the city. Simply adjust our itinerary in Bangkok to best suit you! Here are some BKK sightseeing recommendations for shorter or longer stays:
Bangkok Itinerary 2 Days
With only 2 days in Bangkok, we would see the iconic sights on the first day (Day 1 of our Bangkok itinerary) and then on Day 2, spend the morning at a market (and, if Sunday, at the Muay Thai Fight), the afternoon at a spa, sunset on a rooftop and the evening in Chinatown (combining Day 2 and 3 – and eliminating some sights).
Bangkok Itinerary 3 Days
For a Bangkok 3 Day Itinerary, we would stick to the first three days as outlined in the above itinerary for Bangkok.
Bangkok Itinerary 5 Days
If you are wondering what to do in Bangkok for 5 days, use our above outlined Bangkok itinerary and on your last day in the city start by visiting two more temples – Wat Suthat (and Giant Swing) and Wat Saket (Golden Mount). In the afternoon, go to the Dusit Palace complex where you can visit Vimanmek Mansion – a teak building once used as the royal residence, but now housing a museum on Thai culture – the Ananta Samakhom Throne Hall and equestrian statue of King Rama V.
Bangkok Itinerary 7 Days
For a one-week Bangkok itinerary, use our Bangkok 5 Day Itinerary, then on Day 6 spend your entire day at the markets. You can start at the popular riverside Flower Market or Amulet Market. Mid-morning, take a trip to the Maeklong Railway Market outside of the city and stay long enough to watch as a train chugs through the center of the market, forcing vendors to pull their merchandise off the tracks. In the evening, go to Chinatown or Suan Plu (whichever you didn't go to on Day 3).
By Day 7 you should have a feel for the interesting things to do in Bangkok – so revisit what you liked best! Navigate deeper into a specific neighborhood, go back to a favorite restaurant, get a second spa treatment or take in the view from another rooftop bar. Alternatively, take another one of the day trips from Day 4.
---
More Tips for your Trip to BKK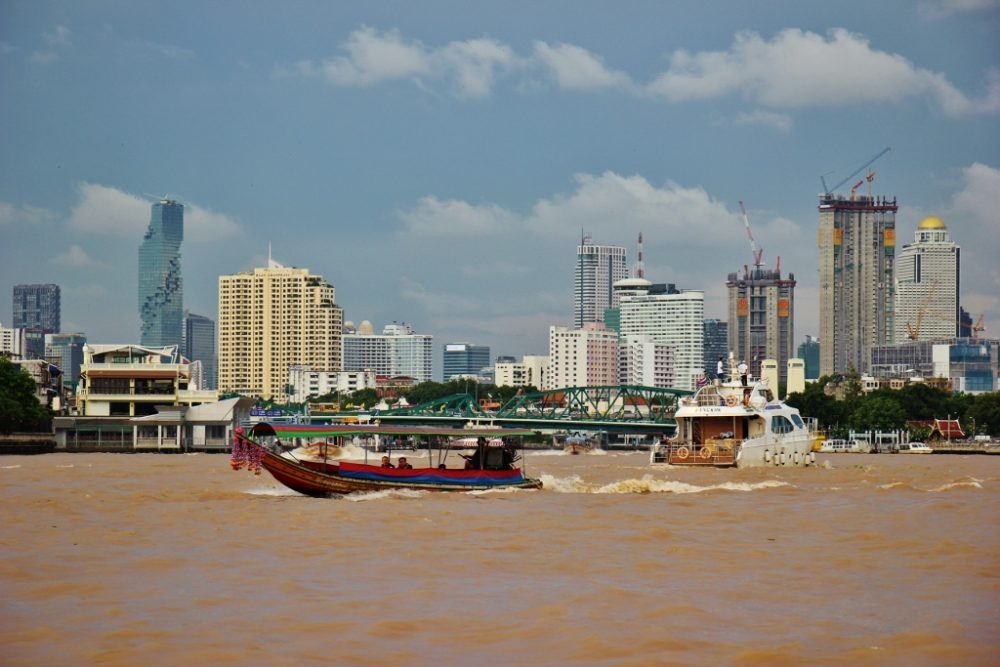 Where To Stay in Bangkok
Searcing for the best place to stay in Bangkok is no easy task! The city is huge – so the first step is to find the neighborhood you think you will like best. Airbnb has a Bangkok neighborhood guide that can help you choose where you want to stay, but important factors include distance to transportation, local vs touristy areas and area sights. The second step is to determine how much you want to spend on accommodations, which is based on several factors, such as air conditioning, pool and included breakfast.
During our visit to Bangkok, we stayed in Suan Plu in the Sathorn District at the Parvena Hotel. Although the hotel didn't have a pool, we weren't too fussed with a price of less than $30 USD per night. The room was clean and basic with a balcony and small fridge. The hotel offered a free breakfast of toast and coffee/juice and free tuk tuk transportation within a 3km distance. We absolutely loved the neighborhood, which was a mix of locals and expats, yet not overrun by tourists.
For those looking for accommodations in Bangkok, be assured: there are many, many, many Bangkok hotels to choose from, so it really comes down to what ammenities you want and how much you want to spend. Check out these top-rated hotels (based on guest reviews!) priced around $100 USD/night (at time of posting) for your upcoming trip: Hotel Clover Asoke, Centre Point Chidlom and Aetas Lumpini. Or, find a deal on a hotel room by bidding on Priceline.
Although we chose to stay in a hotel this time, we have found that staying in apartments is often less expensive than hotel rooms – with the added benefit of a kitchen and, usually, more space. Bangkok holiday apartments can be searched on Airbnb (save money on your first stay by using this link!), FlipKey (which is part of TripAdvisor) or on VRBO – Vacation Rentals By Owner.
Budget travelers who want to spend less can search for Bangkok Hostels – like The Cube Hostel or Dreamcatcher Bangkok. For a true bargain – and a unique experience – search for hosts on Couchsurfing, where travelers stay with locals for free.
Getting There
Our preferred method of getting anywhere is by flying (we are JetSetting Fools, after all!). However, due to our unique circumstances (flight benefits earned from years of service with a major airline), we rarely buy airline tickets. That being said, when we do need to purchase plane tickets, we start our search for the best deals on airline tickets on Skyscanner or Flight Hub.
Before You Go
Want more travel planning tips? Head over to our Travel Planning page for our complete packing list and other travel resources!
Start planning your trip to Bangkok! Search for the lowest airfares, the best accommodations and fun things to do…then start packing! Want more travel planning tips? Head over to our Travel Planning page for more information and tips on traveling – and for country-specific information, take a look at our Travel Guides page!
Like what you're reading? Join the journey!
Subscribe to JetSetting Fools and get new blog posts and our quarterly newsletter direct to your inbox:

We want to know: Have you spent time in Bangkok? What would you add to our Bangkok Itinerary? Tell us your best tips in the comment section below!
Pin it! See all of our travel pins on our JetSetting Fools Pinterest Board.