Hey there! Welcome to JetSetting Fools! You will find our best travel tips for destinations worldwide. Some of the links on this site are Affiliate Links and if you use them to make a purchase, we may earn a small commission. For more information, read our Disclosure Policy.
---
Berlin. Just the mention of the name conjures images of division and unity, war and peace, angst and optimism. While visiting the city, the horrific history is palpable, yet the mood is brightened by the vibrant and expressive side of Berlin. The sprawling center is teeming with sights: museums, memorials and parks. We understand how overwhelming planning a trip to Berlin can be – so we're helping by sharing a condensed version of our Berlin Sightseeing Guide: A 3-Day Berlin Itinerary. It is ideal for first-timers to Berlin who want to see as much of the city as possible – even on limited time. The condensed version includes all the sights of our 3-Day Berlin Itinerary – and we've even provided a link to more information for each sight and a link to Google Maps for each day of sightseeing.
Our Berlin Sightseeing Guide: A 3-Day Berlin Itinerary ebook, however, is much more robust. In addition to the links, we include information for each sight on our itinerary, as well as turn-by-turn walking/public transportation directions. We've done all the hard work of planning the necessary details for trip to Berlin – and it's available as an ebook for the introductory price of just $1.99.
About our 3-Day Berlin Itinerary
Sights are listed in order, as to be seen on a self-guided walking tour. There is a link to Google Maps for each day's sightseeing adventures.
Each sight listed is linked to more information about the sight, so that you can read about the history or highlights.
If there is a charge to visit a sight, it is indicated. If it is not indicated whether a sight requires a ticket or is free, it is public space.
Of course, local fare and German beers are not to be missed on a trip to Berlin – so we made sure to include those in our 3-Day Berlin Itinerary as well. Berliners have an affection for kebabs and currywurst – and while German beer consistently ranks as some of the best in the world, in Berlin young brew masters have recently started enhancing the tradition with a new wave of craft beer that is pouring through the city. The route of our 3-Day Berlin Itinerary incorporates getting a taste of kebabs, currywurst and craft beer, including specific restaurant and food tour recommendations.
We have packed our 3-Day Berlin Itinerary to the brim! It is possible to see each day's activities in one day; however, timing will vary based on your walking pace and how long each sight holds your interest. Be aware of opening and closing times and adjust according to your schedule and preference.

3-Day Berlin Itinerary
Set out on foot to explore the iconic sights of Berlin and the most poignant memorials and museums in the city.
Day 1
Start Day 1 of your 3-Day Berlin Itinerary in Pariser Platz at the…
DINNER AND DRINKS:
Beer & Currywurst Tour by Berlin Food Tour (reserve in advance, 44.90 euros per person)
Beer and Currywurst are two of things that Berlin does best! And there's no better – or more entertaining – way to discover these treasures than on the Beer & Currywurst Tour. The tour, which is led by the Berlin Food Tour founder, Bastian, features multiple stops. We ate and drank at the top spots for beer and currywurst in the city. In the small group setting, he encouraged interaction, welcomed questions and provided excellent tips and advice for visiting Berlin.
Tip and Maps for Day 1 of our 3-Day Berlin Itinerary
Tips:
If a self-guided tour of Berlin isn't your style, join a Berlin Walking Tour to explores the highlights, history and hidden sights of the city.
Looking for a different kind of culinary tour? Check out the Berlin Food Tour by Bike.
Maps:
Day 2:
Start Day 2 of your 3-Day Berlin Itinerary in the city center at…
Tip and Map for Day 2 of our 3-Day Berlin Itinerary
Tip: If you are more keen on learning about the artistic side of Berlin, we suggest taking the Berlin Street Art and Graffiti Workshop tour. There is also a Free Alternative Berlin Tour (tip-based, starting at 11am or 1pm, 3 hours) -or complete your own self-guided tour of Berlin's Street Art.
Map: Link for Google Maps for Sightseeing on Day 2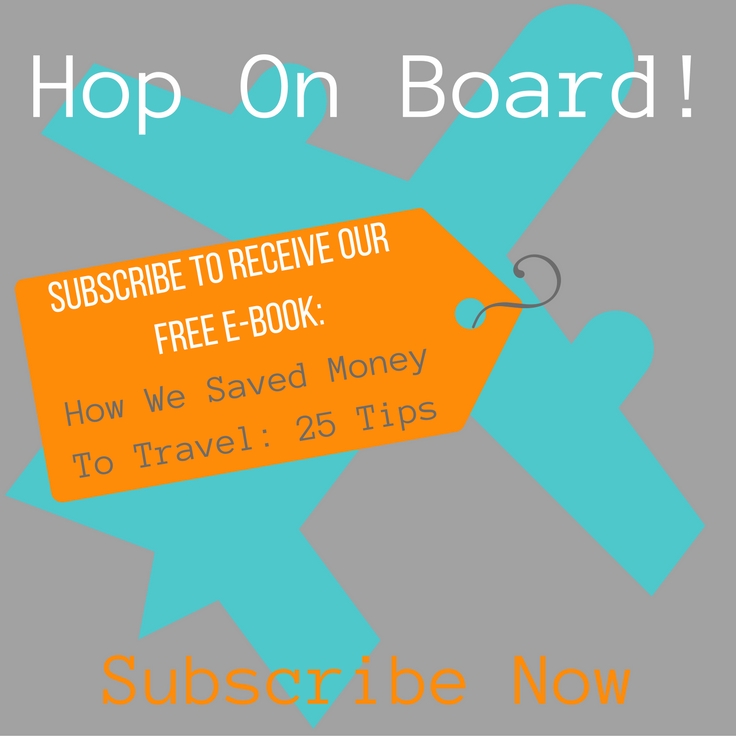 Day 3: Berlin Parks
Start Day 3 of your 3-Day Berlin Itinerary south of the city at…
DINNER AND DRINKS
Tip and Map for Day 3 of our 3-Day Berlin Itinerary
Tip: Too hungry for the 25-minute wait for Mustafa's Kebab? Continue walking south to Curry 36 and order a currywurst snack as an appetizer – and eat it while standing in line at Mustafa's.
Map: Link to Google Maps for Sightseeing on Day 3
Save yourself the hassle and time of researching how to get from sight to sight with our Berlin Sightseeing Guide: A 3-Day Berlin Itinerary – available for just $1.99!
More information for your 3-Day Berlin Itinerary
Berlin Welcome Card
Berlin is a big city, no doubt, but it is well-connected with public transportation. Routes can be determined using the official BVG site and tickets (single ride, daily, weekly or monthly) can be purchased at U-Bahn and S-Bahn stations or on buses and trams. However, tourists visiting Berlin will most likely benefit from purchasing a Berlin Welcome Card, which includes all public transportation and various discounts for the specified number of days. (Available for 48 or 72 hours – or 4, 5, or 6 consecutive days in Zones A & B or A, B & C. The Berlin Welcome Card Museum Island has the additional benefit of museum entry.)
With the card, we never had to worry about buying or stamping tickets – which made using public transportation a breeze. We wouldn't go to Berlin without a Welcome Card!
For more information about sightseeing in Berlin, go to Visit Berlin, the official Berlin Tourist site.
Berlin Day Trips
With more time in the city, consider a day trip from Berlin. A few of the most popular Berlin Day Trips are: Sachsenhausen Concentration Camp, Potsdam and Dresden (but read our 3-Day Dresden Itinerary to see why you might want to stay longer than a day!)
For a longer European itinerary to includes a stop in Berlin, check out Intrepid Travel's Berlin to Venice 15-day trip.
Where To Stay
During our visit to Berlin, we stayed in an Airbnb Apartment. (Not already a member of Airbnb? (Use this link to create an account and save money on your first stay!) We have found that staying in apartments is often less expensive than hotel rooms – with the added benefit of a kitchen and, usually, more space. Berlin holiday apartments can also be searched on FlipKey (which is part of TripAdvisor) or on VRBO – Vacation Rentals By Owner.
However, for those who prefer staying in traditional accommodations, there are many Berlin hotels to choose from in – or close to – the city center. Check out these top-rated hotels (based on guest reviews!) for your upcoming trip: Casa Camper Berlin, Regent Berlin and Hotel am Steinplatz. Or, find a deal on a hotel by bidding on Priceline.
There are also many hostels in Berlin, such as Minimal Hostel, The Circus Hostel and EastSeven Berling Hostel. Budget travelers – and those seeking truly local experiences – might want to consider Couchsurfing – where guests stay with local hosts for free.
Getting There
Berlin can be reached by plane, train, bus or car.
Our preferred method of getting anywhere is by flying (we are JetSetting Fools, after all!) and we start our search for the best deals on airline tickets on Skyscanner or Flight Hub.
To get from city to city when flights are not possible, we usually rely on public transportation and take trains or buses. In Europe, our preferred bus company is FlixBus – as it is economical, clean and comfortable with on-board wifi, seat-back entertainment, refreshments and a toilet. We aren't keen on driving abroad, but renting a car can often save time and money (especially when traveling with more than two people) – and it allows for greater discovery.
If Visiting in Winter
Brrrrrrr-lin. That's how we pronounced the city as we were there in the middle of winter. It was freezing cold and snow blanketed the city, but it didn't keep us from exploring! With the well-connected public transportation and bevy of museums, churches and pubs, we stayed plenty warm. Tip: If you are visiting Berlin in the winter, pack clothing that can be layered and good, winter shoes or boots. Note: If you are visiting Berlin in any season other than winter, imagine many more people and much brighter colors than what appear in our photos.
Before You Go
We're certain you'll be snapping tons of photos during your trip. Rather than relying on your mobile phone to capture the sights, upgrade to an actual camera for higher quality photos (that can later be used to create a beautiful travel photo book). We travel with a Canon Rebel (which takes amazing photos, but can be a bit clunky) and a Canon PowerShot ELPH (which takes beautiful pictures, is slim and lightweight – and the new models are wifi enabled so you can share your trip pics to social media in real time!).
Want a guide with more information? Buy our Berlin Sightseeing Guide: 3-Day Berlin Itinerary ebook for the introductory price of just $1.99.
It's easy to get turned around or lost in any new city! Be sure to have a good city map – and, if you lack sense of direction, a compass – prior to arriving.
We think travel insurance is essential! If you haven't already obtained travel insurance for your trip, travel protected with World Nomads.
Want more travel planning tips? Head over to our Travel Planning page for our complete packing list and other travel resources!
Like what you're reading? Join the journey!
Subscribe to JetSetting Fools and get new blog posts and our quarterly newsletter direct to your inbox:

Pin it! See all of our travel pins on our JetSetting Fools Pinterest Board.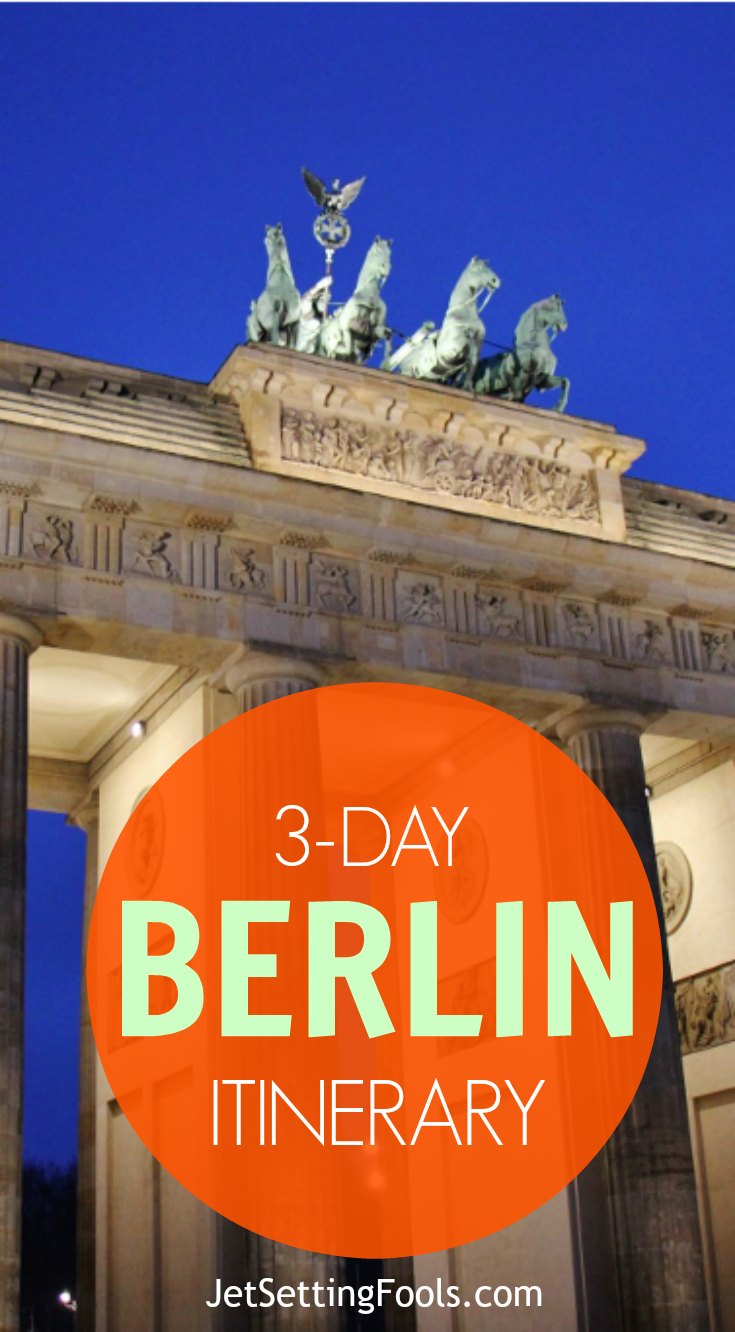 We would like to thank Visit Berlin for assisting us with our trip to Berlin. While we did receive support from Visit Berlin, all of the opinions contained in this post are our own.