Hey there! Welcome to JetSetting Fools! You will find our best travel tips for destinations worldwide. Some of the links on this site are Affiliate Links and if you use them to make a purchase, we may earn a small commission. For more information, read our Disclosure Policy.
---
Las Vegas, Nevada reigns as the Entertainment Capital of the World, wooing an incredible number of diverse visitors from every corner of the earth. The city was built on gambling and bawdy nightlife, but today, Las Vegas spoils guests with a wide range of activities and attractions. In fact, there are so many things to do in Vegas that creating a Las Vegas Itinerary can be quite the conundrum. To help fellow travelers – especially Vegas First-Timers – we have created a perfect plan for spending 3 days in Las Vegas.
3 Days in Vegas
A 3-Day trip to Vegas allows just enough time for visitors to get a taste of what the city has to offer – and trust us, it has a lot to offer! On a 3-day Vegas trip, visitors can see the flashing neon lights, eat at celebrity chef restaurants, gamble at flashy casinos and visit top city attractions…and that is just on Day One!
Our trip plan is ideal for a long weekend in Vegas – but it works just as well for weekdays, too. Vegas is always buzzing, so it doesn't matter if you are spending a weekend in Vegas or tacking a few extra days onto a business trip, there are no dull days in Las Vegas!
Additionally, we understand that not all travelers planning a trip to Las Vegas intend on spending 3 days in the city. Some visitors are breezing through on a day trip to Las Vegas, while others are planning to spend 4 nights in Vegas. Therefore, we have outlined Las Vegas itineraries for longer and shorter stays at the end of the post.
First Time Vegas: Must-Do Activities
My first time to Vegas was a birthday trip to celebrate with friends. Beyond getting ourselves to the city, we had done little in the way of research. While the weekend was, no doubt, a memorable one, our very loose plans resulted in missed attractions and overlooked sights.
On a return trip, I was eager to make up for what I skipped on my first time in Vegas. I designed an itinerary for Las Vegas that featured city highlights beyond the casinos and pool parties – and it was fascinating!
As I planned subsequent trips (and while living in Phoenix for 10 years, there were countless subsequent trips!), I challenged myself to see more of the city. On each visit, I realized just how much I missed on my first time in Las Vegas.
To help other travelers, we created our Las Vegas 3-Day Itinerary with first-time Vegas visitors in mind; it is essentially a "First Time Vegas Must-Do List." That said, visitors who had a first-time Las Vegas experience like mine and are now making a return trip to the city will certainly find our Vegas Itinerary useful as well!
Pro Tip: How to plan a trip to Las Vegas will depend on your interests, budget and overall time-frame for your trip. While we highlight what we think is the best plan for things to do in Vegas for first-time visitors, our outline can also be used as a base for a Vegas itinerary for couples or even a Las Vegas family itinerary – with just a few tweaks.
LAS VEGAS ITINERARY
Our "3-Day Itinerary: Las Vegas for First-Timers" is formatted in a day-by-day trip plan. In addition to our Las Vegas 3-Day trip outline, we include tips for alternate length stays – and advice for how to get there (and around!), where to stay and what to pack.
Everything you need to plan your trip is in our 3-Day Vegas Itinerary! Save, Pin or Bookmark this Vegas blog post so that you can easily access it while you plan – and during – your trip!
DAY 1 of Your 3-Day Las Vegas Itinerary
On the first day of your 3 Days in Vegas Itinerary, kick off your trip with a few iconic Vegas experiences.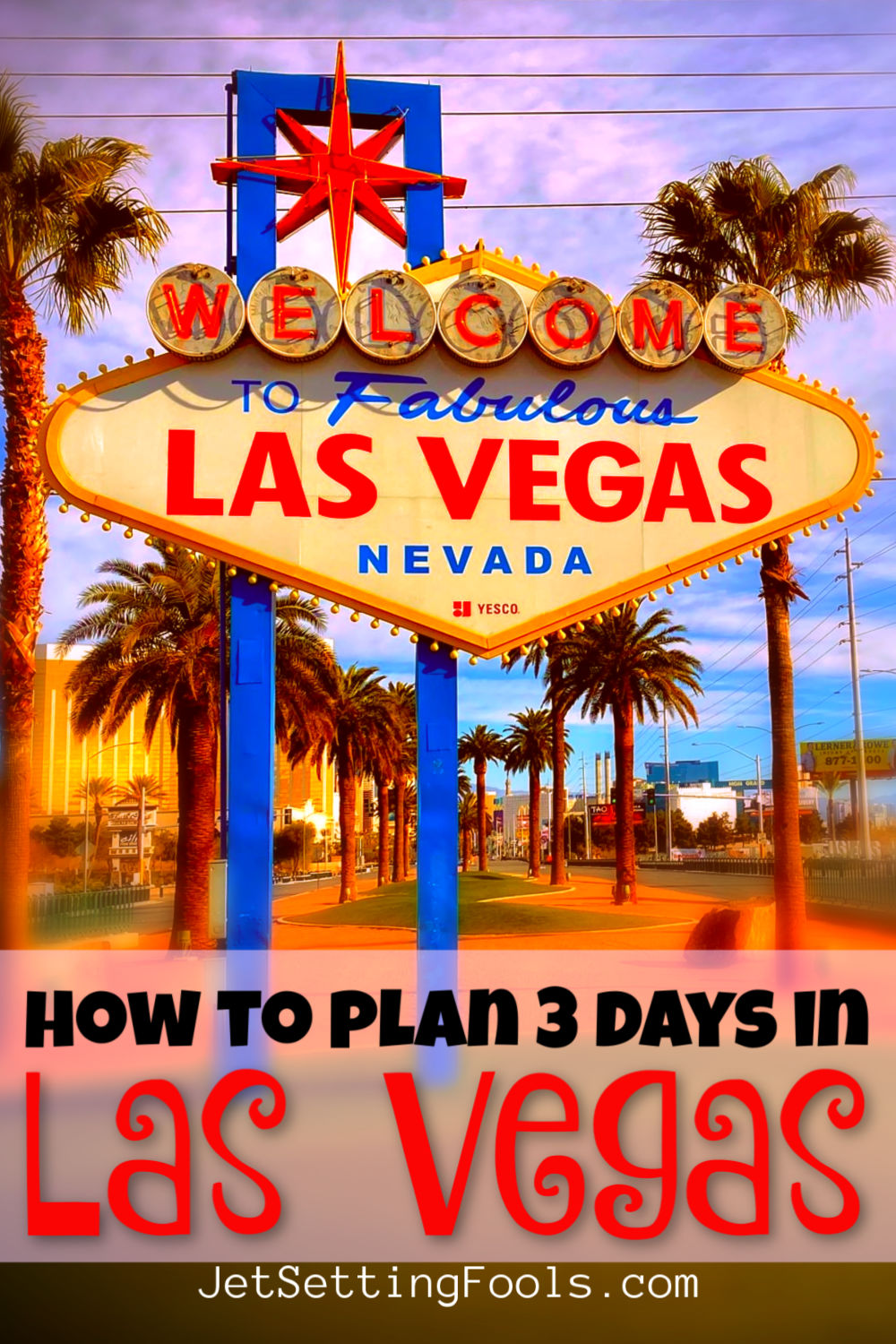 Swing by the Welcome To Fabulous Las Vegas Sign
Welcome to Vegas! If it is your first time in Las Vegas, swing by the Welcome to Fabulous Las Vegas sign. Located at the south end of The Strip next to the airport, it is one of the most famous signs in the world. The sign was designed in 1959 and is listed in the National Register of Historic Places. There is a parking lot, so you can get out of the car and get your picture taken in front of the iconic Las Vegas sign.
Pro Tip: If you are arriving by plane and taking a taxi or Uber from the airport, you can ask your driver to make a stop at the sign.
Check Into Your Accommodations on The Strip
With just three days in Las Vegas, staying on The Strip is essential! There are many hotels to choose from – and we go into more details on where to stay in Vegas at the end of the post.
Hit The Casinos
Once you get settled into your hotel, it is time to hit the ground running…by going straight to the casino. Las Vegas casinos are elaborate rooms filled with gambling tables, slot machines and a cacophony of ringing bells and falling coins. On a first trip to Vegas, the dimly lit, maze-like casinos are bewildering, but soon the flashing lights and noisy slots fade into the background.
Gambling in Las Vegas can be intimidating – but it is a Vegas must-do for first-timers! The slots are a good place to start – and many casinos still have Penny Slot machines, which can literally provide hours of entertainment. All casinos have table games – like Blackjack, Poker, Roulette and Craps – and most places have tables with minimum bets of $5 (although, it is often 3 times that much at luxury casinos).
One of the best things about casinos, however, is that while you are playing, waitresses will bring you free drinks (just remember to tip them!).
See the Sights on The Strip
Now that you are getting warmed up, it's time to step out onto The Strip – officially known as Las Vegas Boulevard. The extravagant casino complexes that line The Strip are a spectacular sight – especially as the sun starts to set and the neon lights begin to glow. While the scene in its entirety is astounding, sights like the Bellagio Fountain are a must-see.
Bellagio Fountain shows – a water, music and light extravaganza – take place throughout the day and you can find a schedule on the official website. Beautiful both day and night, the shows are absolutely free for everyone to enjoy!
Another fantastic Las Vegas Strip sight – and one to definitely include on a Las Vegas itinerary for family – is the Mirage Las Vegas Volcano.
Pro Tip: One of the most deceiving facets of the city is that objects are further than they appear. The colossal size of the casino resorts is staggering…and it means that it can take 15 to 20 minutes just to walk to the property 'next door'. It's important to factor in walking time to your overall plan; we talk more about the best ways to get around the city at the end of the post.
Dine Like a Celebrity
Vegas – a city with thousands of restaurants – has gained a reputation as a foodie city in recent years. In fact, there are more than 50 celebrity chef restaurants in Las Vegas – from Guy Fieri's Vegas Kitchen to Gordon Ramsay's Hell's Kitchen to Giada and Nobu. The choices are overwhelming, where you decide to dine really depends on your tastes – or favorite celebrity chef.
Las Vegas Show
Shows in Las Vegas gained popularity in the 1950s…and they have only gotten bigger and better since then. Some of my best weekend trips to Vegas were highlighted by a Vegas show. Garth Brooks at The Wynn is, hands down, one of the best concerts I have ever attended in my life…but sadly his stint in Vegas is over.
Some of the top Vegas performances are Cirque du Soleil (including Love, One, Ka, O and Mystere), La Reve, Blue Man Group, Penn & Teller and David Copperfield. Ticket prices vary by show, but you can find info and tickets on Viator.
Pro Tip: If you are planning a Girls Weekend in Vegas Itinerary, you might want to get tickets to the Thunder Down Under male revue – and, for guys planning a Vegas Bachelor Party Itinerary, check out X Burlesque for a tasteful topless dance show.
DAY 2 of Your 3-Day Itinerary Las Vegas
On Day 2 of your Vegas 3-Day Itinerary relax, feast, let loose and have some fun – Vegas-style!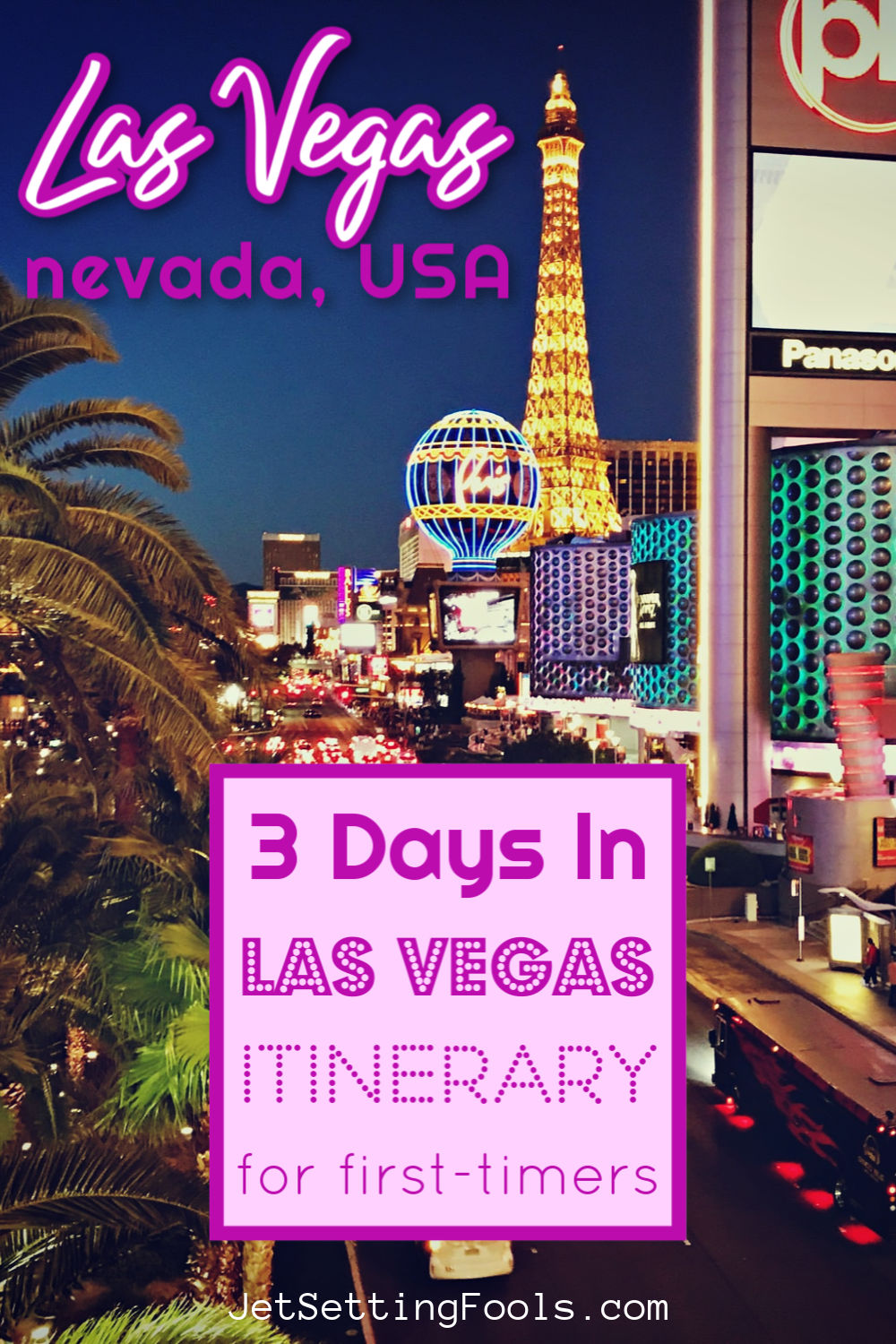 Ease Into Your Day with a Spa Treatment
Start your second day of your three days in Vegas with a refreshing spa treatment. Going to the spa is a fun activity to include on a Vegas Bachelorette Itinerary, a solo Vegas trip or even a Las Vegas Couples Itinerary!
Spa treatments range from traditional spa packages – like massages, facials and pedicures – to unique procedures. For example, guests can get a water Watsu Massage at Bellagio, a reviving Royal Flush IV treatment at MGM Grand or even a Turkish bath experience in the Hammam at The Cosmopolitan.
Pro Tip: If spas are not your cup of tea, instead do a Casino Shuffle! Visit a few of the casinos that you have always wanted to gamble in – like Aria, Cosmopolitan and Wynn. When I did this with my sister, we played a small amount of money on the slots at each place. It was a fun way to see and experience the grandeur of each casino.
Sample the Fare on a Food Tour
Rather than choosing just one spot for lunch, let a guide lead the way to the best tastes on The Strip! The local guide shares insider tips, hidden gems and a little bit of Vegas history, too – making it a fantastic introduction to the city. Book it now!
Experience a Pool Party
Las Vegas Pool Parties are legendary – and a must on your Las Vegas trip itinerary! Essentially day time clubs, international DJs spin music and bartenders sling expensive cocktails in an absolutely energetic atmosphere. The parties are wildest on weekends, but there is usually at least one resort hosting a pool party every day of the week.
Choosing which pool party in Vegas to go to will depend on your style! One of the best pool parties we attended was Wet Republic at the MGM Grand. Other popular picks are Encore Beach Club, Daylight and Marquee Dayclub. It is important to note that many pool parties charge a cover fee and have dress codes – so be sure to check the specifics.
Of course, if you just want to lounge around the pool and take a dip – without the debauchery – every resort on The Strip has a dedicated Hotel Pool where guests can sunbath and enjoy a casual swim.
Enjoy Dinner on The Strip
Now that you are primed for the evening, get cleaned up, re-hydrate and eat something before heading out to the nightclubs. If you are looking for an elevated Vegas experience, dine at the Eiffel Tower Restaurant (just make sure to get your reservations in advance!). For casual Mexican fare, eat at Nacho Daddy. Or, for a classic taste of American fast-food, feast at In-and-Out Burger.
Dance at the Clubs on The Strip
Vegas nightclubs – or rather mega-clubs – maintain an electric vibe with some of the world's best DJs and packed dance floors. Some of the most epic clubs are Omnia at Caesars Palace, Jewel at Aria, Hakkasan at MGM Grand and Marquee at Cosmopolitan. While most exciting for a Las Vegas Weekend Itinerary, visitors will have no problem finding clubs that are open every day of the week.
All clubs have promoters (which you can find on The Strip, through your hotel or in advance by searching online) who offer VIP status and sometimes free drinks. Dress codes can be strict – for example, many places will deny entry to anyone wearing backless sandals…so read the rules before you go.
Visitors who are less concerned with which club they go to – and those who don't want to hassle with transportation and cover charges – can opt for Party Bus package. On a Girls' Weekend in Vegas, we joined one of the party buses that offered VIP entry into three clubs and included onboard drinks. Our bus even had a stripper pole (which was highly entertaining as the night progressed!).
Pro Tip: If you are planning a Las Vegas family vacation itinerary – or if you simply want to bypass the club scene – rather than hopping on a Party Bus, take the Big Bus Night Tour. The open-air bus passes by the city's most dazzling nighttime attractions. Get the details!
DAY 3 of Your Itinerary for Las Vegas In 3 Days
On the last day of your 3 Days Las Vegas Trip, experience a few of the best Vegas attractions!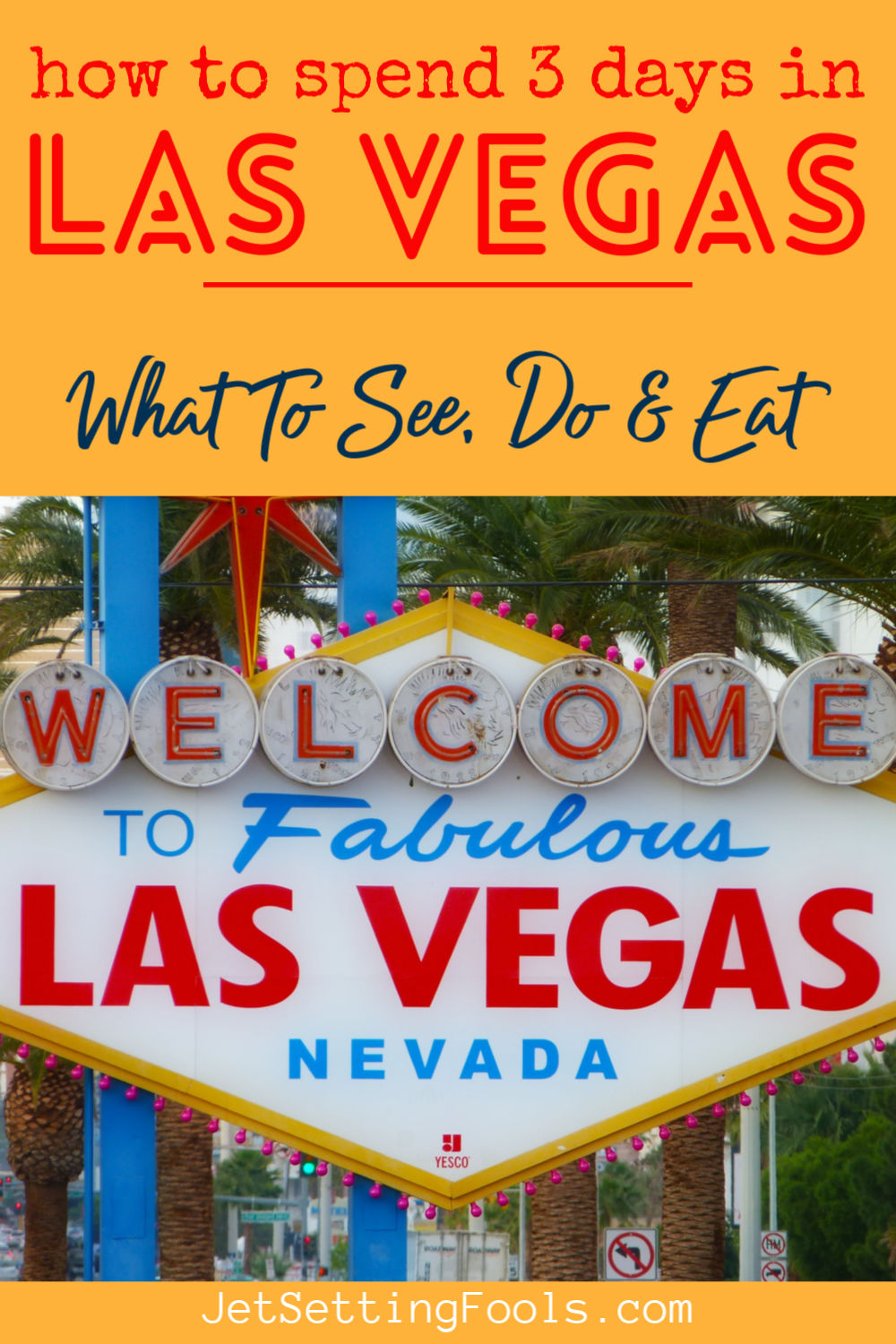 Indulge in a Vegas Buffet Brunch
A Vegas tradition, feasting at a gut-busting buffet during your 3-day trip to Las Vegas is practically a requirement. Evolving from all-you-can-eat extravaganzas into classy culinary adventures, buffets in Vegas are unlike anywhere else in the world.
Although the buffet meals are not as cheap as they once were (in fact, a few are quite expensive!), diners can expect a culinary treat. Most of the buffets have meat carving stations, omelette stations, heaps of seafood (including sushi!) and delectable dessert tables – and a few even include bottomless champagne!
Wicked Spoon, Bacchanal Buffet, Bellagio Buffet and The Buffet at Wynn are all top choices!
Visit Vegas Attractions
After you have stuffed yourself silly, spend the rest of the morning leisurely taking in one of the top attractions in Vegas.
A few of the top ticketed sights include the Shark Reef at Mandalay Bay , Madame Tussauds and the Eiffel Tower Viewing Deck.
Other quintessential Vegas activities to include on your Vegas trip itinerary are taking a gondola ride at the Venetian, riding the roller coaster at NYNY or going for a spin on the High Roller at the LINQ.
Pro Tip: If you are seeking free things to do in Vegas, there are plenty of ways to keep yourself entertained! A few of our top picks of free activities to include in your 3 Day Las Vegas Itinerary are to peruse the goods at the Forum Shops at Caesars Palace, walk along the canal at the Venetian Resort, see acrobats at Circus Circus, visit the Flamingo Wildlife Habitat at the Flamingo Hotel or admire the ceiling at the Bellagio.
Take Part in Top Activities in Vegas
In the afternoon, join a tour or class that captures the essence of Vegas. Get off The Strip and discover Downtown Las Vegas on a Fremont Tour. Learn about the origins of Sin City and how the culture has evolved over time.
On the other hand, if you are planning a Vegas Bachelorette Party Itinerary, book an afternoon Stripper Pole Class for your group of girls! Honestly, I was a little nervous when we included this activity in our Girls Weekend in Las Vegas Itinerary – but it turned out to be incredibly entertaining! Book it here!
Explore Fremont Street at Night
Spend the rest of your Vegas trip on Fremont Street and downtown. While attractions on The Strip are well-known for being ostentatious, Fremont tends to be more laid back…but no less entertaining.
Visitors can take an exhilarating ride on a zip line or swim with the sharks at Golden Nugget. Top museums to visit are the Neon Museum (a collection of historic Vegas signs) and the Mob Museum (which details the city's history with organized crime).
Historic casinos, modern attractions and a slew of low key bars line the street, enticing visitors to stay longer than just a couple of hours.
---
Las Vegas Day Trips
While our 3 Days in Vegas Trip Planner doesn't leave any room for day trips from Vegas, visitors staying longer in the city – or those on a return trip – may want to consider including a Vegas day trip in their itinerary. (We offer Vegas itinerary planner tips for longer and shorter stays below, too!)
Grand Canyon Bus Tour
One of the most popular tours from Vegas, trips to the Grand Canyon by bus offers a full day of fun! On a Las Vegas to Grand Canyon itinerary, participants enjoy the ride to the West Rim of the Grand Canyon in a coach bus and make stops at some of the top viewpoints. Option upgrades include the Skywalk and helicopter ride. Find out more here!
Luxury Grand Canyon Helicopter Experience
Take things up a notch on a helicopter tour to the Grand Canyon Itinerary from Las Vegas. Ride in a limousine to the helipad, then take an epic helicopter ride over the canyon, Lake Mead, Hoover Dam and The Strip. The Las Vegas-Grand Canyon Itinerary is highlighted by a Champagne Toast on the West Rim. Book it now!
Hoover Dam from Vegas
Take a tour of Hoover Dam, one of the most incredible modern-day engineering achievements. On the trip from Vegas, a knowledgeable guide will share information about the dam's history – and, once there, visitors can Walk on the Top. Get more details!
Red Rock Canyon Scooter Tour
Explore desert landscapes and phenomenal natural rock formations by scooter on a half-day Vegas trip to Red Rock Canyon. Learn more here!
LA and Hollywood from Vegas
Head to California and the West Coast on a full-day trip from Las Vegas! Participants travel in a small group to Los Angeles to see highlighted attractions, such as the Santa Monica Pier, the Hollywood Walk of Fame and celebrity homes in Beverly Hills. Get the specifics!
Zion Utah National Parks Itinerary from Las Vegas
Zion National Park is a gem of the Western United States! Although not particularly easy to get to on your own, visitors can join an organized day trip to Zion from Las Vegas that includes transportation, entry fees, free time to explore and a picnic lunch. Find out more!
---
More Vegas Itineraries
While we have outlined the best Vegas Itinerary for 3 Days (especially for Las Vegas First-Timers!), we understand that not all visitors are spending 3 days in the city. To help other travelers plan their best Vegas itinerary, we are offering our top tips for longer – and shorter! – stays.
Pro Tip: Determining how long you should stay in Vegas will depend on a variety of factors – including interests, budget and overall time-frame. If you are still considering how many days you need in Las Vegas, use our tips below to decide what attractions are essential on your trip!
Las Vegas Itinerary 1 Day
Trying to plan what to do with 1 Day in Las Vegas is no easy feat – the choices are endless! We think the best way to plan a Las Vegas One-Day Itinerary would be to follow our advice on things to see in Vegas on Day 1 of our above outlined Las Vegas 3-Day Trip Planner.
If you arrive early enough in the day, start off with a buffet dining experience (or book The Strip Food Tour!). On a One-Day in Las Vegas Itinerary, you could also possibly carve out a little time to spend poolside or in a spa. And, if possible, maybe check out at least one club after your evening show.
Las Vegas Itinerary 2 Days
With at least 2 days in Las Vegas, visitors can see and do a lot! Using our tips above in what to do in Las Vegas in three days, create a 2-Day Las Vegas Itinerary that best suits your interests. For example, if you are taking a trip to the city to party, plan a Las Vegas 2 Days Itinerary using Days 1 and 2 of our 3-Day Vegas Vacation outline.
On the other hand, if you are most interested in varied experiences, highlights and attractions, then the best 2-Day Itinerary Las Vegas for you might be to follow Days 1 and 3 instead.
Alternate Las Vegas Itinerary 3 Days
While we think we outlined the best things to do in Las Vegas in 3 days, fellow travelers might have other interests. If the Grand Canyon or one of the other Vegas day trips is more appealing than partying at the pool or touring attractions on The Strip, then substitute a tour in your plan for Vegas in three days.
Las Vegas Itinerary 4 Days
In a 4-Day Itinerary Las Vegas, visitors will have plenty of time to see the top city attractions and go on a day tour! In fact, we think the best Las Vegas 4-Day Itinerary would be to use the tips in our 3 Days Vegas Trip Planner – and, on Day 4, book a day trip to see more of the surrounding region!
Las Vegas Itinerary 5 Days
With 5 days in Las Vegas there is ample time to see the sights, go on a day trip and more! For us, a perfect 5-Day Vegas Itinerary would include our tips above for a 4 Days in Vegas Itinerary, then – on the last day – see any sights and attractions that you skipped in the first four days.
For example, visit (and gamble in!) more of the iconic casinos, lounge by the hotel pool, or ride the roller coaster at New York New York. Essentially, use the last day as a catch-all to visit any of the sights you were not able to squeeze into your Las Vegas Travel Itinerary in the first four days.
Las Vegas Itinerary 7 Days
In the city that is designed to entertain, there is no problem planning what to do with 1 week in Las Vegas. To create a 7 Days in Las Vegas Itinerary, visitors can approach the city at a much more leisurely pace.
Rather than going full throttle with plans – like attending a pool party and then going out to clubs – do those activities on two separate days. Spend (at least) one full day downtown on Fremont Street, rather than just half a day. An, perhaps, consider adding one more day trip from the city to complete your Las Vegas travel itinerary.
Los Angeles, San Francisco, Las Vegas Itinerary
Visitors trying to plan their own Los Angeles, San Francisco, Vegas Itinerary can use our helpful tips in our Weekend in San Francisco itineray and in our guide to Coastal California.
However, visitors who want to leave the planning to the professionals can book a 7-Day tour of the three cities. Get more info here!
---
Top Tips for your Las Vegas Three-Day Itinerary
Now that you know how to plan a travel itinerary for Las Vegas, we have a few more tips to ensure you plan the perfect trip!
Las Vegas Tips for First-Timers
Our 3 days in Las Vegas Itinerary is packed with fun things to do on your first time in Vegas – but we have a few more first-time Vegas tips to help you plan your trip!
Stay Hydrated
One of our top Vegas tips for first-timers is to stay hydrated! With an endless flow of drinks and desert sunshine, it is easy for your body to lose fluids and become dehydrated – which can put a real damper on your trip (not to mention, give you a terrible hangover). There are convenient stores in every hotel where you can buy water. Some places will also refill water bottles – so bring a Collapsible Water Bottle to carry with you.
Stay Together
Everything in Vegas is huge – the casinos, the clubs and the crowds. If you are planning a First-Time Vegas Itinerary with friends or family, stay together! Additionally, have a back up plan or meeting place in case you get separated from your crew.
Watch Your Drinks
Girls – and guys, for that matter! – remember to keep an eye on your drinks while at pool parties, dance clubs and even in the casinos. This is a good tip for anyone imbibing anywhere, but especially in a place where you are letting loose and in unfamiliar surroundings.
Budget Your Trip
Our last tip for planning your First-Time Las Vegas Itinerary is to create a trip budget. Unless you have unlimited funds, you will want to set a budget. It is easy to get swept up in spending money in the city – gambling, partying and sightseeing can all be big expenditures. However, with careful planning (and some restraint), it is possible to plan a trip that will fit nearly every budget.
How To Get To Vegas
Las Vegas can be reached by plane, bus or car. Having lived in Phoenix, Arizona for several years, we have made the drive between the two cities numerous times. That said, we almost always prefer to fly (we are JetSetting Fools, after all!).
Las Vegas Airport
Flights to Vegas land at the McCarran International Airport (LAS), which is located on the south end of The Strip. The airport is serviced by all major US airlines and many international carriers as well. When we want to buy airline tickets, we start our search on SkyScanner for the best deals.
Las Vegas Airport to Vegas Strip
There are several ways to get from the Vegas airport to The Strip hotels – but hotels are not permitted to run their own shuttles, so you will have to book your own. Besides walking (which we seriously do not recommend), shared airport shuttles are the least expensive way into the city, but also generally take the longest.
Taxis are available at the airport – and Uber and Lyft pick up passengers from the airport, too. However, you can also book Private Round-Trip transport in advance – or, upgrade your experience with a Limo ride from the airport to your hotel.
How To Get Around Vegas
We love to discover cities on foot…but that is problematic in Las Vegas. Not only are the colossal casinos further apart than they appear, but – any time outside of winter – it is miserably hot. Thankfully, there are a few different options when it comes to getting around Las Vegas.
The Monorail is a convenient way to get up and down The Strip – and they offer several ticket options, including single ride, daily passes and multi-day passes, too. The Deuce and SDX are the local buses, which are even cheaper and cover The Strip and beyond.
Taxis, Uber and Lyft are convenient options for getting around – but all three use designated pick up and drop off points. Visitors can rent a car as well, but we don't recommend it if you are sticking mostly to The Strip and Downtown (Fremont) areas.
An entertaining way to combine transport and sightseeing is with the Big Bus Hop On Hop Off Vegas. The open-air, double-decker bus has two routes and makes stops at all the top attractions. Tickets are available for one or two days. Get your tickets here!
Where To Stay in Las Vegas for 3 nights
With just 3 nights in Vegas, we think it is imperative to stay in a central location on The Strip. Over the years, we have stayed in many different hotels in Las Vegas (even in a few that no longer exist!). Where you decide to stay should ultimately be based on your favored activities.
We personally like the MGM Grand, which offers affordable room rates, consistently updated rooms and easy access to the Monorail. Located toward the southern end of The Strip, it is well-suited to a variety of guests (from couples to families to bachelor parties). Check rates and availability!
That said, we have also enjoyed staying in the center of The Strip, where some of the best casinos are clustered together for easy access. Affordable options near the center are LINQ, Flamingo and Harrah's.
Visitors who want a luxury hotel can opt for one of the 5-star hotels in Vegas, like Cosmopolitan, Bellagio, The Venetian and Wynn.
Start your search for the best rates on Vegas hotels at Booking.com – like we do!
What To Pack for Vegas
Deciding what to pack for your 3-day Vegas getaway can be a challenge. If you are going to clubs, you will want stylish clothes and shoes. If you plan on taking tours, you will want comfortable, breathable outfits. In the end, you may be tempted to pack everything…just in case! Because we don't recommend over-packing, we do have a few specific tips. To find all of our packing advice, use our Packing List.
Comfortable Shoes
If you plan on leaving your casino resort at all, we highly recommend wearing comfortable shoes. Actually, even if you are staying within one complex, you will likely be doing a lot of walking – the casinos are just that massive.
For daytime walking, I like wearing lightweight and comfortable shoes, like these from Columbia (for women). Foldable flats are also ideal for Vegas (and easy to switch out with heels, if you carry them in your purse!).
Sun Protection
The sun in Vegas is intense (it is in the desert!). Wearing sunscreen at the pool and while touring the city is essential; you don't want a sunburn to ruin your time in the city! To keep the sun off your face, we also recommend wearing a stylish travel hat and good sunglasses.
Camera
If your Las Vegas Itinerary planner includes any of the tours outside of the city, you will definitely want a good camera. Seriously – it is impossible to capture the depth of the Grand Canyon with a Smartphone. Instead, we recommend upgrading to an actual camera – like the Canon Rebel. It's the camera we use when we travel. We love it because it is easy to use, takes phenomenal photos and comes bundled with a ton of fun accessories.
Start planning your trip to Las Vegas, Nevada! Search for the lowest airfares, the best accommodations and fun things to do…then start packing! Want more travel planning tips? Head over to our Travel Planning page for more information and tips on traveling – and for country-specific information, take a look at our Travel Guides page!
We Want To Know: What would you add to our 3-Day Las Vegas Itinerary? Is there anything you would add to a First-Time Vegas Must-Do List? Give us your best tips and advice in the comments below!
Looking For More Fun-filled Weekend Trips? Great! Read our detailed guides to Denver, Austin, San Diego, New Orleans, Chicago, NYC and Nashville!
Like what you're reading? Join the journey!
Subscribe to JetSetting Fools and get new blog posts and our quarterly newsletter direct to your inbox:

Pin it! See all of our travel pins on our JetSetting Fools Pinterest Board.