Hey there! Welcome to JetSetting Fools! You will find our best travel tips for destinations worldwide. Some of the links on this site are Affiliate Links and if you use them to make a purchase, we may earn a small commission. For more information, read our Disclosure Policy.
---
We've heard that there are about 30 temples inside the old city walls – and as we've been doing little in Chiang Mai except getting lost in the maze of the old city streets, it seems like we've almost found them all. However, visiting Chiang Mai temples outside of the city walls also garnered our interest and lit a fire under us to escape the peaceful confines of the old city.
We planned a day trip for visiting Chiang Mai temples, including Doi Suthep Temple and Koi Kham Temple. Doi Suthep is a popular daytrip for tourists, but Doi Kham temple is (allegedly) less of an attraction. Both are to the west of town in the nearby mountains and promised fantastic views and tranquil settings.
Visiting Chiang Mai temples
Doi Kham Temple
Our hired driver took us to Doi Kham Temple first and I was a bit shocked to find it was buzzing with visitors (although, we were noticeably the only Westerners). The parking lot was packed and vendors were selling everything from food to offerings to lottery tickets. Not at all the tranquility I had envisioned, but right away the main attraction – a 17 meter (55 foot) sitting Buddha statue – stole my attention. The massive structure is elevated on a platform and hosts several other Buddha statues, which were all dwarfed in comparison.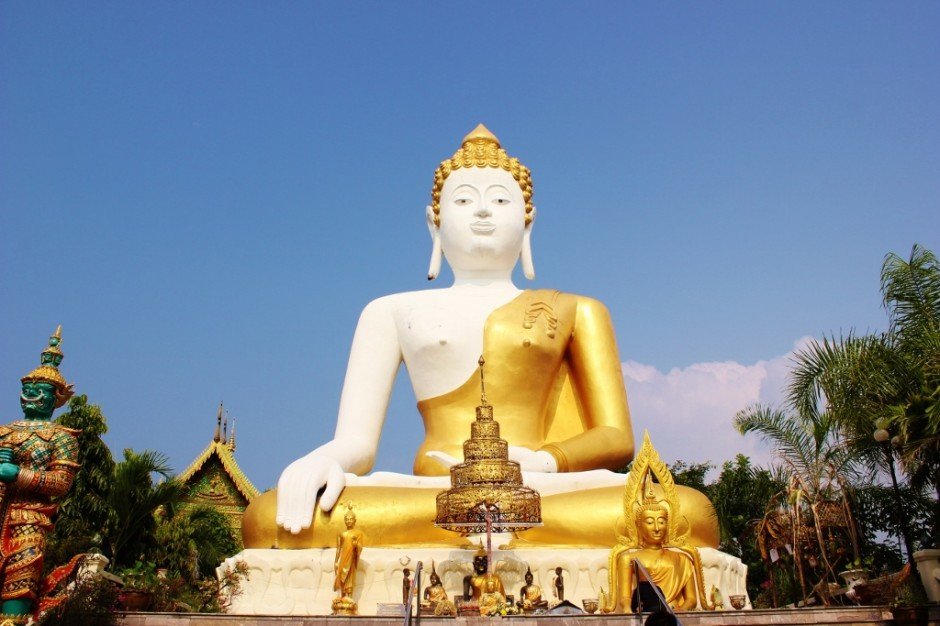 To the left of the statue is a colorful ubosot, or ordination hall, with exquisite details, murals and naga serpents leading into it.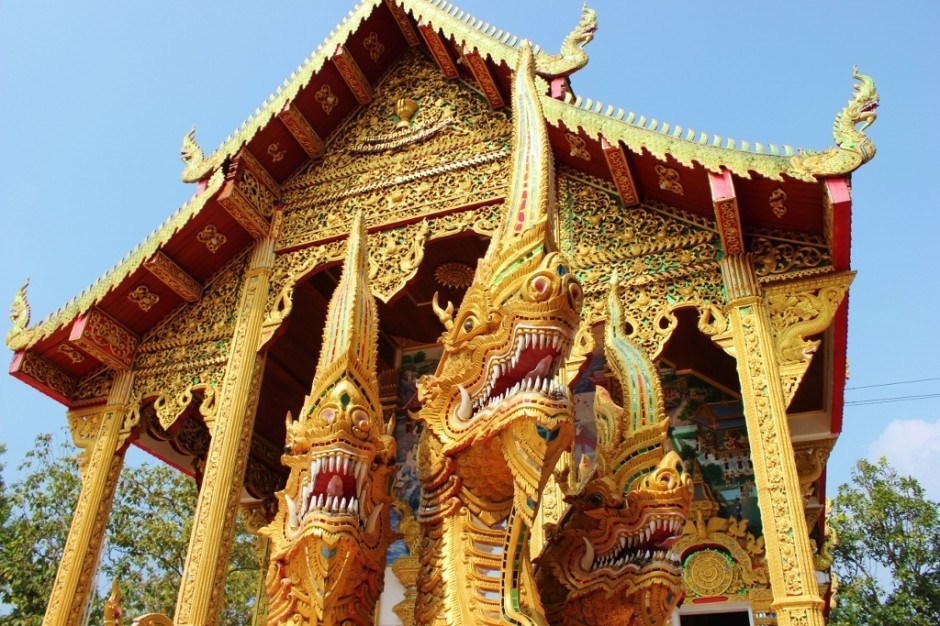 The oldest structure, the pagoda built in the 7th century, is said to contain a Buddha hair relic. It sits in the center of a courtyard that is adorned with numerous bells and gongs. Ringing the bells offers good luck…and a lovely soundtrack.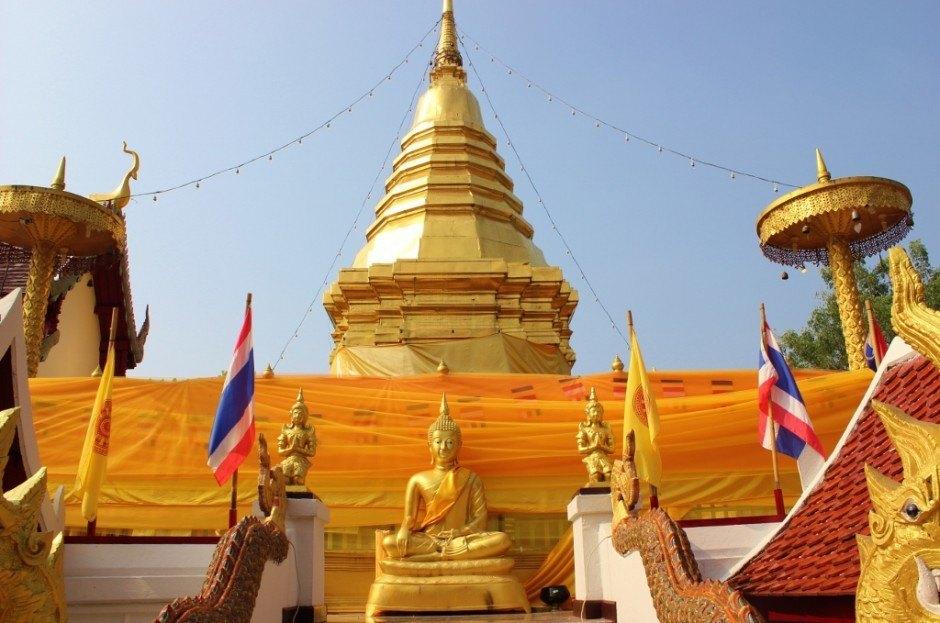 We found a smaller pagoda that was particularly crowded with devotees praying to a small gold plated Buddha. Offerings of fresh jasmine were piled high, which we hadn't seen before. Of the entire complex, all the focus seemed to be in this one small area and it baffled us.
It wasn't until the next day, when we were talking to our guest house host about visiting Chiang Mai temples, that we learned the reason for the increased attention. Apparently, about a year ago, a women bought a lottery ticket and went to that specific Buddha in that specific temple and prayed for the winning numbers, offering a gift of jasmine. She won. The media grabbed ahold of the story and a craze has ensued.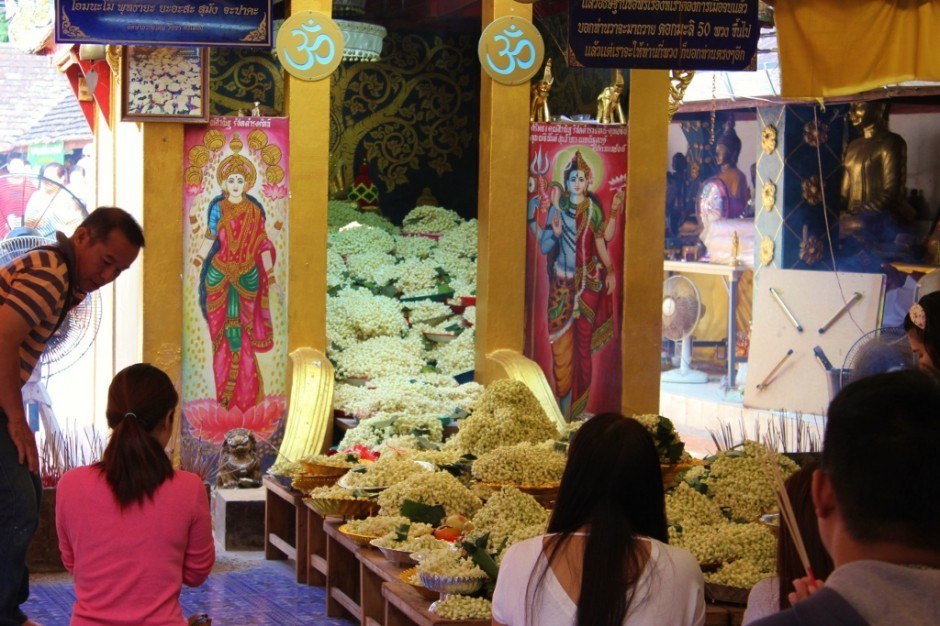 A large deck provides views of the city, but only on clear days, which wasn't the case the day we visited. Clouds, fog or smog (take your pick) made it nearly impossible to see any of the city below, although there were nice mountain vistas.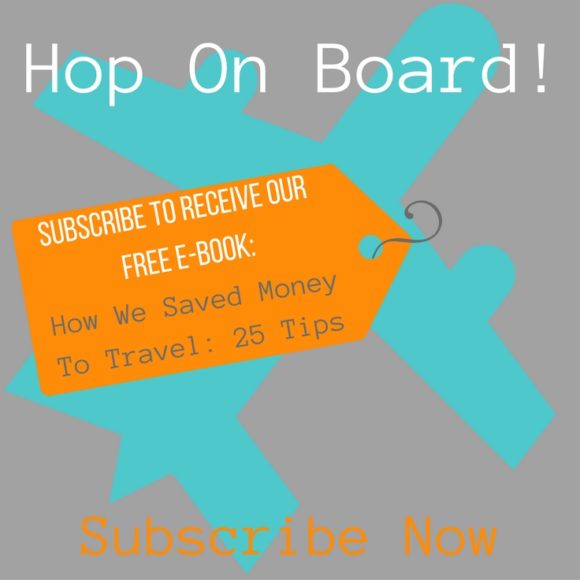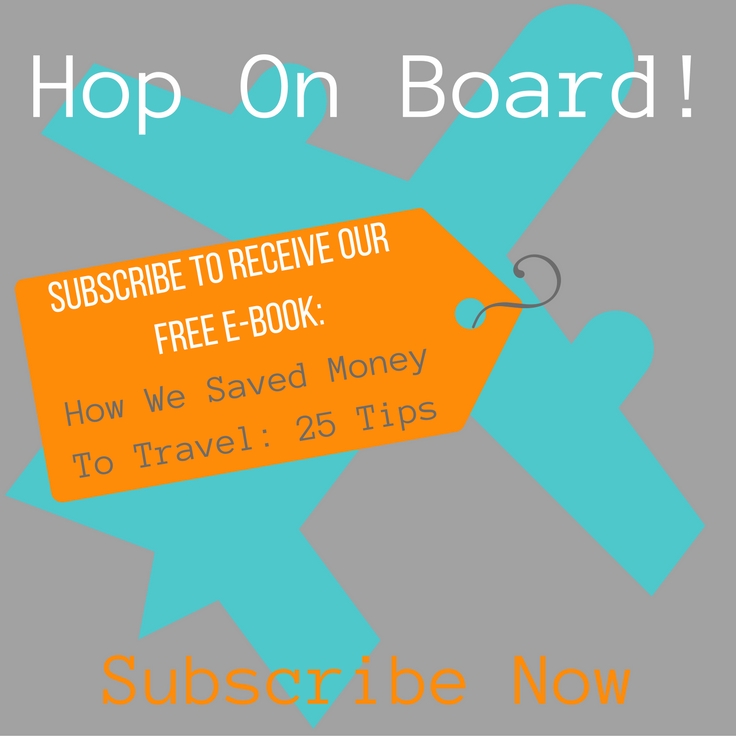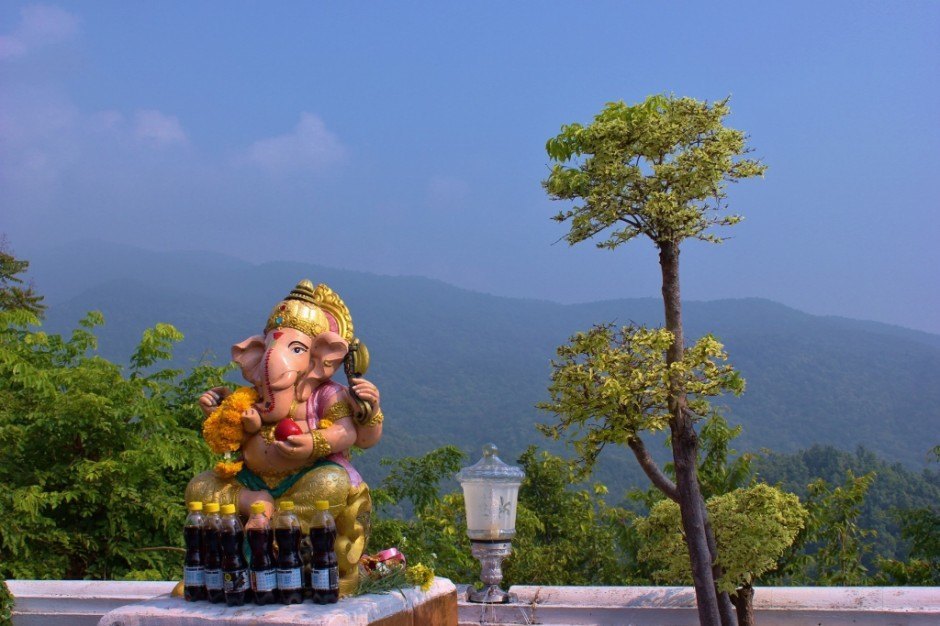 Doi Suthep Temple
The drive to Doi Suthep Temple took us up the side of the forested mountain via switchbacks. According to legend, a Buddha relic (often claimed to be a piece of collar or shoulder bone) was attached to a sacred white elephant. The elephant climbed the hill, circled the area three times, trumpeted loudly in the air and then suddenly died, thus determining the exact spot where the temple should be built.
The original, simple structure was built sometime between 1368 and 1383 (depending on which text we were reading) to house the Buddha relic, but has been expanded on and embellished ever since. The entire complex seems to shimmer in gold and glistening colors.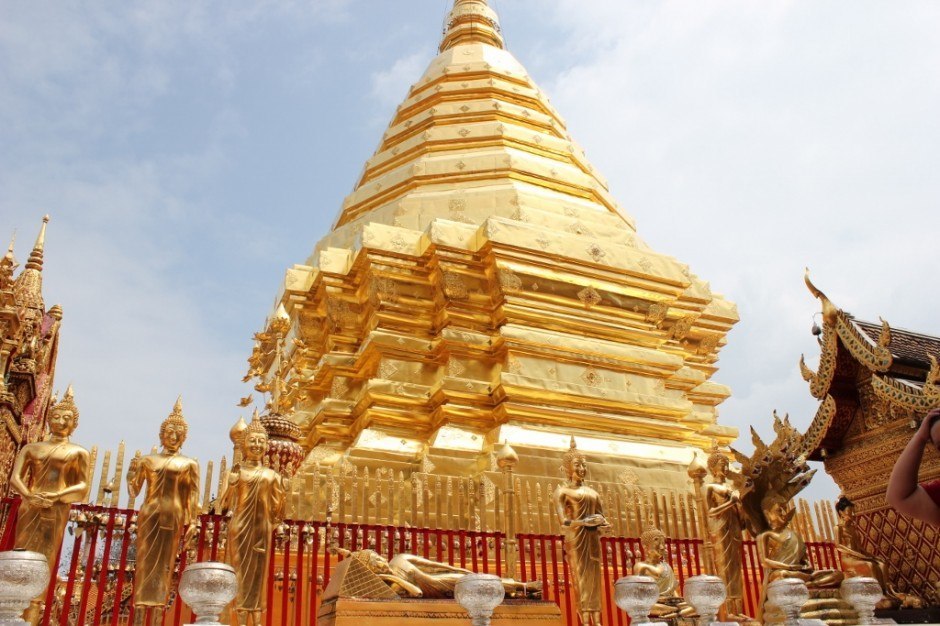 Like the previous temple we visited, this one was also decorated with bells and ringing them was encouraged. The elephant theme is (obviously) strong with several statues and tusks throughout.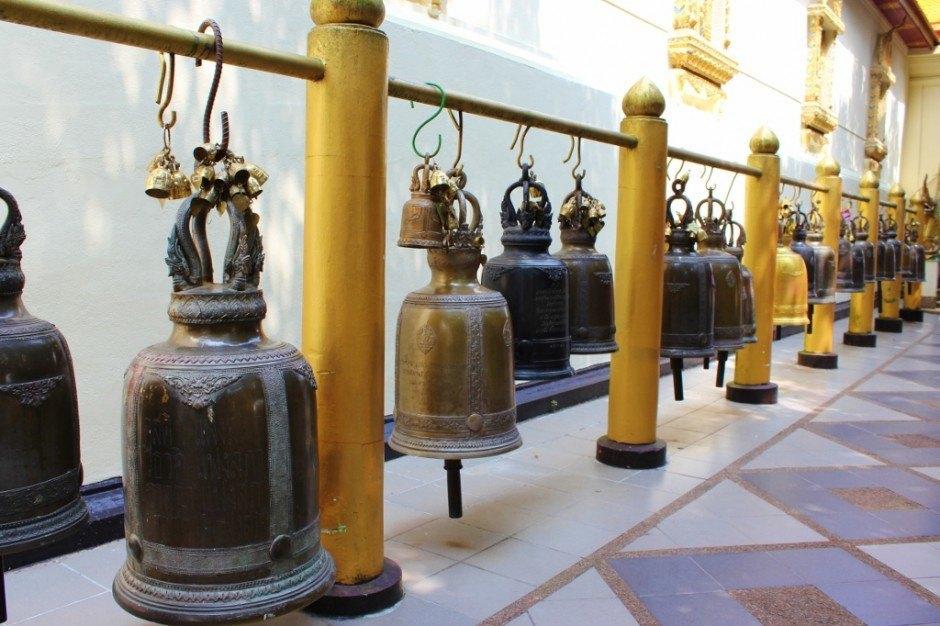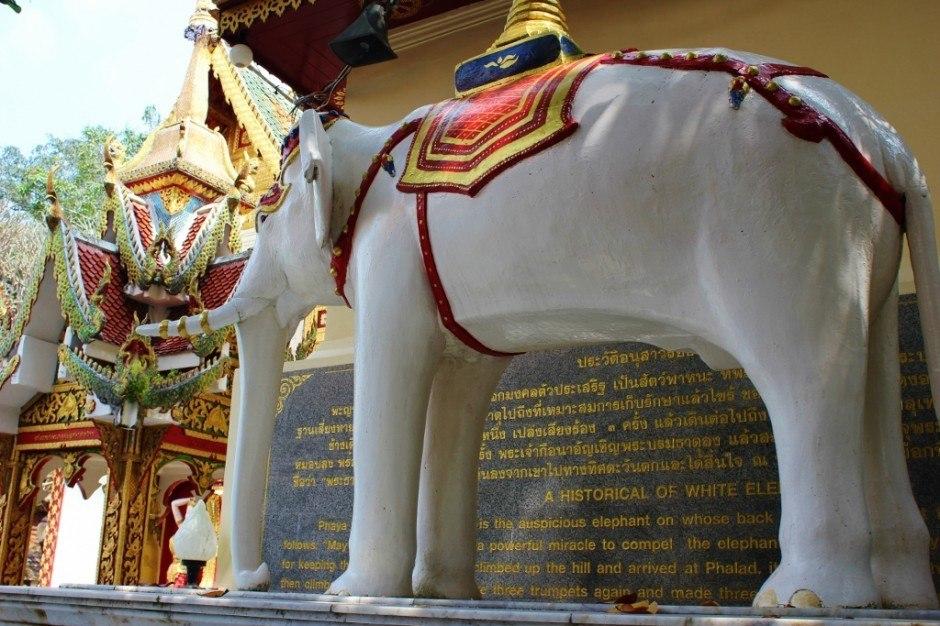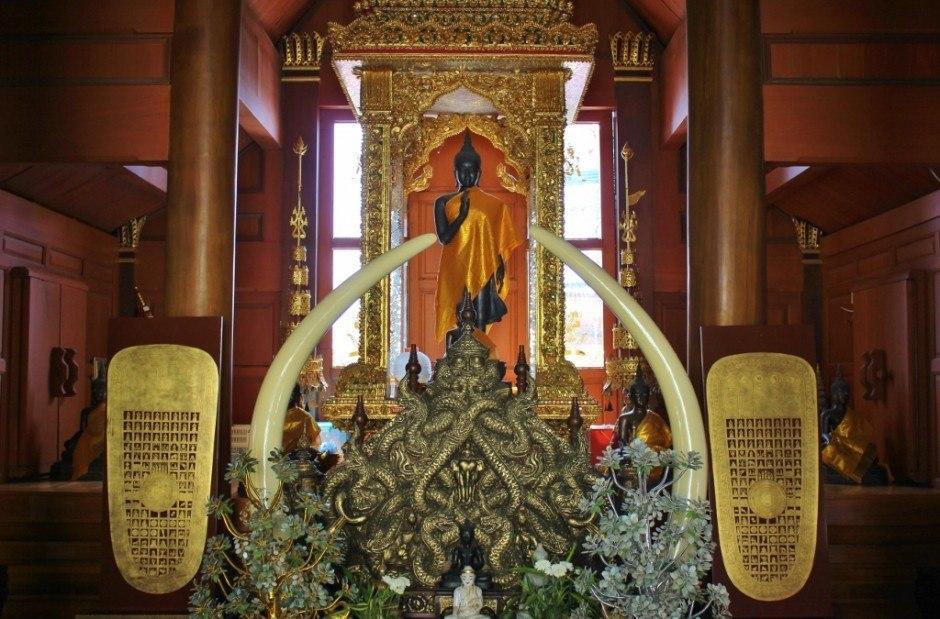 Monks live on-site and were on hand to give special blessings. Abundant Buddha statues, mostly gold but a few jade green, in varying postures surrounded the main pagoda and offerings of flowers, candles and money were plentiful.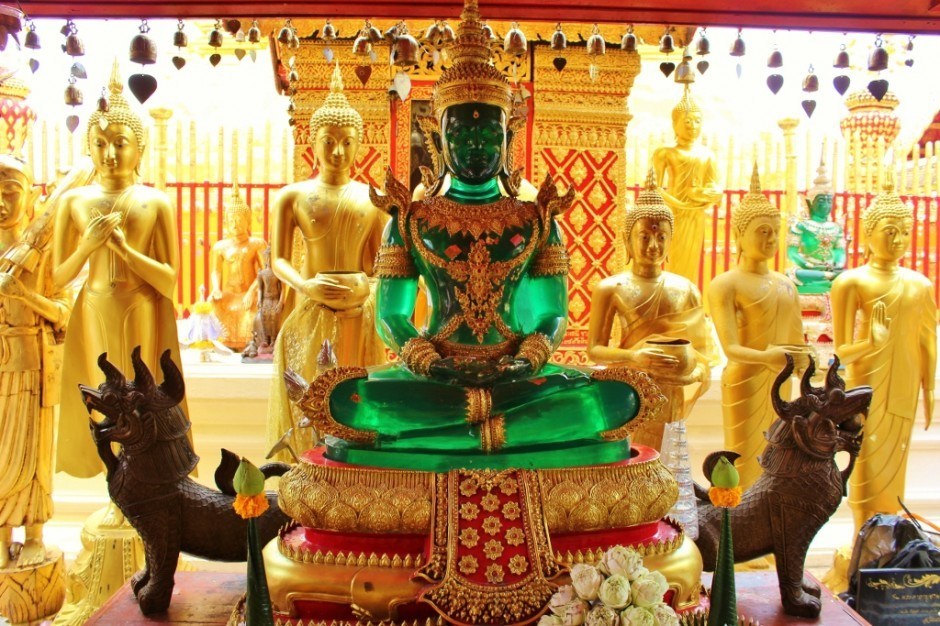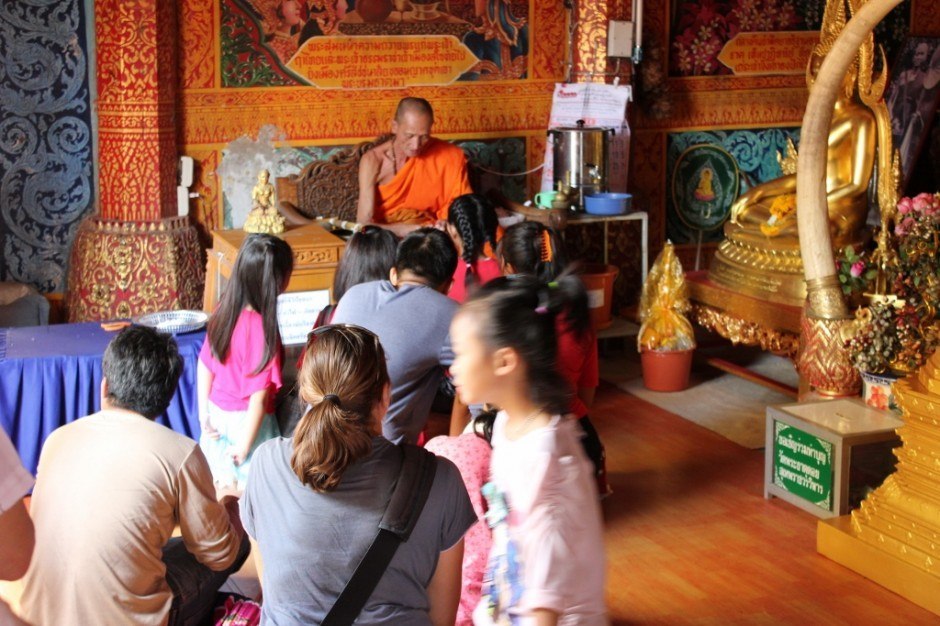 The complex houses several buildings, accessible by the 300-plus stairs (or the inexpensive cable car) but is all quite compact and easy to navigate. Elevated at 1,075 meters, we were sure we would have a view of the city, but the air was still too thick. The noticeably cooler, mountain breezes, however, were a nice change from the humid weather in the city and even amongst the tour groups, drones and visitors, we found it to be quite tranquil.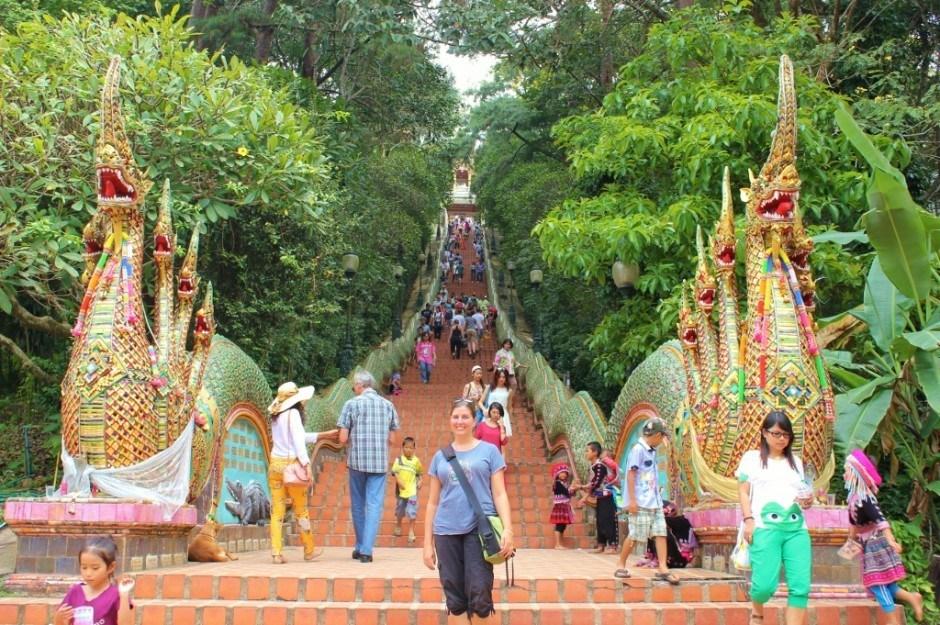 Click here to read about 3 must-see temples inside Chiang Mai's Old City
Our top tips for your trip to Chiang Mai, Thailand:
Where To Stay
During our visit to Chiang Mai, we stayed in the Anoma 2 Bed and Breakfast in the Old Town, which had a wonderful staff, clean rooms with air con and a very simple breakfast. However, there are many hotels to choose from in – or close to – the city center.

Before You Go
Want more travel planning tips? Head over to our Travel Planning page for our complete packing list and other travel resources!
Like what you're reading? Join the journey!
Subscribe to JetSetting Fools and get new blog posts and our quarterly newsletter direct to your inbox:

We want to know: Are you going to be visiting Chiang Mai temples? Which do you most want to see? Have you already been to Chiang Mai temples? Which did you like best? Tell us in the comments!
Pin it! See all of our travel pins on our JetSetting Fools Pinterest Board.