Hey there! Welcome to JetSetting Fools! You will find our best travel tips for destinations worldwide. Some of the links on this site are Affiliate Links and if you use them to make a purchase, we may earn a small commission. For more information, read our Disclosure Policy.
---
The skyline of Surfers Paradise is clearly visible when looking north across the water from Coolangatta Beach. The iconic Q1 Building is the most recognizable as it pierces the sky at 230 meters. After spending a week in Cooly, it was high time we took a day trip from Coolangatta to Surfers Paradise to check out the oceanfront skyscrapers that give a big city feel to the Gold Coast.
Getting from Coolangatta to Surfers Paradise
Although Surfers Paradise looks like it is right there, getting from Coolangatta to Surfers Paradise on a day trip (or even from the airport) takes time. As budget-conscious travelers not averse to public transportation, we decided to take a bus to Surfers Paradise…only to find we needed to take a bus and a tram.
Not the quickest route, the journey takes about an hour. First, we hopped on one of the Gold Coast buses from Coolangatta to Broadbeach that took 45 minutes. The, we transferred to the G:link Surfers Paradise tram for a 10-minute ride to the center of the action in Surfers. Find specifics on Gold Coast Transportation at the end of the post.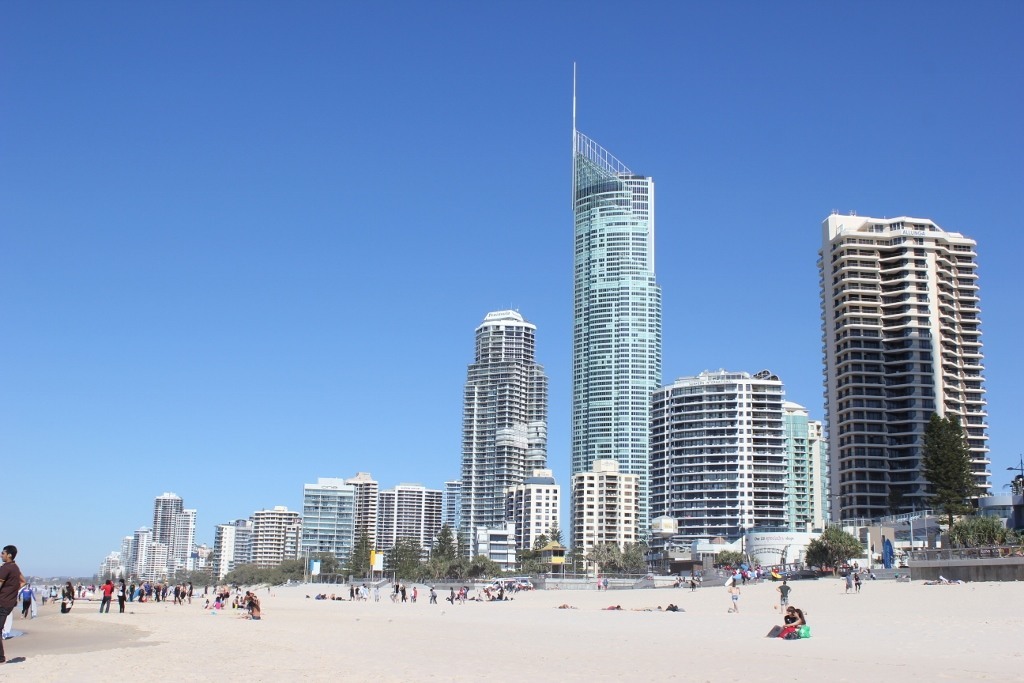 Things To Do in Surfers Paradise, Australia
The long, broad beach of powdery sand is the main attraction in Surfers Paradise. However, the city of Surfers Paradise is rivaling for tourists' attention. Catering to vacationers and appealing to a spectrum of budgets, we found restaurants, shops and hotels in any direction we faced. People filled the sidewalks – teenagers giggling with friends, elderly couples shuffling along holding hands, and families chasing after kids. It was like summertime in Daytona Beach.
High-end stores that sell high-priced shoes sit just around the corner from discount dollar stores dealing souvenir trinkets. Budget hotels hide in the shadows of the sleek brand name hotels that soar into the sky. Classy restaurants are concealed along quiet streets while pub patios spill onto the sidewalks.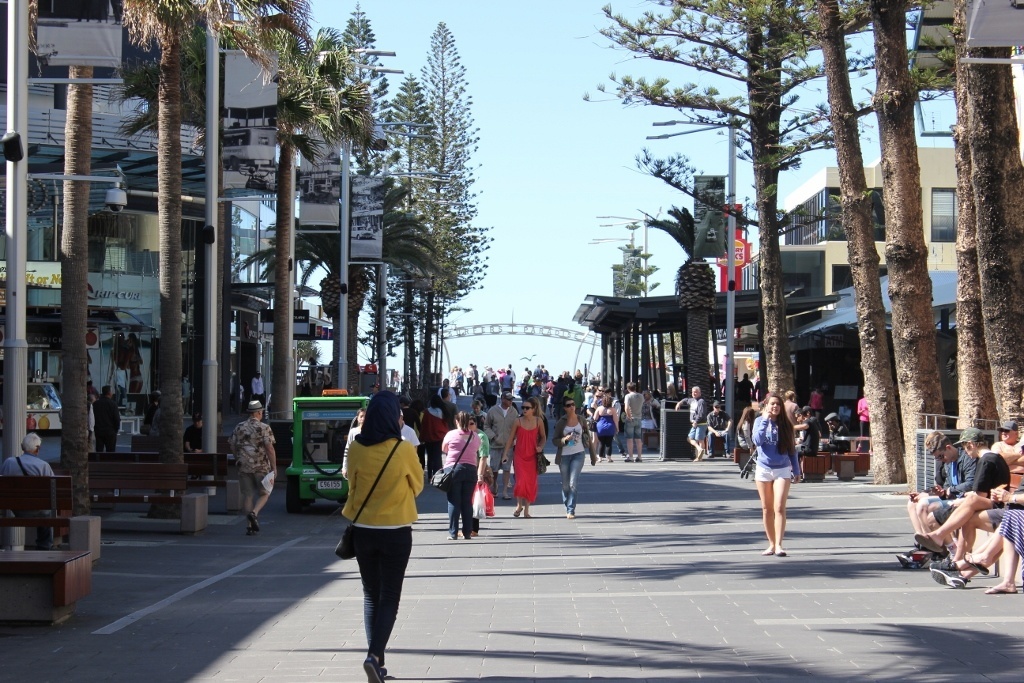 The worldwide tourist chains found in every big city are in Surfers, too – Hard Rock Café, Hogs Breath Cafe and Ripley's Believe It Or Not huddle around the main pedestrian footpath that is lined with cheap fast food, sprawling cafes, and street performers.
On our day trip to Surfers Paradise from Coolangatta, the sun was high in the cloudless sky, but a cold wind blew across the beach. It didn't seem to discourage vacationers from sunbathing, deter eager teens from taking their first surf lesson or keep kids from splashing in the waves. After a walk along the water's edge, dipping my own toes into the chilly water, we retreated to the boardwalk to let the sun warm us and to witness the fascinating parade of people. We joined the queue at Jack's Kebabs and snacked on handrolls from an inexpensive grab-and-go sushi spot.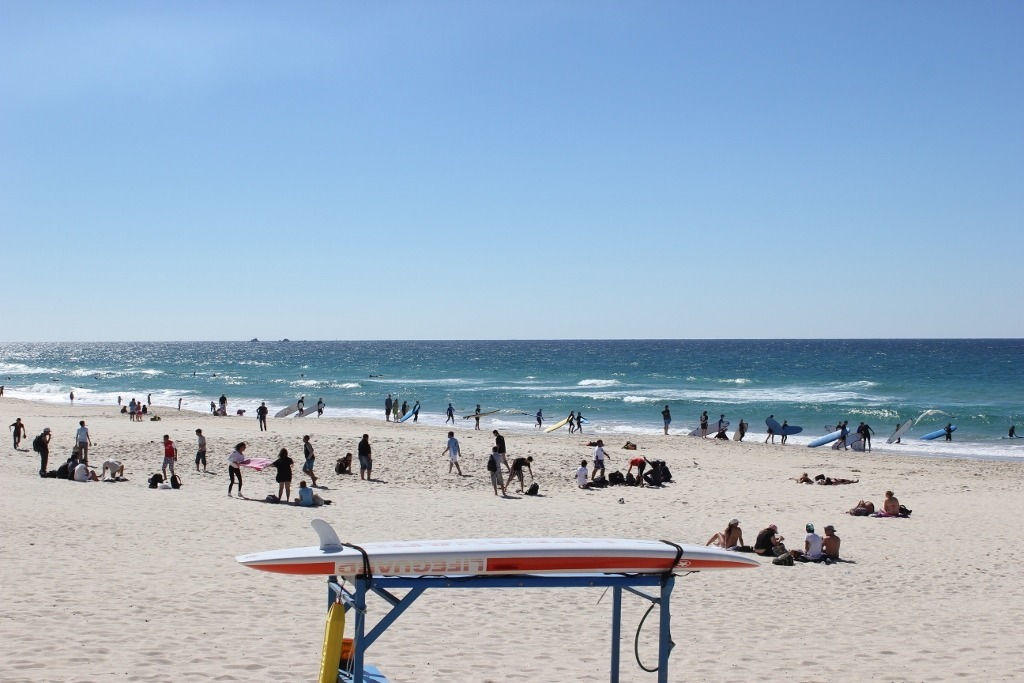 Getting from Surfers Paradise to Coolangatta
As the sun started its fall toward the horizon the skyscraper shadows spread long across the sand. On our return trip, we chose to save ourselves the cost of Gold Coast tram tickets and skip a ride on the G:link light rail. Instead, we walked back to Broadbeach through several neighborhoods full of both swanky and slightly rundown weekly holiday rentals until we made our way back to the bus stop.
Want more Coolangatta Day Trip ideas? Read about our day trip from Coolangatta to Byron Bay via Springbrook National Park.
Public Transport Specifics: Gold Coast Train, Tram and Bus
There are multiple methods of public transport on the Gold Coast – just none that directly connect Coolangatta to Surfers Paradise. For travelers that don't want a car rental in Surfers Paradise or are reluctant to pay exorbitant Gold Coast taxi fare, choose one of the public transportation options to get around. All of the networks use the Go Card for fares, which offer discounted fares over paper tickets.
Coolangatta to Surfers Paradise Route
To get from Coolangatta to Surfers Paradise, take Bus 700 north to Broadbeach Station South. Transfer to the Gold Coast tram and take the Broadbeach to Helensvale tram to Surfers Paradise. The complete ride should take about an hour. Top Tip: Travelers who want to take a beach stroll can walk the remaining two miles from Broadbeach to Surfers Paradise rather than taking the tram.
Route this journey and find times and prices on the official TransLink website.
Gold Coast Train
The Gold Coast train runs inland and is not a good option for travel from Coolangatta to Surfers Paradise. However, if traveling from Brisbane to Surfers Paradise, the Gold Coast Train is a viable option. However, the closest Gold Coast train station to Surfers Paradise is Nerang. From the quasi Surfers Paradise train station, multiple bus routes (21, 709, 740, 745) allow passengers to easily get to Surfers Paradise. Use this link for a Gold Coast train map and information.
Gold Coast Tram
The Gold Coast Tram – also called the Light Rail, the G Link or just The G – is a good way to get around Surfers Paradise, but unfortunately doesn't run south of Broadbeach. That being said, the southern end of the Gold Coast tram route can be used in conjunction with a local bus to connect Coolangatta to Surfers Paradise.
Gold Coast Tram Cost
Gold Coast tram prices are calculated based on zones. Fares are discounted with the Go Card. A one-zone paper ticket costs $4.70 AUS.
Gold Coast Tram Map
For a current G link tram map, use this link.
Tram Timetable Gold Coast
For Gold Cost Tram Times, use this link.
Gold Coast Buses
Gold Coast bus service is extensive in the region and a good way to get around without a car…just not good for getting directly into Surfers Paradise from Coolangatta. The Gold Coast bus company, Surfside Buslines, has numerous Gold Coast bus routes. The 700 route follows the coastline from Coolangatta (Tweed Mall is the first stop) to Broadbeach South station (which is the closest Surfers Paradise bus station). The ride will take about 45 minutes.
Gold Coast Bus Tickets
Bus fares are calculated are based on zones. When taking the bus from Coolangatta to Surfers Paradise, the route travels in zones 5 and 6, making it a 2-zone journey. Paper tickets for this Gold Coast bus fare costs $5.70 AUD – discounts will apply for riders with the Go Card.
Gold Coast Bus Map
Use this link for the Route 700 bus map.
Gold Coast Airport to Surfers Paradise
The closest airport to Surfers Paradise is the Gold Coast Airport, located near Coolangatta. There are multiple methods of transport available from the Coolangatta airport to Surfers Paradise.'
Gold Coast Airport Shuttle
You can book a Gold Coast tourist shuttle from the airport to your accommodations. Fares for the shared airport shuttle Gold Coast start around $25 AUD. Book your Gold Coast Airport Shuttle in advance using this link.
Taxi to Surfers Paradise
There is a taxi rank at the airport for travelers who want direct, private transportation from the Gold Coast Airport to Surfers Paradise. For a pre-arranged ride, book your airport transfer with Viator. Top Tip: the car sharing app, Uber, provides private transport for a fraction of the cost of a traditional taxi. There is an Uber pick up point at the north end of the airport terminal, outside of the departures area.
Public Transport Gold Coast Airport
The Gold Coast Airport bus is an inexpensive way to travel from the airport to your Gold Coast destination. To get from the Coolangatta airport to Surfers Paradise, take bus route 777 to Broadbeach South Station and transfer to the Gold Coast Tram. For more information about taking the bus to the Gold Coast, use the TransLink website.
Start planning your trip to the Gold Coast! Search for the lowest airfares, the best accommodations and fun things to do…then start packing! Want more travel planning tips? Head over to our Travel Planning page for more information and tips on traveling – and for country-specific information, take a look at our Travel Guides page!
Like what you're reading? Join the journey!
Subscribe to JetSetting Fools and get new blog posts and our quarterly newsletter direct to your inbox:

We want to know: Have you taken a day trip to Surfers Paradise from Coolangatta? What do you think is the best route from Coolangatta to Surfers Paradise? Give us your best tips and advice in the comments!
Pin it! See all of our travel pins on our JetSetting Fools Pinterest Board.