Hey there! Welcome to JetSetting Fools! You will find our best travel tips for destinations worldwide. Some of the links on this site are Affiliate Links and if you use them to make a purchase, we may earn a small commission. For more information, read our Disclosure Policy.
---
Australia was, at one time, considered a budget destination…but those days are long gone. However, I believe that every place can be visited on a budget and Cairns is no exception. Even if it is a jumping off point to numerous expensive activities, there are many things to do in Cairns, Australia on a budget while still experiencing the city's main attractions. Our budget route enabled us to experience Cairns attractions…and not go broke.
6 Things to do in Cairns, Australia on a budget
There are some Cairns attractions and activities – like the Great Barrier Reef – that should be on every Cairns itinerary, even if it requires stretching the budget. While there are not many things to do in Cairns for free, we've created a Cairns to do list that highlights some of the best Cairns activity deals to help stay on budget.
#1 Snorkel the Great Barrier Reef
We considered snorkeling the Great Barrier Reef a Cairns must do – it is one of the top things to do in Cairns, after all. However, Great Barrier Reef day trips are not cheap activities in Cairns. Our first mission when we got to the city was to walk the docks and check prices for Great Barrier Reef cruises in person, hoping to score a better deal than we had found online.
On the docks, we found Cairns reef tours provided by Compass Cruises for just $109 AUS. It wasn't the fastest boat (what's the hurry?), but it had a great crew, relaxed atmosphere, good snorkeling gear, two outer reef snorkeling stops, a delicious lunch plus wine and cheese on the cruise back to shore. For cheap Great Barrier Reef tours, Compass Cruises far surpassed our expectations. Read about our entire experience here.
There are more expensive Great Barrier Reef snorkeling tours that have faster boats, a shrimp and steak lunch, wetsuits included and wine that doesn't come from a box, but, hey, we were there to see the fish.
#2 Explore Kuranda
Kuranda, a village in the rainforest, is rich with history and one of the best day trips from Cairns. Getting there is half the fun with two main options: a Skyrail gondola that whisks visitors from sea level high above the rainforest canopy to Kuranda Village and the Scenic Railway train that slowly chugs up and down the hill twice daily. However, neither the Skyrail nor the railway are cheap things to do in Cairns.
The combo deal – Skyrail up, train down – is touted as a Cairns discount tour, but the price was still too steep for our budget-to-desire ratio. Without a car, it seemed we were priced out of the roundtrip Cairns excursions to Kuranda. However, our persistent research yeilded one of the little known Cairns deals: a Kuranda Coach/Train combo that allowed us to ride up on a bus and take the classic train back down… at a fraction of the Skyrail/Train option cost.
Once in the rainforest, there is a long list of things to do in Kuranda, which includes everything from shopping to restaurants to riverboat cruises to getting up close and personal with koalas. However, most of these activities didn't jive with our Cairns budget. We browsed the shops, but skipped on paying pricey entrance fees into any of the exhibits.
Rather than spending money in the village, we stepped into nature and ventured out on the paths around Kuranda. For lunch, we brought a picnic with us from the city and dined riverside. The scenic train ride down was a good value for the experience, which combined fantastic scenery and audio recording of the train's history.
#3 Find happy hours
Like the rest of Australia, drinking a pint or two at a pub is not a budget Cairns activity. Thank goodness for happy hours! Unfortunately, most of the the bars in Cairns like to keep their happy hours secret, so we had to ask at each bar to get the details on Cairns specials for beer and cocktails.
Two of our favorite watering holes offered happy hour from 5-7pm every day. Rattle and Hum has the best deal with $9 jugs and 20% off pizzas and main meals; Woolshed had pints (actual pints!) discounted to $6 and changing afternoon food specials, like a jug and pizza for $20. (Note: Happy Hour specials constantly change, check for current specials during your visit.)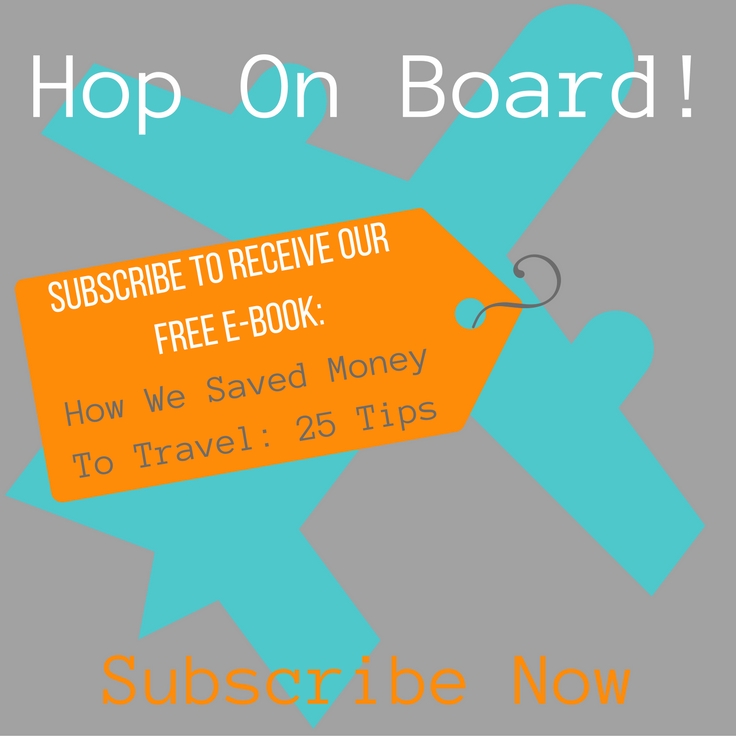 #4 Walking and Hiking Trails
Looking for free things to do in Cairns? Hit the trails without spending a dime! Mount Whitfield is just a 3-mile bus ride (read more about Cairns public transport below) from town and has two excellent and challenging hiking trails: Red Arrow and Blue Arrow. Both trails work their way through rainforest to scenic lookouts, making it one of our favorite free things in Cairns.
For a less challenging walk, and one of the top things to do in Cairns on a budget, stroll the Cairns Botanic Gardens. There are several easy walking paths through beautiful floral landscapes.
There aren't sand beaches in Cairns, but the Esplanade has a shared walking/biking path that stretches for miles. It is one of the fabulous Cairns free things to do – all while taking in the sea view.
Both Mount Whitfield and the Botanic Gardens are free! Read about our visit to the gardens here and our hike on the Red Arrow and Blue Arrow Trails here.
#5 Cairns Beaches
As mentioned above, there are no true Cairns beaches within the city limits, but the nearby Northern Beaches are absolutely stunning – and can be reached by bus for less than $10 round trip. Accessing the beaches costs nothing at all!
Our trip to Trinity Beach was well worth the price of the bus ticket for a relaxing day of sun and sand.
#6 Cairns Lagoon
One of the top free activities in Cairns is the Cairns Lagoon. The free, public pool with its sandy edge sits right in the center of the city on the Esplanade shoreline with adjoining grassy knolls that surround BBQ grills. The bonus: free speedy wifi courtesy of the City of Cairns (which you can use to look up other free stuff to do in Cairns!) and sometimes even a live band providing free Cairns entertainment.
Of course, it is Australia, so there are heaps of rules (like no drinking alcohol or playing catch in the pool) to keep things in order, but it is still a chill place to spend a Sunday afternoon, along with fellow travelers and locals.
Cairns Map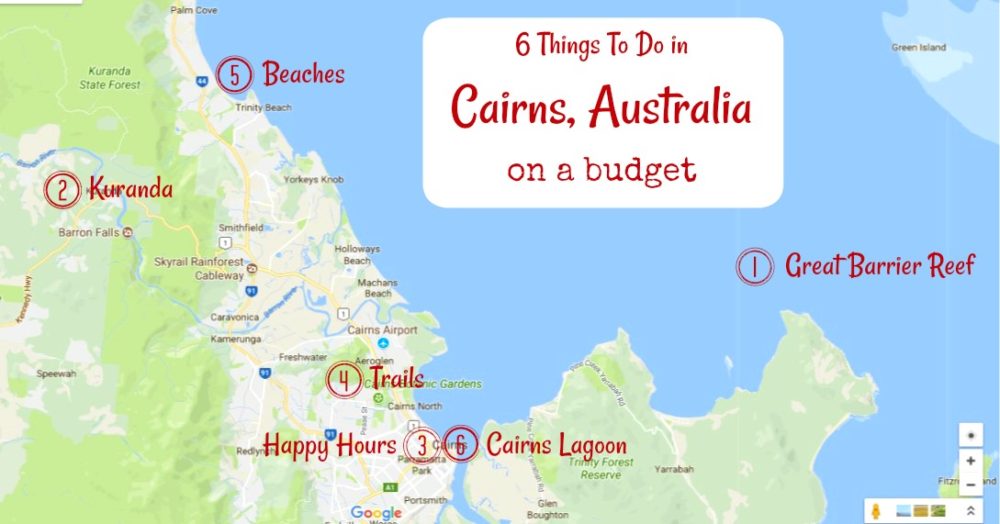 Cairns travel tips
Cairns Tours and Sightseeing Tips
Where To Stay in Cairns
During our visit to Cairns, we stayed in this Airbnb Apartment on the outskirts of town. (Not already a member of Airbnb? Use this link to create an account and save money on your first stay!) We have found that staying in apartments is often less expensive than hotel rooms – with the added benefit of a kitchen and, usually, more space. Cairns apartments can also be searched on FlipKey (which is part of TripAdvisor) or on VRBO – Vacation Rentals By Owner.
However, for those who prefer staying in traditional accommodations, there are many Cairns hotels to choose from in – or close to – the city center. Check out these top-rated hotels (based on guest reviews!) priced around $100 USD/night (at time of posting) for your upcoming trip: The Abbott Boutique Hotel, Rydges Plaza and Pacific Hotel. Or, find Cairns hotel deals by bidding on Priceline.
Cairns budget travelers can search for Cairns Hostels – like Dreamtime Travellers Rest Hostel. For a true bargain – and a unique experience – search for hosts on Couchsurfing, where travelers stay with locals for free.
Getting There…and around
Our preferred method of getting anywhere is by flying (we are JetSetting Fools, after all!). However, due to our unique circumstances (flight benefits earned from years of service with a major airline), we rarely buy airline tickets. That being said, when we do need to purchase plane tickets, we start our search for the best deals on airline tickets on Skyscanner or Flight Hub.
Taking the Public Bus
Cairns buses may not be all that frequent, but Cairns Public Transport is efficient both in cost and in routes. Priced on the number of zone crossings, an all-day ticket from our suburban dwelling 5km to the city costs about $5.50 (single rides $2.25). We've found the key to making it work is to check the schedule in advance. Most buses only run every half hour and on the weekend only every hour and a half. Note: We checked into weekly bike rentals and were disappointed to find the cost averaged out to more per day than the all-day bus ticket.
Before You Go
Want more travel planning tips? Head over to our Travel Planning page for our complete packing list and other travel resources!
We want to know: What would you add to our list of things to do in Cairns, Australia on a budget? Let us know in the comments!
Like what you're reading? Join the journey!
Subscribe to JetSetting Fools and get new blog posts and our quarterly newsletter direct to your inbox:

Pin it! See all of our travel pins on our JetSetting Fools Pinterest Board.