Hey there! Welcome to JetSetting Fools! You will find our best travel tips for destinations worldwide. Some of the links on this site are Affiliate Links and if you use them to make a purchase, we may earn a small commission. For more information, read our Disclosure Policy.
---
Several large monoliths are scattered in the Andaman Sea just off the coast of Koh Lanta. Some are sheer rock, others have small beaches along the edge and a few have swimmable caves. The reef that lies just below the surface is a feasting ground for fish and offers fantastic snorkeling spots for sea-loving humans. This small cluster of islands are the main attraction for the Four Island Tour from Koh Lanta.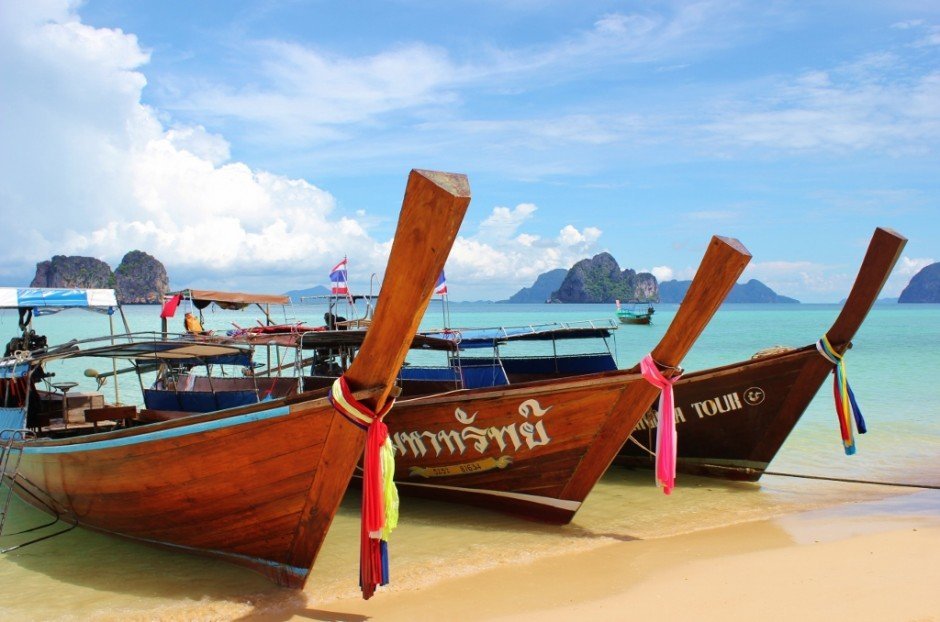 Four Island Tour from Koh Lanta: A Full-day itinerary
Traditional Thai Longtail boats leave from the Old Town Pier and tote people out for a day of exploration at Koh Maa, Koh Chuek, Koh Waen, Koh Mook and Koh Ngai. (Yes, I know I just named five islands, not only four, but I didn't name the tour!)
The 70 foot long, wooden Longtail boats have the shape of a canoe, but are much bigger with an engine and canopy. Our captain wore baggy pants, a faded Sex Pistols t-shirt, thick, wire-rim glasses and a straw farmer's hat. Our group of 13 – most of which we recognized from our days on the beach – fit comfortably in the boat. Longtail boats aren't known for their speed, as the propeller is quite small, but the slow, smooth ride allowed us to relish the changing landscapes.
Islands Visited on the Four Island Tour from Koh Lanta:
Koh Maa
An old, falling-down shack was on the edge of the first karst we approached, Koh Maa, but the only sign of life were the colony of bats hanging from the trees growing from the side of the rock. We didn't get out of the boat, but only stopped at the base to look up at the gigantic rock and down into the clear aqua colored water.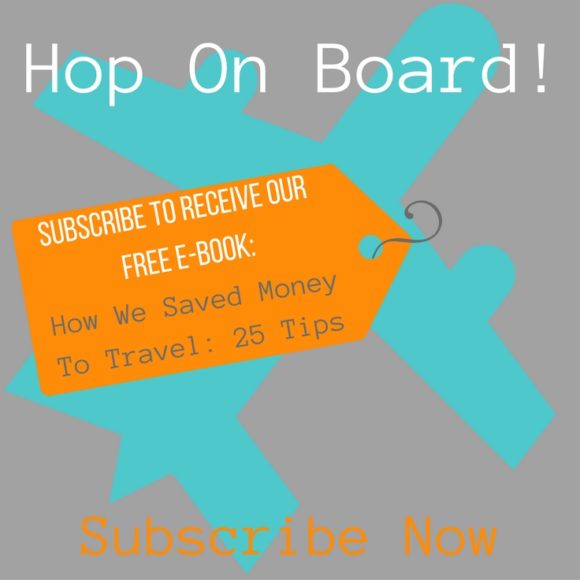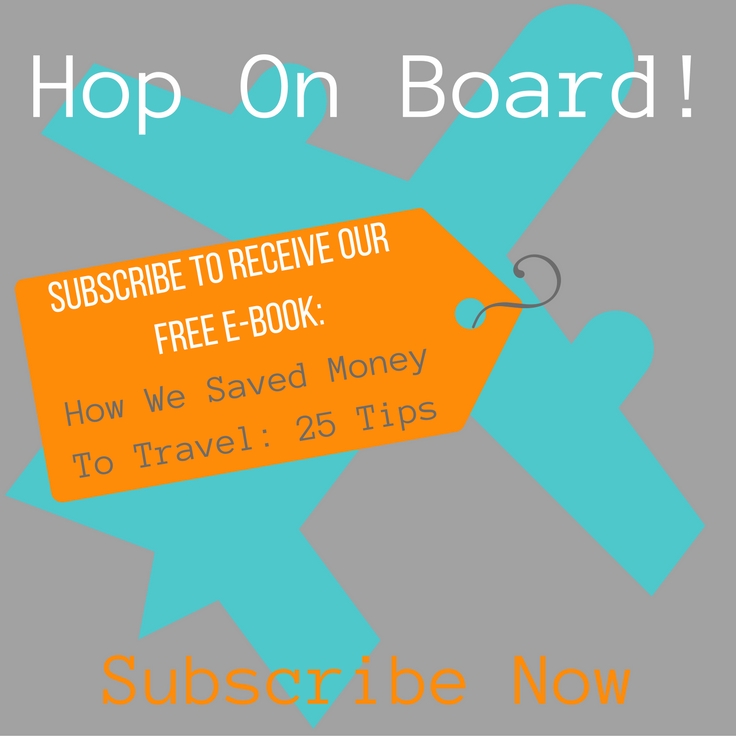 Koh Chuek
At Koh Chuek we pulled up next to other boats and before we were even anchored, our captain was shouting, "Go! Get in! Swim!" (I love the informal approach: no rules or strict guidelines; just get out and play!) We grabbed masks and snorkel tubes and were the first ones out of the boat.
At depth the water was murky – possibly from being over-toured, but more likely from the morning's storm – making it difficult to see the coral which was about 10 feet below us. But, bright yellow fish were everywhere and they weren't shy as they swam right alongside of us. We explored the edge of the rock and went further away than most of the group, allowing us to get to less crowded spots. We saw heaps of tropical fish and a few large schools that hid on the underside of overhanging rocks.
Koh Waen
Once again, as soon as we tied up near Koh Waen we were instructed to hop out of the boat. The current was stronger here and we drifted along with entire schools of fish. I don't mean small packs of fish, I mean hundreds, even thousands, of fish swimming in unison. It was like watching an episode of Nat Geo as the entire school quickly changed direction or were forced to split up to get around us and then reconnect. It was remarkable. Also remarkable was the strength of the current and swimming against it to get back to the boat was a chore (but we didn't mind the exercise!).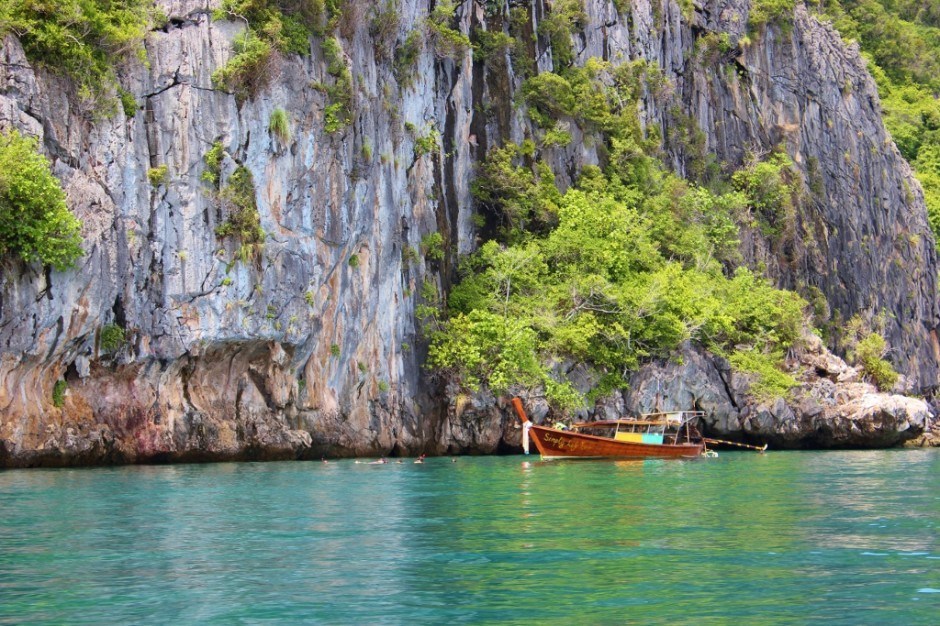 K
oh Mook
Our stop at Koh Mook was not for snorkeling, but for cave exploration. Named Emerald Cave because of the bright green glowing water, we swam a half mile through the cave to an interior beach. Nestled in what felt like the bottom of a volcano, the hidden paradise of soft sand, jungle trees and soaring rock felt like an exotic movie set. The oasis was most notably used by pirates as a place to store their treasures and our thoughts drifted to Isla de Muerta from Pirates of the Caribbean.
Koh Ngai
On Koh Ngai, we had lunch of rice, curry and a local dish of pineapple, pickles, potatoes and tomatoes (so simple, so fresh, so good). the items were brought from the boat to the beach on Koh Ngai. We sat in the sand to eat and watched as other boats came and went in the tropical bliss.
The clear, calm water beckoned us for an after-lunch swim and as we took in our surroundings we were struck by just how fortunate we are. At one time, swimming in the Andaman Sea off the coast of Thailand seemed like a faraway dream, but it was actually happening.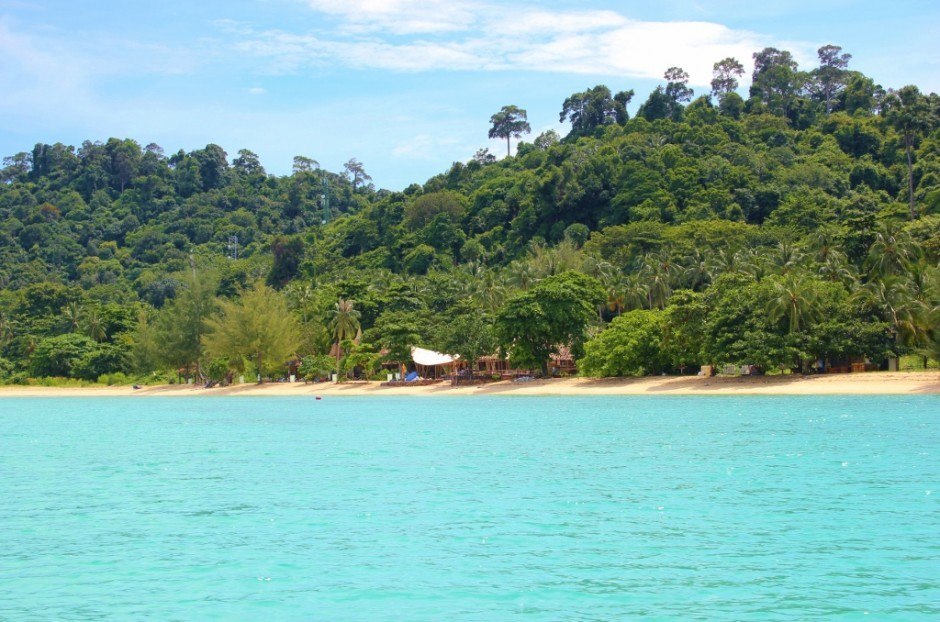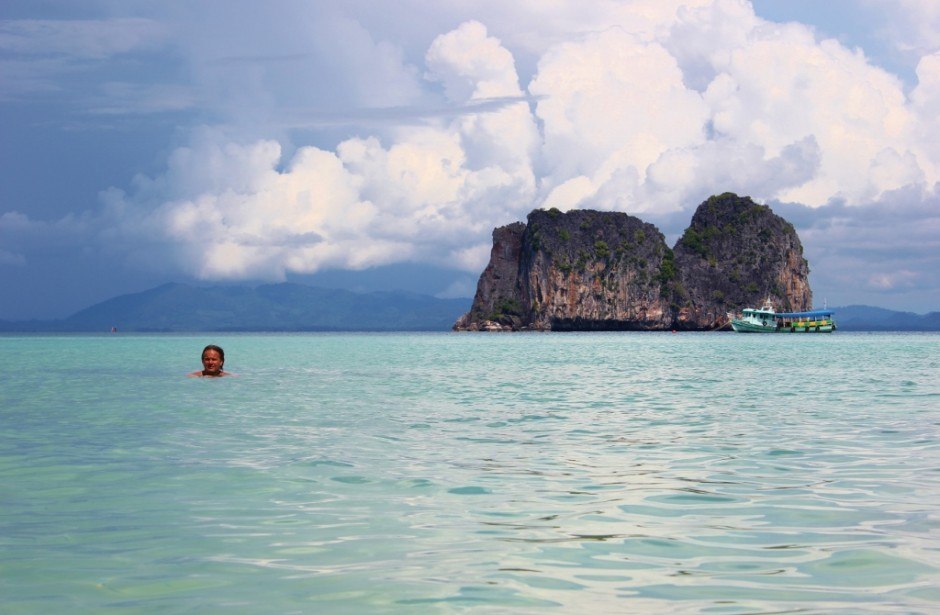 Our last snorkeling stop was a short boat ride to the end of Koh Ngai and we were ecstatic that our captain had saved the best for last. The reef was only about 3 feet below water and the visibility was much clearer, allowing us to see a larger variety of fish. We found an anemone with several orange and a few black 'Nemos', an enormous puffer fish, a long, striped, snake-like eel, hordes of radiantly colored fish and even unsightly camouflaged fish. Just like at every other stop, Kris and I were the last ones back in the boat and we wish we could have stayed longer.
Our top tips for your trip to Chiang Mai, Thailand:
Where To Stay
During our visit to Koh Lanta, we stayed in the Phutara Lanta Resort (which you can read about here). However, there are many hotels to choose from in – or close to – the city center.

Before You Go
Don't forget to pack a pair of lightweight and comfortable walking shoes. I (Sarah) have traveled with these shoes by Columbia, Skechers and Reef. Kris prefers wearing these shoes by Merrell and Sanuk.
We're certain you'll be snapping tons of photos during your trip. Rather than relying on your mobile phone to capture the sights, upgrade to an actual camera for higher quality photos. We travel with a Canon Rebel (which takes amazing photos, but can be a bit clunky) and a Canon PowerShot ELPH (which takes beautiful pictures, is slim and lightweight – and the new models are wifi enabled so you can share your trip pics to social media in real time!)
We think travel insurance is essential! If you haven't already obtained travel insurance for your trip, travel protected with World Nomads.
Want more travel planning tips? Head over to our Travel Planning page for our complete packing list and other travel resources!
Like what you're reading? Join the journey!
Subscribe to JetSetting Fools and get new blog posts and our quarterly newsletter direct to your inbox:

We want to know: Have you been on the Four Island Tour from Koh Lanta? What were the highlights for you? What other tours from Koh Lanta have you taken?
Pin it! See all of our travel pins on our JetSetting Fools Pinterest Board.