Some of the links on this site are Affiliate Links and if you use them to make a purchase, we may earn a small commission. For more information, read our Disclosure Policy.
---
The hills of Lisbon are giving us a workout, but our reward (besides burning up all the calories from the wine and custard tarts) are the scenic viewpoints in Lisbon showing us the brightly colored city from different angles. Miradouros – lookout points – with shady terraces, sometimes accompanied by a small café, can be found all over the city and both tourists and locals frequent the spots.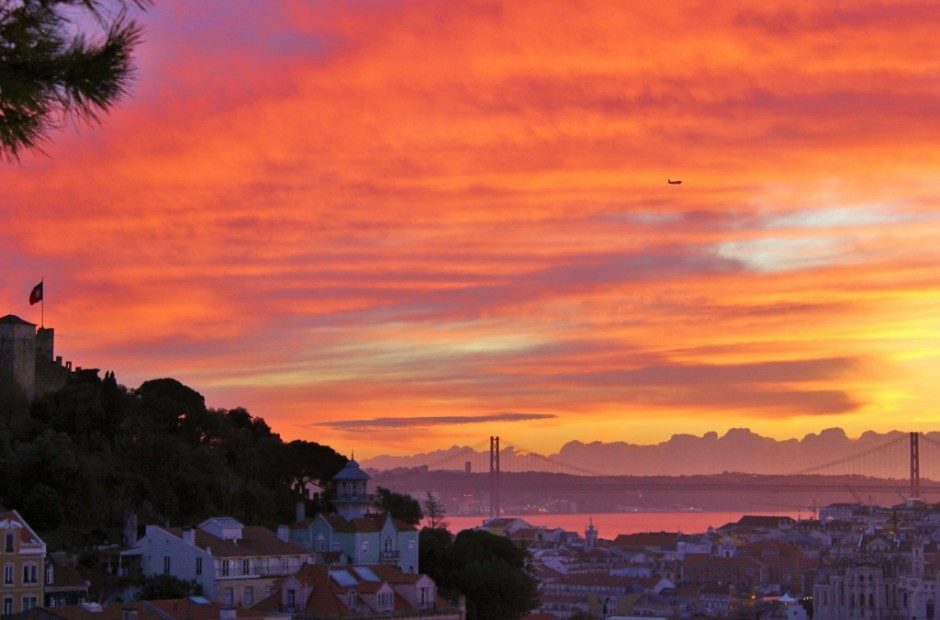 In addition to the hillside views, many of the monuments and churches allow visitors to take a lift or hike to the top for rooftop views, but usually for a small fee. To keep our budget in check we often skipped on paying for the views, but indulged at a few places. With the hillside and tower views combined, we discovered 10 scenic viewpoints in Lisbon.
10 Scenic Viewpoints in Lisbon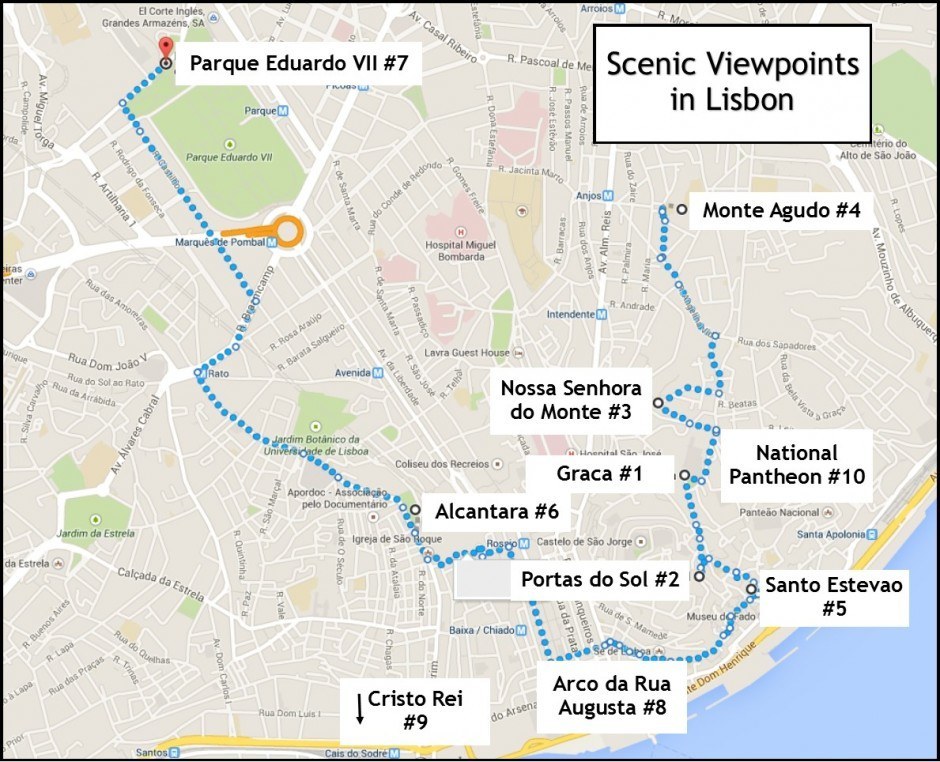 Click here for a link to the map.
#1 Miradouro Graca
This lookout is quite popular, both for the easy-to-find location and proximity to the Castelo de Sao Jorge, and is one of our favorites for wide city views and watching the sun set over the city.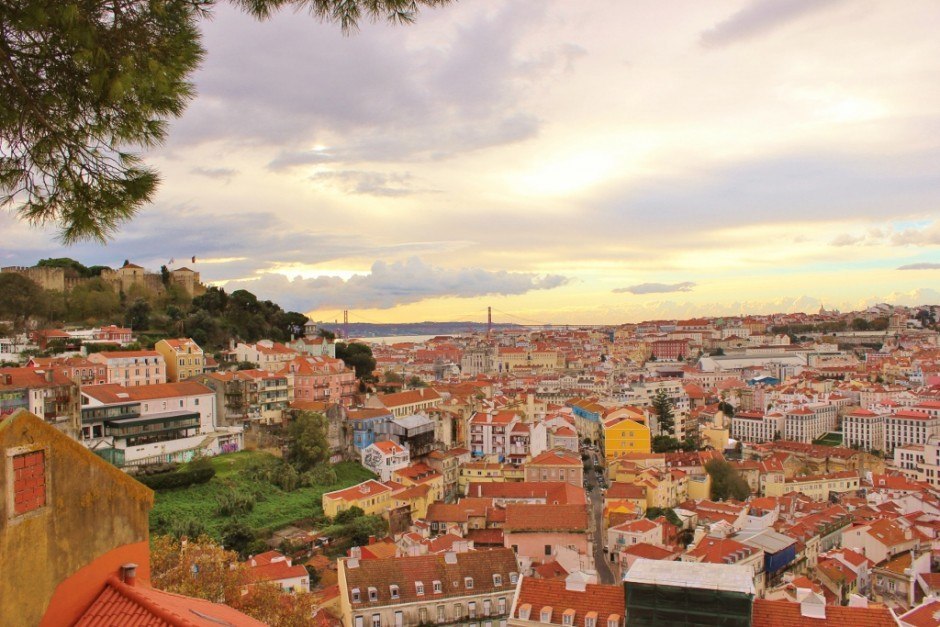 #2: Miradouro das Portas do Sol
A bit of a touristy locale where street vendors and musicians set up, but nonetheless it offers spectacular views looking east over Alfama to Sao Vicente de Fora, the National Pantheon and Santo Estevao. A statue of St. Vincent stands next to a small café. Trams 12 and 28 stop across the street.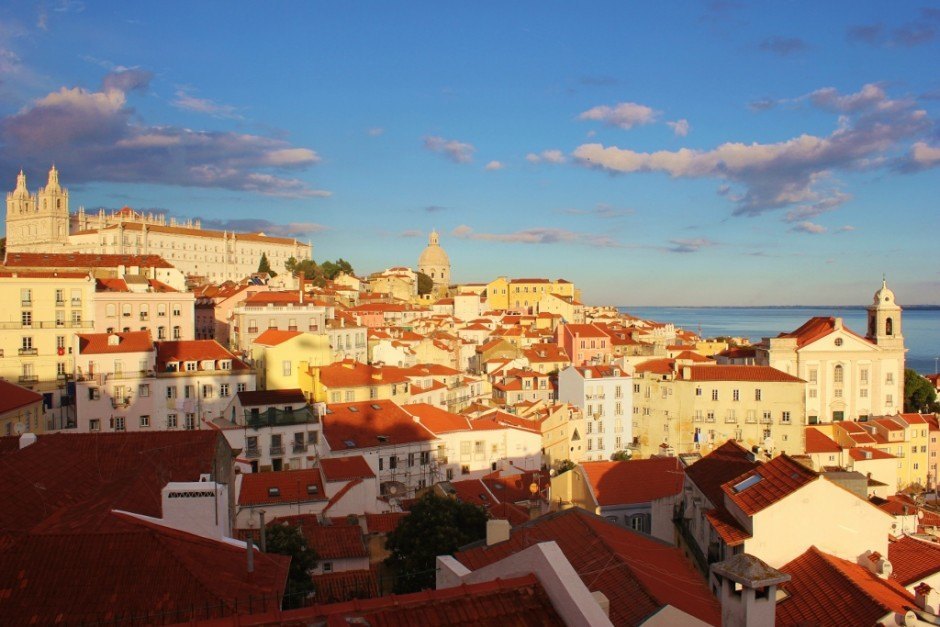 #3: Miradouro da Nossa Senhora do Monte
Supposedly more secret than the two previous lookout points, we found more tourists here than locals. Further north than Miradouro da Graca, but with a more elevated vantage point, it's a nice place to have a small picnic lunch or a bring-your-own adult beverage.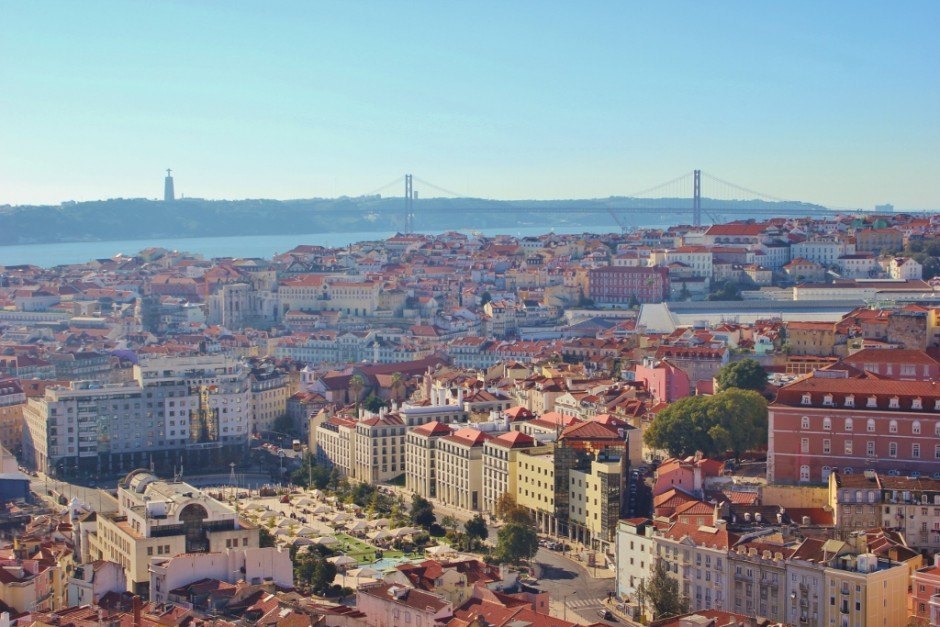 #4: Miradouro do Monte Agudo
It's definitely a hike to get to this lookout point that is popular with local dog owners, but worth it as the views stretch almost directly south over the city to the river.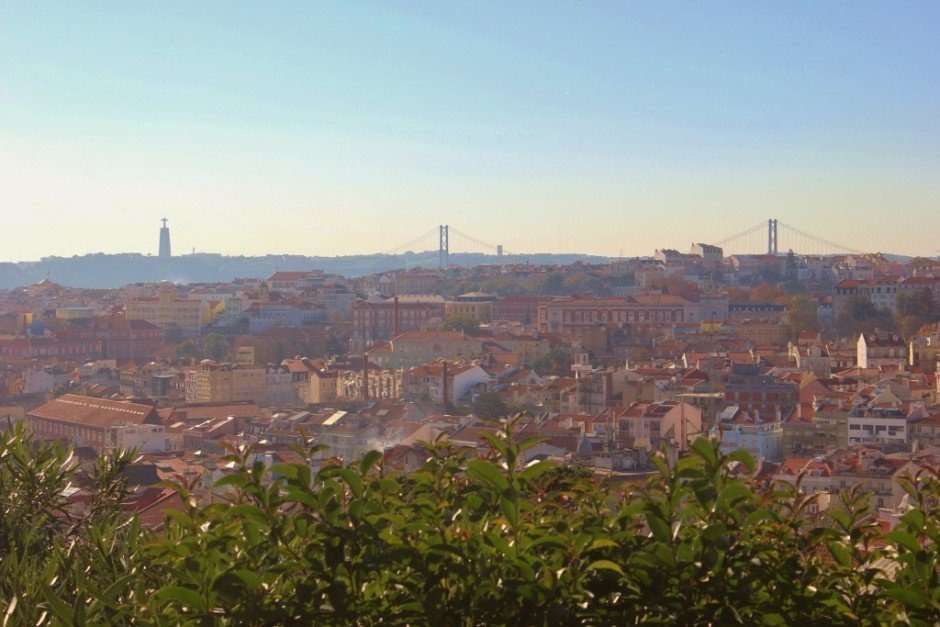 #5: Miradouro de Santa Estevao
Not necessarily the best views, no benches or cafe, but more quaint as it is practically on the steps of the church. After winding through the dense and narrow streets of Alfama, it was a nice place to catch our breath – and a view.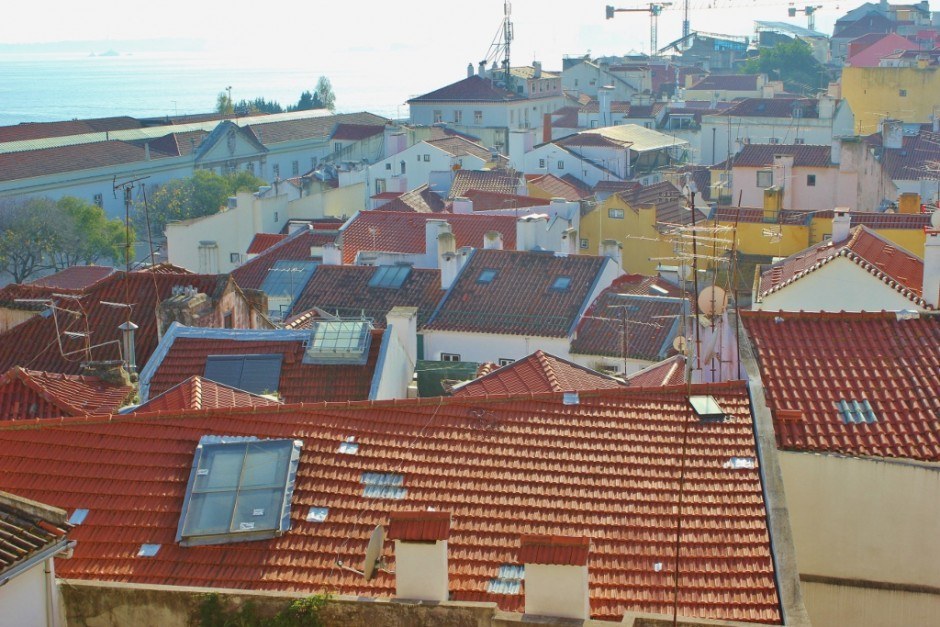 #6: Miradouro de San Pedro de Alcantara
This might reign as one of the better skyline viewpoints in the city. The two-level park in Barrio Alto provides views to the east over the city with Alfama and the castle in perfect sight. The soft light of the setting sun gives the entire city a warm glow.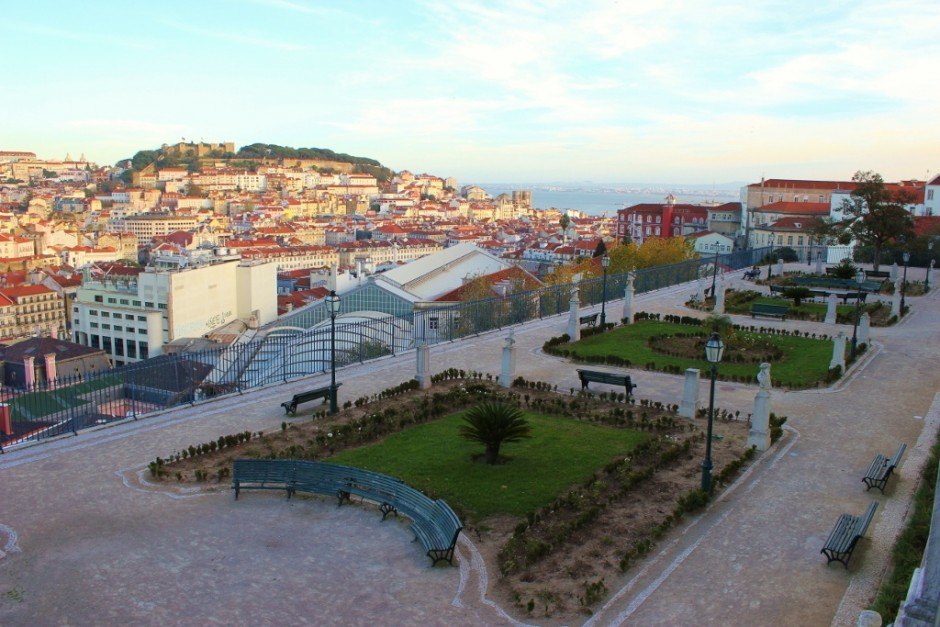 #7: Miradouro do Parque Eduardo VII
The park extends 62 acres from the north end of Avenida da Liberdade, with a gradual incline. At the top, there is a fountain and a gigantic flag that billows in the breeze. The views south over the green lawn and perfectly manicured hedges down the river is quite a sight. But, we continued across the street up to the Amalia Rodrigues Park for even better views.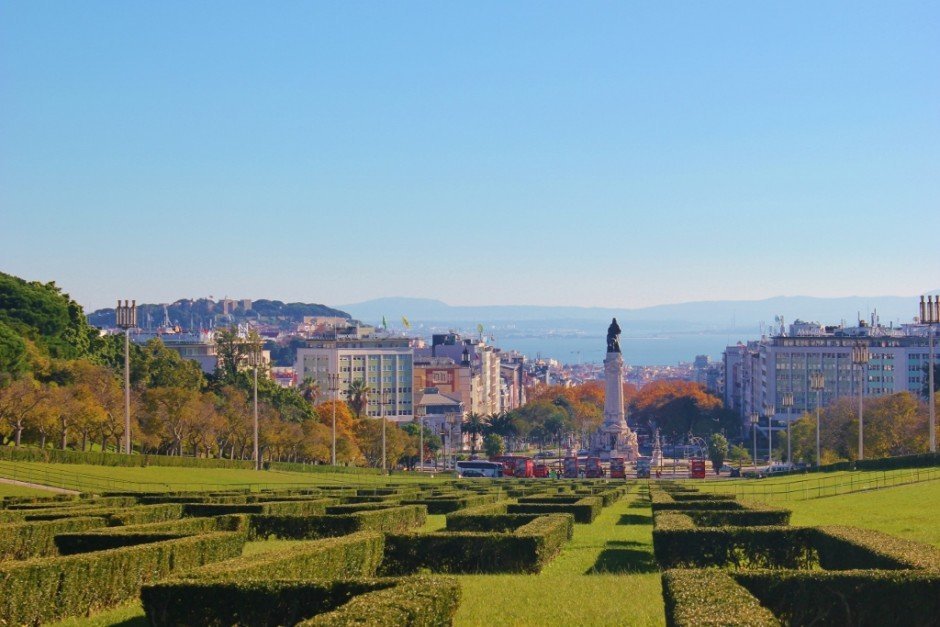 #8: Arco da Rua Augusta
Arco da Rua Augusta is the towering arch on the north side of Praco do Comercio leads into the Baixa district via the pedestrian-only Rua Augusta. While the view of the arch is extraordinary from down below in the square, the views from the top are even more so with 360 degree views of Lisbon. The lift up only costs €2.50; tickets are purchased in a small shop north of the arch on the east side of Rua Augusta.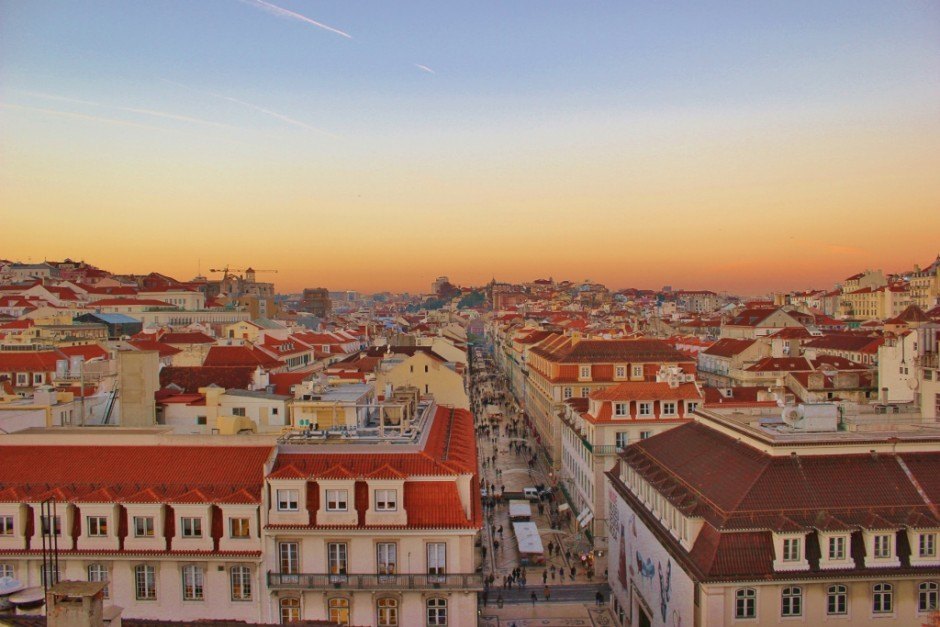 #9: Cristo Rei
On the south bank of the Tagus River, Cristo Rei, an enormous statue of Christ, stands on a hill looking over Lisbon. It's an easy trip across the river to Cacilhas for a visit. The views from the surrounding park are phenomenal (and free), but a lift for €4 takes visitors to the top of the 269 foot platform that the statue is mounted on.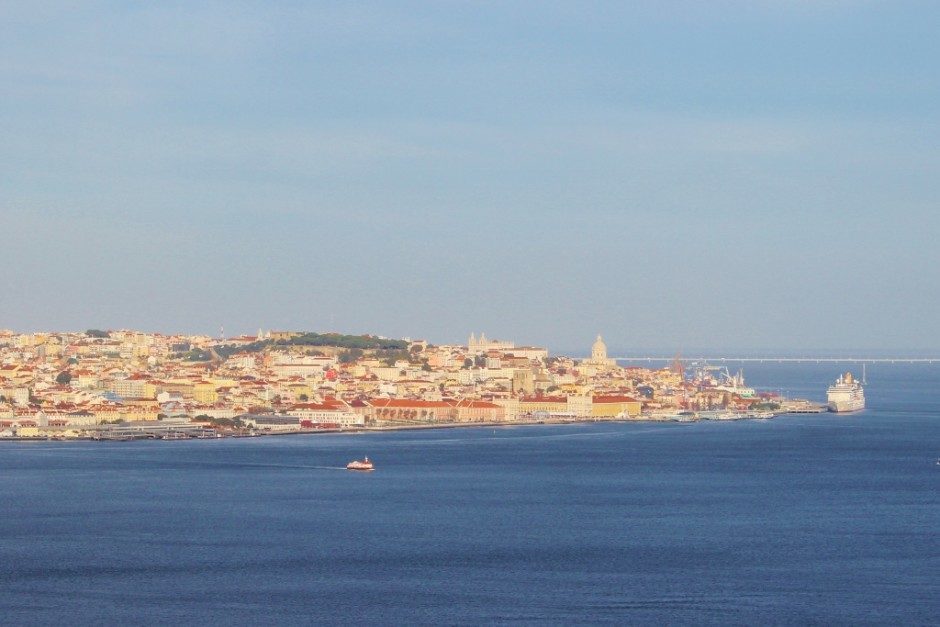 #10: National Pantheon
Also called the Church of Santa Engracia, the dome of this gigantic building that took 284 years to build is visible from many points in Lisbon. Inside, exquisitely patterned marble and memorials to Portugal's most revered historical figures are worth looking at, but a climb up the stairs to the rooftop provides outstanding views over Lisbon and the river. It's free on the first Sunday of each month, but costs €4 other days.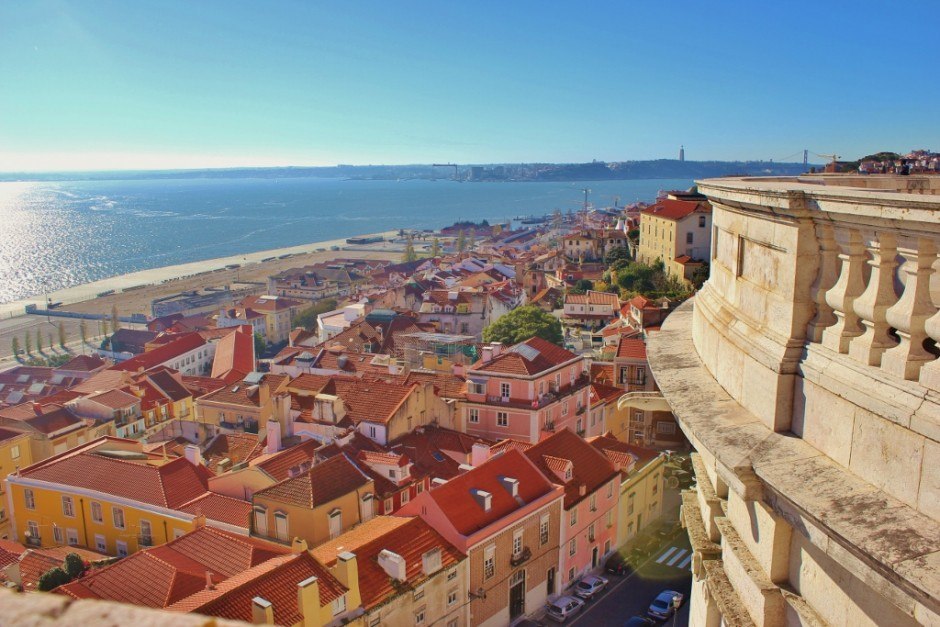 Our top tips for your trip to Lisbon
Lisbon Sightseeing Tips
If you plan on visiting museums and sites – and traveling via public transportation – the Lisboa Card can provide significant savings. With the Lisboa Card, all public transportation (including the Santa Justa Lift) is free, as are many museums, and top Lisbon sights – like St. George Castle (Castelo de Sao Jorge) can be visited with a reduced admission fee.
Although the public transportation options in Lisbon are ample, it can be confusing for anyone who isn't used to using public transport. Easier to figure out than public transport is the Lisbon Hop-On Hop-Off Bus that makes stops at all the popular tourist spots.
In addition to sightseeing in Lisbon, the most popular Lisbon day trip (besides a jaunt to Belem and Cristo Rei, as mentioned above) is a combo excursion to the UNESCO heritage town of Sintra and coastal Cascais. Although this journey can be completed on your own, an organized small-group tour from Lisbon to Sintra and Cascais can cost as little as $50 (and you are almost guaranteed not to get locked in a train station, like we did!)
Where To Stay
During our visit to Lisbon, we stayed in this awesome Airbnb Apartment. (Not already a member of Airbnb? Use this link to create an account and save money on your first stay!) We have found that staying in apartments is often less expensive than hotel rooms – with the added benefit of a kitchen and, usually, more space. Lisbon holiday apartments can also be searched on FlipKey (which is part of TripAdvisor) or on VRBO – Vacation Rentals By Owner.
However, for those who prefer staying in traditional accommodations, there are many Lisbon hotels to choose from in – or close to – the city center. Check out these top-rated hotels (based on guest reviews!) priced around $100 USD/night (at time of posting) for your upcoming trip: HF Fenix Urban, Hotel Expo Astoria and Empire Lisbon Hotel. Or, find a deal on a hotel room by bidding on Priceline.
Budget travelers can search for Lisbon Hostels – like Lisboa Central Hostel and Lisbon Destination Hostel. For a true bargain – and a unique experience – search for hosts on Couchsurfing, where travelers stay with locals for free.
Getting There
In Lisbon
Lisbon can be reached by plane, train, bus or car. The Lisbon Portela Airport is the international airport. If arriving/departing Lisbon by train or bus, there are several stations in the city. When booking travel by train or bus, pay close attention to the station of arrival/depature.
In General
Our preferred method of getting anywhere is by flying (we are JetSetting Fools, after all!). However, due to our unique circumstances (flight benefits earned from years of service with a major airline), we rarely buy airline tickets. That being said, when we do need to purchase plane tickets, we start our search for the best deals on airline tickets on Skyscanner or Flight Hub.
To get from city to city when flights are not possible, we usually rely on public transportation and take trains or buses. In Europe, we use Rail Europe to find train tickets and our preferred bus company is FlixBus – as it is economical, clean and comfortable with on-board wifi, seat-back entertainment, refreshments and a toilet. We aren't keen on driving abroad, but renting a car can often save time and money (especially when traveling with more than two people) – and it allows for greater discovery.
Before You Go
Want more travel planning tips? Head over to our Travel Planning page for our complete packing list and other travel resources!
What to eat in Lisbon
Get the ultimate Lisbon food guide, Lisbon in 100 Bites.
Like what you're reading? Join the journey!
Subscribe to JetSetting Fools and get new blog posts and our quarterly newsletter direct to your inbox:

We want to know: Are there other scenic viewpoints in Lisbon you would add to our list? Tell us in the comments!
Pin it! See all of our travel pins on our JetSetting Fools Pinterest Board.