Stay out of the bars. That's the #1 tip for budget travelers visiting Iceland. The best budget tip for those wanting to imbibe in Iceland and to save money is to purchase alcohol at the duty-free shop at the airport on arrival. While we clearly fall into the Budget Traveler category, there was zero chance we were going to bypass trying a few local brews at a pub. It is, after all, our preferred method of meeting and mingling with locals. We sacrificed the budget and found 3 places to drink local beer in Reykjavik, Iceland.
The entire idea of Iceland on a budget is somewhat of an oxymoron. It's simply not a budget destination. But, rather than eliminate the entire experience of bellying up to a bar and having a pint, we sought out happy hours and consciously limited our intake. Our affection for craft beer over mass-produced beer, however, certainly added a few Icelandic Kronas to the tally, but was well worth the upgrade.
Just as it seems the case in several locales around the world, craft brew is on the rise in Iceland, too. Microbreweries in Iceland are producing everything from tried and true lagers to the unusual and expensive experimental beers. Unlike most of the rest of the world, however, brewing and consuming beer only became legal in Iceland on March 1, 1989, what is now called Beer Day. For 74 years, consumption of beer was banned for Icelandic citizens. It could still be produced in Iceland, however, only for foreigners and with minimal alcohol content for residents. The beer industry in Iceland has come a long way since the prohibition in 1915.
In Reykjavik's city center, there are a plethora of bars; the area is known for its nightlife. As we were intent on drinking local – and, with the entire country the size of Kentucky, we considered anything from Iceland as such – we skipped the themed bars on the main drag (American Bar and Café Paris, to name two). Instead, we opted for two craft beer bars and a quaint cafe with a stellar happy hour, all three of which are conveniently clustered together off the west end of Austurstraeti.
Places to Drink Local Beer in Reykjavik: Skuli Bar
Skuli Bar has both craft brew and happy hour, so obviously it is one of the best places to drink local beer in Reykjavik. Unfortunately, the happy hour (which lasts from 2pm until 7pm) just made the expensive craft beer less expensive, but, no doubt, still expensive. In the dim interior, the chalkboard displaying which beers are currently on tap is highlighted behind the bar.
We ordered one of each of the two happy hour options: Brio (Pilsner) and Myrkvi (Porter). Although I don't usually indulge in porters, it paired brilliantly with the cold and dark weather occurring outside the window. Both beers are produced by Borg Brugghus, a microbrewery born from Olgerdin, Iceland's oldest brewery.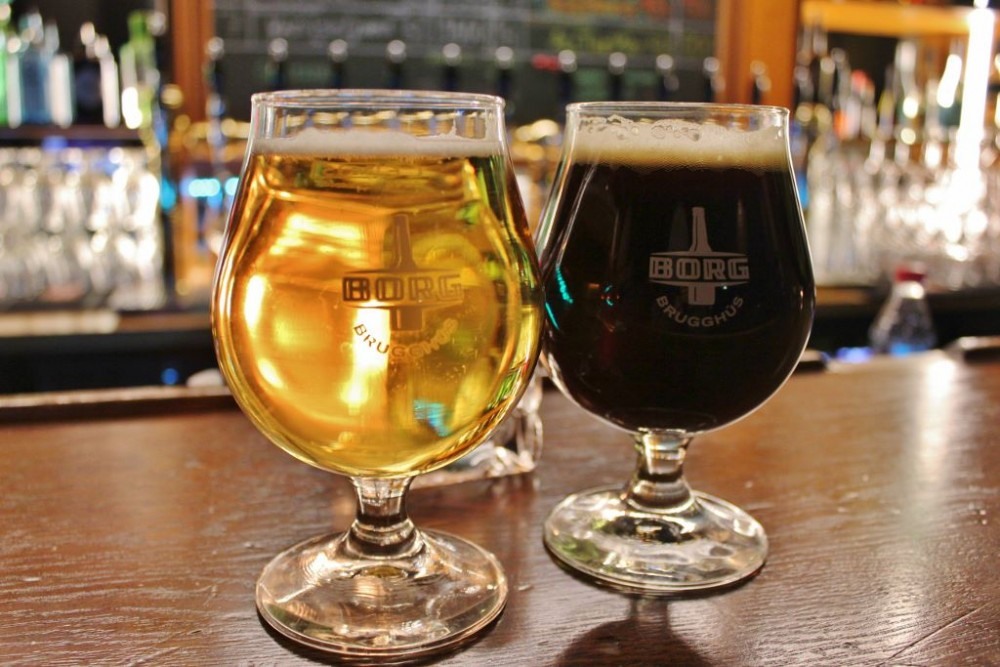 With a friendly bar staff and equally friendly patrons at Skuli Bar, it was a fun place to kick back and relax after a day of touring the Golden Circle. The beers were tasty, too. Although it was suggested, we passed on a shot of the local schnapps, Brennivin, which is often the drink of choice when consuming fermented shark. We also made sure to steer clear of Surtur 8.2, a stout with 14.5% alcohol content and a price tag of $15.50 a glass.
Cost: We had 3 Myrkvi porters (1000 ISK happy hour/1300 ISK list) and 1 Brio pilsner (600 ISK happy hour/900 ISK list), which at happy hour cost 3600 ISK, or about $28.50 USD.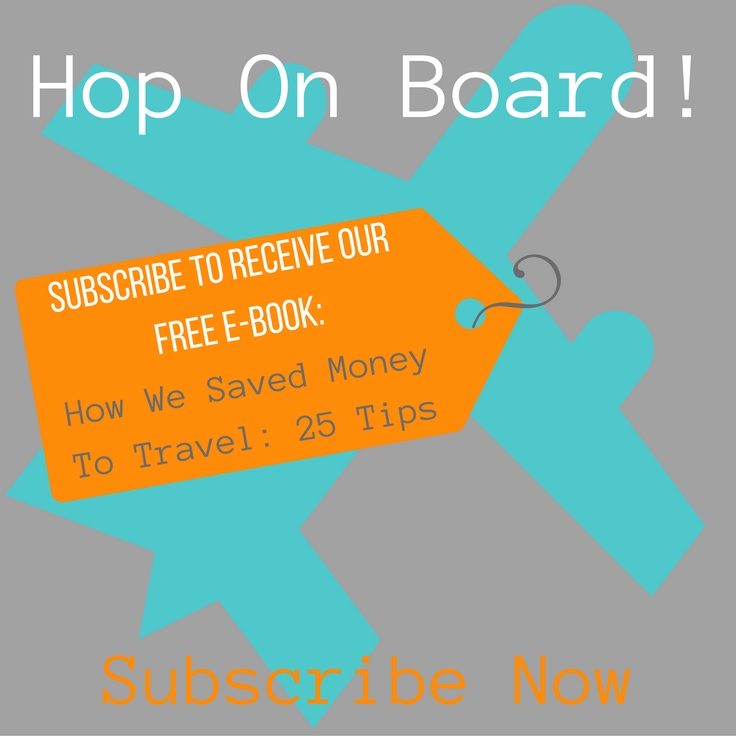 Places to Drink Local Beer in Reykjavik: Micro Bar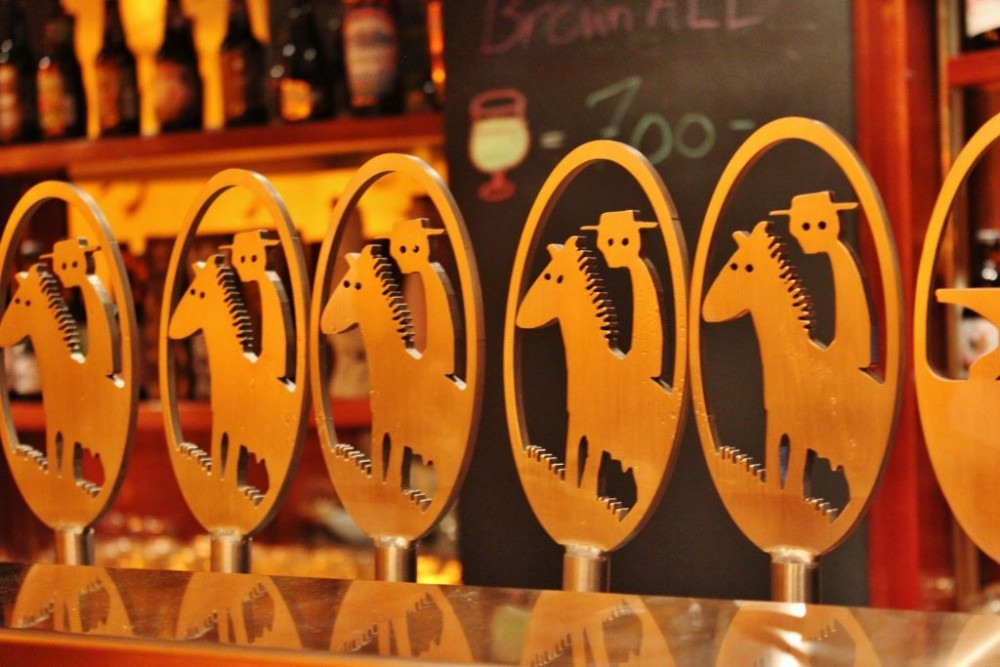 On the opposite end of the square, down a flight of stairs into a basement is Micro Bar, which was easy to find once we spotted the wooden horse mascot grazing outside. They, too, have craft beer on tap and happy hour, only with shorter hours (from 5pm-7pm) offering one selected tap beer for 700 ISK (about $5.50 USD). Unfortunately, our arrival at Micro Bar was after our return from Iceland's South Coast Tour, which was post-happy hour.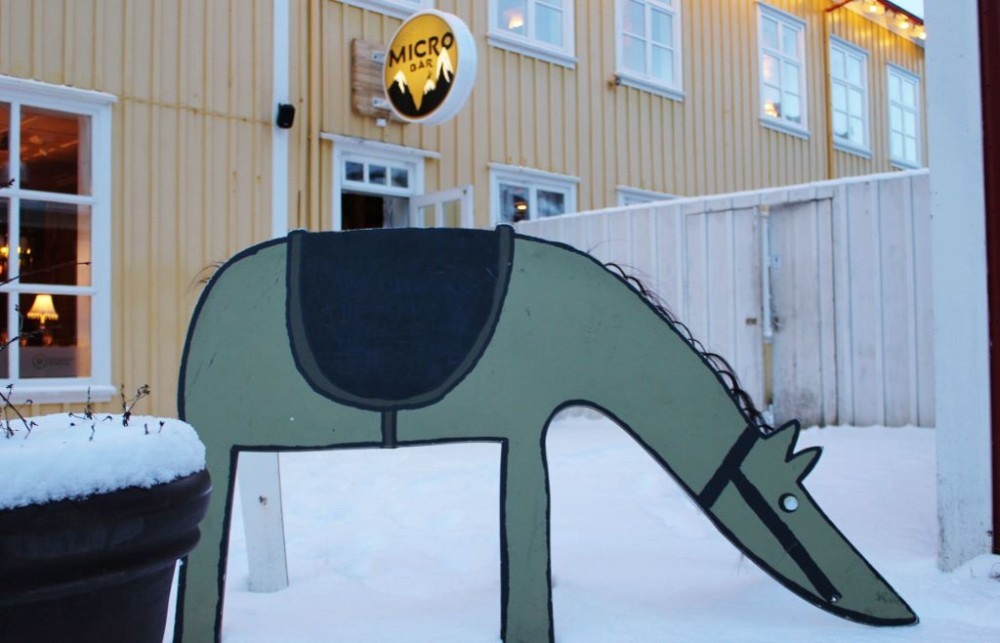 Since there were no deals to be had, we angled toward our preferred style of beers: Olgjorvi American Pale Ale and Tumi India Pale Ale – neither disappointed. Both beers are crafted by Gaedingur Brewing, which was established in 2011. During our visit, there were six Gaedingur craft beers offered on tap, in addition to six others from around the country. Micro Bar also carries a large selection of bottled beer – all craft.
The atmosphere felt cozy, yet the room was reminiscent of an open, yet small, beer hall. The bar staff was quick to tell stories and aid in beer selection and recount the history of craft beer in Iceland.
Cost: We had 2 Olgjorvi APAs (1200 ISK) and 2 Tumi IPAs (1400 ISK), which cost 5200 ISK, or about $40 USD.
Places to Drink Local Beer in Reykjavik: Konsull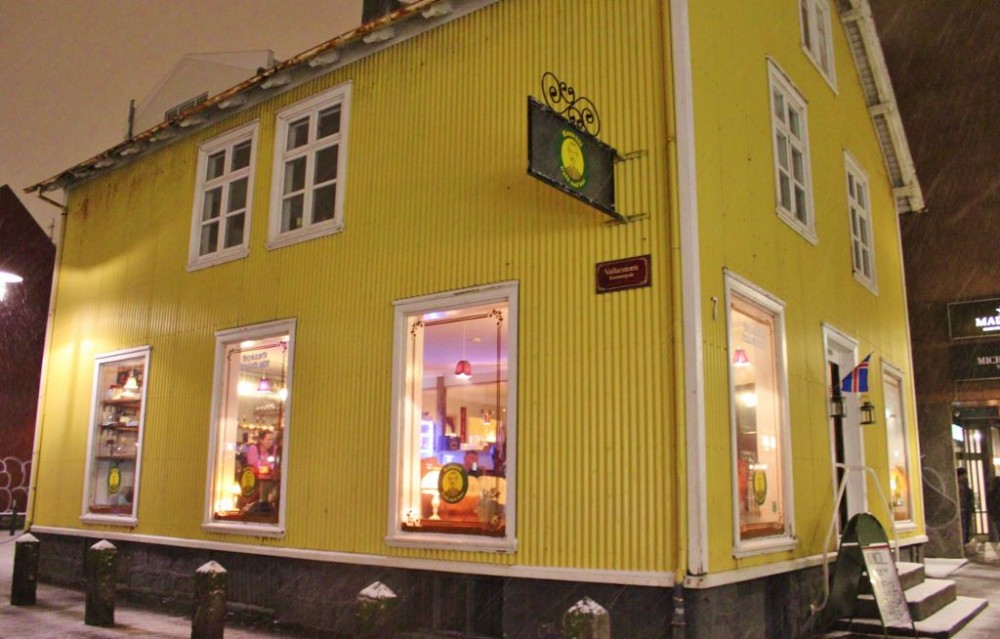 Located in a small yellow house around the corner from Skuli Bar, we almost passed by this little gem. Fortunately, the chalkboard sign outside advertising happy hour beers for 600 ISK lured us inside Konsull. When we entered, it felt like we stepped into someone's living room in the 1940s. Furniture was grouped together around coffee tables, along with one large, wooden dining table, which was used as community seating.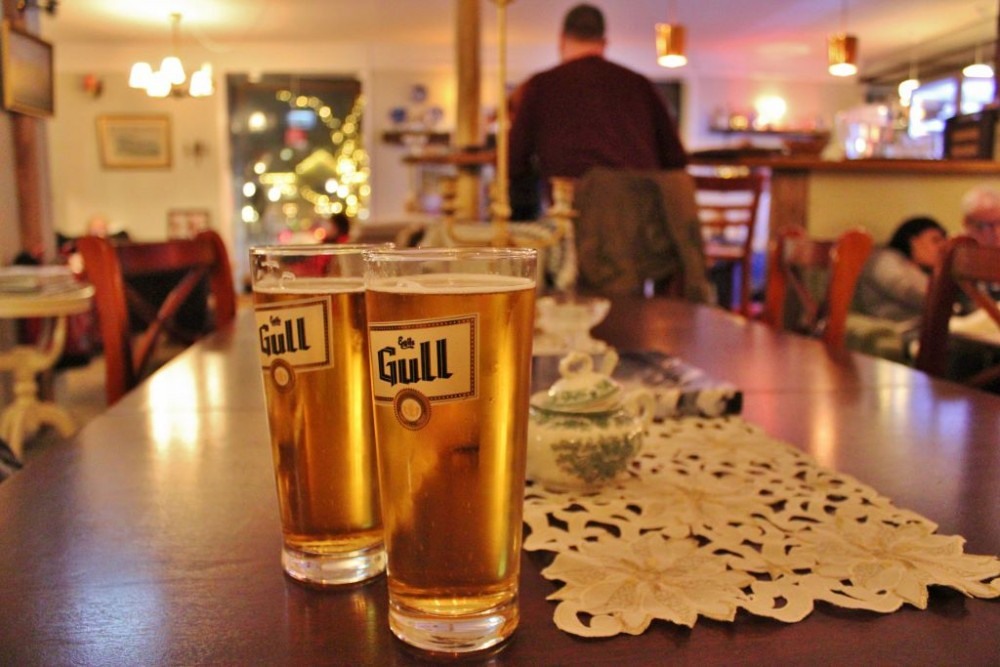 The happy hour special was a ½ liter of Gull, made by the parent company of Borg, Olgerdin. They have a history of brewing beer, distilling spirits and creating soft drinks since 1913 (we highly recommend their orange soda, Egils Appelsin!). They use pure Icelandic water in their products. Although mass-produced, it is a Reykjavik original and is practically the national beer of Iceland. As such, trying one almost seemed mandatory. We're not sure if it was the the happy hour pricing or if it was just that easy to drink, but we opted for a second round.
Cost: We had 4 Gull beers (600 ISK happy hour price), which cost 2400 ISK, or about $18.50 USD.
Where To Stay
During our visit to Reykjavik, we stayed in this awesome Airbnb Apartment. ( Not already a member of Airbnb? Use this link to create an account and save money on your first stay!) However, for those who prefer staying in traditional accommodations, there are many hotels to choose from in – or close to – the city center. Check out these top-rated hotels (based on guest reviews!) for your upcoming trip:
Or These Hostels:
Before You Go: Our top tips for your trip
Don't forget to pack a pair of lightweight and comfortable walking shoes for the city. I (Sarah) have traveled with these shoes by Columbia and Skechers. Kris prefers wearing these shoes by Merrell and Sanuk.
We're certain you'll be snapping tons of photos during your trip. Rather than relying on your mobile phone to capture the sights, upgrade to an actual camera for higher quality photos. We travel with a Canon Rebel (which takes amazing photos, but can be a bit clunky) and a Canon PowerShot ELPH (which takes beautiful pictures, is slim and lightweight – and the new models are wifi enabled so you can share your trip pics to social media in real time!).
It's easy to get turned around or lost in any new city! Be sure to have a good map and/or guidebook prior to arriving.
We think travel insurance is essential! If you haven't already obtained travel insurance for your trip, travel protected with World Nomads.
Want more travel planning tips? Head over to our Travel Planning page for our complete packing list and other travel resources!
Like what you're reading? Join the journey!
Subscribe to JetSetting Fools and get new blog posts and our quarterly newsletter direct to your inbox:

We want to know: What is your favorite place to drink local beers in Reykjavik, Iceland? Which is your favorite beer? Tell us in the comments!
Pin it! See all of our travel pins on our JetSetting Fools Pinterest Board.