Hey there! Welcome to JetSetting Fools! You will find our best travel tips for destinations worldwide. Some of the links on this site are Affiliate Links and if you use them to make a purchase, we may earn a small commission. For more information, read our Disclosure Policy.
---
It was the karst limestone rocks protruding from Halong Bay that ignited by desire to visit Vietnam. I don't remember the first time I saw a picture, but at some point, I had decided that I wanted to see Halong Bay with with own eyes. Not only did I want to see it, I wanted to go on a Halong Bay cruise.
Halong Bay cruise: Choosing a boat
We waited until we arrived in Hanoi, Vietnam to make plans for a Halong Bay cruise and took advice from our hotel staff. The tour options seemed endless. There are 500 junk boats (traditional Oriental-style boats) that set sail daily toting tourists out to the UNESCO World Heritage site. The options range from budget day tours to luxury three-day Halong Bay cruises.
With our 'Go with the Flow' attitude in Vietnam, we let our hotel staff handle all the details, booking us with their recommended company. We paid a budget-busting (yet, we think fair) price for a three day, two night cruise on a small boat operated by Aclass ($400 total).
Halong Bay cruise: Transportation to the boat from Hanoi
On the morning we left, we were informed that we'd been upgraded to a bigger boat with the same company, something that I think might be more common than not. A shuttle bus picked us up early for the four-hour drive. It included a 30 minute stop at an overpriced kitsch shop at the halfway point.
During the ride, our on-bus tour guide provided useful information about the area and gave us a rundown on customs and modern life in today's Vietnam. Although we were eager to get there, we were glued to the window as we passed through villages and small towns along the way, giving us our first look at Vietnam outside of Hanoi.
Halong Bay cruise: Our boat – A Class Opera
When we arrived to Halong Bay, we could see hundreds of karsts dotting the water and the sight was astounding. We were tendered to our junk boat, AClass Opera, and greeted with the smiling faces of the crew. After a brief review of the itinerary, we were shown to our room.
The room itself was compact and not as glossy as the photos, but we weren't on a Halong Bay cruise to stay inside. The walls and ceiling were dark wood, there was a rainfall shower in the private bathroom, a window so we wouldn't miss a single sight, and (best of all) an ice-cold air conditioner.
Once everyone had boarded and the captain's course was approved, we set off into the maze of the thousands of karsts.
Halong Bay cruise: Lunch
Much more like a traditional cruise than I thought it would be, we were assigned to a table for meals and had activities planned throughout the entire day. Lunch was the first item on the agenda. We were treated to an amazing feast of seafood as plate after plate after plate of goodness was delivered to our table family-style. Fortunately, we fell into easy conversation with our four other tablemates, who were also two-night cruisers.
Halong Bay cruise: Views from the rooftop deck
After lunch we retreated to the rooftop deck, mingled with the other passengers and stared in awe at our surroundings. The rocky islands that have evolved in the last 20 million years vary in size and shape and are covered in dense flora. Entrances to caves can be spotted as well as wildlife. We were eager to see monkeys, but only saw a great assortment of birds.
We passed by remnants of floating villages, where generations of families have lived. However, most of the inhabitants have just recently been required to vacate their homes and move onto land. Small fishing boats, usually painted a teal color were scattered about. Rowboats served as floating convenience stores pulling up alongside the junk boats offering water, batteries, beers and cigarettes.
Halong Bay cruise: Kayaking
The first scheduled activity was kayaking. We tendered to an abandonded floating village stocked with kayaks and hopped in for a one-hour paddle through karsts and caves, finding more beauty around every corner. The shallow, green-blue water was still and easy to maneuver in, but regrettably was also ripe with litter.
We were naturally inclined to clear the trash from the water. We collected a few items – a miscellaneous sandal, a water bottle, a beer can – before we realized we were fighting a losing battle. It is quite sad that the natural beauty has been slightly marred by years of careless human interaction. Fortunately, the endless, enormous, stunning rocks and peaceful atmosphere kept us oohing and awing.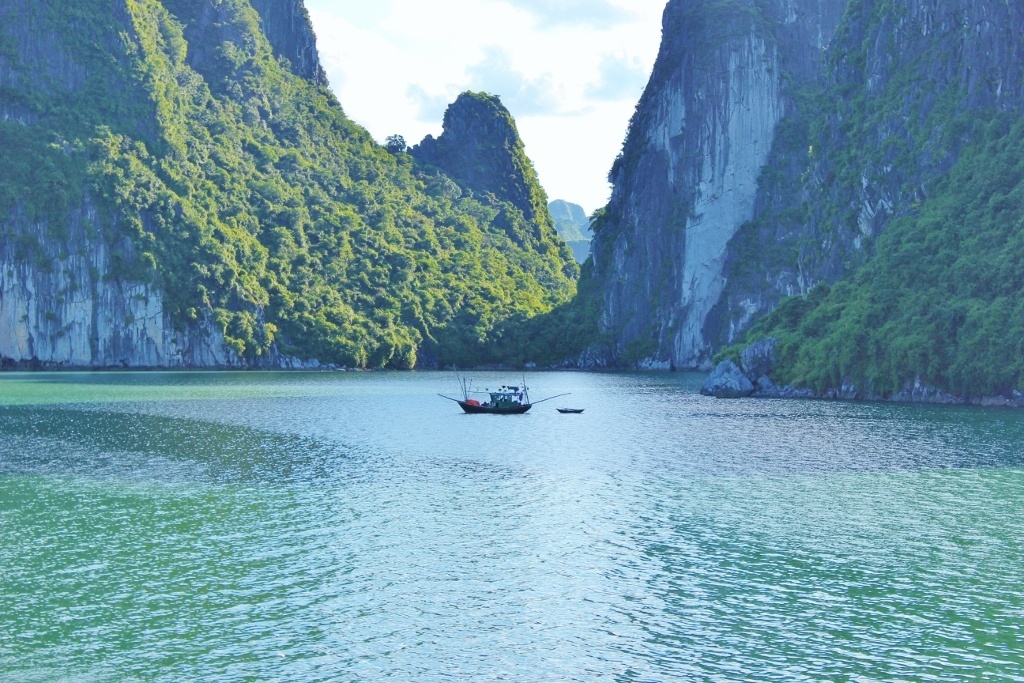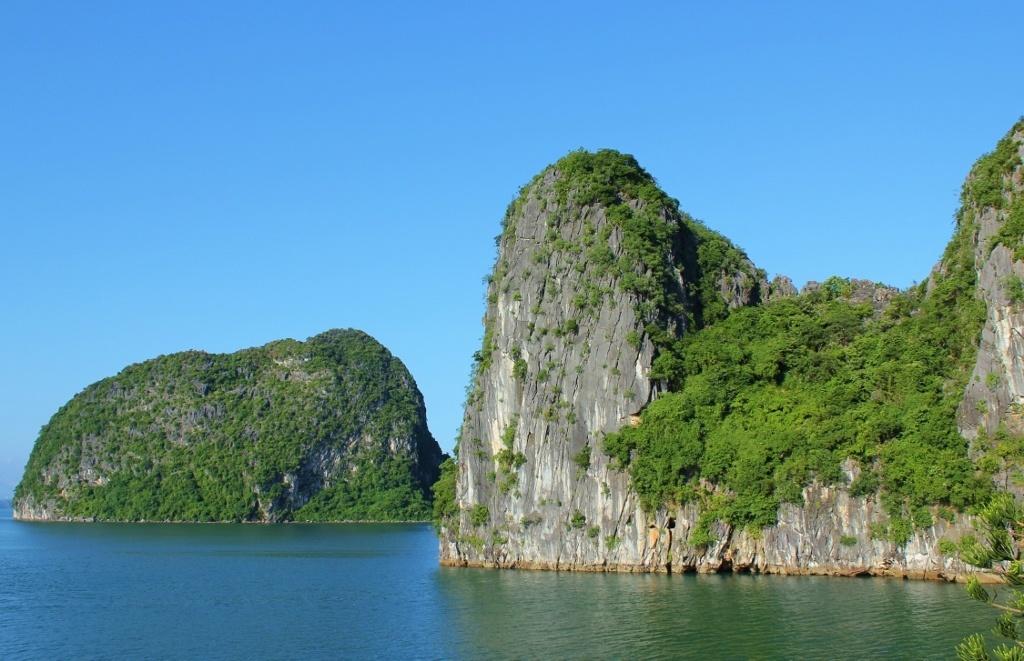 Halong Bay cruise: Ti Top
The second activity on our full itinerary was a hike to the top of karst. Ti Top, a karst which features a man-made beach has 425 steps (we counted!) to the top for sensational views of Halong Bay. In the humidity, we were dripping with sweat, but every step was worth it for the insane scenery.
We looked down on the hundreds of little islands, like green paint droplets dripped on a mat of swirling blue. As the sun was beginning to set, the slanted light made it all the more magical.
After descending the karst, the man-made beach was a welcome sight and we plunged into the semi-cool, blue water without hesitation. The water was salty and buoyant (or I've just been eating too much rice!) and we floated effortlessly as the sky turned pink above us. We made it back to the boat as the last splash of orange lit the sky.
Halong Bay cruise: Night activities: Dinner, Karaoke, Squid Fishing
Back on the ship, our new friends joined us on the top deck with exciting news that they had just gotten engaged. A total surprise for her – and what seemed like a relief for him – they were both glowing. We celebrated with a bottle of wine and it was fabulous to share in their moment.
The daylight was gone, but the day was not over. Dinner, much like lunch, consisted of an incredible array of local dishes. Still more to come, we had an obnoxious, yet entertaining, round of karaoke and then a try at squid fishing. We came up empty, but the entire day had been more than fulfilling. Exhausted and anticipating an even more stellar Day Two of our Halong Bay cruise, we crashed out early and were gently rocked to sleep in our cove.
Click here to continue to Day Two of our Halong Bay Cruise.
Click here to see full three day, two night cruise itinerary for Aclass Opera Halong Bay cruise.
We want to know: Are the karsts of Halong Bay enough to lure you to Vietnam? Have you been on a Halong Bay cruise? Tell us in the comments!
Pin it!