Hey there! Welcome to JetSetting Fools! You will find our best travel tips for destinations worldwide. Some of the links on this site are Affiliate Links and if you use them to make a purchase, we may earn a small commission. For more information, read our Disclosure Policy.
---
As we wandered the streets of the neighborhoods in Seville, Spain, it became evident that the tapas bars in Seville, both classic and trendy, are part of the city's beauty. People gathered around outdoor tables and squeezed their way into small Seville bars. As we were in search of the best tapas in Seville, we eagerly joined the crowds to sample the fare.
Locals let us in on a little secret about their city: people there live outside of their homes. Instead of being indoors, time is spent with family, friends and neighbors at their favorite Seville restaurant sipping on local wine and snacking on Seville tapas. Eating traditional Seville food is a key element in how they socialize. Based on a few recommendations and simply following the locals to the action, we found our way into the best bars in Seville, Spain for tapas – and a few drinking bars, too. (Seville Tapas Bars Map below!)
5 Tapas Bars for the Best Tapas in Seville
There are many Seville, Spain attractions, but none intrigued us as much as eating in Seville. Or to be more accurate, on our trip we were mostly interested in eating tapas in Seville. While we would not recommend any visitor missing the Seville top attractions, we don't think a trip to the city would be complete without dining at one Sevilla tapas bar. With numerous choices for tapas in Sevilla, we compiled our list of best tapas bars in Seville.
#1 El Rinconcillo Sevilla
El Rinconcillo Sevilla, Spain was founded in 1670 – making it the oldest tapas bar in Seville. Located on a quiet square 1km northwest from the Seville Cathedral, it is worth the effort to find this spot for both the incredible Sevilla tapas and the warm ambiance.
We fell in love with the atmosphere at El Rinconcillo as soon as we walked in the door. The shabby chic interior of the dimly lit room was inviting and cozy. The long bar offers plenty of standing room and the room is decorated with hanging ham legs and ancient, dusty bottles lining the shelves. Staying in character of the old-fashioned vibe, our tab was chalked directly onto the bar with each tapas dish we ordered.
We clustered at the end of the bar and were entertained by the bartender, who at first seemed crusty, but we quickly learned it was just part of his charm. We tossed aside the El Rinconcillo Sevilla menu and took his recommendations for tapas and wine, going out of our comfort zone with a cooked spinach dish that was surprisingly delicious. Our entire experience at El Rinconcillo was fabulous, which earned the restaurant our Number 1 spot for Best Tapas Bar in Seville.
Read more reviews of El Rinconcillo on TripAdvisor
#2 Las Golondrinas
We had to squeeze our way into the packed Las Golondrinas, one of the highly recommended Triana, Seville restaurants. Although it's top-rated in tour books and in online Seville food guides, we found both tourists and locals inside, which made us wonder if Las Golondrinas is, perhaps, the best restaurant in Triana, Seville.
In the completely packed bar, it was impossible to get recommendations from the staff, but we can armed with a list of the house Seville food specialties: tapas of pork sirloin and sautéed mushrooms. We were not disappointed; the dishes lived up to the touts as best tapas in Triana, Seville. In fact, we ranked them as the best tapas in Seville, Spain.
Read more reviews of Las Golondrinas on TripAdvisor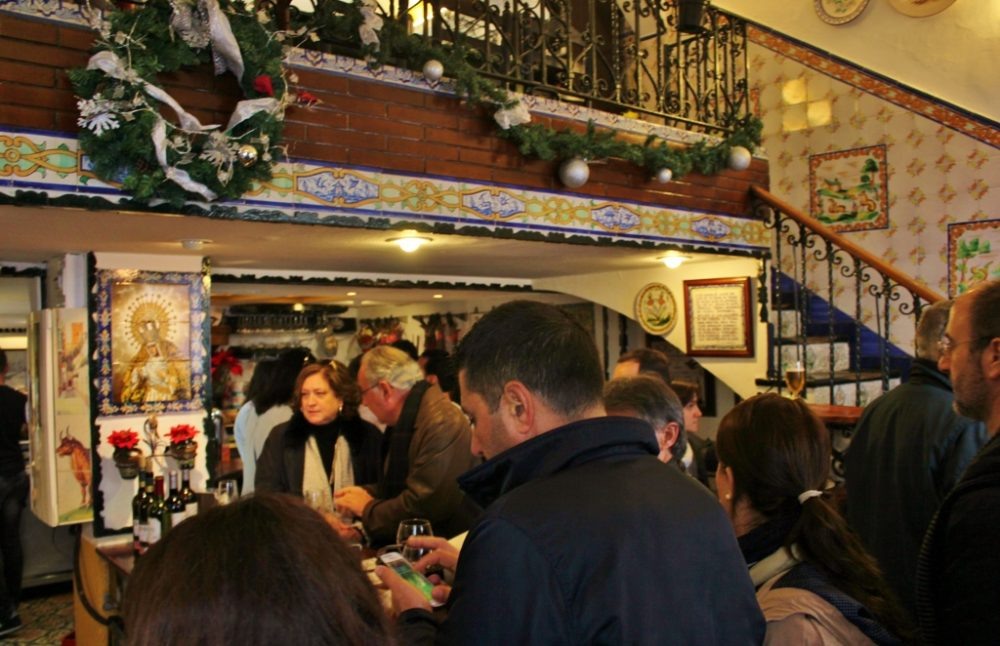 #3 Bodega Siglo XVIII
We were lured into Bodega Siglo XVIII by the number of satisfied patrons that were spilling out the front door – and are certainly glad we seized the opportunity. We scored seats close to the bar and watched and array of savory dishes of cured meats, pungent cheeses and smoked fish – being created. A steady flow of regulars rotated through the bar, chatting up the bar staff and ordering their favorite tapas.
Read more reviews of Bodega Siglo XVIII on TripAdvisor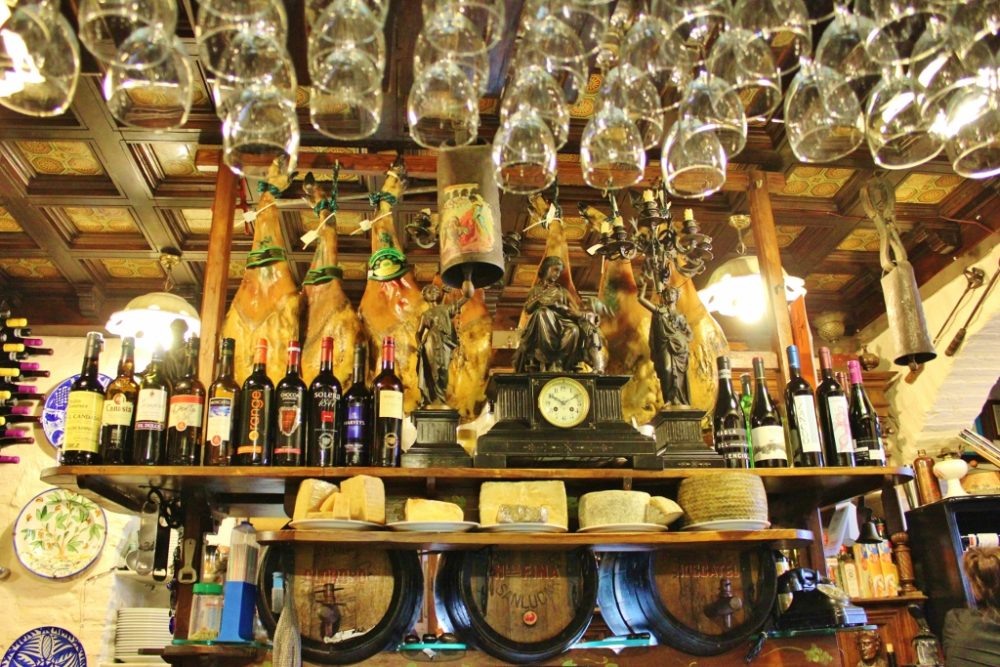 #4 Bar Alfalfa
We liked Bar Alfalfa Sevilla more for the Seville nightlife than for the Seville tapas. That's not to say that the tapas weren't good, but just that Bar Alfalfa Seville, Spain was an incredibly fun Seville bar that attracted a jovial bunch.
We grabbed seats at the center table, which quickly became a community table as the bar filled up with local patrons and tourists. We chatted with other travelers, expats, and locals and 'just one drink' turned into a several hour affair. Sampling the wine slowly (but surely) took precedence over Seville, Spain tapas. (Wine, once again, gets the blame as the culprit in our non-documentation of consumed tapas in Sevilla!)
Read more reviews of Bar Alfalfa on TripAdvisor
#5 Bar Blanco Cerrillo
Blanco Cerrillo is a tapas bar Sevilla gem! This Seville tapas restaurant came highly recommended by our Airbnb host – for good reason. More modern, but keeping traditional hours, Blanco Cerrillo was closed the first time we passed by in late afternoon. We strolled the neighborhood and by the time we rolled back around, the place was jamming. The Spanish-speaking-only, yet friendly and helpful, bartender mostly got the gist of our 'No pescados' request (only once bringing us unwanted fish balls) and brought a steady stream of some of the best tapas in Seville, Spain to our table.
Read more reviews of Bar Blanco Cerrillo on TripAdvisor
---
Tapas Tour Seville
While we created our own Seville tapas crawl, there are several Sevilla Tapas Tours where a local guide will lead the way and give guests a yummy introduction to Seville, Spain food. Check out these highly-rated Tapas Tours in Seville on Viator:
Going to Barcelona, too? Click here to read about Tapas Bars in Barcelona
---
Seville Tapas Bars Map
Locations of bars serving the best tapas in Seville.
---
3 Drinking Bars in Seville, Spain
While in search of the best tapas Sevilla has to offer, we wandered into a few Sevilla bars better known for their drinks than food.
Tip: Some Seville nightlife spots, like Bar Alfalfa Seville, Spain, double as a Seville tapas bar and drinking bar.
Live Flamenco at Farinas
Sometimes when we get a little lost is when we stumble into the best experiences– as was the case with Farinas. It was dark outside when were on a fairly quiet street trying to find our way back to the city center when we heard Flamenco music coming from a doorway we would have otherwise passed. A few people standing outside smoking noticed our interest and invited us inside.
What we walked into was a tiny space with folding chairs pushed to the wall on one side, a stage with a few stools and a small bar in the back. It felt like we walked into someones home. Everyone seemed to know each other. The man playing guitar invited two girls to join him on stage to help him sing a round of songs and a toddler-aged boy played a beat box. As it got more crowded, a few people started to dance – those without partners danced in a group of women. The unexpected experience was beyond amazing.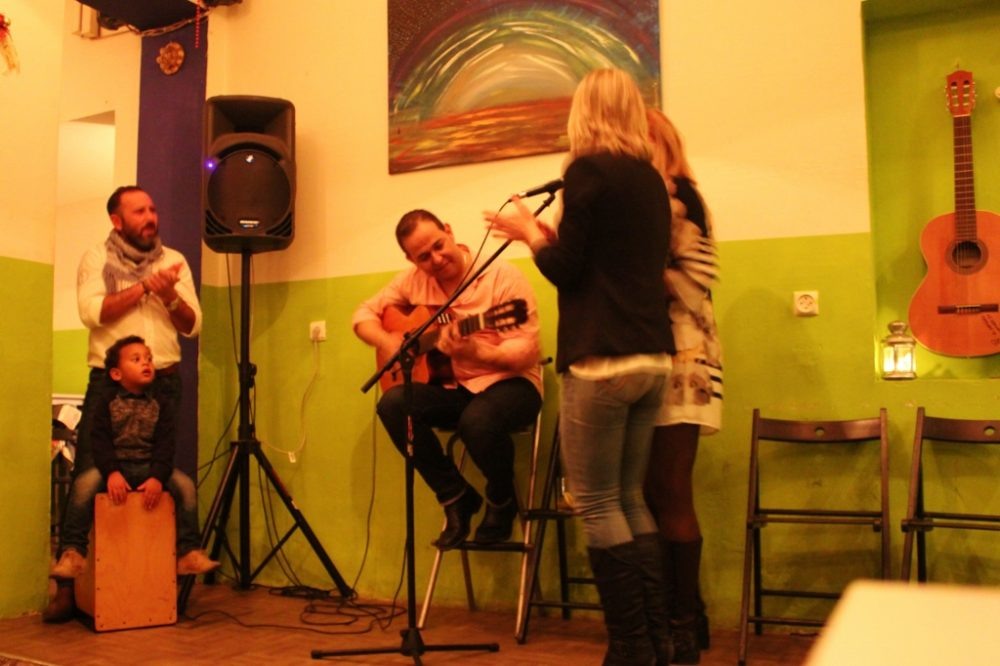 Rooftop Bar Seville: EME Hotel and Hotel Palacio Alcazar
Sometimes drinks taste better with a view – and there are two rooftop restaurant Seville hotels that boast excellent views of the city and Seville Cathedral.
As with most drinks-with-a-view, the prices are inflated, but still affordable and come with snacks. We caught the sun setting over the city at each place…and happily paid the surcharge on drinks for the stunning view at both EME Hotel and Hotel Palacio Alcazar.
Want to experience the city on a Seville Bar Crawl? Join fellow travelers on a tour and let a guide lead the way through the city to the top Seville bars!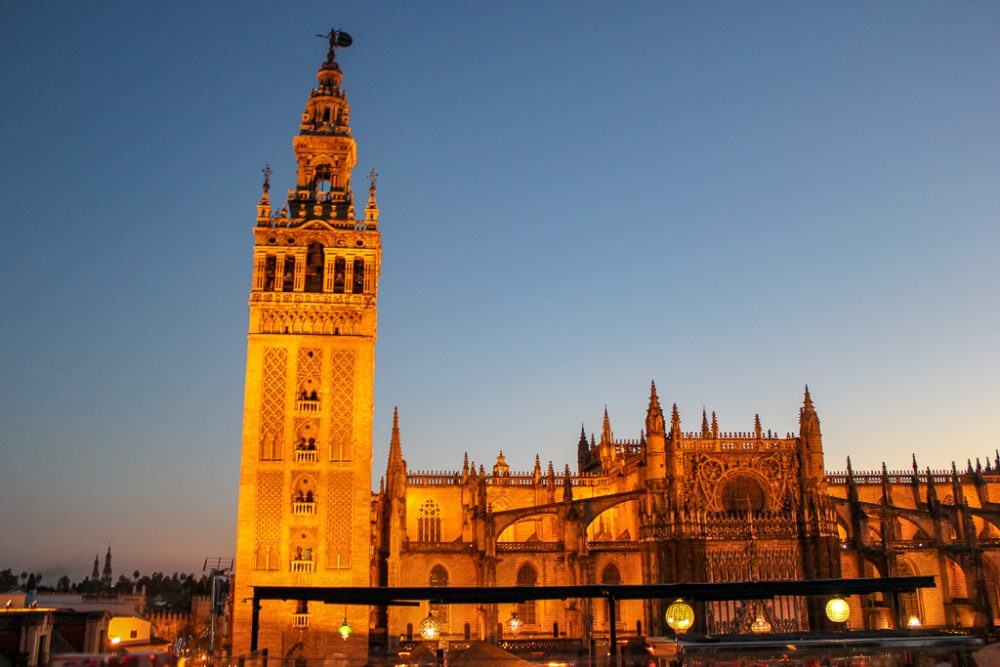 ---
Our top tips for your trip to Seville, Spain
Where To Stay in Seville, Spain
During our visit to Seville, we stayed in this awesome Airbnb Apartment. (Not already a member of Airbnb? Use this link to create an account and save money on your first stay!) We have found that staying in apartments is often less expensive than hotel rooms – with the added benefit of a kitchen and, usually, more space. Seville holiday apartments can also be searched on FlipKey (which is part of TripAdvisor) or on VRBO – Vacation Rentals By Owner.
However, for those who prefer staying in traditional accommodations, there are many Seville hotels to choose from in – or close to – the city center. Check out these top-rated hotels (based on guest reviews!) for your upcoming trip: Hotel Casa Del Poeta | Hotel Amadeus & La Musica | Hotel Casa 1800 Sevilla
Before You Go
Start planning your trip to Seville, Spain! Search for the lowest airfares, the best accommodations and fun things to do…then start packing! Want more travel planning tips? Head over to our Travel Planning page for more information and tips on traveling – and for country-specific information, take a look at our Travel Guides page!
Visiting Other Top Destinations In Spain? We've got you covered with our detailed guides to Madrid, Barcelona, and San Sebastian!
Like what you're reading? Join the journey!
Subscribe to JetSetting Fools and get new blog posts and our quarterly newsletter direct to your inbox:

We want to know: What would you add to our list of Best Tapas in Seville? Do you have favorite tapas bars in Seville, Spain? How did they compare to tapas in Barcelona or San Sebastian pintxos bars? Give us your best tips and advice in the comments!
Pin it! See all of our travel pins on our JetSetting Fools Pinterest Board.