Hey there! Welcome to JetSetting Fools! You will find our best travel tips for destinations worldwide. Some of the links on this site are Affiliate Links and if you use them to make a purchase, we may earn a small commission. For more information, read our Disclosure Policy.
---
Continued from Cruising Halong Bay Cruise – Day 1
Soft morning light was filtering through the window of our cabin and I quickly rubbed the sleep from my eyes as I remembered where I was: on a junk boat in Halong Bay, Vietnam. It was the second day of our 3-day Halong Bay cruise and we would be spending the day exploring Halong Bay, a UNESCO World Heritage site.
It was only a little past six, but I tossed on clothes, grabbed my camera and dashed up to the rooftop deck. The boat engines hadn't yet started and a stillness of the early morning was only broken by a flock of birds soaring across the bay.
It wasn't long before we were on a schedule again with breakfast being promptly served at 7:00am and our day boat arriving just an hour later. We, along with our four tablemates – the only other 3-day passengers on our boat – had the boat and crew (I think they outnumbered us) to ourselves for the eight-hour adventure of exploring Halong Bay.
Exploring Halong Bay
Our tour guide, Gam, gave a brief introduction to the day: hiking, swimming, oyster farm, swimming, lunch, kayaking, and more swimming. And the bonus: Unlike the junk boat, we were allowed to jump, dive and flip off the top, side and bow of this boat.
Exploring Halong Bay: Away from the crowds
The smaller boat was able to navigate narrow coves and shallow waters, taking us through even more astonishing scenery than we had seen the day before. As we made our way into an area more compacted with karsts, the crowds thinned out and – besides the fishing boats – we were the only other visible vessel. Gliding in solitude amongst the towering rocks was tranquil; the magnificence never ceasing to take our breath away.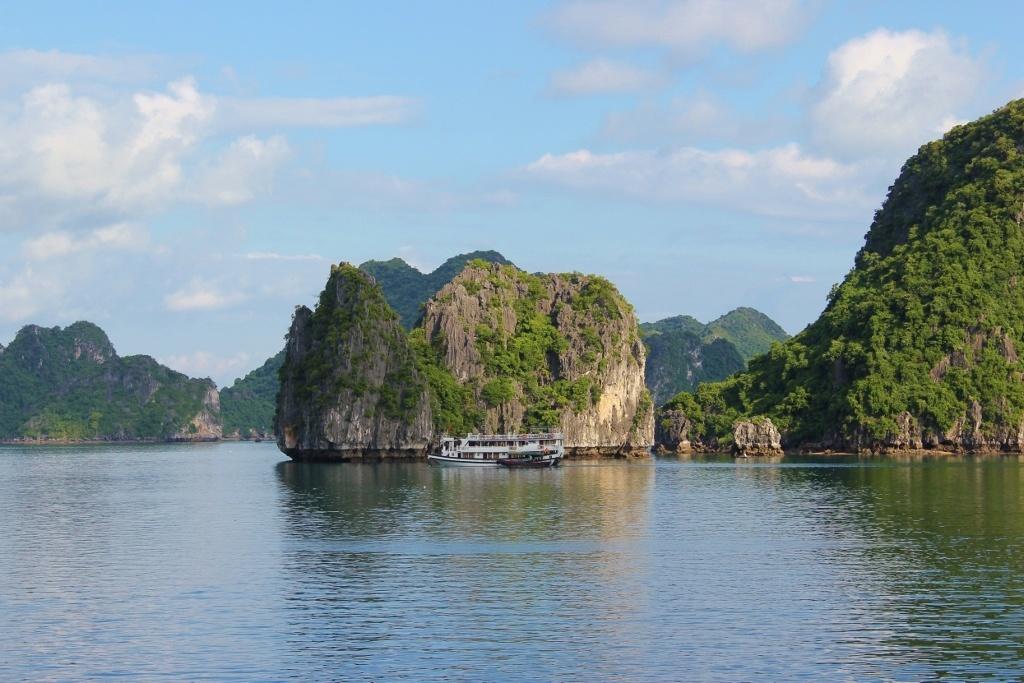 Exploring Halong Bay: An Island hike and beach swim
The sun was still coming up, but the heat was already overbearing by the time we made our first stop at a karst with steps to an outlook and a man-made beach on the shore, very similar to what we had seen at Ti Top the previous day. Fewer steps (only 300-some-odd steps vs the 425 at Ti Top), but no less strenuous, this climb had us drenched in no time. It was worth it as it delivered on spectacular views of the water below with no other boats in sight. Once back down, we didn't hesitate a moment to get into the refreshingly cool water, not yet heated by the sun.
Exploring Halong Bay: Oyster Farm
On the move again, we cruised to an Oyster Farm. Set back into an inlet, several floating buildings, including a museum, housing for the staff, a work room and showcase room were all connected by an old, creaking boardwalk that bowed under the weight of us.
Gam provided the tour explaining how pearls are made and then took us into the workroom to peer over the shoulders of the workers as they used precise, dentist-like tools on the oysters to aid in the pearl-making process. It was quite interesting and the final product, set in gold and silver, was gorgeous. But even at direct-from-farm prices, the pearls were not within our budget.
Exploring Halong Bay: Jumping ship
We continued exploring Halong Bay, this time motoring to a private spot where we could jump from the boat and swim in the open water. The guys all raced to the top deck and flung themselves over the side. Without my flip flops, my feet were burning on the wooden deck, giving me little time to contemplate my actions before I, too, went overboard.
After I recovered from a mouthful of the salty water, I floated in the bay and watched and laughed as the sides of the boat were used as diving boards for the boys to dive and flip from (quite entertaining for the crew as well!). The nearby natural beach was within swimming distance, but instead of sand, the sea floor was covered in sharp, jagged shells and after a few nicks I opted instead to remain in the refreshing, deeper water.
Exploring Halong Bay: Lunch onboard
As we swam and explored, the crew had been busy preparing lunch – which turned out to be an even more impressive spread than we had the previous day! Whole, grilled fish, stuffed crab, spring rolls, salad, chicken, prawns and other unknown dishes covered our table leaving hardly any room for our plates and completely filling our stomachs. It was incredible how they managed to create such a feast onboard the small boat.
Exploring Halong Bay: Kayaking
We soon arrived at our kayaking spot and moved together as a group, with Gam guiding us. We easily paddled past the giant sea mountains through a series of bat-filled and hidden caves that led into small, secluded lakes, exploring Halong Bay in a way I never imagined.
We were surrounded by towering limestone cliffs that seemed to cut us off from the rest of the world. Our only other company were the giant jelly fish that swam by. Monkeys inhabit the islands, but we weren't lucky enough to see any.
Exploring Halong Bay: Our tour guide, Gam
Back at the boat, we were back in the water for one last relaxing float with the karsts overhead looking down on us. On the hour-long ride back to our junk boat, we lounged on the bow and chatted with Gam. So open and sincere, she told us about her life in Vietnam.
Her parents are poor rice farmers from the countryside. After marrying, she moved from the farm onto the floating fishing village where her husband's family lived. They – along with their two kids – have lived on the water for four year. Just two months ago, however, they were required to move to land, which has been an adjustment to say the least.
Always smiling, she expressed a sense of gratefulness that her children will have a better education and better life on land; but she also told us of the struggles of her husband's family who lack land-living skills, like driving, and are unable to find work.
She brightened though when she talked about how much she loves her job and meeting people from all around the world. She said getting to do that was like taking a vacation every day as she learned about different people, customs and lands. All quite humbling, actually.
Exploring Halong Bay: Back to the junk boat
Our day of exploring Halong Bay was complete and we joined the new passengers on our junk boat who were on Day One of their Halong Bay cruise. We were treated to a glass of wine and an intense, fiery sunset on the rooftop deck with both the sky and sea turning flame orange. The day had lived up to the hype and we were stoked that we had splurged for the two night cruise, rather than just one. Spending time with a local in such an insanely beautiful, private setting was more than we ever expected.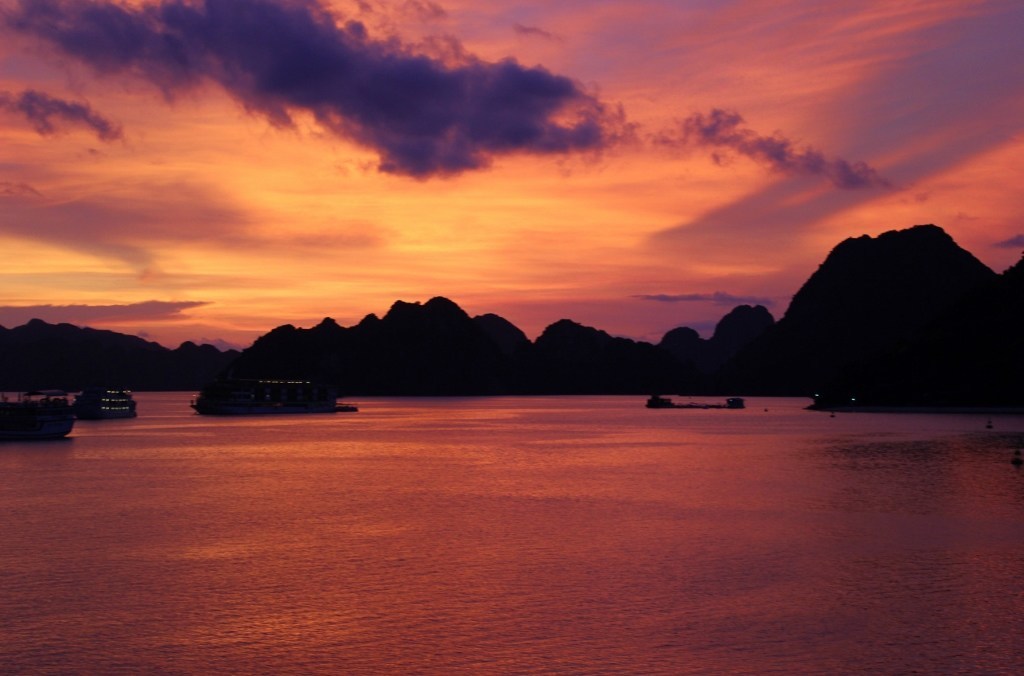 The night rolled on with yet another amazing meal, karaoke, and more failed attempts to catch squid. The lively new group of passengers really got the ball rolling with a ridiculous rendition of the drinking game of "I've Never." Beers, cocktails and vodka bottles covered the table and the long day was getting even longer. As entertaining as it was, we were wiped out and needed to call it a night. We had one last day on the boat and couldn't wait to see what was in store for us.
Click here to continue to Cruising Halong Bay Vietnam: Day 3
We want to know: Have you ever had the pleasure of exploring Halong Bay? What activity did you like best?
PIn it!