Hey there! Welcome to JetSetting Fools! You will find our best travel tips for destinations worldwide. Some of the links on this site are Affiliate Links and if you use them to make a purchase, we may earn a small commission. For more information, read our Disclosure Policy.
---
There are not many 'sights' in Hondarribia, Spain, but one landmark we definitely wanted to see while visiting the town was the Hondarribia lighthouse: Faro de Higuer. The historic lighthouse marks the most northeastern point of Spain on the Atlantic coast. Built in the late 1800s, Faro de Higuer (or Cape Higuer Lighthouse) stands 69-feet on the Bay of Biscay. Through the years, the light inside the lighthouse has been fueled by oil, petroleum and electricity and can be seen more than 25 miles away.
Getting to Faro de Higuer
Although there was limited information about getting to Faro de Higuer, we surmised that it was possible to walk to the lighthouse from the center of town. The free map from the TI that I picked up had a picture of a lighthouse on it with an arrow indicating the general direction, but since the location was cut off the map, I couldn't tell how far it was from the center of town. We decided to make an adventure out of finding Faro de Higuer. After having lunch at the Marina, which is already on the north end of town, we decided to set out in search of the Hondarribia lighthouse.
We walked around the sandy beach and then past the fishing port. The road split: the road to the right kept going straight out to sea, the one to the left started a steep incline that seemed to curve back around. Since it was obvious that the Faro de Higeur was not at the end of the road to the right, we opted to take the one on the left. The sidewalk quickly disappeared and we were left to walk on the side of the road, but the cars were few and far between. The hairpin curves took us past homes and barking dogs. We were surrounded by trees and cooled by the shade and we caught glimpses of the blue water of the ocean below through the tree branches.
We finally came to a clearing and – ta-da! – there was the Hondarribia lighthouse: Faro de Higuer! We started to walk up to it, but quickly realized it was not open to the public and, it seemed, it was actually a private residence complete with a garden. A path to the left of the lighthouse led us past two restaurants and then continued down closer to the water. The views were simply outstanding.
Before we headed back down to town, we had a celebratory We-found-the-Hondarribia-Lighthouse!! drink at the second, more rustic restaurant. The walk back to town seemed to be much quicker than getting there (it usually does if you know where you are going). The walk to Faro de Higuer was remarkably beautiful and a pleasurable walk outside of the main town.
Map of Hondarribia Lighthouse Walk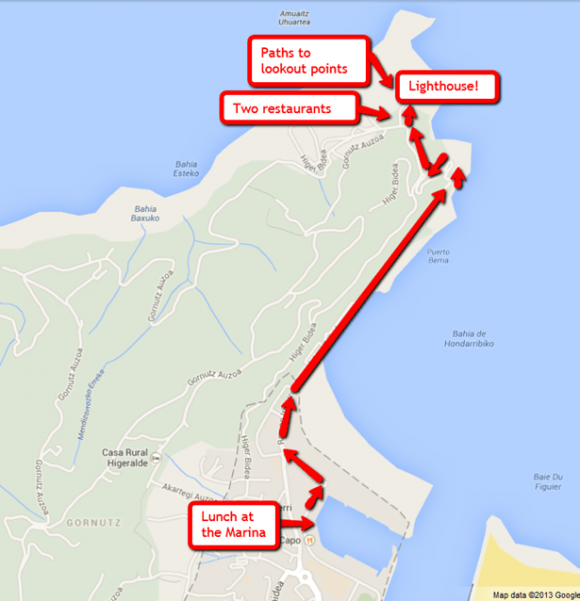 Our Top Tips for your Trip to Hondarribia, Spain
Where To Stay in Hondarribia
During our visit to Hondarribia, we stayed in the Hotel San Nikolas. However, there are several Hondarribia hotels to choose from in – or close to – the city center. Start your search on Booking.com or check out these top-rated (based on guest reviews!) hotels in Hondarribia: Villa Magalean Hotel and Spa, Hotel Obispo or Hotel Palacete.
For longer stays in Hondarribia, we suggest renting an apartment. We have found that staying in apartments is often less expensive than hotel rooms – with the added benefit of a kitchen and, usually, more space. Hondarriba holiday apartments can be searched on Airbnb (become a member and save money with this link!), FlipKey (which is part of TripAdvisor) or on VRBO – Vacation Rentals By Owner.
Before You Go
Don't forget to pack a pair of lightweight and comfortable walking shoes for your trip. I (Sarah) have traveled with these shoes by Columbia and Skechers. Kris prefers wearing these shoes by Merrell and Sanuk.
We're certain you'll be snapping tons of photos during your trip. Rather than relying on your mobile phone to capture the sights, upgrade to an actual camera for higher quality photos (that can later be beautifully compiled into a travel photo book). We travel with a Canon Rebel (which takes amazing photos, but can be a bit clunky) and a Canon PowerShot ELPH (which takes beautiful pictures, is slim and lightweight – and the new models are wifi enabled so you can share your trip pics to social media in real time!).
Make sure to have a good city map and/or guidebook before arriving.
We think travel insurance is essential! If you haven't already obtained travel insurance for your trip, travel protected with World Nomads.
Want more travel planning tips? Head over to our Travel Planning page for our complete packing list and other travel resources!
We want to know: Have you been to Hondarribia, Spain? Did you go to to Faro de Higuer? Give us your best tips and advice for visiting in the comments!
Like what you're reading? Join the journey!
Subscribe to JetSetting Fools and get new blog posts and our quarterly newsletter direct to your inbox:

Pin it! See all of our travel pins on our JetSetting Fools Pinterest Board.