Hey there! Welcome to JetSetting Fools! You will find our best travel tips for destinations worldwide. Some of the links on this site are Affiliate Links and if you use them to make a purchase, we may earn a small commission. For more information, read our Disclosure Policy.
---
There is a tangible energy in Melbourne's central business district, where historic pubs and modern skyscrapers coexist and a steady stream of trams transport people down the main thoroughfares. We learned early on to explore beyond the major streets in order to get a good look at the culture that lies in the laneways in Melbourne. The alleys, arcades and street art we found were fascinating and are one of the best things to do in Melbourne!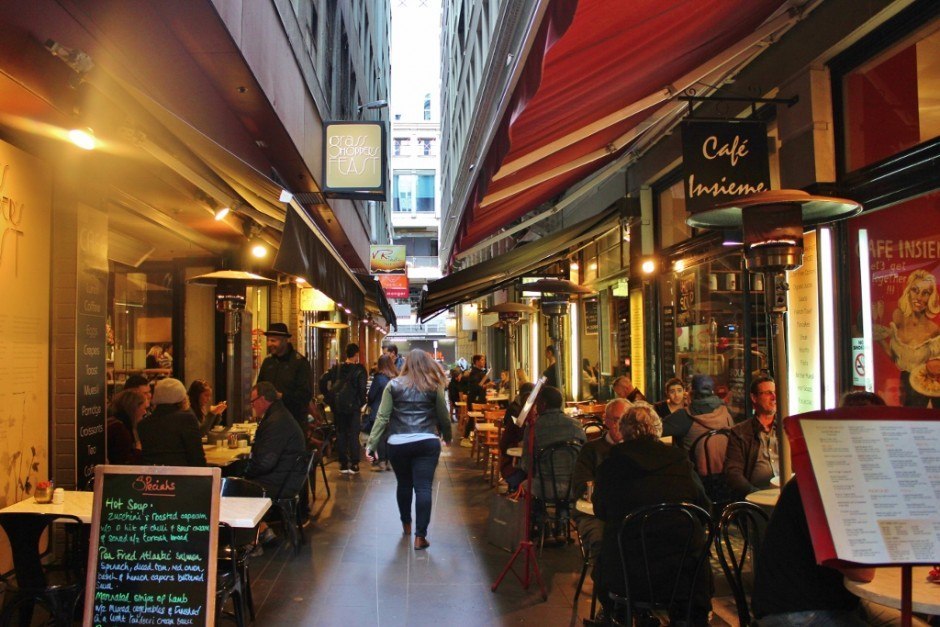 A History of Laneways in Melbourne
In 1837, Melbourne's street plan was laid out in a grid with major and minor streets alternating (99 feet and 33 feet wide, respectively) resulting in blocks of 20 parcels of land. As building commenced, alleys, or laneways, between the buildings provided delivery entrances and a space for rubbish collection. In some cases, the only entrance to a shop was from the laneway. As time progressed, some buildings were remodeled (or rebuilt all together) and eliminated the space. However, other buildings upgraded their facades, but left the laneways as they were.
For a period of time, the dark laneways in Melbourne were far from inviting, but there was a surge in the 1990s to revamp these forgotten lanes. Art galleries, shops, restaurants and bars have re-purposed the once seedy space creating atmospheric shopping, dining and drinking experiences. Most laneways aren't marked on the free tourist map (a small Laneways brochure is available though), but we were never shy to detour into the narrow alleys, which led us to all sorts of gems.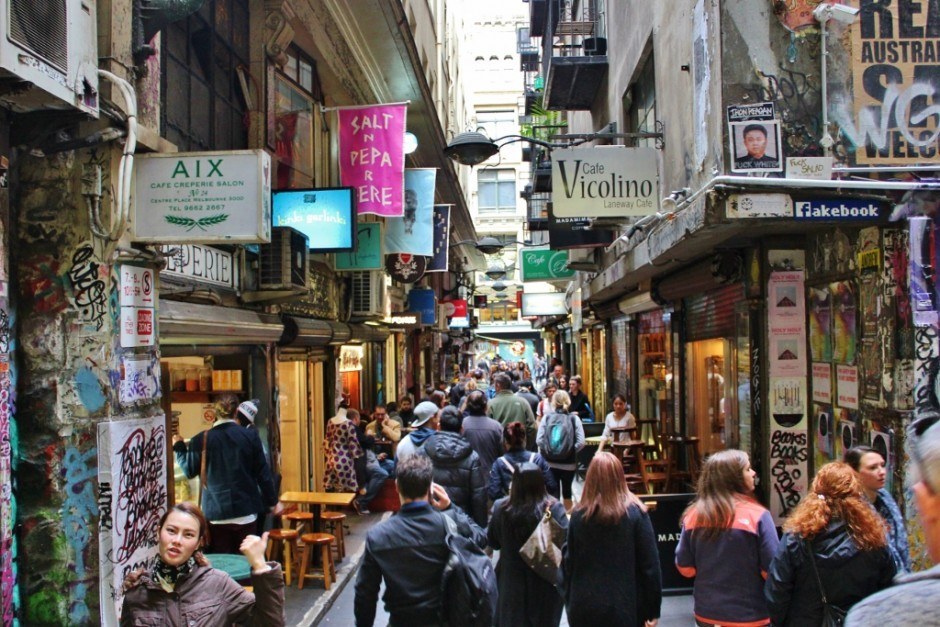 Restaurants and Bars on the Laneways in Melbourne
Hardware Lane was one of the first laneways in Melbourne converted into usable space in the 1980s, and was done so with an Italian ambiance. We felt as if we had been temporarily transported to Italy as the scent of garlic and tomato wafted through the air. We dined alfresco and indulged in scrumptious antipasto, pizza and pasta at Max on Hardware.
To travel back in time, we headed to The Mitre Tavern on Bank Place. It's the oldest building in all of Melbourne and has retained its historic appeal as the city has literally grown up around it. Originally built as a private residence, the first liquor license was issued in 1868. Today, business men huddle around tables with an after-work pint. We joined the Tuesday night trivia and our team, The Best Yank Trivia Team in the Southern Hemisphere, came in dead last, but that didn't take away from our good time.
On Corrs Lane, we found several niche bars, including Berlin Bar, that made us feel as if we had been let in on an incredible secret. But, the truly hidden gem is The Croft Institute at the end of Croft Alley. I glanced back over my shoulder more than once as we made our way down the dark laneway to the insane asylum themed bar. The drinks range from a $5 mystery can of beer to pricey craft cocktails stirred with syringes rather than straws.
Arcades in Melbourne
Arcades differ from Laneways. They are for pedestrian use only and often feel much more refined with tiled floors and sunlight filtering through the ceiling. Rather than urban bars, there are cafes, chocolate shops, artist galleries and boutique clothing stores. Furthermore, they aren't new. Two of the oldest arcades, Block Arcade and Royal Arcade, have been around since the late 1800s.
Laneways in Melbourne have Street Art
Not all laneways in Melbourne have been converted into trendy enclaves filled with eating and drinking establishments. Instead, many of the brick walls of the back alleys have become a place for street artists to share their work.
Entire laneways are covered in spray paint, stencil work and murals. But, it's not graffiti (which is illegal); they are commissioned works of art. Through applications and permits, building owners can offer their walls for painting.
For walls that can be reached without scaffolding, the art is continually changing, which enhances the dynamics of the laneways in Melbourne. Hosier Lane is quite well-known for its street art and is seldom found void of people, but Union Lane and AC/DC Lane have fantastic displays, as well.
We want to know: Have you ventured into the laneways in Melbourne? Which is your favorite?
Pin it!