Hey there! Welcome to JetSetting Fools! You will find our best travel tips for destinations worldwide. Some of the links on this site are Affiliate Links and if you use them to make a purchase, we may earn a small commission. For more information, read our Disclosure Policy.
---
Of all the things to do in London, visiting at least a few classic pubs was high on our list. Dark interiors, wooden bars and cask ales are as much of a part of London as sights like Big Ben and Westminster Abbey. The favorable spring weather encouraged us to seek spots that offered outdoor seating and a view, which led us to the pubs along the River Thames. We quickly learned that many of the pubs are owned by one of two chains, which we usually steer away from. But, in this case, the locations won us over. Our River Thames Pub Crawl was done over a six-day span and, although it could be done in one day, it would have surely resulted in a severe hangover and an empty wallet.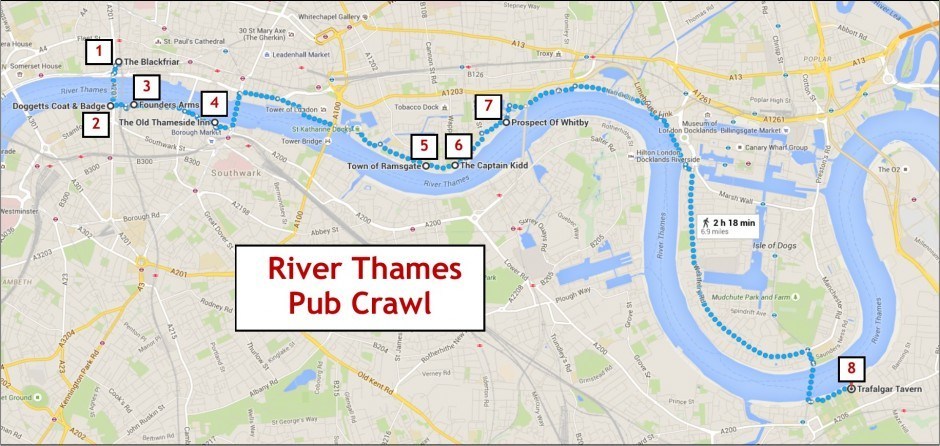 Click here for a link to the map.
River Thames Pub Crawl #1: The Blackfriar
Actually a block off the river, on a Friday afternoon of an upcoming long weekend, The Blackfriar pub was so packed that people spilled out into the adjacent park. The building, which looks like a giant cheese wedge, was built in 1875 on the previous site of a monastery. The dark, wooden interior is brightened by stained glass windows and shimmering brass. With a crowded bar and rotating taps, I accepted the bartender's suggestion of a craft cask ale, which I never caught the name of.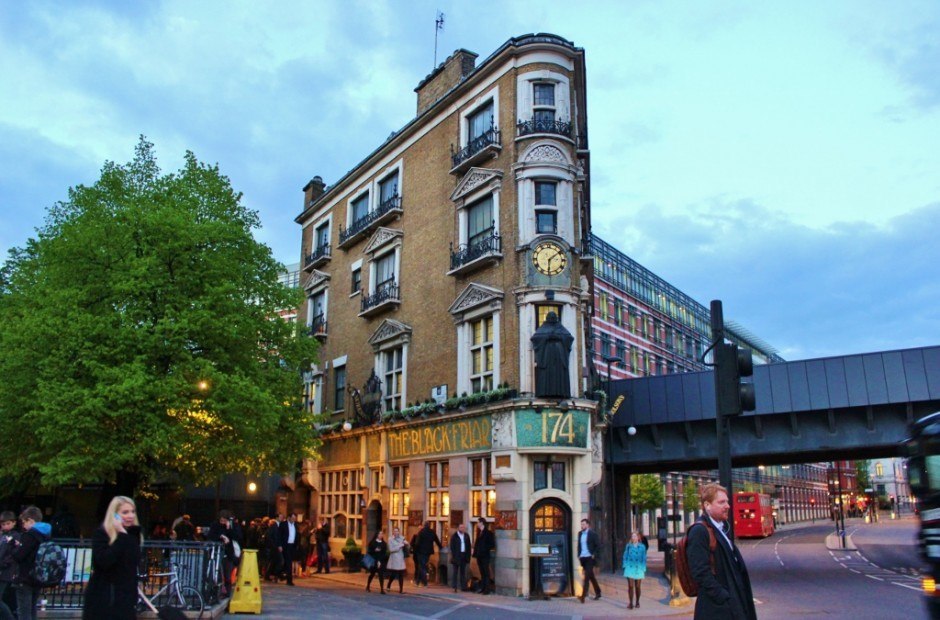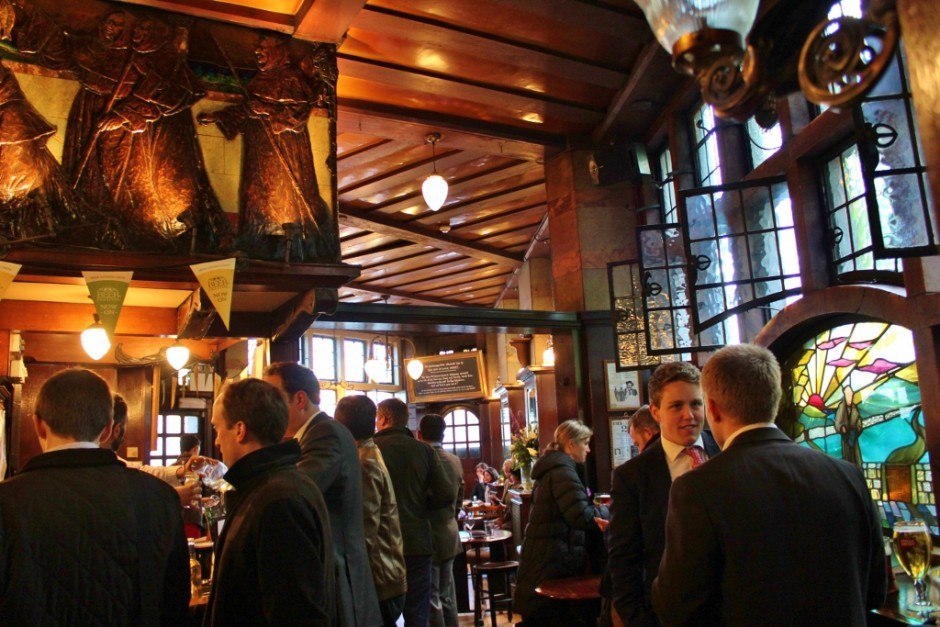 River Thames Pub Crawl #2: Doggett's Coat and Badge
The Doggett's Coat and Badge pub is named in honor of Thomas Doggett, the man responsible for starting a rowing race on the Thames 300 years ago, in which he awarded the winner a coat and badge. The pub's riverside location comes with outdoor seating, which was already full when we arrived. We settled for a window table inside and watched the bar quickly fill with patrons. With several cask ale options, I selected a sample board of cask ales including the house ale, Hobgoblin and Speakeasy Ale.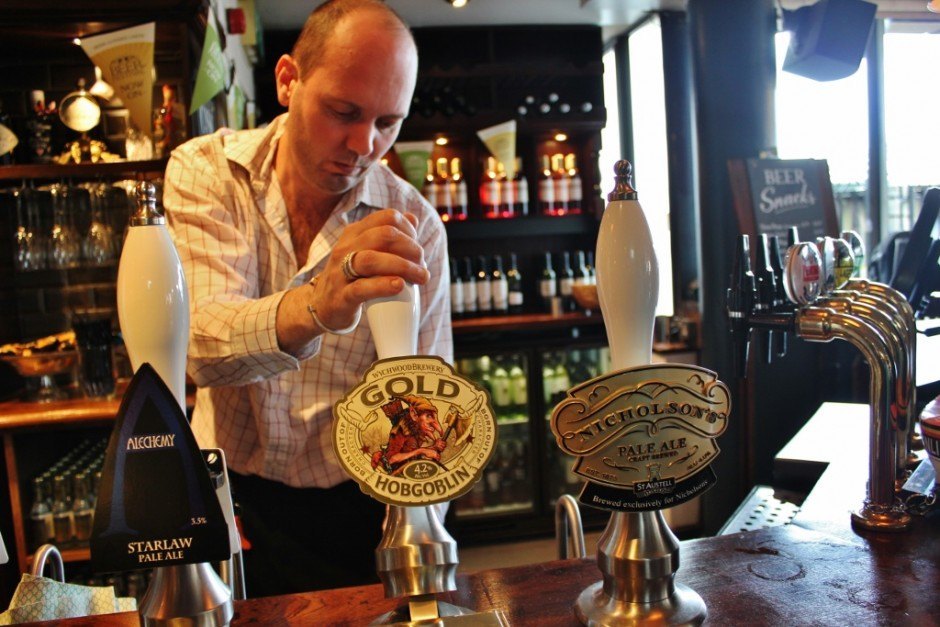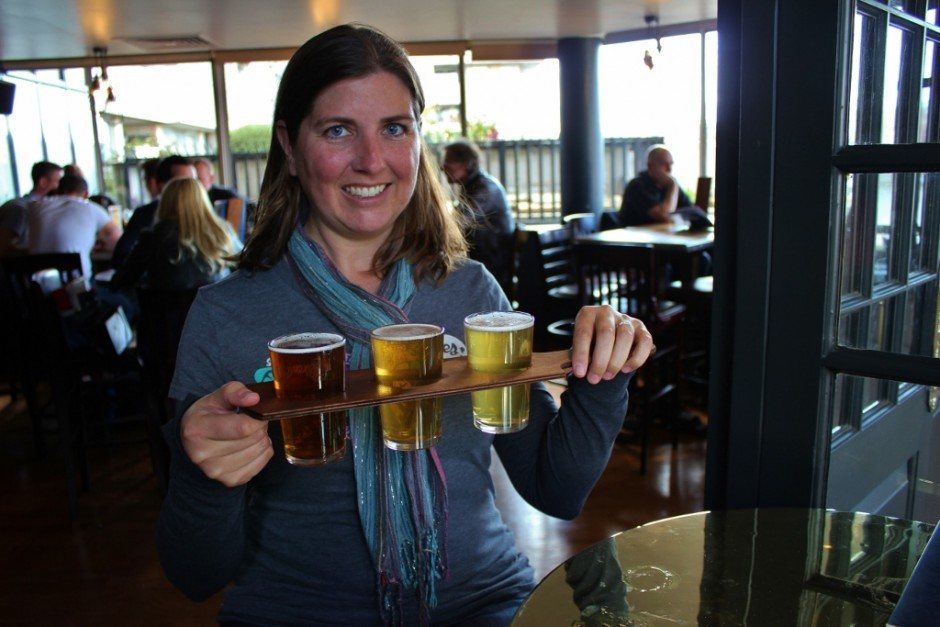 River Thames Pub Crawl #3: Founders Arms
Truly a riverside location, Founders Arms is a Young's Brewery pub that features fantastic outdoor space with a long deck and impressive view. No open seats on the patio? No problem. We preferred to stand and gawk at the skyline to the north and watch the boats float by. I tried a pint of the Young's Special and wasn't disappointed.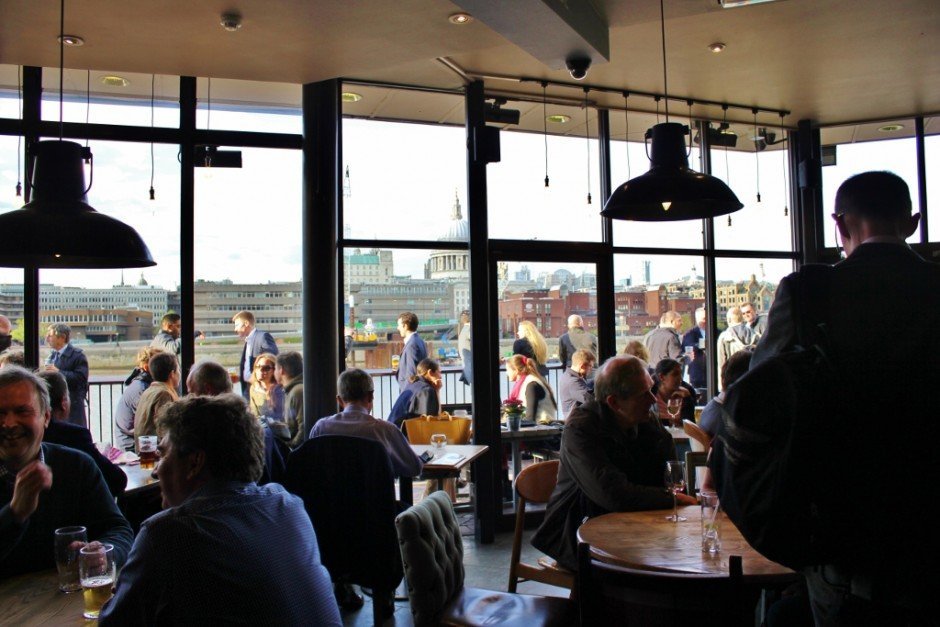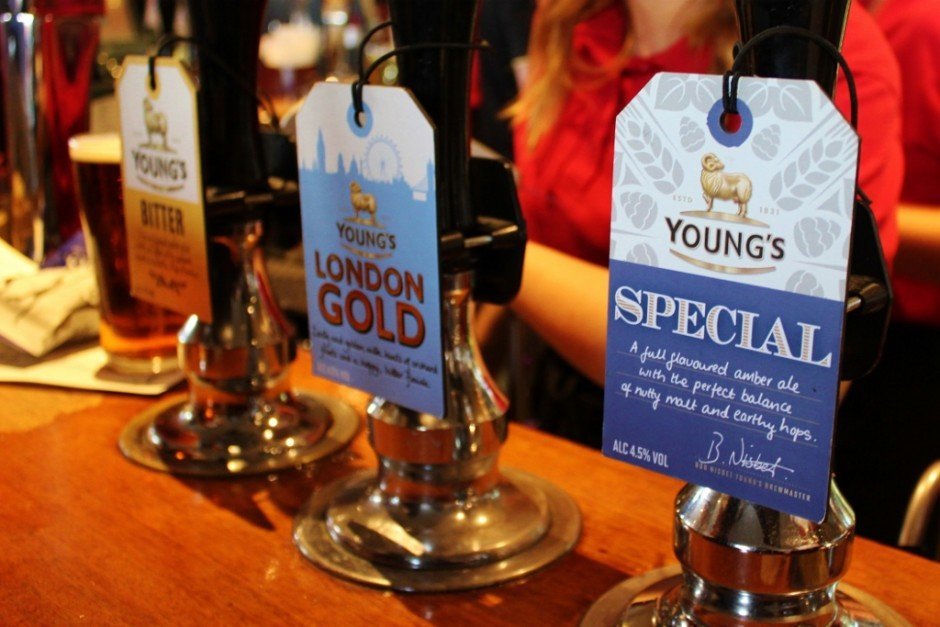 River Thames Pub Crawl #4: The Old Thameside Inn
We first spotted The Old Thameside Inn during our boat ride on the River Thames – and to find it, we had to work our way through the Borough Market, down cobbled streets and past the replica of Sir Francis Drake's ship, Golden Hind. The brick building with wooden beams was originally used as a spice house and the long deck literally hovers over the river. We nabbed a table outside and I sipped on a Beachcomber Blonde – a surprisingly refreshing cask ale, while Kris had a Meantime Pale Ale.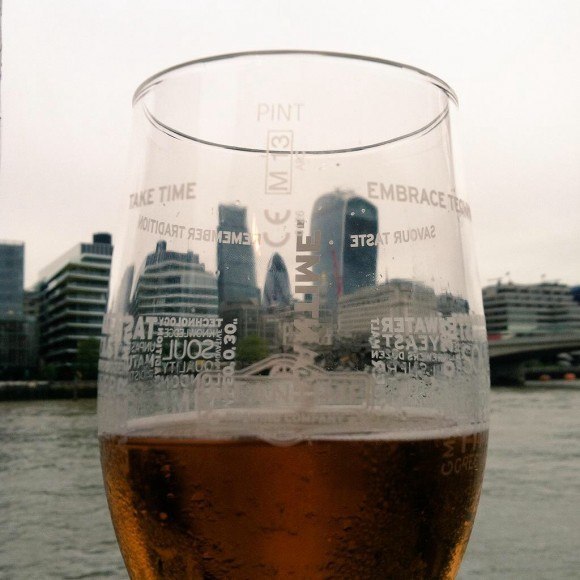 River Thames Pub Crawl #5: Town of Ramsgate
Dating back to 1545, with an even longer history of a previous pub on the same site dating back to the 1460s, Town of Ramsgate pub is classic and intimate…and claims to be the oldest pub on the River Thames. A small courtyard in the back faces the river. Being in such a classic pub, I opted for the classic cask choice: a pint of London Pride.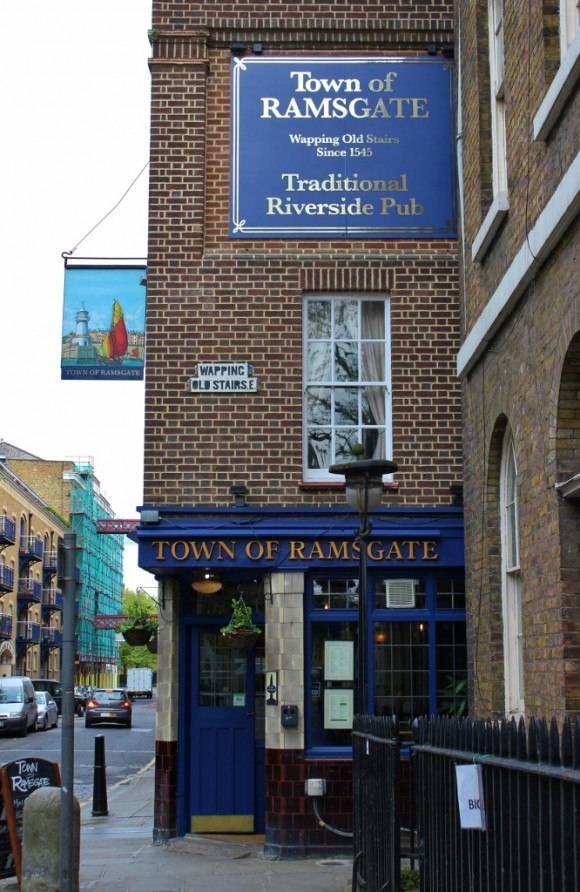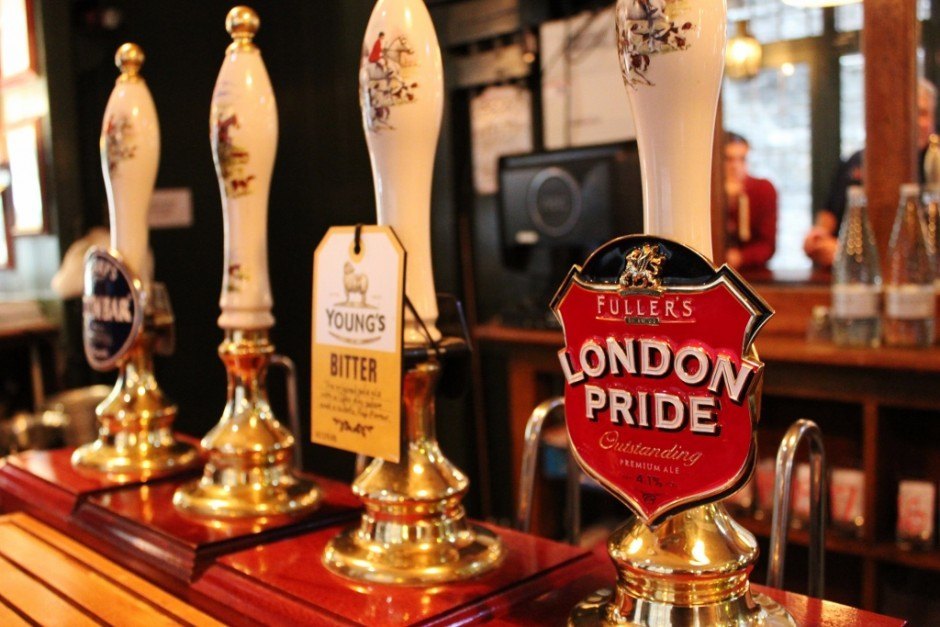 River Thames Pub Crawl #6: The Captain Kidd
The day had turned cool when we got to The Captain Kidd, so instead of sitting outside, we sat indoors at a small table and soaked in the authentic pub atmosphere. Bay windows face the river, allowing natural light in, but it still felt dim and cozy. As a Samuel Smith pub, the only beers on tap were from their own brewery, which was established in 1758. I had a pint of the Taddy Lager, their signature beer.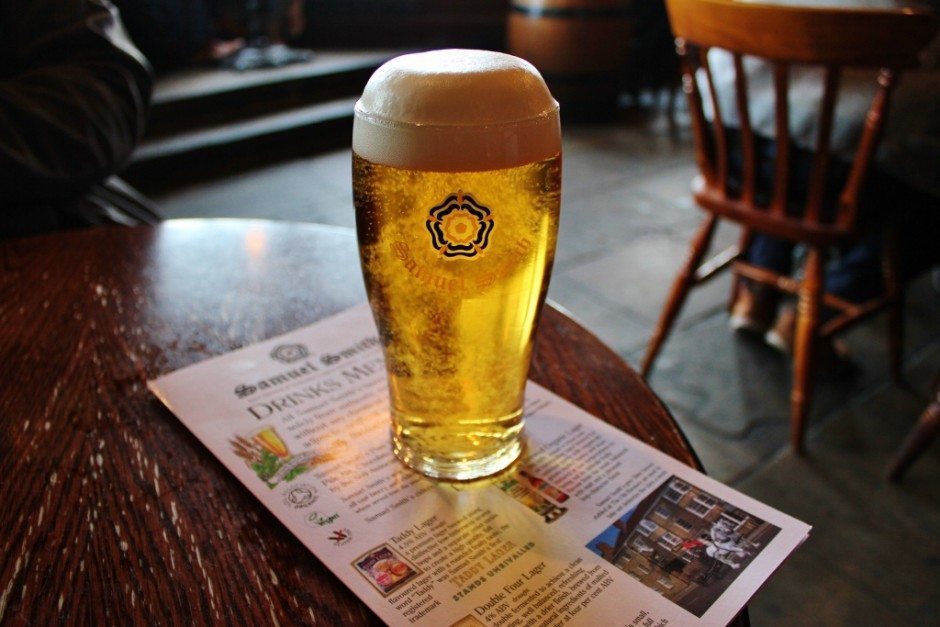 River Thames Pub Crawl #7: The Prospect of Whitby
The Prospect of Whitby pub, too, claims to be the oldest on the Thames, dating back to 1520, with some parts still original. Most of the classically decorated rooms have views of the river and there is an outdoor beer garden, as well. Needing a little sustenance, we ordered a sausage platter that came with three different sausages, fries, onion rings and dipping sauces – a perfect accompaniment to any beer!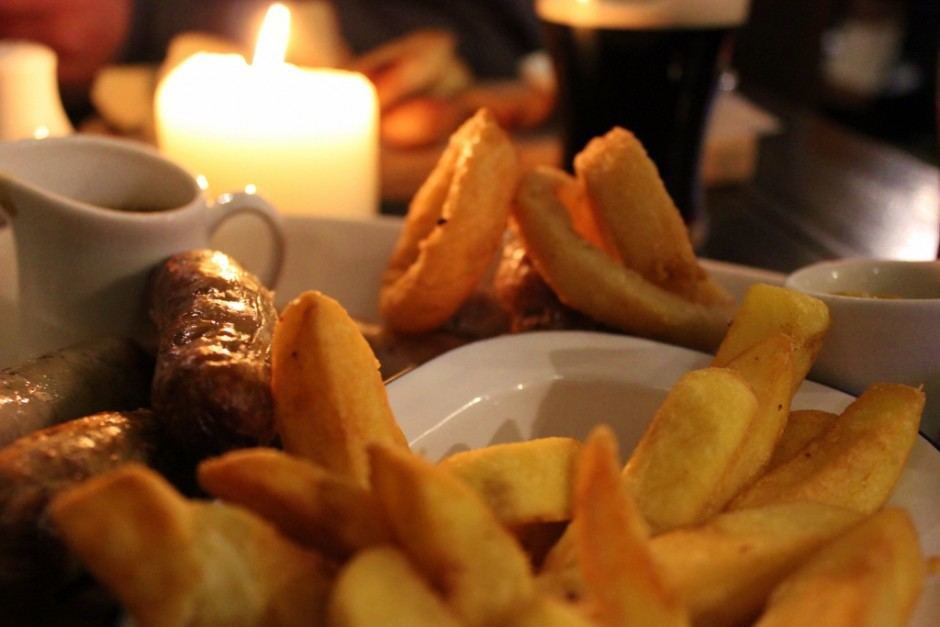 River Thames Pub Crawl #8: Trafalgar Tavern
Trafalgar Tavern is located in Greenwich on the river, slightly away from the popular sights. Matching the pale yellow exterior, it was much more bright and airy than the other pubs we visited. It also felt extremely local. Friends pushed tables together as their group grew larger and families, dogs included, found space in the sitting room. We were lucky to get a table by a large, river-facing window where we sipped on Friggin in the Riggin cask ale.

Where To Stay
During our visit to London, we stayed in this awesome Airbnb Apartment. (Not already a member of Airbnb? Use this link to create an account and save money on your first stay!) However, for those who prefer staying in traditional accommodations, there are many hotels to choose from in – or close to – the city center. Check out these top-rated hotels (based on guest reviews!) for your upcoming trip:
Or These Hostels:
Before You Go: Our top tips for your trip
Want more travel planning tips? Head over to our Travel Planning page for our complete packing list and other travel resources!
Like what you're reading? Join the journey!
Subscribe to JetSetting Fools and get new blog posts and our quarterly newsletter direct to your inbox:

We want to know: Do you have a favorite pub in London? What would you add to our River Thames Pub Crawl? Tell us in the comments!
Pin it! See all of our travel pins on our JetSetting Fools Pinterest Board.