Hey there! Welcome to JetSetting Fools! You will find our best travel tips for destinations worldwide. Some of the links on this site are Affiliate Links and if you use them to make a purchase, we may earn a small commission. For more information, read our Disclosure Policy.
---
While we could have spent every day of our two weeks in Flic en Flac, Mauritius on the beach, we had an urge to see what was beyond the coastline. The distant mountains covered in lush vegetation beckoned us for a visit. Finding a southwest Mauritius tour because a priority.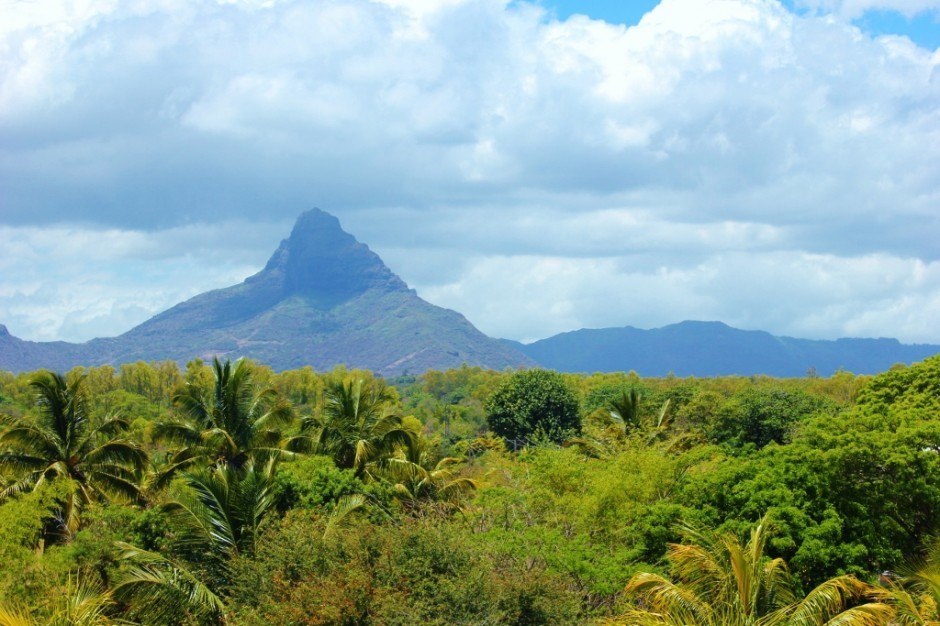 Setting up a Southwest Mauritius Tour
The woman at the tourist office offered a full-day, private Southwest Mauritius Tour, which included an English speaking driver. On our private tour, he was going to take us to the southwestern interior part of the island to the most stunning natural sights. She scheduled a driver, gave me a list of all the possible stops and said we could customize it how we wanted, so long as we didn't exceed our eight hour limit. We immediately scratched off the first three stops: a glass blowing factory, a ship building factory and a shopping extravaganza, but thought the remaining list was what we were looking for: a volcano crater, lake, temple on a lake, waterfalls, national park and oddly colored earth.
Our initial meeting with our driver had me doubting the validity of our 'private driving tour,' as it was a taxi and we struggled to communicate with the driver, even using basic English. We were actually unsure if he was really our driver at all, as he only answered with the famous "yes" to all of our questions. It went downhill as we set off on 'the tour' and he was visibly dismayed that we weren't interested in factories or shopping (which we learned he gets commission on), but it didn't stop him from trying to take us to a diamond shop. Once we made it clear that we wanted to see nature, he made one last attempt at a sale by offering us a 'good rate' for a ride to the airport when we depart.
I was slightly irritated, as I don't like to be 'sold' after I've already purchased a service. But my annoyance was quickly replaced by fear as we whipped through small towns and encountered some of the craziest driving I have ever seen (and that is saying a lot after Hanoi, Vietnam!). After witnessing two accidents and playing high-speed, head-on chicken with another driver (we lost, probably due to my high pitched squeal in the backseat), I just wanted 'the tour' to be over. But, alas, we arrived at our first stop where I could finally get out of the car.
Southwest Mauritius Tour:
Stop 1: Trou aux Cerfs
Trou aux Cerfs, a dormant volcano has a high cone which is covered in a variety of thick, green trees. It is 200-350 meters across (depending on who we asked) and about 85 meters deep. There is a lake in the bottom of the crater, which is only just visible from the edge. The small, main platform was clogged with tour groups and vendors, so we walked a short distance around to the left for an even better view into the volcano, as well as views to the north of the capital, Port Louis.
Stop 2: Mare aux Vacoas
Not really so much a sight as an interesting detail that happened to be on our way to the following destination, Mare aux Vacoas is the largest freshwater reservoir on the island and is the main source of drinking water.
Our conversation with our driver was improving as he took us to our next destination, Grand Bassin, a Hindu temple on a lake. We discussed family and asked him how many kids he had, which he responded, "boys!" But, he relayed some interesting information regarding a yearly pilgrimage to the lake in which some 700,000 people participate in. The pilgrims walk for 10 days from all over the island. He said it is common to see people sleeping in fields or on the side of the road as they make their way to the temple to present offerings and collect water from the sacred lake.
Stop 3: Grand Bassin
As we approached Grand Bassin, we couldn't miss the gigantic Mangal Mahadev statue. Standing at over 100 feet, the intricately detailed statue of Shiva is the tallest statue on Mauritius.
The lake, which is considered sacred to Hindus, is surrounded by many temples – all of which are dedicated to Shiva – and statues of other gods, as well. The evidence of several buses assured us that it was, in fact, a tourist attraction, but we also saw families and individuals who had come to the lake to pray and make offerings similar to what we saw during the Hindu festival on the beach. Overall, the atmosphere, despite the heavy crowds, was a peaceful one.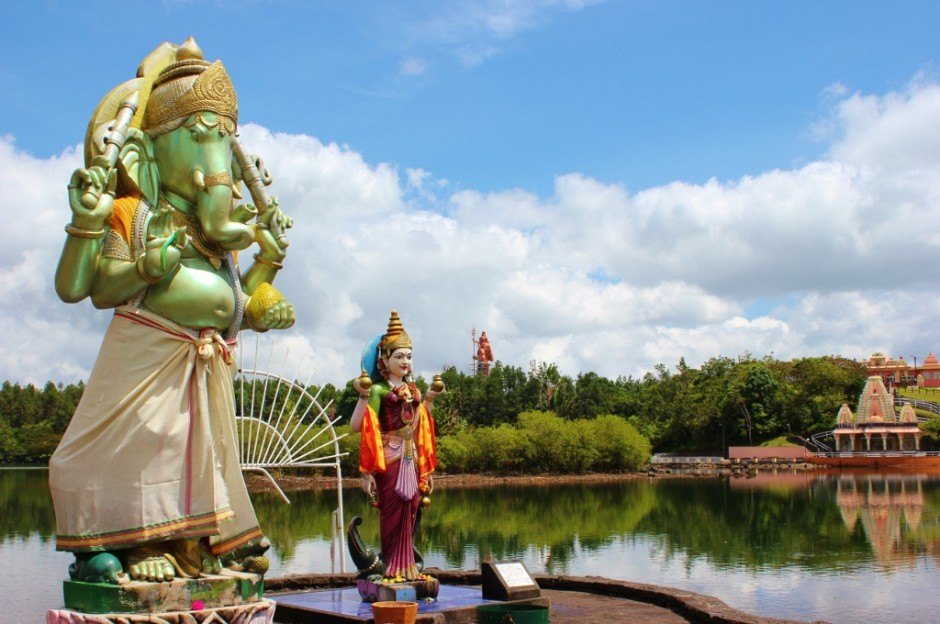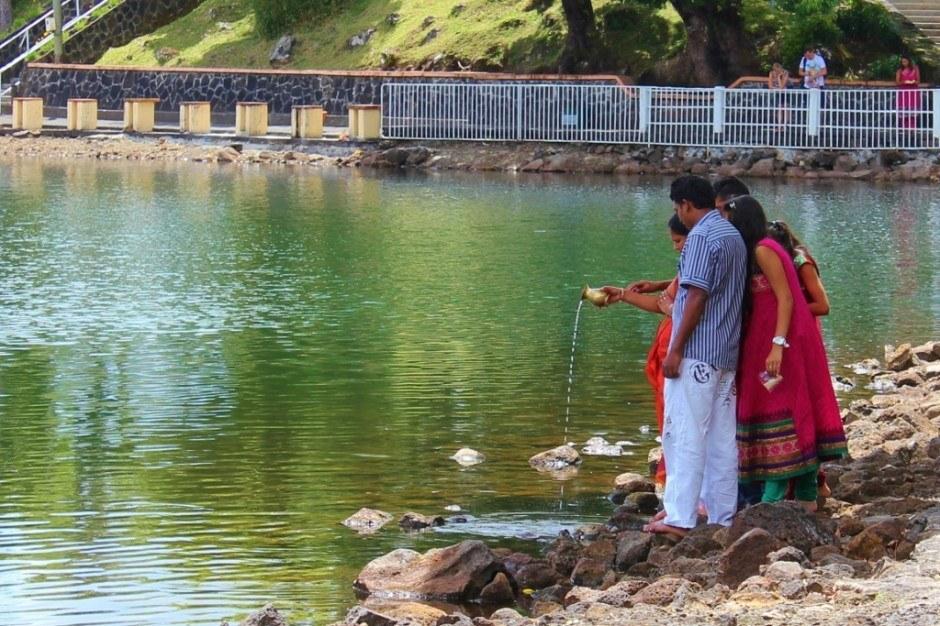 A holy man inside the temple offered to give me a Hindu blessing and since I'm not one to ever turn down a blessing, I accepted. As he marked my forehead with red paint, he blessed me with happiness, prosperity and good health. He then put his hands on my head as a blessing for a good mind and long life.
As we walked back to the car, I was counting on that blessing to get me through the rest of 'the tour.'
Click here to continue to Southwest Mauritius Nature Tour: Part 2
We want to know: Have you been on a Southwest Mauritius tour? What were your highlights? While traveling, have you struggled to find tours that met your expectations? Tell us in the comments!
Start planning your trip to Mauritius! Search for the lowest airfares, the best accommodations and fun things to do…then start packing! Want more travel planning tips? Head over to our Travel Planning page for more information and tips on traveling – and for country-specific information, take a look at our Travel Guides page!
Like what you're reading? Join the journey!
Subscribe to JetSetting Fools and get new blog posts and our quarterly newsletter direct to your inbox:

Pin it! See all of our travel pins on our JetSetting Fools Pinterest Board.