Hey there! Welcome to JetSetting Fools! You will find our best travel tips for destinations worldwide. Some of the links on this site are Affiliate Links and if you use them to make a purchase, we may earn a small commission. For more information, read our Disclosure Policy.
---
Flic en Flac, Mauritius is the ninth beach we've stayed on during our journey and if I was asked to pick a favorite one, I couldn't do it. Each place has been so incredibly unique, with the only commonality being the vista of a coastline. The variances of beach width, sand texture, water color, and vegetation are the obvious differences. But, we've found that it's the people and community that makes each place distinct and determine the vibe and atmosphere. We have only just arrived, but we feel there are two distinct sides to Flic en Flac, Mauritius: Resort life and local life – which is different from other beaches we been to around the world. 
Punta del Diablo was a sleepy town with dirt roads and stray dogs; Easter Island was mysterious with a magical history and native storytelling; Moorea was laid back with our friendly host and an undeveloped section of coastline; Bondi Beach was energized with sport enthusiasts and the public coastal pathway that stretched for miles; Coolangatta was a surfer's heaven; and Phu Quoc was a nod to times gone by with family-run guest houses and friendly smiles from locals.
Visually, the beach on Flic en Flac, Mauritius has a fairly narrow, downward sloping beach, but is fantastic for walking along the surf. The reef sits about a half mile off shore, creating a protected lagoon ideal for swimming, but since boats cruise right up to the beach, designated swimming areas are roped off (although, they seem more of a guideline than a rule). The shallow water is electric blue under a sunny sky and pieces of coral, rather than shells, are found on the sand.
After just a few days in Flic en Flac, we've realized the town is really composed of two distinct flavors: The high-end resorts with tourists and honeymooners and the public beach visited mostly by locals and fishermen. Our apartment is located on the dividing line between the two, so we have been experiencing a little of what each has to offer.
Flic en Flac, Mauritius: Resorts
To the south, all-inclusive resorts and chain hotels are lined up next to each other. Lounge chairs, umbrellas and fine displays of watersport vessels crowd the beach. Although we are technically not allowed to use these services, we've paid a small fare to hop a ride on a boat to the outer reef for a snorkel. We had low expectations, but were pleasantly surprised by a massive quantity of fish.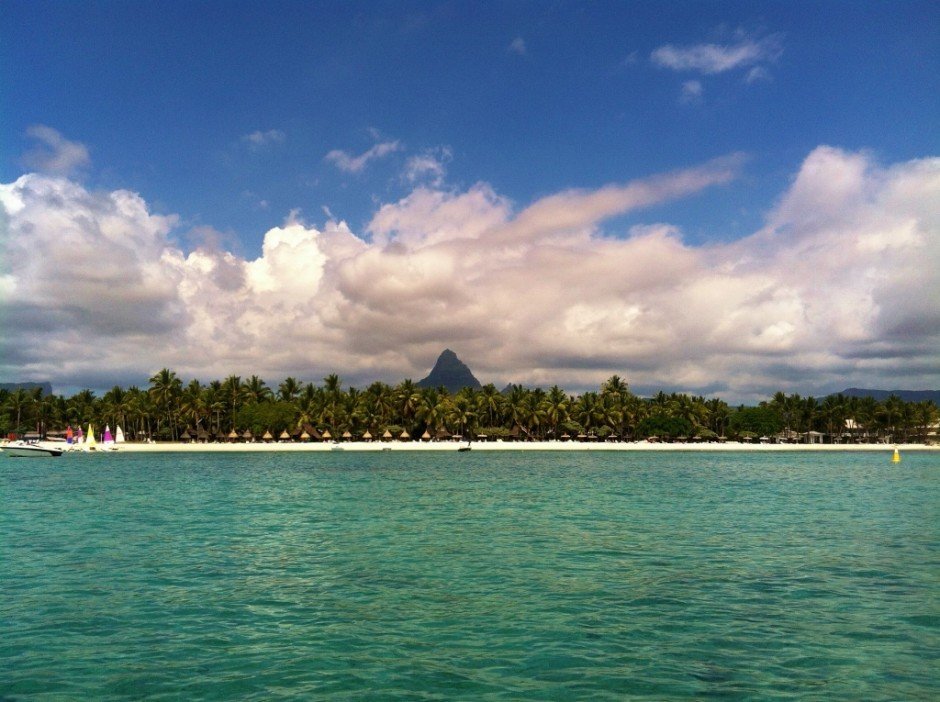 Protective of their home, these fish weren't shy about charging us head on and bumping into our masks. We spotted fish we hadn't seen in previous snorkels: bright red, large-eyed crown squirrelfish, a spot-fin porcupine fish and we swam with a colossal school of yellow striped goatfish. The coral tips were neon blue and reefs like satellites create shadowy spots for shy fish.
Flic en Flac, Mauritius: Local
To the north, public beaches are visited more frequently by locals, especially on Sundays, where multiple generation families flock for a day of beach fun. I suppose we only find this odd – and refreshing – as it has been since Coolangatta that we saw locals spending time on the beach. Kids squeal in the surf and have an affinity for throwing sand, while teens splash in the water and play games of toss.
Mini-camps are set up in the shade of the pine trees where food is prepared and adults spend time talking to each other, letting the kids have their fun in the water. Food trucks line up near the road dishing out inexpensive sandwiches, kebabs, fresh fruit and ice cream.
Flic en Flac, Mauritius: Fishermen
Beyond the public beach in Flic en Flac, Mauritius, fishermen, young and old, stand in waders among the rocks with their lines in the water. Everything from hand reels to long poles to high-end gear was being used, but just about everyone was using real fish for bait.
A new resort sits on the beach behind the fisherman and I get the feeling the fishermen are being pushed out of territory they have long occupied. Although, they don't actually seem to be budging, which brings a smile to my face. Flic en Flac, Mauritius was long ago a quiet fishing village and I have high hopes that these few remaining will hold their ground and that these spots will continue to be used for fishing long into future generations.
We want to know: Have you been to Flic en Flac, Mauritius? Have you ever visited a beach that seemed to have two different vibes? Tell us in the comments!
Pin it!